The LENS: Photography Council is a vital LACMA patron group supporting the Wallis Annenberg Photography Department curators and their pursuits to build a robust photography collection, develop inspiring and engaging exhibitions, and offer exciting new scholarly research. In gratitude, LENS members are invited to visits with local contemporary lens-based artists at their studios, curator-led tours of photography department exhibitions, and more throughout the year. 
The LENS 2020–2021 year was unusual, to say the least. In accordance with COVID-19 protocols, all LENS programs were experienced on Zoom. The virtual space presented a wonderful opportunity to have conversations with lens-based artists who aren't based locally but whose work nevertheless relates to Southern California. Given the challenges of the past year, we're incredibly grateful for LENS members and their partnership to help ensure LACMA continues to be a thriving museum. 
We're thrilled to share that the 2020–2021 members of LENS enabled the acquisition of four works by four artists—Dannielle Bowman, David Gilbert, Kim-Trang Tran, and Torbjørn Rødland—for the museum. Thank you, LENS! Please enjoy reading these short interviews with the 2020–2021 LENS artists about the works selected for LACMA's photography collection. 
Dannielle Bowman
Will you tell us a bit about your work Vision (Garage) (2019) that was selected for acquisition? 
This photo was made at the house of a family member during the summer of 2019. The focal aspects of the image—the details (framed photograph, fan, bicycle) of the space rendered in super sharp focus, and the figure out of focus and off to the side—are meant to call to mind what it feels like to daydream, or to attempt to remember a place from the past. The play with focus speaks to the limitations of the tools of photography (cameras, lenses) in rendering space, as well as the limitations of the mind in rendering memories with total clarity.
What does it mean to you to have your artwork in LACMA's permanent collection?
As a native of L.A., I spent countless afternoons wandering the galleries of LACMA. In my formative years, LACMA was a place I could go to daydream about art, photography, and film. Because LACMA was so important to me growing up, it is an absolute honor—and thrill—to see my work join the permanent collection. 
Vision (Garage) and more of Bowman's photography is on view as part of Family Album: Dannielle Bowman, Janna Ireland and Contemporary Works from LACMA at Charles White Elementary School from November 20, 2021.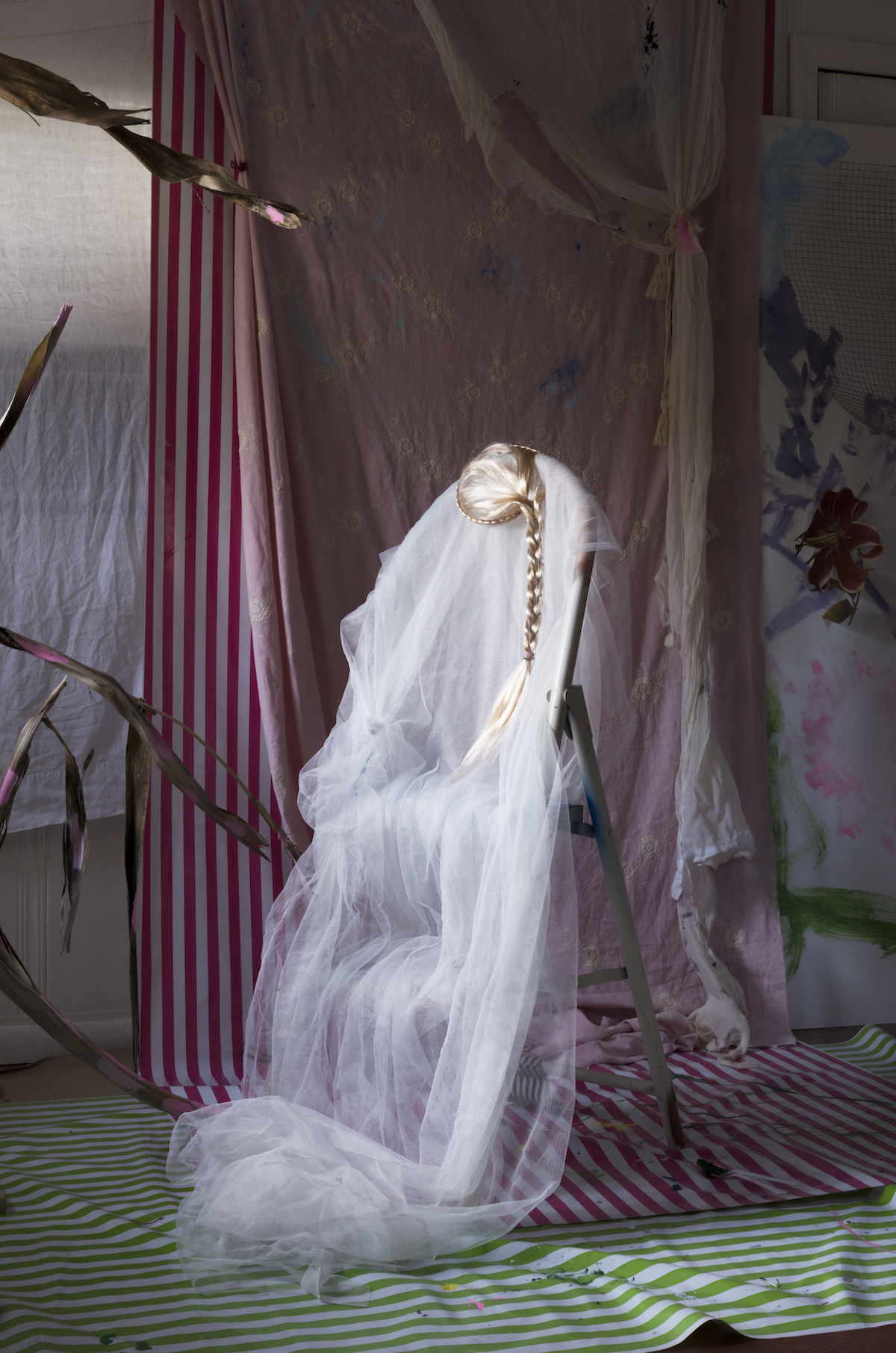 David Gilbert
Will you tell us a bit about your work Gone Girl (2018) that was selected for acquisition?
As with much of my work, an element of chance brought this piece about. While working on a different piece, I set the sheer fabric to the side atop my step ladder. When I turned around, its luminosity stopped me in my tracks: The figuration glowed ghostly and mysterious. I had seen the plastic wig gleaming in the window of a 99 cent store, and it was the golden cherry on top of the sculpture. I set my camera on the scene to freeze and capture the ethereal beauty. In the resulting photo, there's a spectral and figurative quality to the figure. Its ghostliness reminds me of Miss Havisham and fairy tales like Rapunzel.
What does it mean to you to have your artwork in LACMA's permanent collection?
I love that this piece—which was made in Los Angeles—is going to live at LACMA! At the time I made Gone Girl, my studio was a very tiny bungalow in Mount Washington, and the dreamy lighting has a real southern California quality to it, referencing Old Hollywood glamour and theatricality. It's an honor to have Gone Girl fit into the encyclopedic photography collection at LACMA, as well as reside near many of the classical portrait paintings that inspire me.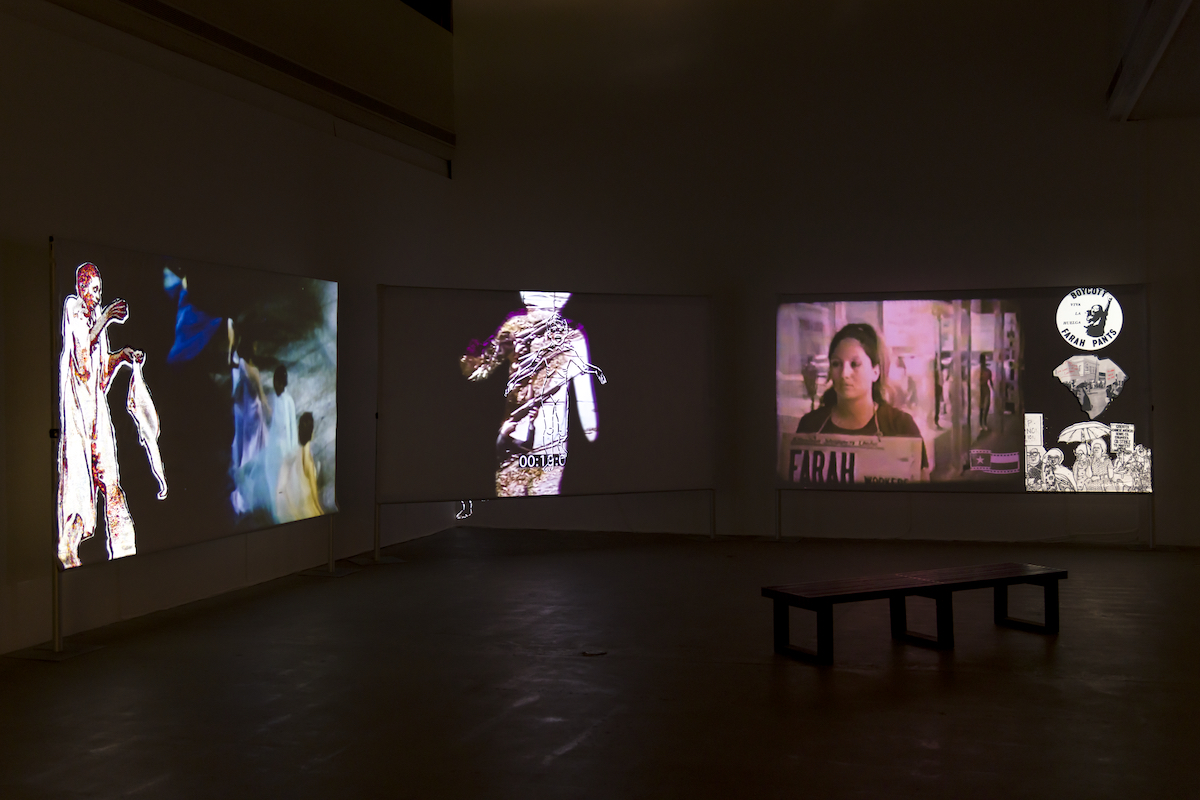 Kim-Trang Tran
Will you tell us a bit about your work Movements: Battles and Solidarity (2020) that was selected for acquisition?
Movements: Battles and Solidarity is a large-scale three-channel video installation on handmade screens. The triptych looks at significant events in the years 1972–74 regarding fashion, race, and class, particularly the civil rights movement in high fashion, labor unrest in the garment industry during the long 70s, and the Vietnam War. The work explores shared political and physical "movements" made manifest in the catwalk, the run, and the march.
Intermittent archival footage from Edward Muybridge's motion studies play across all three screens and asks viewers to consider not only the physical similarities but also the shared revolutionary movements among these models, women of the Vietnam War, and military garment workers towards the empowerment of diverse women.
What does it mean to you to have this piece acquired for LACMA's permanent collection?
I'm beyond thrilled to have Movements in LACMA's permanent collection because it means that the work will be taken care of and seen by more people, which is the best. As an artist who makes experimental work that is not commercially oriented, the support and recognition by a world-class museum has been incredibly validating.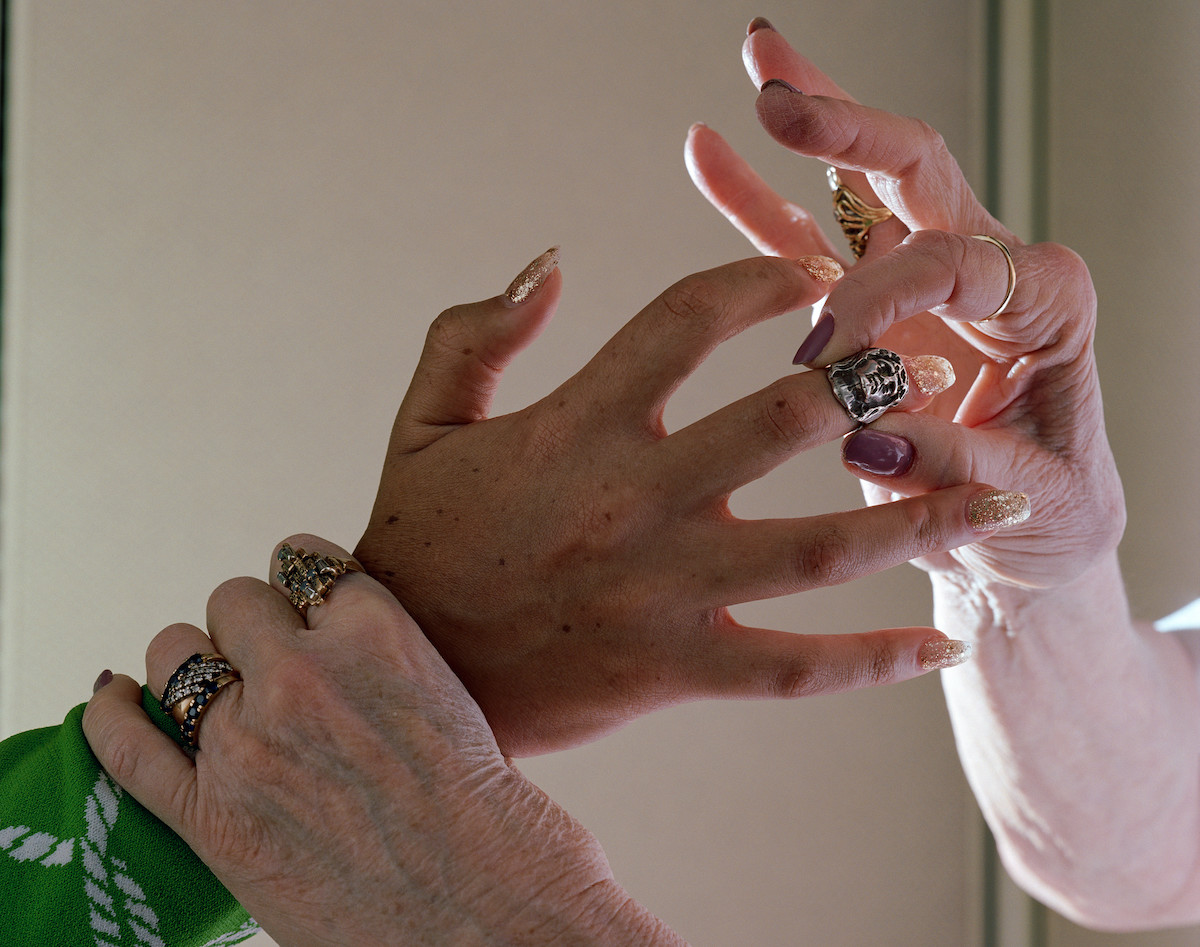 Torbjørn Rødland
Will you tell us a bit about your work The Ring (2017) that was selected for acquisition?
Since childhood I've been drawn to depictions of hands, to Christian symbols, to nautical symbols, and to asymmetrical power dynamics in pictures. The Ring brings these themes and motifs together. 
Until recently I worked from a large back house in Burbank. The Ring was photographed there (on medium-format film) in March of 2017. It was originally included in an exhibition titled Fifth Honeymoon, which could be seen in three Nordic countries in 2018 and 2019. There was a marriage theme—the coming together of opposites—running through Fifth Honeymoon.
I want my photographs to be both formally clear and self-consciously discursive, while retaining both the vitality and spontaneity of 20th-century art photography. It's an integrative project, a balancing act, if you will.
What does it mean to you to have your artwork in LACMA's permanent collection? 
It's an honor to be included. I was born in Norway but have made Los Angeles my home, and I'm grateful to be able to contribute to this city's culture by having work included in a collection I've admired for its depth and richness since my first visit to California. It makes me feel more welcome. 
---
To learn more about becoming a member of the LENS: Photography Council to support the careers of local emerging artists and the museum's acquisition of lens-based artworks to grow the permanent collection, please call 323 857-6558 or email lens@lacma.org.