On the historic occasion of the Open House for The Obama Portraits Tour and Black American Portraits on Sunday, November 7, LACMA debuted two floral environments (made possible through the generosity of Issa Rae) by Los Angeles-based artist Maurice Harris of Bloom & Plume which will be on view through Sunday, January 2, 2022. Inspired by the portraits of President Barack Obama and Mrs. Michelle Obama by Kehinde Wiley and Amy Sherald, both installations offer an interactive context for self-portraits that allow visitors to see themselves in the light of creative possibility.
Since growing up in Stockton, an all-American city in the San Joaquin Valley, Maurice has developed his own unique artistic language. He attributes this to a creative family: his mother, a musician; his father, a charismatic minister; and his grandmother, a florist whose larger-than-life grandness made a major impression on him. Opulence and beauty were also aspirational escapes while growing up gay in a straight and Christian world. His practice includes fashion, photography, design, installation, and performance, and he uses all to lures people in with beauty and convey messages.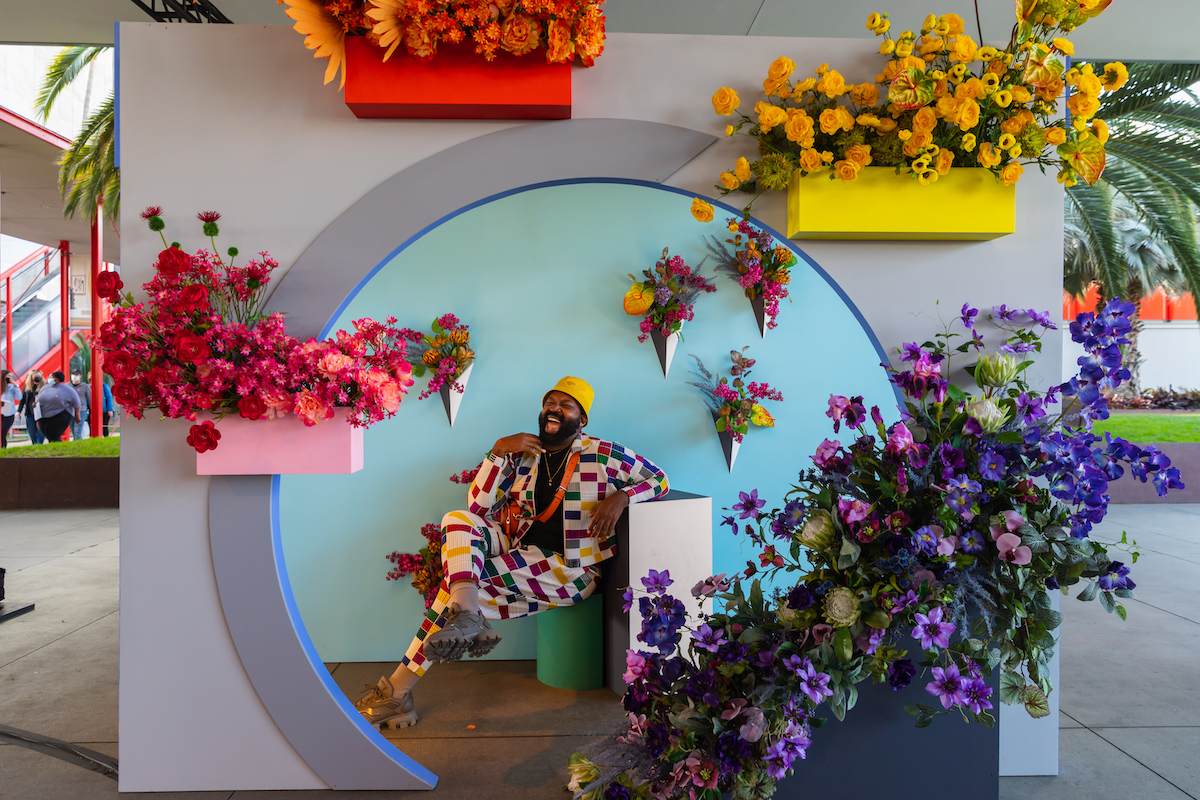 Maurice attended Otis College of Art and Design, where he studied fashion but later transferred to a Fine Arts degree to develop his practice in mixed media. During his time at Otis and under the leadership of performance and social-practice artist Suzanne Lacy, he joined an intensive community-based project in Elkhorn City, Kentucky, one of the most rural regions of the nation in the Appalachian mountains. Throughout his early career and beyond, he was introduced to artists and mentors like Mark Bradford, whom he admired for creating an art ecosystem within his community while addressing critical issues of our time. These moments shaped Maurice's approach and pushed him to develop his own creativity. He is first and foremost an artist, but is also a business person, operating the floral enterprise Bloom & Plume as well as a cafe, both of which he considers manifestations of his artistic practice. The "Chagachino" latte is a work of art in itself!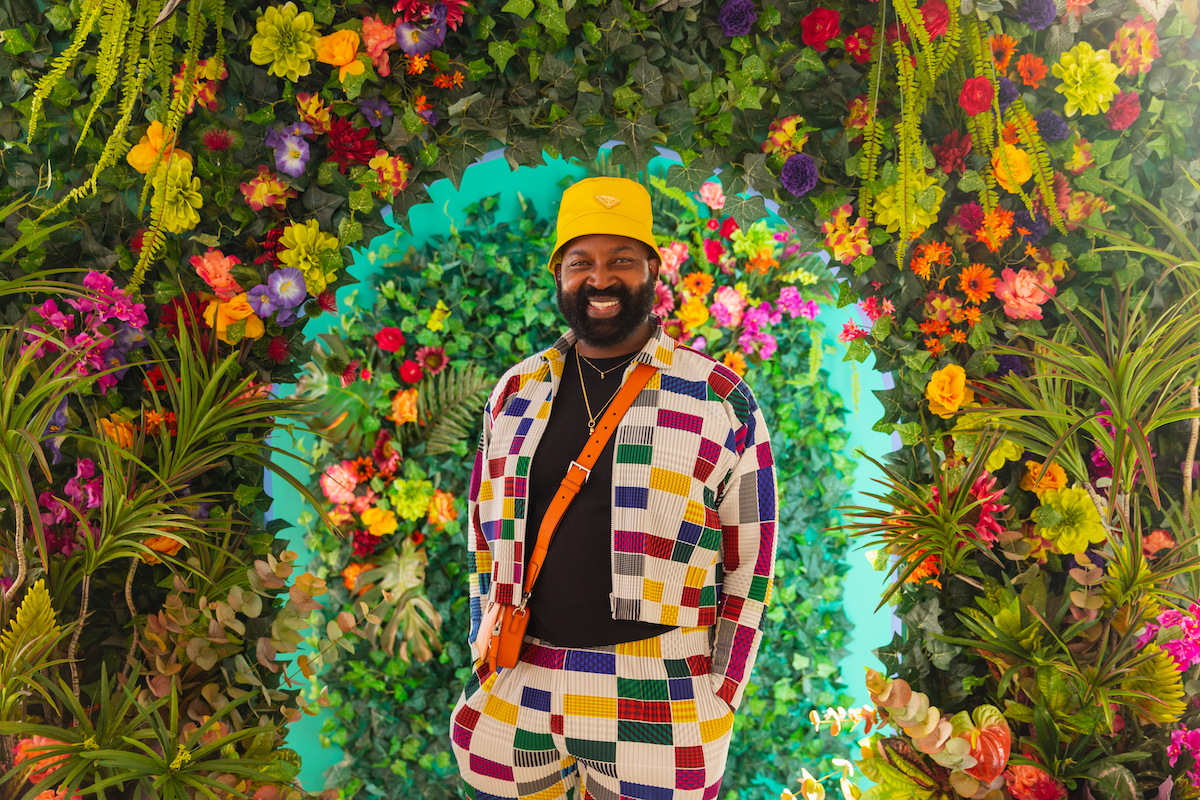 While LACMA invited Harris to create an ephemeral work, his floral environments, which become a collaboration with visitors, will live on in the photographs they take home after visiting The Obama Portraits Tour and Black American Portraits. Harris also considers the project a collaboration with artists Kehinde Wiley and Amy Sherald, whose portraits he reflected on to create environments that would both welcome visitors and allow them to see themselves within the paintings. The floral installation inspired by Sherald's portrait of Michelle Obama draws upon the subtle tones and graphic patterns of the artwork, while the one inspired by Kehinde Wiley's portrait of President Barack Obama incorporates a decadent treatment of foliage, an expression of growth and change. Both installations benefit from the natural light of the Smidt Welcome Plaza.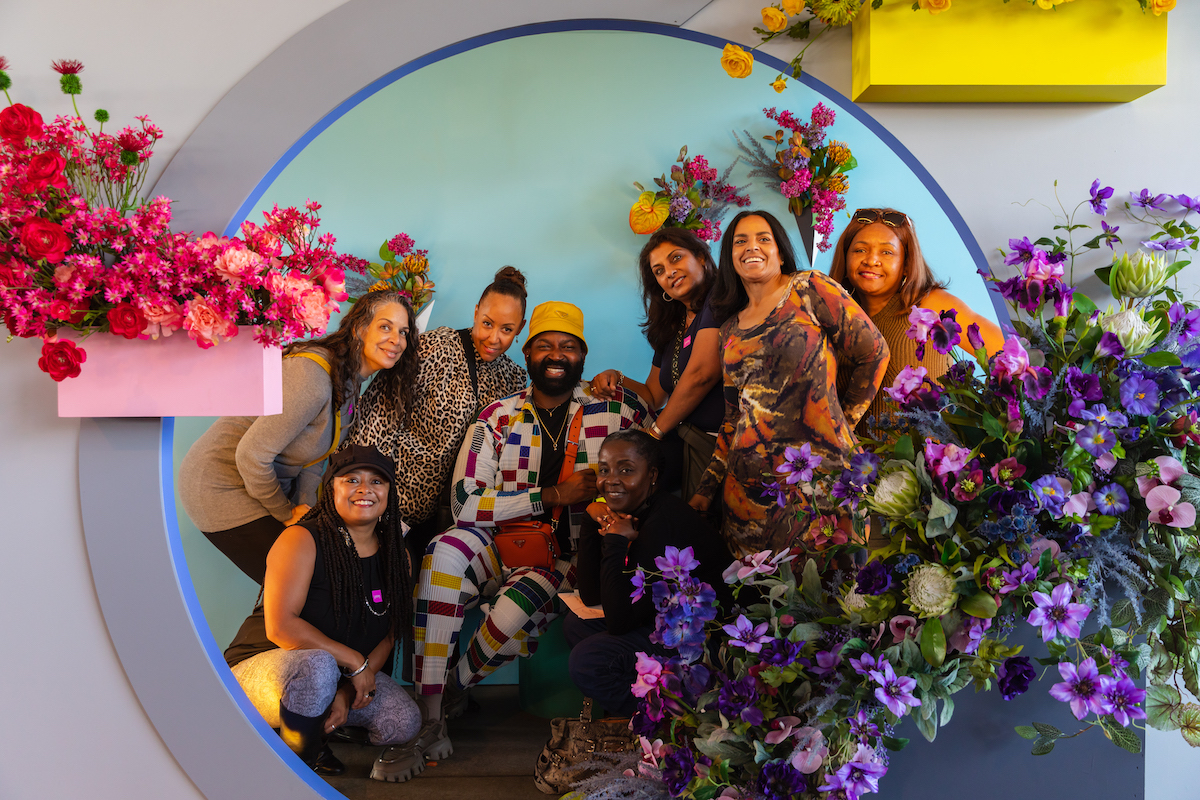 Nearly 4,000 guests visited the Open House, including the evening's program, a conversation between Amy Sherald and New York Times bestselling author and journalist Elaine Welteroth. Maurice expressed his enjoyment at being able to observe visitors' interactions with his work, and appreciated the instant connections and sense of community they generated: strangers standing in line who might not otherwise speak to each other began asking: "If I take your photo, will you take mine?" 
Bloom & Plume's floral environments are on view on LACMA's Smidt Welcome Plaza through Sunday, January 2, 2022. Entry to the museum will be free for all on Satuday, November 20. (Advance tickets are required. Check availability at lacma.org/tickets.) L.A. county families are also encouraged to take advantage of LACMA's free NextGenLA membership for children under 18 that allows entry for an adult guest with each NextGenLA member.