"This tradition is a long, unbroken path. To honor it by adding even one stone to it is a tremendous challenge."
—Michael Cherney
.
Though the majority of the artworks in Ink Dreams are created with ink on paper, the exhibition (on view through December 12) also features photography, sculpture, installation, and oil and acrylic painting, detaching the genre of "ink art" from the materials of ink and brush. What is left is a spirit of East Asian ink painting that transcends medium, based around soft qualities like flow, deep contemplation, and subject matter steeped in history. 
The work of Michael Cherney shares this spirit, aligned with the historical ink painting traditions of East Asia. He states that "the historical aesthetic is foundational to my work and was the primary inspiration for me to first begin down this path." Cherney embraces the philosophical and scholarly foundations of landscape ink paintings as a whole, though at times also makes direct references to an artist or time period. 
Comprising five cloudy ink washes of mountains dotted at their edges with faint trees, Five Peaks: Eastern, Western, Southern, Central, Northern has the appearance of a series of ink and wash hanging scrolls. Its subject is five mountain peaks in Zhangjiajie, a National Forest Park in Wulingyuan Scenic and Historical Interest Area in Hunan Province. Winding mist leads the viewer into the scene, recalling compositional techniques used by master painters of the Northern Song Dynasty (960–1127).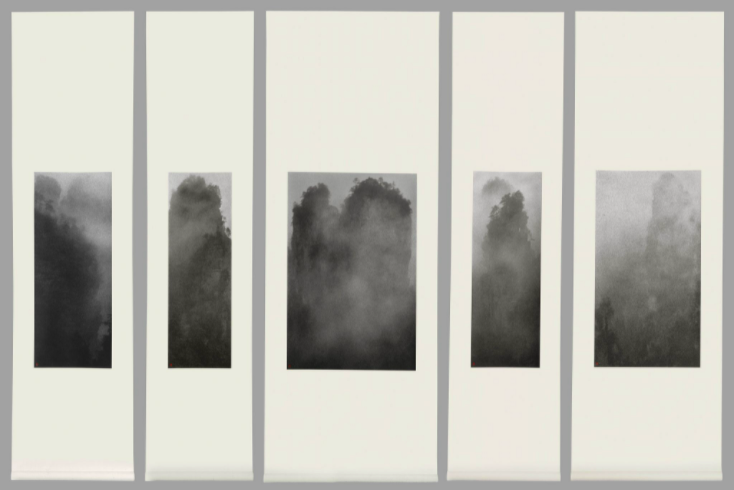 The tools behind Cherney's artworks, however, are much more recent. His works are made not with brush and ink, but camera: his dry brush strokes and translucent washes are actually the grain of the photograph.
Chinese ink artists throughout history have forgone their traditional instruments on multiple occasions, letting fingers, fingernails, lotus pods, husks, scrunched-up paper, splashing techniques, or even their own hair take the place of the brush in an experimental fashion. As Cherney points out, "in a technical sense, the brush is simply being replaced by a camera; it is ink art after all, not brush art." Furthermore, historically, Chinese ink artists were confined to using the tools of their time—photography was simply not an option for artistic experimentation until the late Qing Dynasty (1644–1911). But when photography did finally enter into the canonical ink painter's artistic domain, ink artists were drawn to it.
In Five Peaks, Cherney's intention is not to depict the truest image of nature, shown as accurately as possible, but instead to cultivate the aesthetic of ink in a dreamlike landscape. While a photograph can be framed and manipulated in order to look like an ink painting, in its essence it is still a tool for replicating nature as it is observed, as opposed to a subject found only in the artist's imagination. To Cherney, "the appeal of traditional Chinese landscape painting is that works are intended only as hints at the potential that the real world has to offer: where the image lingers in a state between manifest and the void," but he does recognize the limitations of photography in re-inventing the ink landscape. 
According to the artist, "because nature is in a constant state of change, the strength and beauty of Chinese landscape painting is that it focuses on and conveys the essence and energy of ever-shifting natural phenomena; therefore a painting can feel more 'real' than something like a photograph because it contains timeless qualities of nature beyond one unique moment."
Cherney's artistic practice contributes to the expansion of ink art beyond the concrete materials of ink and brush, into the contemporary era, through his alignment with historical aesthetics and subject matter. 
The exhibition Ink Dreams: Selections from the Fondation INK Collection is on view through Sunday, December 12, 2021. More information on Michael Cherney's art can be found on his website.