Happy Lunar New Year! Welcome to 2022, the Year of the Tiger. To celebrate, let's take a closer look at an artwork that features the twelve animals of the Chinese zodiac. 
Currently on view in the exhibition Legacies of Exchange in the Resnick Pavilion, Circle of Animals/Zodiac Heads by artist Ai Weiwei is a massive work of art. Large bronze heads of the twelve animals of the Chinese zodiac—Rat, Ox, Tiger, Rabbit, Dragon, Snake, Horse, Ram, Monkey, Rooster, Dog, and Pig—sit on top of slender bronze columns. Each one is approximately 10 feet tall and weights around 1,000 pounds! Can you find the tiger? (Hint: it is on the left side.)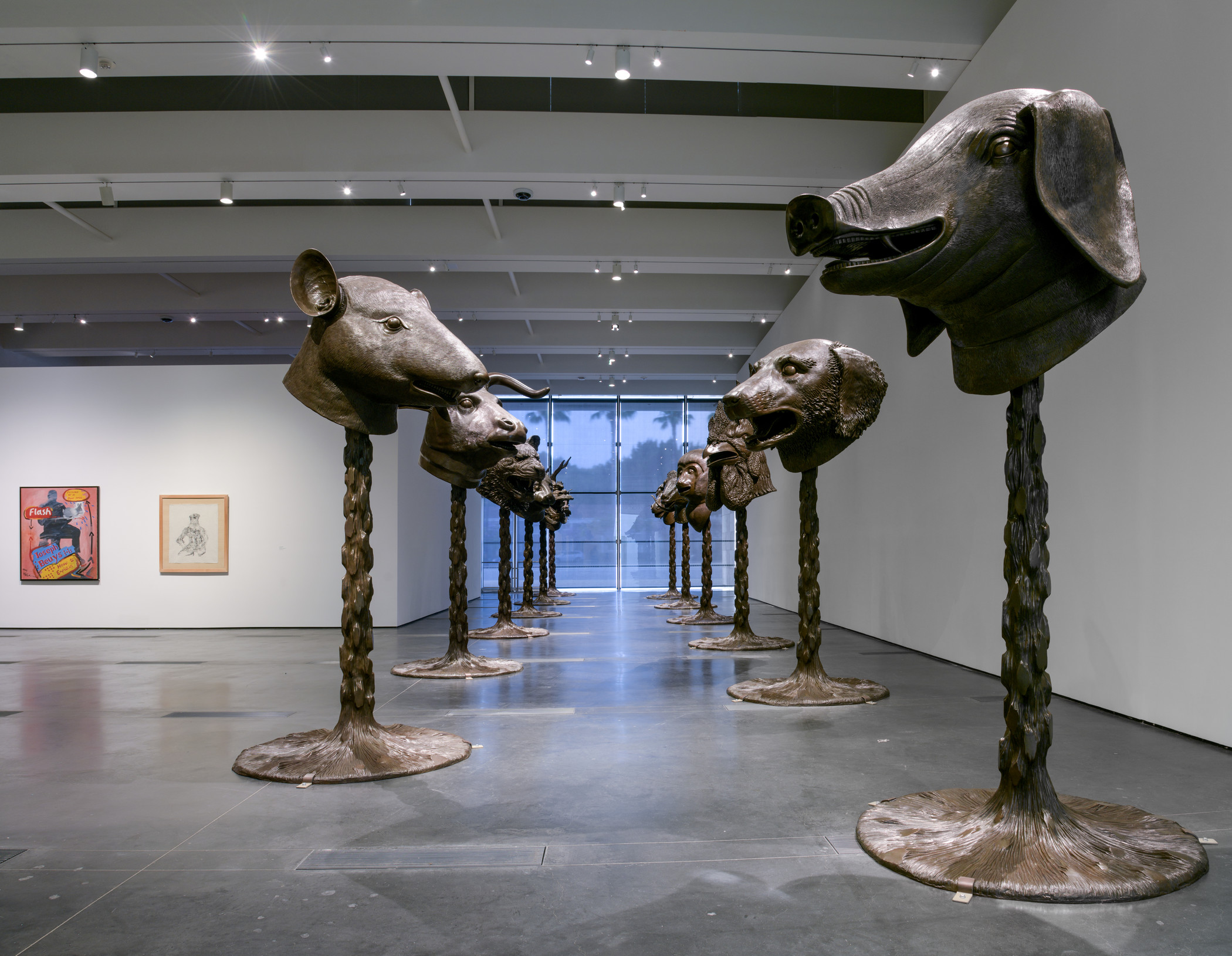 According to the traditional Chinese lunar-solar calendar, each animal symbolizes a year as well as a month, week, day, and a unit of time equivalent to two Western hours. In addition to measuring time, the zodiac animals are also used to predict people's fortunes, and many believe a person has the same characteristics of the animal assigned to their birth year. Tigers, for example, are said to be courageous. Do you know what your animal is? Find out here.
Since ancient times, the twelve animals of the Chinese zodiac have inspired artists. You can find images of them in temple architecture, as sculptures in tombs, or as decorations in gardens. Sometimes they are shown in a hybrid form with animal heads and human bodies, like these small jade sculptures from LACMA's collection.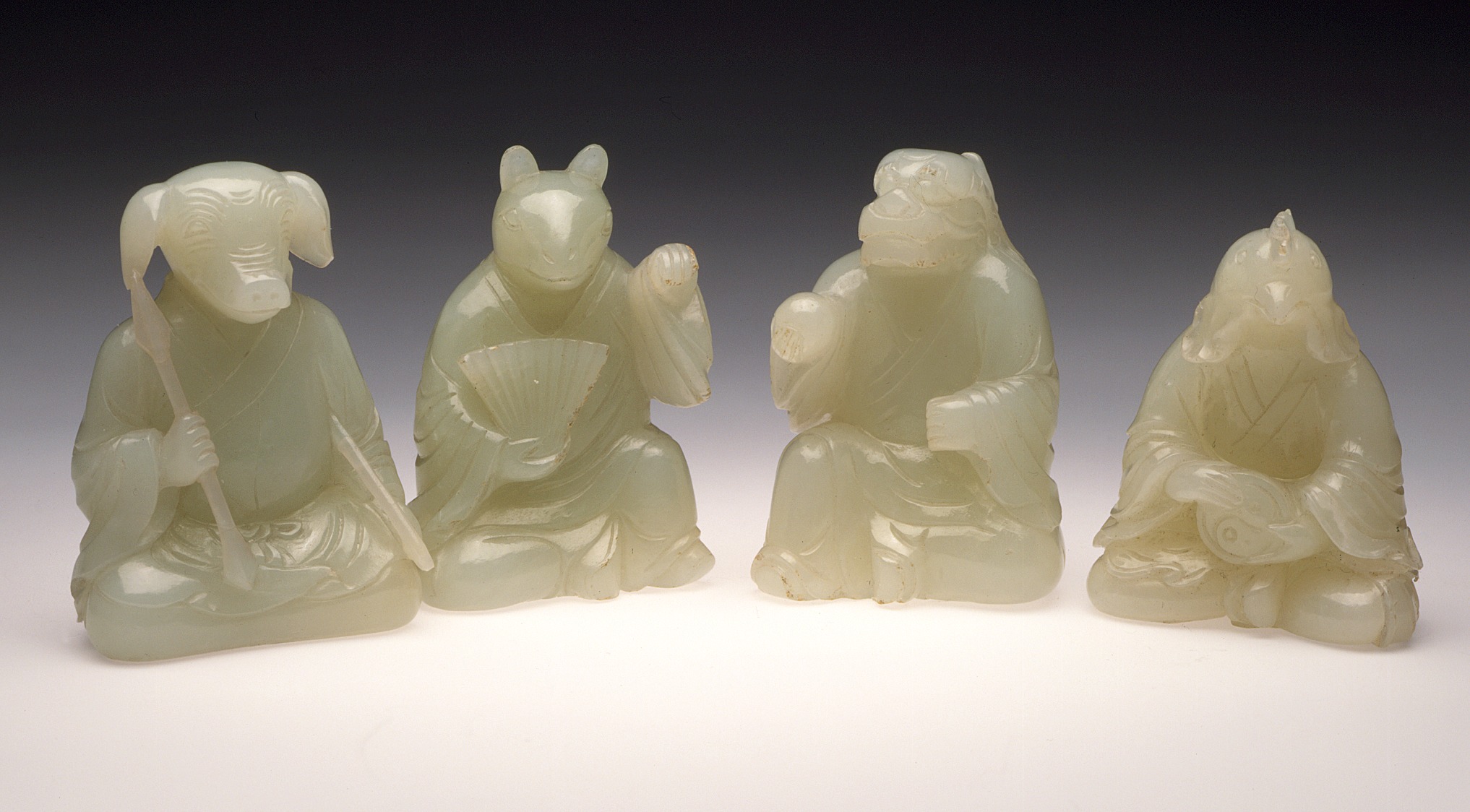 In fact, Ai Weiwei's Circle of Animals/Zodiac Heads is inspired by a famous 18th-century zodiac fountain located in the grand imperial retreat the Garden of Perfect Brightness (Yuanmingyuan) in Beijing. Designed by Italian and French Jesuits, the fountain sat in front of a fancy European-style pavilion and served as both a fountain and a clock. Sculptures of the zodiac animals, with bronze animal heads and stone human bodies, surrounded the fountain's central pool. Each zodiac animal would shoot water out of its mouth into the fountain at specific times of day. See an image of the fountain and learn more about its creation here.
In 1860, the fountain was destroyed during the Second Opium War when French and British troops looted and burned the garden. In 2000, they became symbols of national treasures when three appeared at an auction and the government called for their return them to China. Five heads still remain missing.
This complicated story of the zodiac fountain heads intrigued Ai Weiwei. It inspired him to make a new set of bronze zodiac animal heads. His work is not an exact copy of the original—he re-interprets them by enlarging the size of the heads, mounting them on columns instead of giving them human bodies, and creating new designs for the five missing heads: the dragon, snake, ram, rooster, and dog. 
Ai Weiwei, like the tiger, is known for courageously expressing his opinions through his art. He says: "I've always believed it is essential for contemporary artists to question established assumptions and challenge beliefs."¹ In this new Year of the Tiger, what is something courageous you can do? Can you do it through art? 
If you share your artwork on social media, tag us at @lacma! We love seeing your art!
Check out other Andell Family Sundays Anytime activities on YouTube and Unframed. 
---
1. Brougher, Kerry, Mami Kataoka, and Charles Merewether. Ai Weiwei: According to What? (Munich: Prestel USA, 2012), p. 39.