Artist Frank E. Cummings III strives to create furniture and vessels that "enrich the soul and contribute to the spiritual and emotional well-being of the human condition," an approach influenced by craft philosophies of the Ashanti people of West Africa and early American Shakers. Acclaimed for its beauty and virtuosity, his woodwork exemplifies the ambitious, technique-driven "super object" style that dominated the field in the 1970s. Cummings was an influential educator at California State University, Long Beach (CSULB) and California State University, Fullerton, as well as prestigious workshops.
Born in Watts, Cummings struggled with asthma and dyslexia, ultimately earning his degree from CSULB in 1968. His early work attracted the attention of legendary Pasadena Art Museum curator Eudorah Moore, who included his hard-carved oak chair in the 1971 installment of her landmark California Design exhibition series. That same year he was included in Five California Artists at New York's Fairtree Gallery, earning him national recognition. Yet while critics praised the Black artist's work, they often interpreted it through a racialized lens, inventing ties to African art. Curious about these assumptions, Cummings traveled to Ghana for the first time in 1973. The reverential practices of African craftsmen deepened his relationship to craft, helping him understand how artists "endow the materials with a spirit that other people can see or sense."
Despite his significant professional accomplishments, many of his CSULB colleagues dismissed Cummings as a minority hire. To contest their assumptions, he embarked on a challenging feat for a faculty exhibition: his first completely hand-carved clock. He taught himself horology and created an open form to showcase the intricate gears. The clock, It's About Time! (1979–80), was a masterpiece in the traditional sense, demonstrating Cummings's extraordinary skill and facilitating his ascension in the academy. The work was acquired by the Museum of Fine Arts Boston in 2004.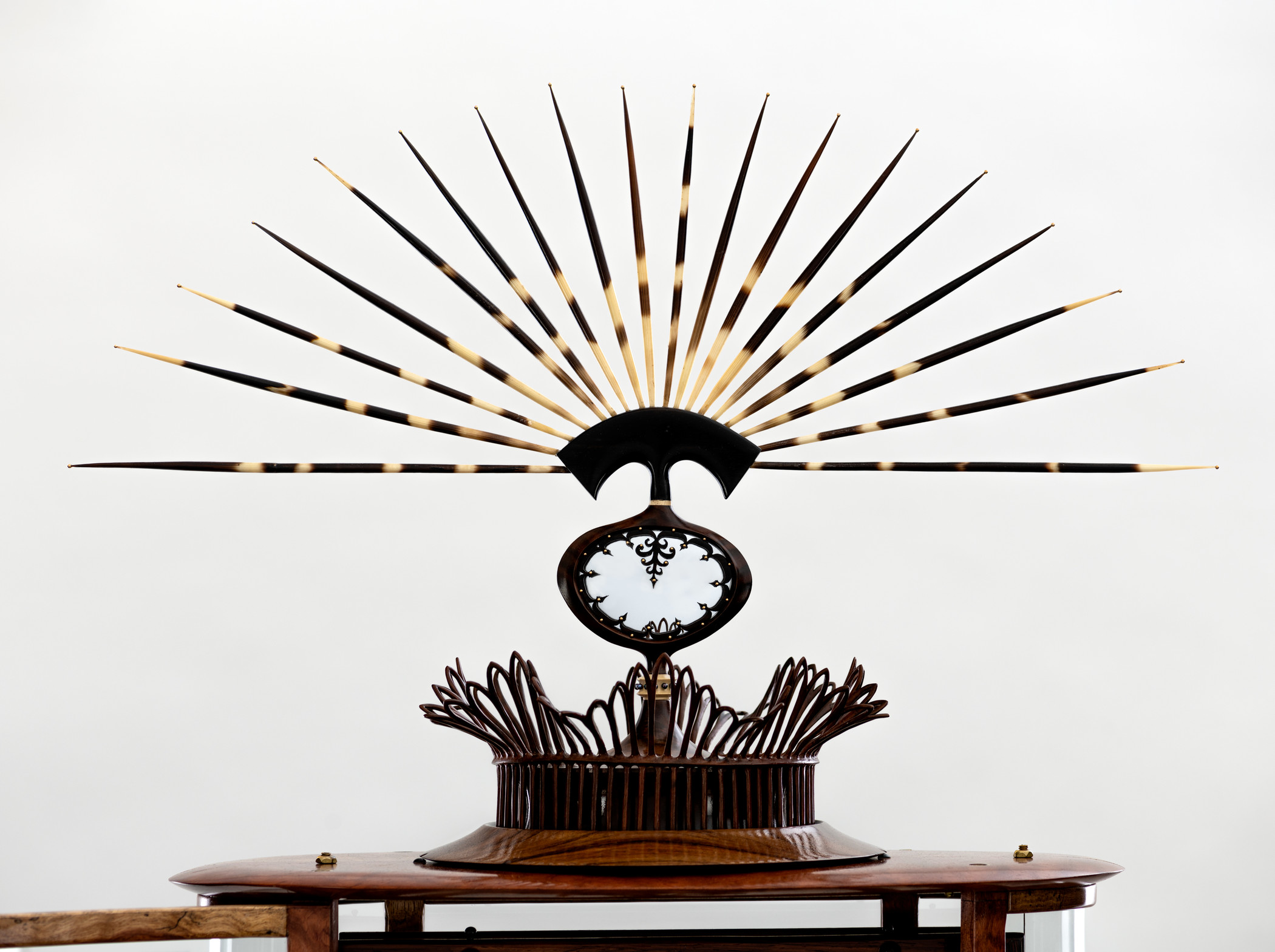 Cummings's second and final clock, Only Time Will Tell, is his magnum opus. The artist asserts "all of my works are vessels for my life" and this jeweled clock is truly the culmination of his artistic achievements. Cummings integrated the lessons he learned from It's About Time! to make the clock run more effectively, and incorporated rare, precious materials he collected over the decades. He hand made or customized every element of the clock except the glass cable, and metal chime bar; even the delicate springs are carved wood. The work incorporates motifs that the artist had perfected throughout his career, from the dramatic porcupine quill crown to the delicate wooden wave carved from one piece of wood. (LACMA's collection also includes exquisite earlier vessels, including one that demonstrates this signature form.)
Cummings's masterwork took two years to complete, a poetic embodiment of the passing of time. The exquisite gears and trims are inspired by natural forms, while he likens the balance of different materials to a carefully composed symphony. The clock was the centerpiece of his 2013 solo exhibition Jeweled Harmony in Wood at the Long Beach Museum of Art. After this capstone, he retired from woodworking.
Only Time Will Tell is a remarkable technical and artistic achivement, and tells the story of a significant Southern California artist. We're pleased to announce that the clock has finally been added to LACMA's preeminent collection of California art and design.
During our 36th annual Collectors Committee Weekend (April 22–23, 2022), members of LACMA's Collectors Committee generously helped the museum acquire nine works of art spanning a breadth of eras and cultures. We'll be publishing information about these acquisitions throughout the week here on Unframed.