California has recently experienced rapidly rising temperatures, some of its worst wildfires, and its second-driest year on record in 2021. In reponse to the climate crisis in the state and beyond, LACMA is participating in A Cool Million, a public arts initiative led by artists and arts institutions across California showcasing climate-themed artworks.
As we wrap up Earth Month, visitors will find a series of posters with vibrant, colorful paintings by contemporary American artist Katherine Bernhardt on display at LACMA. These posters, featuring toucans, sloths, turtles, and other imperilled animals, produced in partnership with David Zwirner, will be on display on the wall surrounding the museum's construction site on Wilshire Boulevard.
"It's thrilling to be part of an initiative that helps save forests and makes us more aware of the importance of forests," said Bernhardt. "All animals are as important as people and deserve to have the same rights, including living in peace on earth. Let's all do our best to love forests and animals not only on Earth Day but also on every single day of our lives."
This year, the A Cool Million initiative—led by art collectives For Freedoms, Art + Climate Action, and Art into Acres—turned climate-related pieces by 14 artists into large-scale public works on billboards, walls, and other public spaces at arts insitutions across California. The public works aim to raise awareness, expand environmental justice programming, and support the conservation of one million of acres of biodiverse lands vital to California's hydrological system, a cause particularly critical in 2022, which is on track to be the state's third consecutive year of drought.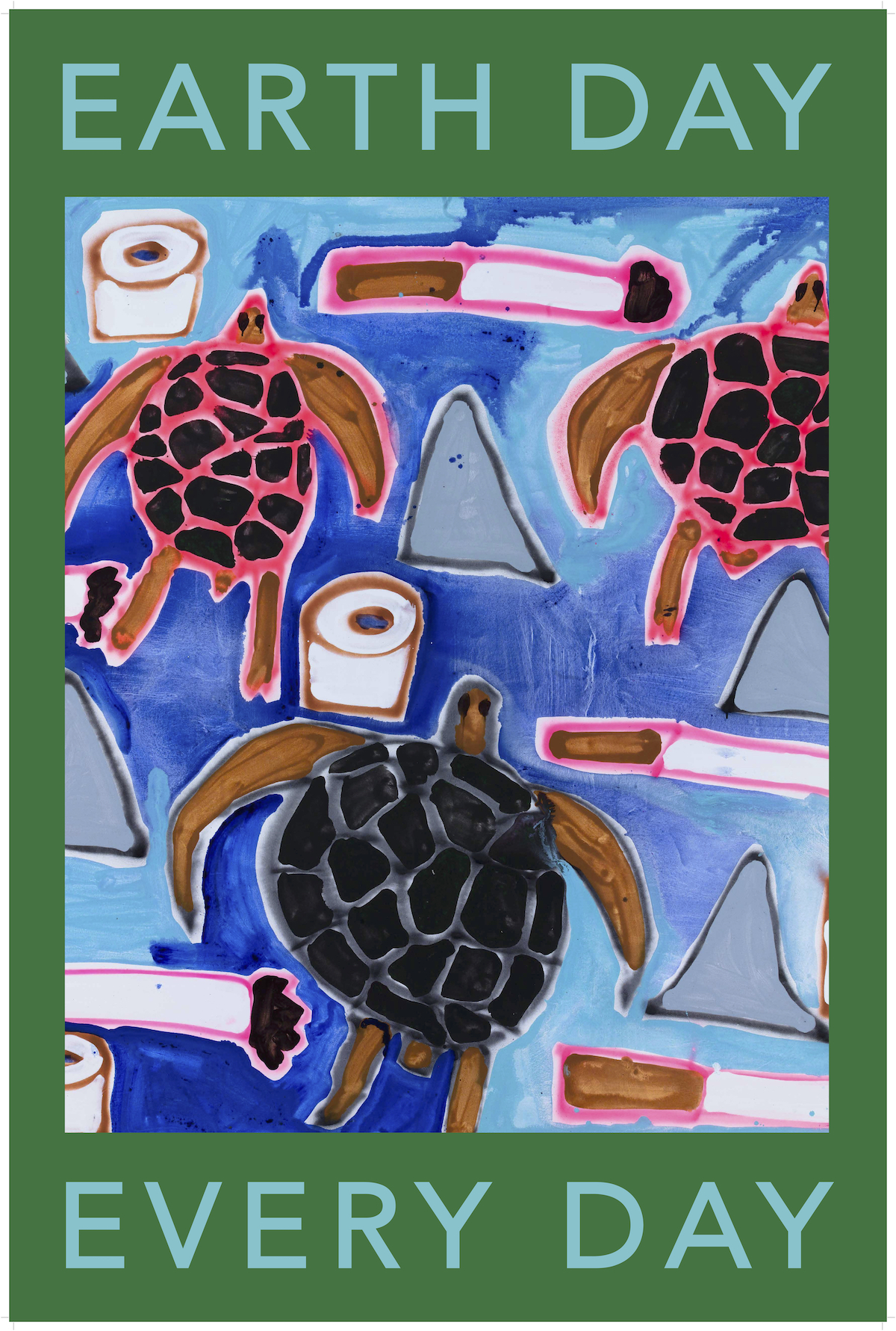 "A Cool Million brings together museums and art organizations throughout California to create a dynamic visual spread that signals to viewers an overall initiative to protect one millions acres of hydrological-related forest," said Rita Gonzalez, Terri and Michael Smooke Curator and Department Head, Contemporary Art, at LACMA. "Katherine's playful imagery appeals to all ages, and hopefully is the hook for a broader public to engage with the larger initiative."
A Cool Million is the first time in history that California museums have banded together to call for climate action. Other institutions joining LACMA in the campaign are the Berkeley Art Museum and Pacific Film Archive, The Broad, the Cantor Arts Center at Stanford University, The Fine Arts Museums of San Francisco, the Getty Museum, the Hammer Museum, ICA San Francisco, the Museum of the African Diaspora, MOCA, REDCAT, the San José Museum of Art, SFMOMA, and the Wattis Institute for Contemporary Arts. 
Alongside Bernhardt, artists include Njideka Akunyili Crosby, Petra Cortright, Lynn Hershman Leeson, Madeline Hollander, Sayre Gomez, Hulda Guzmán, Josh Kline, Rebecca Quaytman, Hugo McCloud, David Benjamin Sherry, Robin F. Williams, and Nicole Wittenberg.
Visit the A Cool Million website to learn more about California's critical land areas and how to get involved in the campaign.