The CSUDH-LACMA Visiting Scholars Program, a partnership between LACMA and California State University, Dominguez Hills, provides students with opportunities to learn practical collections management and curatorial skills while working with the museum's permanent collections. Through hands-on training with LACMA's Collection Management and Curatorial staff, Visiting Scholars gain experience in object handling, collections-based research, digital humanities technologies, and collections management strategies, skills they can apply in future careers as museum professionals. The program is targeted at Anthropology majors at CSUDH, a Hispanic-Serving Institution (HSI) and Minority-Serving Institution (MSI) located in the South Bay region of Los Angeles County. Over the course of the semester-long program, Visiting Scholars visit LACMA's offsite storage facilities once every two weeks for training, and then complete an independent study project for course credit.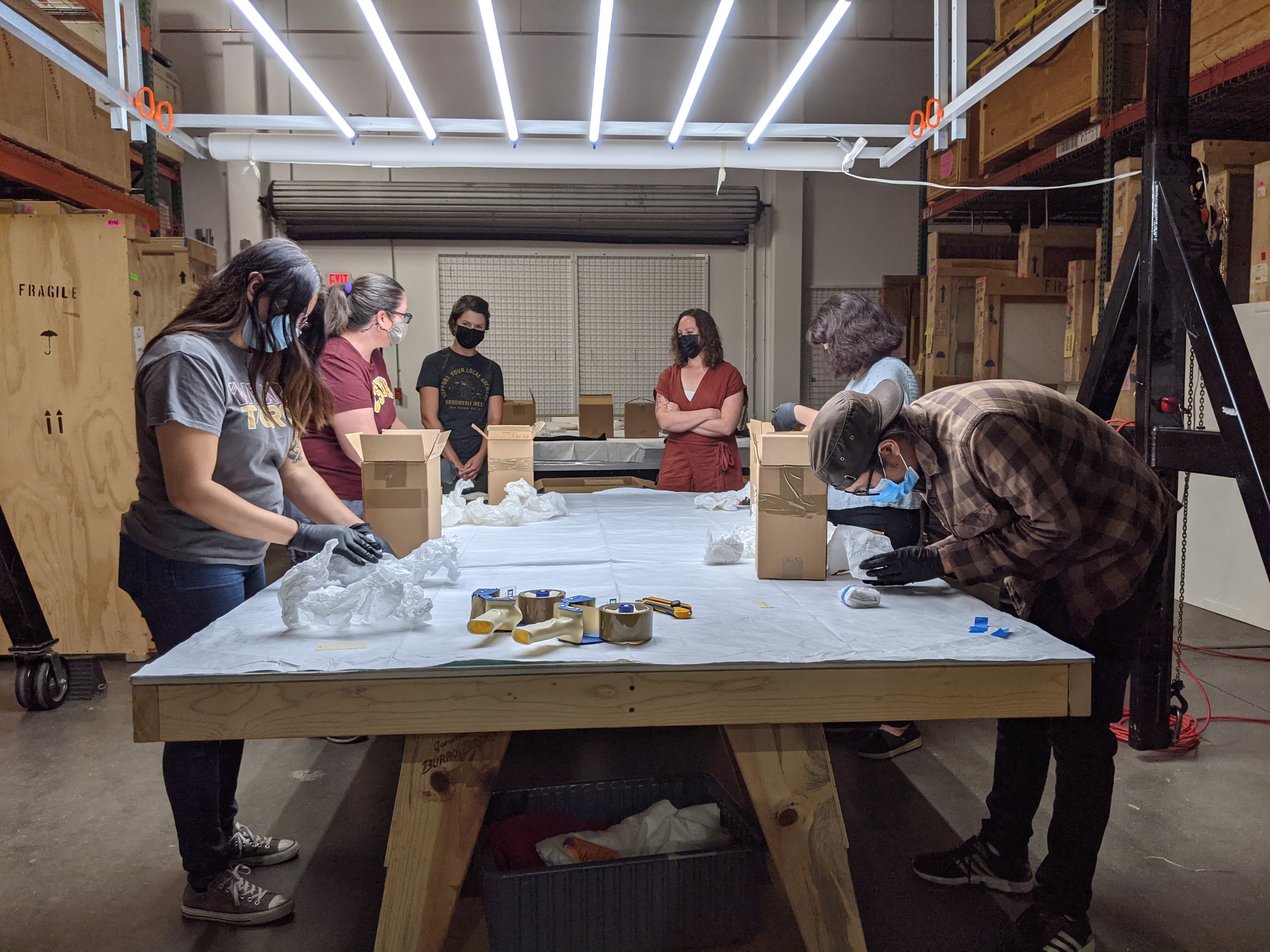 The students' introduction to LACMA's Collections Management department begins with the fundamentals of art handling. They learn the industry's best practices, and how collections managers and art handlers safely treat objects and artifacts during handling, transport, rehousing, and installation. Various pieces from LACMA's permanent collection, representing a variety of media, are set up for the student's initial meeting to inform specific handling techniques. They focus on the use of archival storage materials, with an emphasis on preventative conservation and the institution's responsibility toward culturally sensitive works.
Later sessions focus on the regular activities of collections managers and technicians. These include the ever-important Integrated Pest Management program, which monitors storage facilities for the presence of damage-causing insects and vermin. Routine visual inspection, environmental monitoring, and the placement of traps or lures are discussed as key to a successful IPM program. Students are shown the process of art acquisition as it relates to art storage, and learn how collections technicians track the handling, organization, and logistics of artwork within an offsite storage facility. Newly acquired objects often arrive in non-archival materials. While safe for temporary transport, these acidic materials need to be replaced and upgraded for long-term storage. Students are introduced to various packing types and participate in a custom box-making workshop. These packing and handling exercises lead students to help the Collections Management department rehouse and repack actual museum objects in need of new archival enclosures. By learning to upgrade packing materials, students assist LACMA's collections managers promote proper archival storage conditions, minimize object deterioration, and ensure that the best efforts are taken to conscientiously protect our world-class art.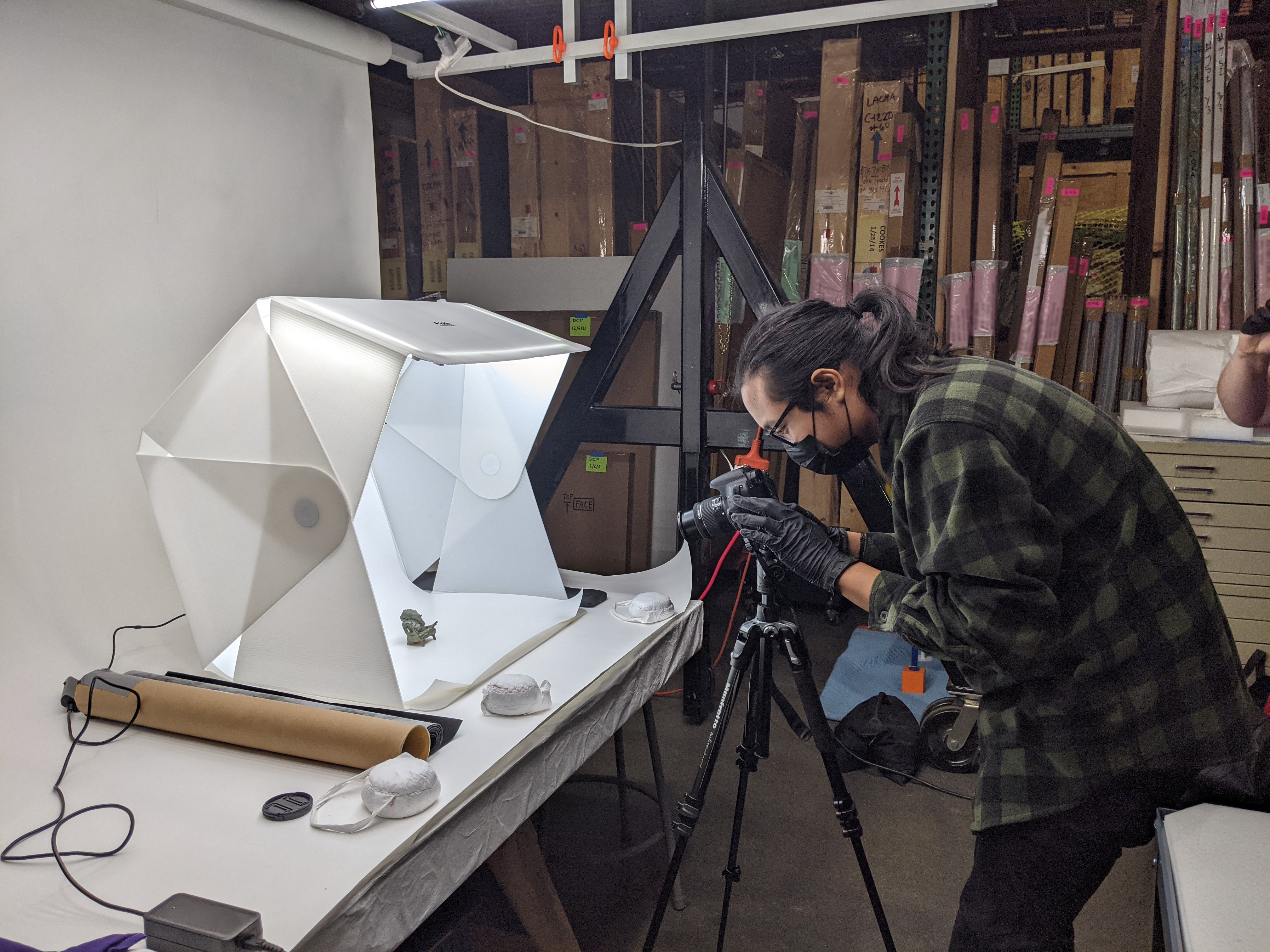 During training sessions with curatorial staff, Visiting Scholars work primarily with pieces in the Art of the Ancient Americas permanent collection, although artworks in other departments may also be included, depending on student interest. These sessions allow students to hone their burgeoning skills in object-based research, including lessons on Indigenous material culture, the pre-Columbian art market and its history, and authentication. Visiting Scholars also learn how to produce three-dimensional models of objects through a process known as photogrammetry, an increasingly popular technology that allows museum collections to be made accessible to an international audience.
Alongside their training at the LACMA facility, Visiting Scholars develop research projects inspired by materials in LACMA's collections, and complete their projects as part of an Independent Study course credit under the guidance of the CSU Department of Anthropology faculty liaison and LACMA staff members. To date, Visiting Scholars have shared the results of their research via StoryMaps and as blog posts published on Unframed, covering topics ranging from LACMA's Hohokam Pottery collection to the research and curatorial benefits of photogrammetry.
The first cohort of Visiting Scholars completed their coursework and hands-on training in Fall 2021. We look forward to continuing this partnership in future semesters to introduce more students to the museum profession. Keep your eyes peeled for posts by Fall 2021's Visiting Scholars on Unframed!