Teachers are facilitators, mentors, nurturers, community builders, and more, and they play an enormously important role in the social-emotional and intellectual development of our youth. Their positive impact can literally be felt for generations: who doesn't have a teacher they will always remember, who encouraged them when they needed it most? And how many other generations of students may have had a similar relationship with that same teacher? 
According to bell hooks, "Education is a vocation rooted in hopefulness. As teachers we believe that learning is possible, that nothing can keep an open mind from seeking after knowledge and finding a way to know."¹ Teachers' hopefulness and dedication have made learning possible throughout the pandemic. Despite seemingly insurmountable challenges, teachers have continued to find ways to meet students where they are and create opportunities for growth and connection. Nonetheless, the last two years have pushed teachers to the breaking point, causing many of them to leave the field entirely, resulting in a nationwide teacher shortage. Those who remain are doing their very best to stave off burnout, stay engaged, and continue showing up for their students. We commend all teachers for their invaluable work and respect their decision, whatever it may be.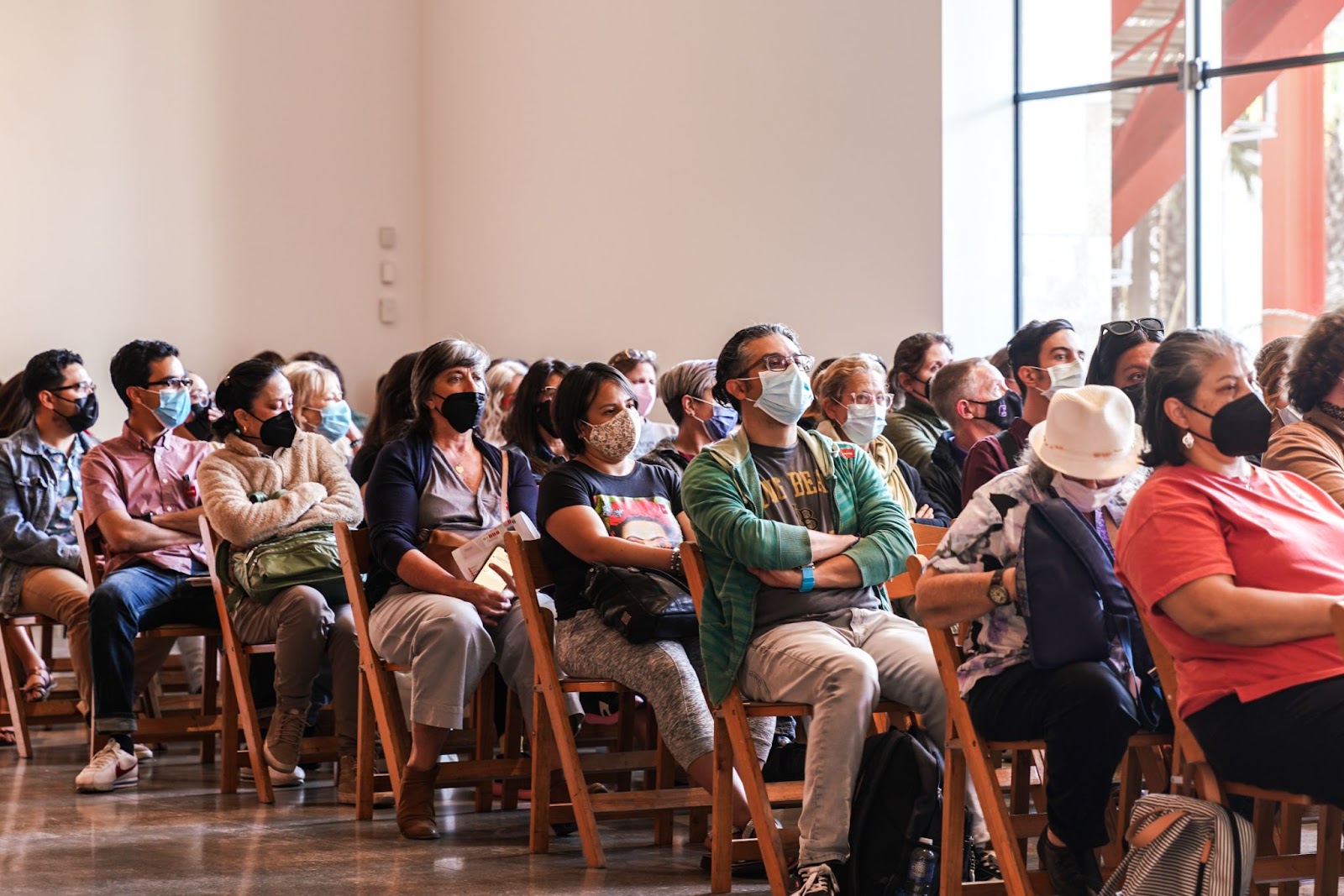 Teachers are nothing if not resilient and open-minded. We know how hard it is for them to find time and energy to engage in extracurriculars even at the best of times, which is why it was such a heartwarming and impactful experience when 100 K–12 teachers gathered at LACMA for Evenings for Educators on May 24. This was the first time the arts integration professional development program, a LACMA mainstay since the early 80s, had returned to campus since February 2020. (The program had transformed into virtual events for the last two years). Seeing everyone in person again and catching up with teacher friends made it abundantly clear that it is impossible to replicate online the experience of being at LACMA after hours surrounded by peers, exploring exhibitions together and engaging in lectures, hands-on workshops, and tours. There is a certain electricity in the air when like-minded people, especially those who share a passion for ensuring that their students have equitable access to art, come together. It's palpable, special, and it instills a sense of community wellbeing.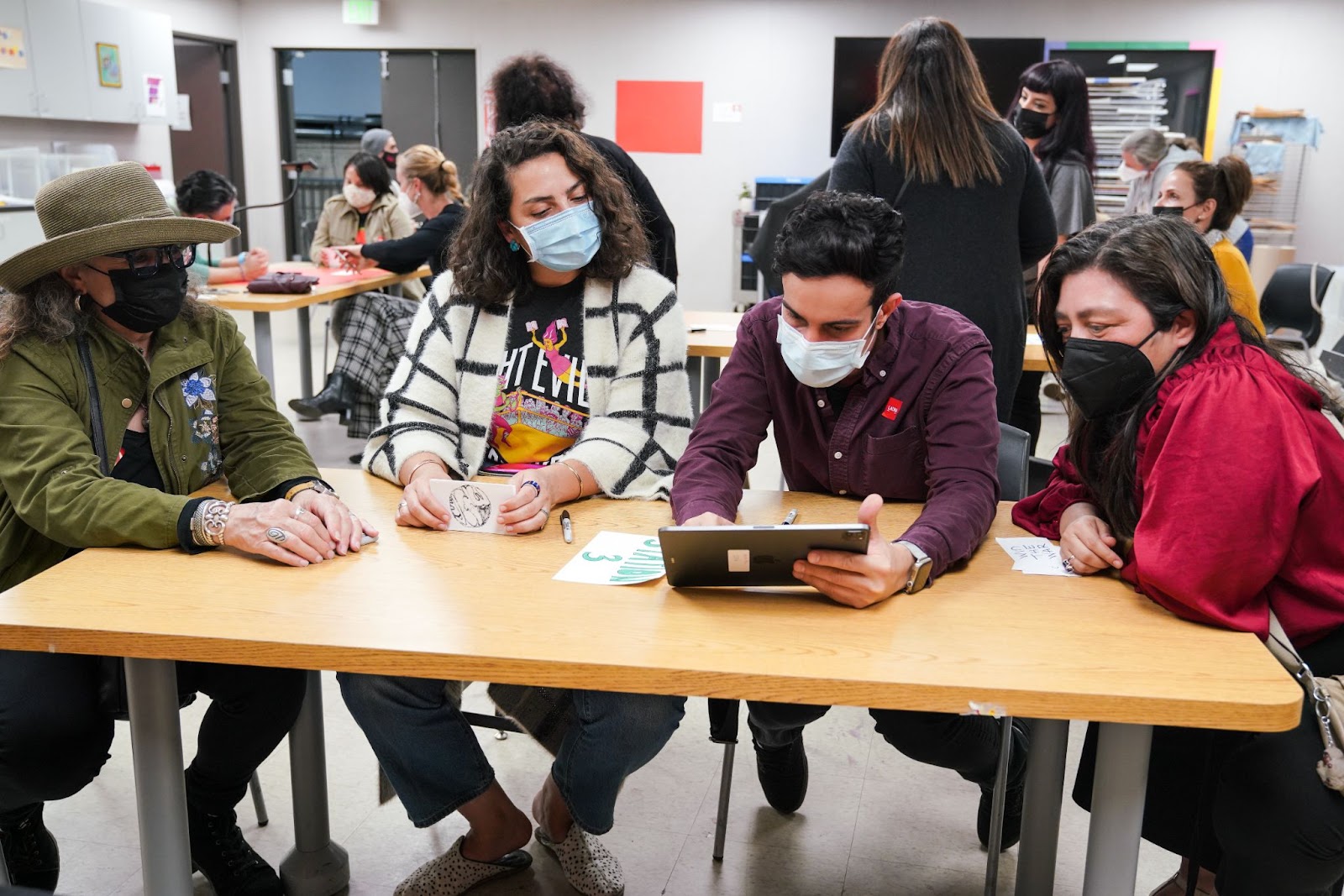 To celebrate being back in person in May, we highlighted an exhibition that can really only be experienced in person: Barbara Kruger: Thinking of You. I Mean Me. I Mean You. Curator Rebecca Morse kicked off the evening with a powerful lecture and Teaching Artists Fernando Garcia and Katy Unger led hands-on workshops that dove deeper into Kruger's work through collage and stop-motion video. Hammer Museum educator Isabella Bustanoby led participants in a comprehensive tour of the exhibition and everyone came together for dinner on the Smidt Welcome Plaza. It was a beautiful evening characterized by connection and learning. Safety measures included a mask requirement for all indoor spaces.You can view a series of stop-motion videos created by teachers in Unger's workshop that take Kruger's famous "you" statements and give them a new twist. 
Teachers, we are so grateful for your participation in Evenings for Educators and we hope to see you all again in the fall! In the words of one teacher in attendance, "Thank you so much for bringing this program back. It has been a tough couple of years and to be here again is so refreshing." In the words of another, "It feels so good to be here in person again. Nothing beats the real thing."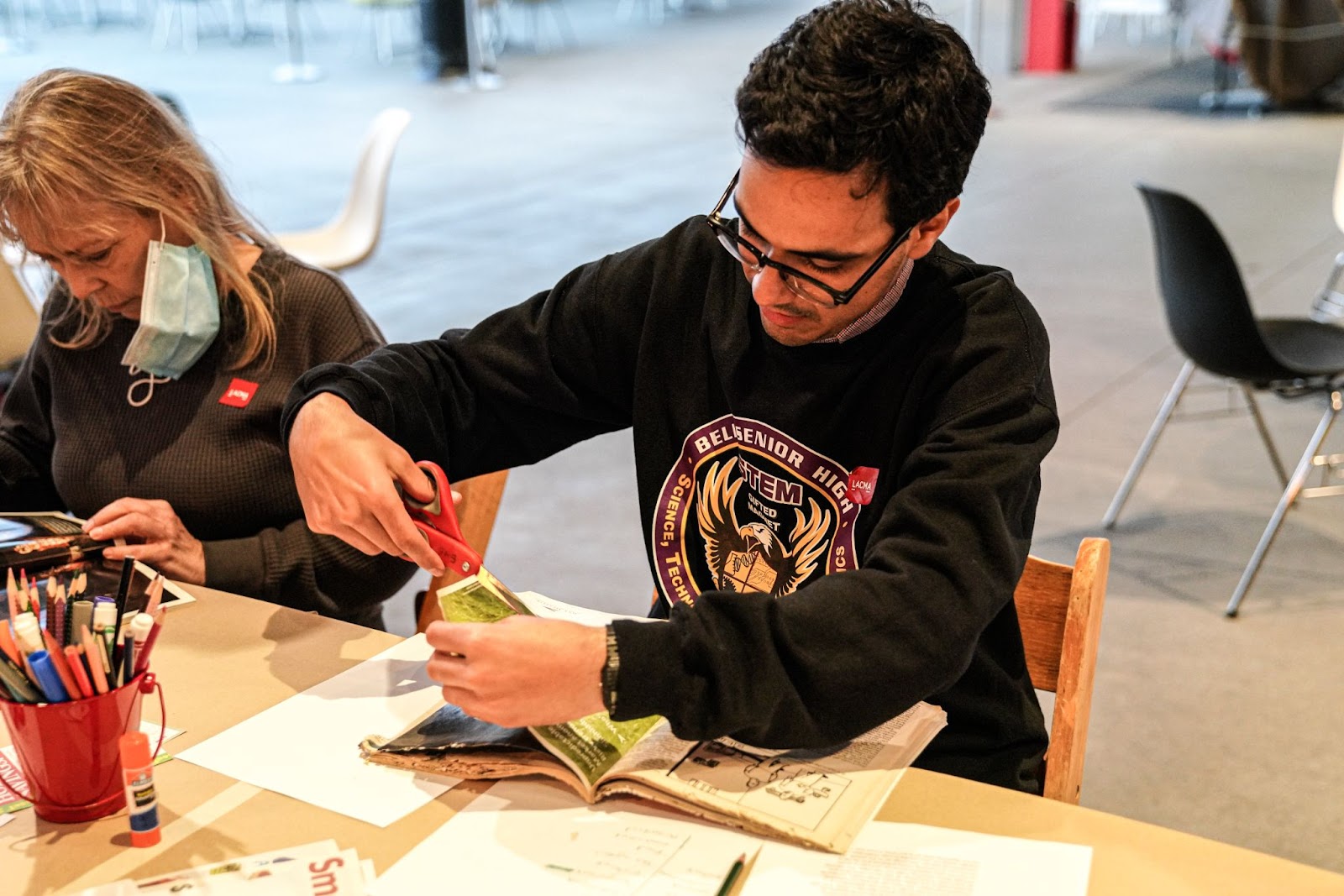 In the 2022–23 school year, Evenings for Educators will have a hybrid format. In September and April we will host in-person programs, and in December and February programs will be virtual. Our decision was based on hearing directly from teachers, who said that while in-person programs are ideal, getting to LACMA on a Tuesday evening after a long day at school can sometimes be too challenging. We hope that this new flexibility will make it possible for more teachers to participate in Evenings for Educators in a way that fits their lifestyle. 
In addition to our teacher programs, we offer a wide range of resources to help teachers bring visual art into their classrooms and spark students' creativity. Check them out:
StoryMaps—resource guides created for each Evenings for Educators program that provide art historical context, discussion questions, and lesson plans.

YouTube Educators Playlist—our main hub for program recordings, including Evenings for Educators and the Educator Speaker Series.

Teachable—online courses on demand for both students and teachers.
1. bell hooks. Teaching Community: A Pedagogy of Hope. (Routledge, 2013), p. 14.