In the 16th century, Spanish and Portuguese conquistadors colonized the Americas and the Philippines. In the blink of an eye, the world was more interconnected than ever.
As seen in Archive of the World: Art and Imagination in Spanish America, 1500–1800, during the next three centuries (c. 1500–1800), New World artists drew inspiration from the visual arts of Asia, Europe, Africa, and the Americas. Intent on innovation, local artists mixed Native traditions with foreign techniques and styles. A similar exchange affected much of the cuisines of countries ranging from Mexico to Brazil, Peru to the Philippines.
Beginning in 1565, the Manila Galleons sailed yearly across the Pacific Ocean between Manila in the Philippines and the port of Acapulco, connecting Mexico to Asia. Goods from across southeast Asia arrived in Manila for export to Acapulco. From there, items traveled throughout Spanish America and across the Atlantic Ocean to Spain, creating a global trade route that lasted until 1815.
Along with silks and decorative arts came livestock, rice, wheat, citrus, sugar, spices, and other ingredients, many of which had found their way to Spain earlier when it was under Moorish rule (711–1492). In came new ways of preserving food and cooking techniques and out went new culinary traditions and a host of Native foods such as chocolate, vanilla, tomatoes, potatoes, corn, chiles, avocados, beans, and tropical fruits. Flavors changed. Taste buds adapted.
Adobo and the Philippines
In Asia, the culinary influence of Spain and Mexico gave rise to new Filipino dishes. (The country takes its name from King Philip II.) The Spanish colonial regime brought Mexican tamales, paella, and a new name for  the country's Native dish: adobo. The Spanish word "adobo" refers to a pickling sauce of olive oil, vinegar, and spices. Filipino adobo is not a dish of Spanish or Mexican origin, but a Native one from the islands. The Spaniards called it "adobo" because it reminded them of their own adobo sauce. The cooking method consists of marinating and stewing meat in a briny mixture of vinegar, soy sauce, and spices. It is typically served with rice, which was cultivated on the islands since the fourth century BCE.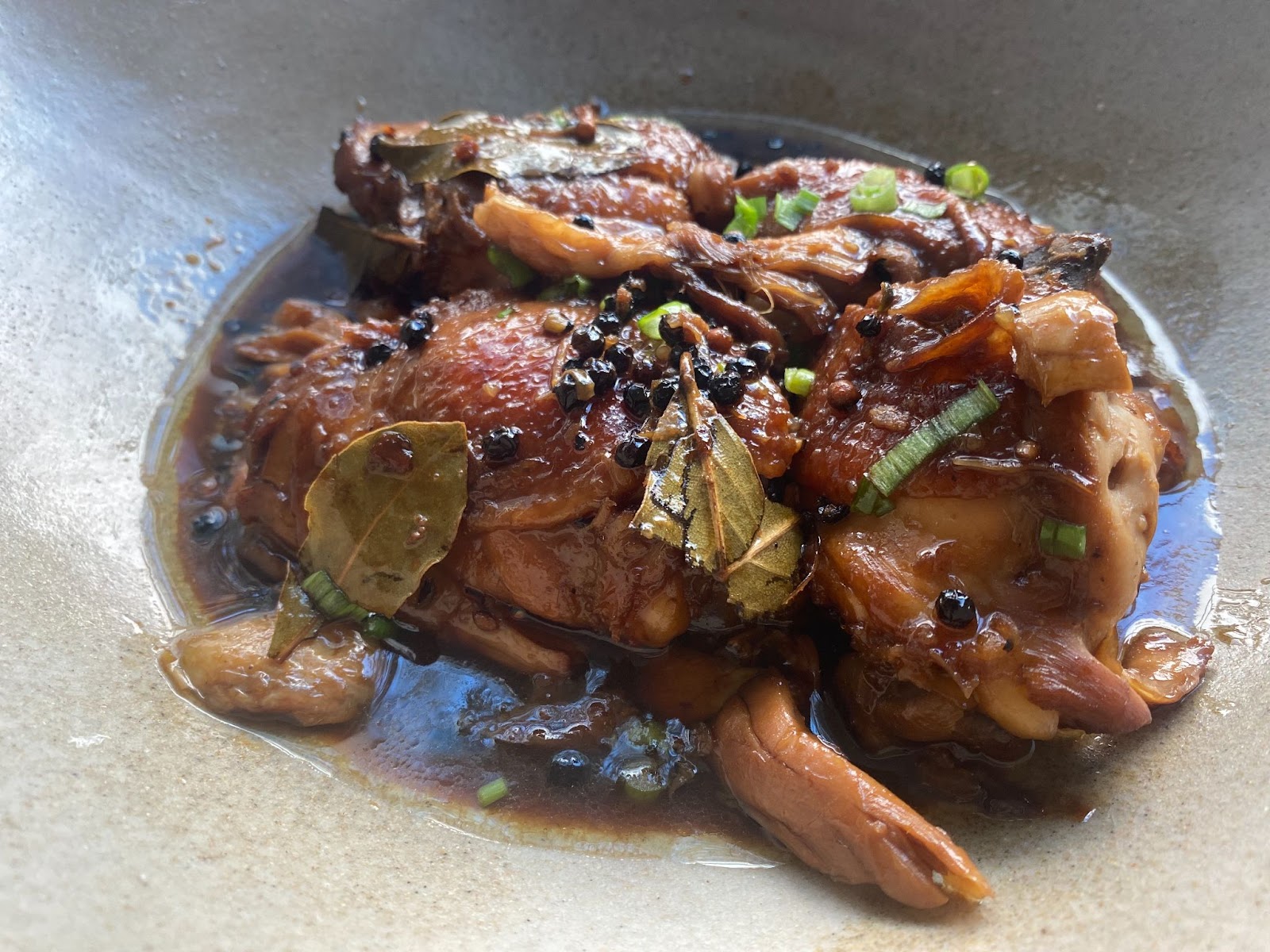 Filipino Chicken Adobo
Ingredients
For the chicken:
1 1/2 pounds chicken thighs, skin-on, bone-in
1/3 cup soy sauce
5 tablespoons white vinegar
6 garlic cloves, smashed
3 bay leaves
1 tablespoon vegetable oil
1 cup chicken broth
3 tablespoons brown sugar
1 tablespoon whole black peppercorns, gently crushed in a mortar and pestle or with the side of a knife
4 scallions, sliced for garnish
 For the rice:
1 tablespoon butter
1 cup long grain rice
2 cups water
½ teaspoon salt
Instructions
Put the chicken in a baking dish and add the soy sauce, vinegar, garlic, and bay leaves. Cover and refrigerate for at least 2 hours or overnight. Bring to room temperature before cooking.
Remove chicken from marinade (reserve the marinade) and pat dry with paper towels.
Heat oil in a large skillet over medium-high heat. Once hot, place the chicken, skin side down, in the pan. Cook over medium-high heat, undisturbed, until fat starts to render and the chicken is golden brown, about 5 minutes. Flip the chicken and cook for 3 minutes. Be careful not to overcrowd the chicken or it will steam and not brown. Remove the chicken from the pan.
Remove the excess fat from the pan and carefully add the reserved marinade along with the garlic and bay leaves, brown sugar, and peppercorns. Bring to a simmer, scraping up any brown bits on the bottom of the pan.
Return chicken and its juices to the pan with the skin side down. Add enough broth or water to cover by half, bring to a simmer, cover, and simmer until tender, about 30 minutes.
While the chicken is simmering, prepare the rice. Melt butter in a saucepan, add rice, and sauté briefly. Add water and salt and bring to a boil. Lower the heat, cover, and reduce to a simmer. Cook until all of the liquid is absorbed, about 20 minutes.
Flip the chicken, cover, and cook for another 30 minutes or until its internal temperature is 165ºF. If the sauce is not sufficiently reduced, set the chicken aside, cover to keep warm, and continue to reduce until thickened. Return the chicken to the pan and coat with the sauce. Serve with white rice and garnish with sliced scallions
Serves 4
.
Ceviche and Peru
During the colonial period, the Manila Galleons enabled trade between Peru and China.
When the Spaniards first landed in Peru in 1532, they encountered a local dish of fish marinated in chiles, seaweed, and tumbo, a kind of passionfruit. This was an early form of what would become Peru's national, cebiche, more commonly spelled ceviche outside of Peru. Important components of Peruvian ceviche include citrus, onion, and ginger. Native to Asia, these ingredients—which had been introduced earlier in Europe—found their way to Peru after the conquest.
The word ceviche may come from the Quechua word siwichi, for fresh fish, or the Spanish escabeche, an Andalusian-Arabic word meaning seafood, meat, or vegetables cooked in vinegar.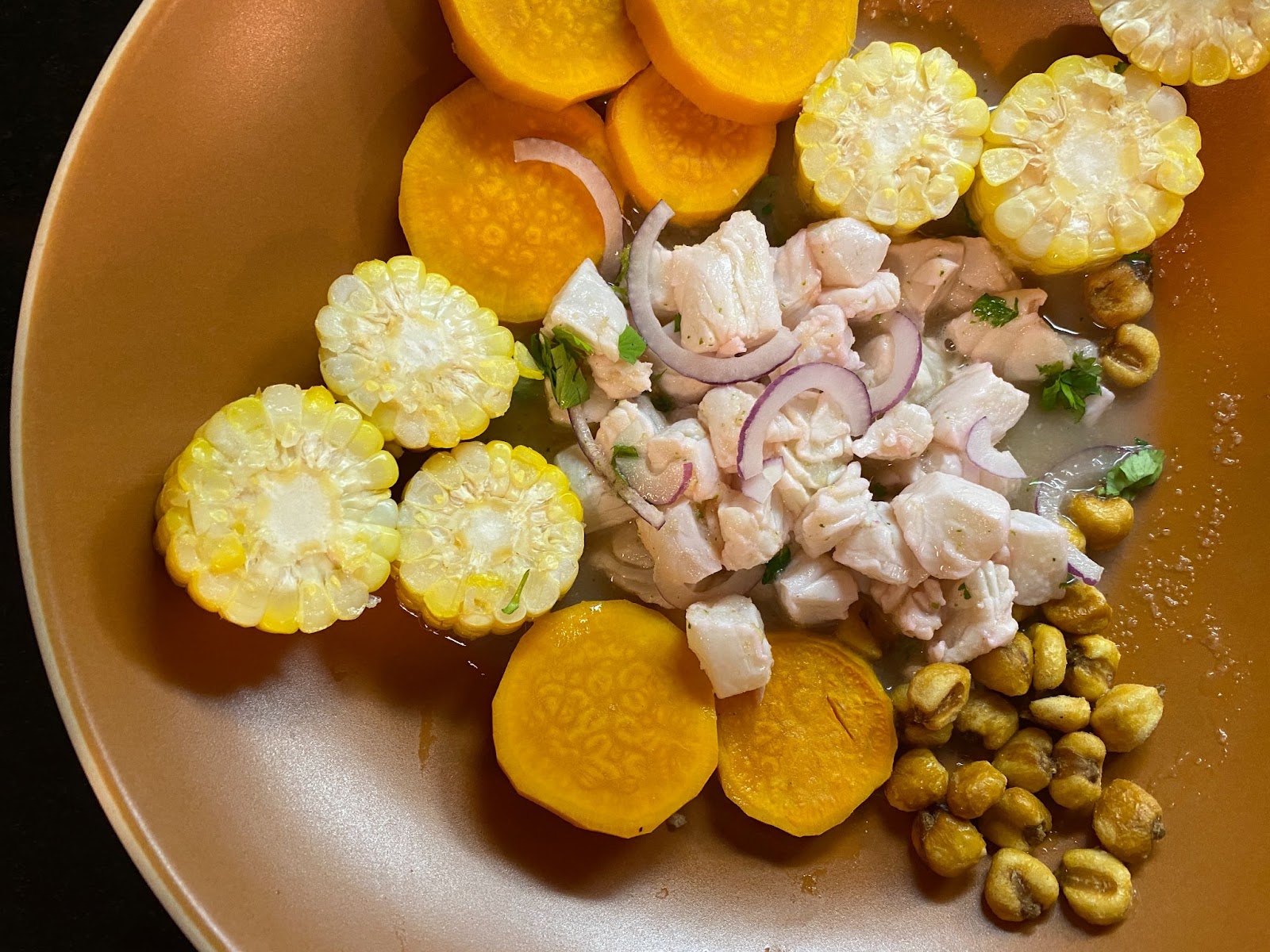 Peruvian Ceviche
Ingredients
For the sweet potato:
1 large sweet potato, peeled and sliced into thin rounds
water
1 ½ tablespoons sugar
zest of one orange
3 whole cloves
For the corn:
2 ears of corn
½ cup salty corn (corn nuts)
For the leche de tigre (tiger's milk):
1 large clove garlic
1 inch piece ginger, peeled and roughly chopped
¼ stalk celery, roughly chopped
2 tablespoons red onion
3 stems cilantro
¾ cup lime juice
¾ cup clam juice or fish stock
1 aji chile
generous pinch of salt
For the ceviche:
12 ounces red snapper, sea bass or halibut, cut into ½-inch cubes
1 small red onion, thinly sliced
1 aji amarillo or habanero chiles, deseeded and chopped
¼ cup cilantro, chopped
salt and pepper to taste
lettuce for serving
Instructions
Place sweet potato in a saucepan with enough water to cover by about an inch, sugar, cloves, and orange zest. Bring to a simmer and cook until tender, about 5 to 10 minutes. Drain and set aside.
In a separate saucepan, boil the corn until tender. Drain, let cool, and cut into 2-inch sections. Set aside.
Prepare the tigre de leche. Place all of the ingredients in a blender and blend until smooth. Strain through a fine mesh sieve. Taste and add salt if needed.
Place cubed fish in a non-reactive bowl. Add the leche de tigre, cover, refrigerate, and let marinate for 10 to 15 minutes or until the fish has firmed up and turned milky white. Add the thinly sliced red onion, cilantro, and chiles and gently toss. Add salt and pepper to taste.
Serve over a bed of lettuce with sweet potato, sliced corn, and corn nuts.
Serves 4
.
Moqueca and Brazil
In 1500, when the Portuguese landed on the coast of Brazil, the country had a population of roughly five million in a territory that expanded from the equator through the Tropic of Capricorn. By 1534, the king of Portugal began to grant land rights to colonize the area, which was rich with pineapple, peanuts, cashews, and manioc among many other crops. (In Archive of the World, you can view a special bowl designed to hold manioc flour.)
Within three decades of colonization, the Portuguese had established sugar plantations along the coast. Enslaved Africans, brought to work the fields, also imported their culinary traditions and ingredients. Especially prominent is moqueca, a seafood stew from Bahia, the heart of Afro-Brazilian culture. The name of this dish derives from the Kimbundo term mu'keka, an African stew. The dish also blends the culinary traditions of pokeka, an Indigenous Brazilian recipe for fish cooked and wrapped in leaves, and Portuguese cozidos (stews). African culinary influences set the scene for this dish cooked with dende (palm) oil and coconut milk.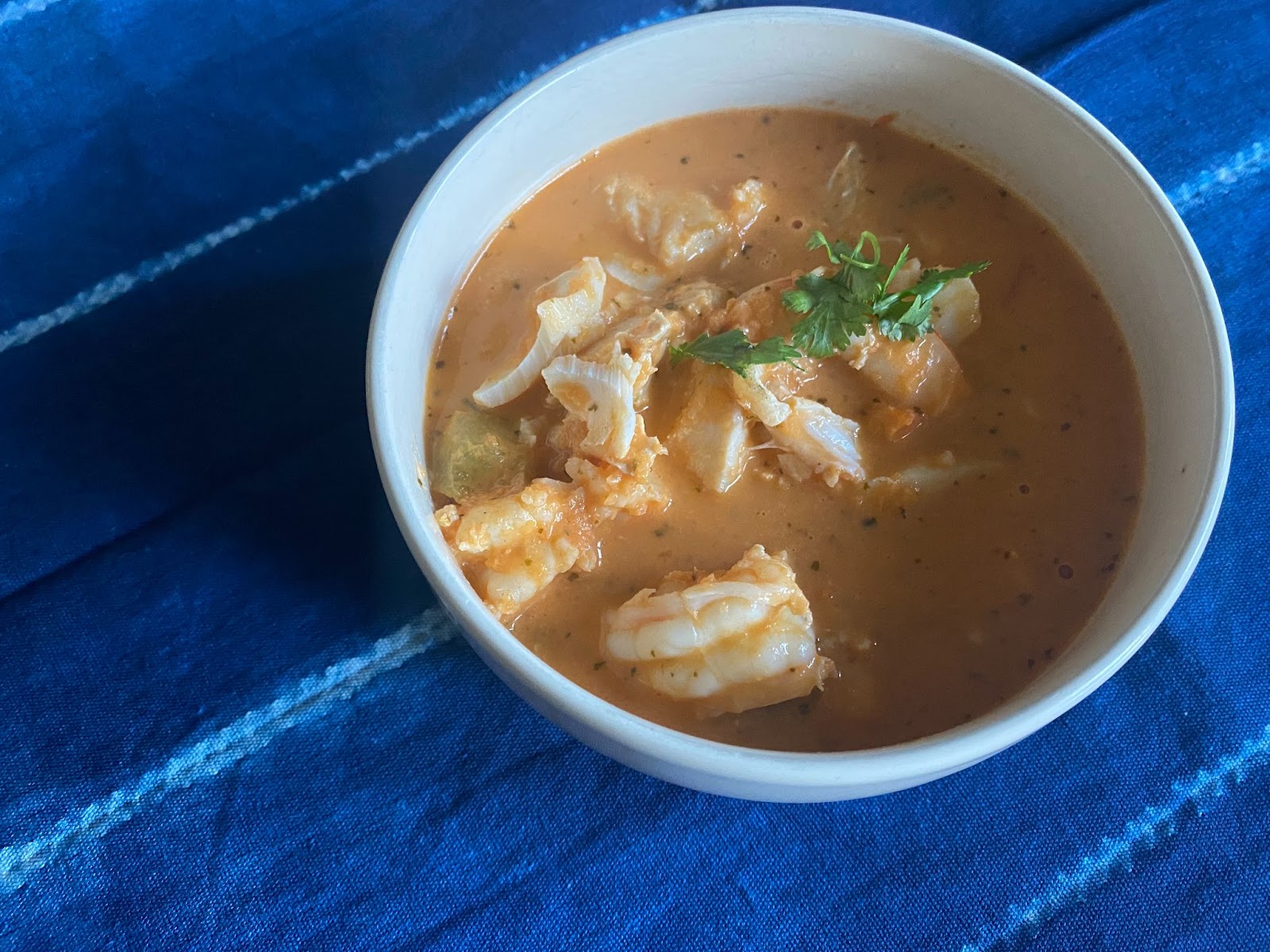 Moqueca (Brazilian Shrimp and Fish Stew)
Ingredients
1 pound fresh codfish or other firm white fish, cut into 1 1/2 inch cubes
1 pound shrimp, peeled and deveined
3 cloves garlic, minced
salt and pepper
1 15-ounce can whole peeled tomatoes
1 onion, coarsely chopped
1/4 cup fresh cilantro, stemmed, plus more for garnish
2 tablespoons dende oil or olive oil
1 green bell pepper
1 red bell pepper
1 Malagueta pepper, thinly sliced
1 14-ounce can full fat coconut milk
juice of 1 lime
Instructions
Place the cubed fish and shrimp in a bowl. Toss with garlic, salt, and pepper.
Prepare the moqueca. Add the canned tomatoes and their juices, onion, and cilantro to a food processor and blend until smooth.
Heat 2 tablespoons oil over medium-high heat and cook the diced peppers and Malagueta pepper until softened, about 5 minutes. Add the tomato and onion mixture and 1/2 teaspoon salt and cook until thickened, 3 to 5 minutes.
Add the coconut milk and bring to a boil. Add the seafood and lower the heat to a simmer. Stir gently and simmer for 3 minutes. Stir in the lime juice. Cover and turn off the heat. Let sit for 15 minutes. Garnish with fresh cilantro and serve with white rice.
Serves 6
Adapted from Cook's Illustrated.
Deconstructing the ingredients and even the names of these dishes takes us on a journey around the world and demonstrates the connections that are at the heart of Archive of the World. Try these recipes for yourselves at home, and visit the exhibition before it closes October 30.