For Native American Heritage Month, which recognizes and celebrates the significant contributions the first Americans made to the establishment and growth of the U.S., we're sharing highlights from LACMA's exhibitions and collections on Unframed throughout November.
"I tend to have these layered correlations in terms of what I see in my environment and how I translate that into my work. Observation is a key part of my learning process and journey as an artist. And I also think that questions are important as an artist and someone who is learning in my life. If I follow a question I don't always have to have a concrete answer but I can explore what that question offers. And with BREACH I started [with] this question, 'Can a culture sustain itself when it longer has access to the material that fashions that culture?' It really reflected on the environmental issues we were facing."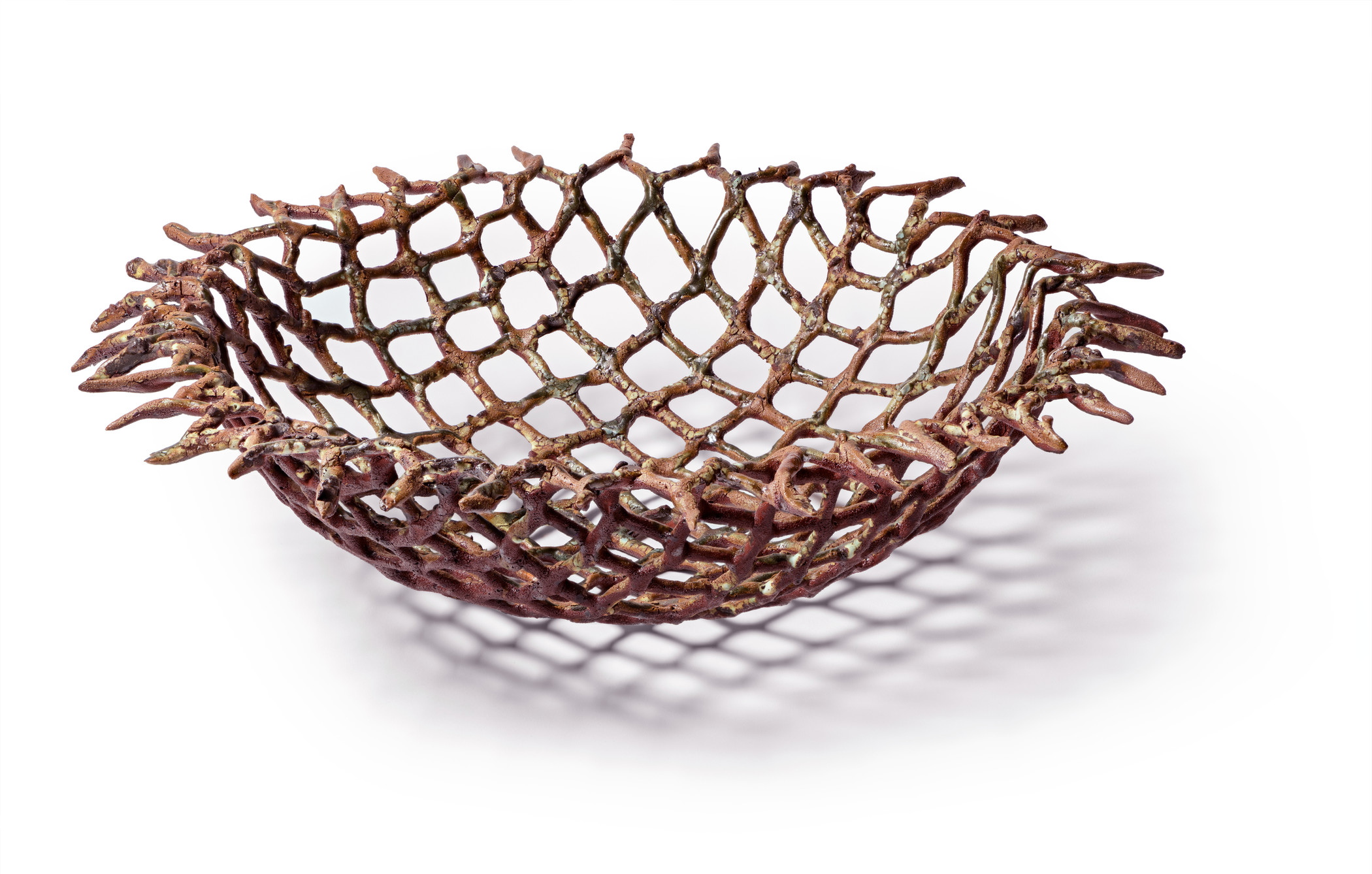 Courtney M. Leonard's (b. 1980) artistic practice is inquisitive and multivalent, often toying with the meanings of words and their connections to persistent real-world problems. With her ongoing project BREACH, she explores and documents historical ties to water, whales, and material sustainability. This includes issues faced by the Shinnecock community on what is now referred to as eastern Long Island: climate change, rising waters, warming temperatures, food access, and sovereignty. While Leonard is most well-known for her ceramic sculptures and installations, she works with a wide range of other media as well, including wood, sand, concrete, and film/video.
Abundance (Red Algae) is one of approximately 50 such baskets Leonard has so far created for the Abundance series, which is part of logbook 16 of the BREACH project. It was included in the recent exhibition Conversing in Clay: Ceramics from the LACMA Collection (August 7, 2022–May 21, 2023), which illuminated contemporary and historical ceramic works in LACMA's collection by bringing them into visual dialogue with one another. There, it was juxtaposed with a small ceramic basket produced by Wedgwood in the early 1800s that shares a similar openwork form, but while the Wedgwood basket speaks of literal abundance—it would have formed part of the dessert service for an upper-class family—Leonard's title is ironic and amplifies a systemic lack of abundance experienced by the Shinnecock community.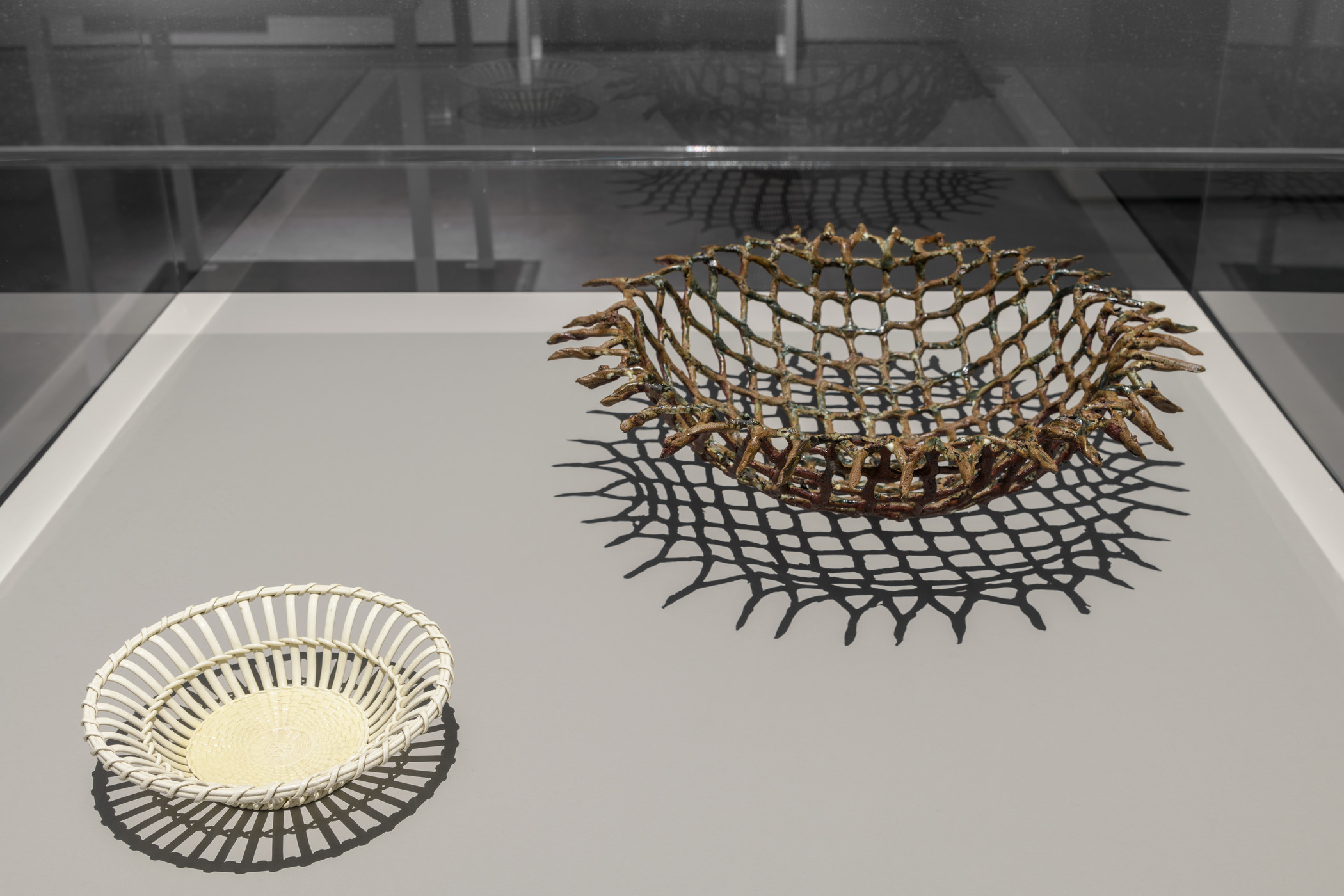 In a virtual conversation with Rosalinde and Arthur Gilbert Foundation Associate Curator of Decorative Arts and Design Rosie Mills last December as part of LACMA's Evenings for Educators program, Leonard discussed the layered meanings of Abundance (Red Algae) and shared more about BREACH, some of her formative influences and experiences, and her current artistic practice. Attendees of the program also watched "Artist Portrait: Courtney M. Leonard," a video created by LACMA to accompany Conversing in Clay.
During the conversation with Mills, Leonard shared one aspect of the BREACH project's genesis: "In our community we view Long Island as a whale, in terms of its shape, and the word 'breach' as being that whale when it rises through the surface line and the sight line of the ocean. And on the south fork where the tail of the whale is toward the east is Shinnecock nation, our territory…" Leonard also ties the BREACH project to the legal definition of the word, where a breach is a failure to observe an agreement, prompting questions about U.S. environmental policies that are misaligned with sustainable Shinnecock cultural practices. "Breach" can also mean a gap in a wall or a barrier. All of these meanings come to bear on the work that belongs to BREACH. 
To learn more about Abundance (Red Algae), BREACH, and Leonard's expansive practice, check out the following resources:
Artist Portrait: Courtney M. Leonard
Talk: Courtney M. Leonard | Evenings for Educators