I've worked at LACMA for almost eight years. In the time that I've been here no project has ignited the infectious solidarity that was present among my colleagues during the move of the 340-ton boulder that is the center of Michael Heizer's sculpture Levitated Mass. It was a project on the scale of building infrastructure and required as many of our roughly 400 staff as were willing and ready to pitch in. 
The biggest effort was communicating with the public who came in droves to see the boulder as it journeyed at five miles an hour for 10 nights over 100 miles from the Jurupa Valley to Los Angeles. People had a million questions, comments, and critiques that needed to be heard and discussed. Staff from every department took shifts, driving early in the morning, or late at night, over 60 miles on a Saturday or a Sunday or during a busy work week to lend a hand and talk to the public about the project. As the boulder inched its way toward Los Angeles, award-winning documentary filmmaker Doug Pray was recording this phenomenal feat of engineering while also capturing the spontaneous public reaction to it.
There was also a palpable feeling that something could go terribly wrong every time that the boulder was moving. Because Doug and his small team of cinematographers were following the boulder all night, he would call me between 3 am and 4 am to let me know if it got there safely. We would then report the news via social media and the major press outlets.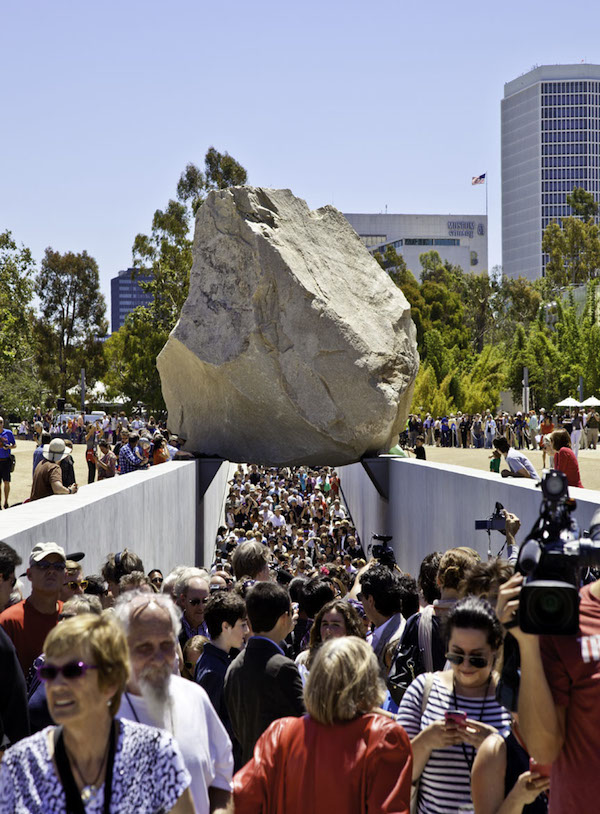 The film that Doug has made is not only a record of this unique moment in LACMA's history, but is also the story of how a monolithic work by Michael Heizer caught the attention of Los Angeles and the world. At the museum we interface with visitors and members from all over the globe on our campus. But the 10-day journey of the boulder brought us outside our doors to the far reaches of the surrounding counties and cities creating a shared experience unlike any other.
The story of the how this immense and important sculpture was made is not a typical "art-documentary." There's real drama in seeing the challenges facing the artist and team surrounding the project to realize something so herculean in nature. What drives the film, and what all of us who were there witnessed, are the wildly differing emotions and commentary that were shared by the public who became part of the saga to bring "the rock" to LACMA.
The film premieres this weekend at the Nuart Theater in Santa Monica before it opens nationally in selected cities. There's a special Q&A with Doug Pray on Friday, September 5, and Saturday, September 6, after the 7:30 pm screenings.