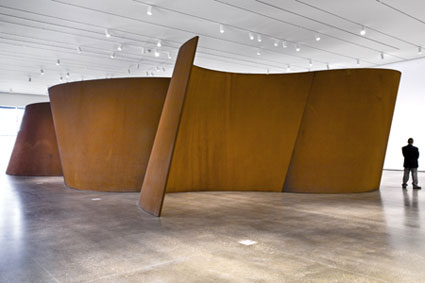 Band, Richard Serra, 2006, purchased with funds provided by Eli and Edythe L. Broad
One of the most popular questions we've received from you in our Ask a Curator series has been about how we got Richard Serra's giant steel sculptures into our contemporary art building. Here, Lynn Zelevansky, LACMA's department head of contemporary art, explains the process.
The building, BCAM, is equipped with two very large "barn doors" on the first and second floors. Sequence, which is made up of a series of large heavy cor-ten steel pieces, traveled across the country on flatbed trucks, with each piece having its own truck. The parts stayed outside on the grass until we were ready to install the work.
Serra installation pieces with BCAM under construction in the background.
Then each piece was brought into the building by crane (the divisions between the parts are visible as lines that run from the top to the bottom of the work), through the barn doors on the first floor. The process of putting Sequence together went surprisingly quickly; it only took a few days. Once the work was complete, the doors were shut and the opening covered over, making it indistinguishable from the rest of the wall on the inside.
Lynn Zelevansky
PS: We also have an interview with the artist on lacma.org, where he talks about the entire process of creating and installing the sculpture.
Our curators are working on your other questions submitted here or via our Twitter account and Facebook page—please keep them coming!