Historians have called Chicago architect Louis Sullivan "the father of skyscrapers" and "the father of modernism." Together with H. H. Richardson and Frank Lloyd Wright, Sullivan forms the "recognized trinity of American architecture," according to the eminent scholar James O'Gorman. He was the philosophical leader of the Prairie School, the Midwest manifestation of the Arts and Crafts movement, and the teacher of Wright, who was his chief draftsman for five years.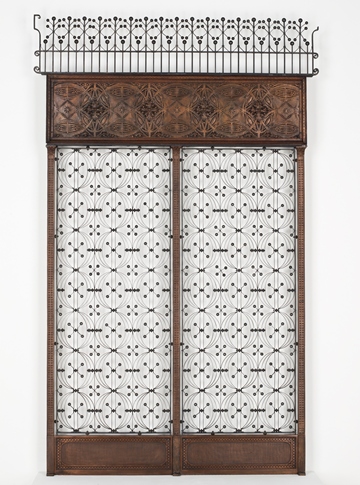 Louis Sullivan, Elevator Surround from the Chicago Stock Exchange Building, 1892, gift of the 2012 Collectors Committee
Completed in 1894, Sullivan's thirteen-story Stock Exchange was an early triumph of the skyscraper—that signature edifice of America, perfected in Chicago. Made possible by the development of steel framing in the 1880s, the skyscraper was not invented by Sullivan and his partner Dankmar Adler. Rather, their revolutionary contribution was to take the skyscraper away from the prevailing vocabulary of historical styles and create one derived from the nature of the material (steel and iron). Rejecting Greek and Roman classicism, Sullivan used abstracted, organic floral designs to emphasize the building's verticality and relate the shape of the building to its specific purpose. It was Sullivan who coined the phrase "form ever follows function," arguing that a building's exterior should reflect the activities within. These words became the clarion cry of all twentieth-century pioneers of modernism. While Sullivan led the way to the International Style, he differed from its practitioners in his passionate embrace of ornament. Informed by the poetry of Walt Whitman and the Transcendentalism of Ralph Waldo Emerson, he advocated a new American architecture based on the simplification of mass and the growth of plants.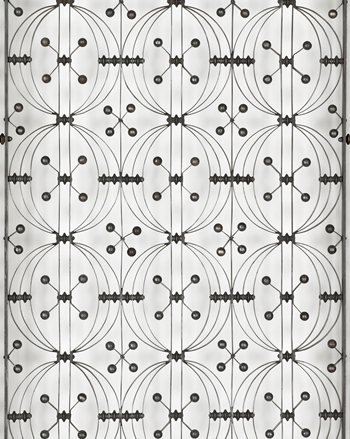 Louis Sullivan, Elevator Surround from the Chicago Stock Exchange Building (detail), 1892, gift of the 2012 Collectors Committee
Sullivan believed that ornament is not merely decoration, for it expresses both the building's structural tensions and its soul. In a famous essay of 1892, "Ornament in Architecture," he urged architects to think of a building's ornamentation as "a garment of poetic imagery" in which "strong, athletic, and simple forms" are clad. This elevator surround demonstrates how Sullivan adapted naturalistic motifs to the reticulated austerity of metal—in this case, an iron frame. The perfectly proportioned grid of stylized seedpods acts as a foil for the more sinuous curves of the frieze. And a surround for an elevator, which, together with steel, enabled the development of the skyscraper, is the ideal way to represent Sullivan in LACMA's collection.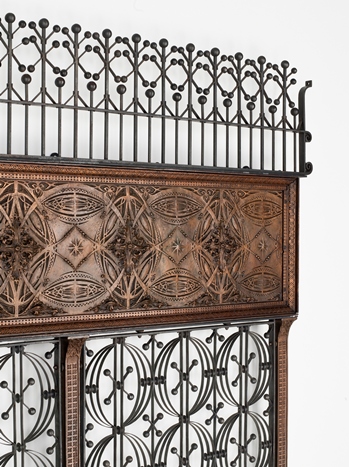 Louis Sullivan, Elevator Surround from the Chicago Stock Exchange Building (detail), 1892, gift of the 2012 Collectors Committee
The Stock Exchange, tragically, was demolished in 1972. Its trading room is permanently installed at the Art Institute in Chicago, and many other museums have fragments of the interior. Most, however, are not as complete and accurate as this surround, which has been assembled from the side of the elevators located on the third to the thirteenth floors of the building. Its acquisition enables us to interpret Sullivan's seminal rationalist architecture as well as what Frank Lloyd Wright called "that supreme, erotic, high adventure of the mind that was his ornament." Wendy Kaplan, curator and department head, Decorative Arts and Design