One of the many great reasons to live in Los Angeles is its magnificent weather, which boasts year-round moderate temperatures, vernal breezes, and clear blue skies. Most importantly, though, are the dry and sunny summers. Incidentally, not only is it the perfect time of year for a pool party, but also for the outdoor treatment of very large works of art on paper, which, as it turns out, involves a pool of sorts.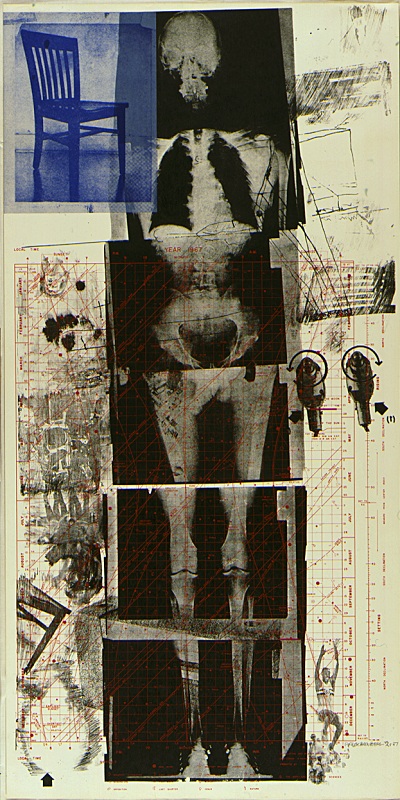 Robert Rauschenberg,
Booster,
from the series
Booster and Seven Studies
(edition 38 or 38), 1967, gift of the Times Mirror Company. The area of color discrepancy is inset with red.
As a pre-program conservation intern in the Paper Conservation Laboratory, I had the opportunity to help in the treatment of Robert Rauschenberg's lithograph and screenprint, Booster, from the Booster and Seven Studies series. The print was discolored overall, with the exception of a small patch in the upper-right quadrant of the print. To reduce discoloration, the work of art was bleached by exposure to high-intensity light, a standard treatment protocol in paper conservation. This piece, however, was too large to be treated indoors. Insert the ideal conditions in Los Angeles. We took the treatment outside into the sunlight of this city.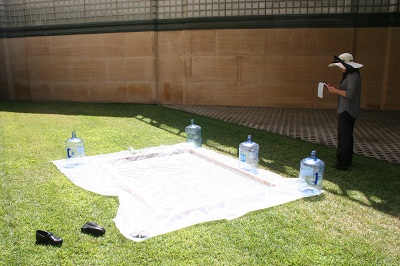 Assistant conservator Erin Jue takes notes with the Paper Conservation Department's iPad.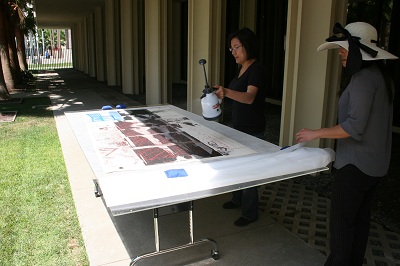 Associate conservator Soko Furuhata humidifies the print with a Dahlia sprayer.
The bleaching power of the sun has been known by many for centuries, and the use of light to bleach discoloration has become an accepted conservation practice. Tucked away in the B. Gerald Cantor Sculpture Garden, on a patch of well-groomed lawn, we set up for an afternoon of outdoor washing and bleaching. A wood frame, made by senior conservation technician Jean Neeman, was assembled, and over it laid a double layer of polyethylene sheeting. Next, 20 gallons of filtered water were poured in the temporary basin, and the pH of the bath was made slightly alkaline.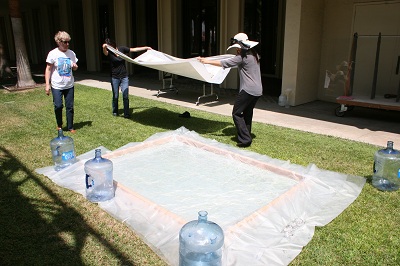 Head of paper conservation Janice Schopfer oversees the transfer of the print into the bath.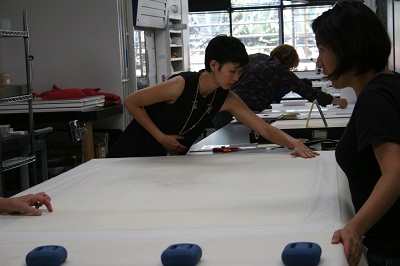 Pre-program intern Jacklyn Chi prepares the print for drying.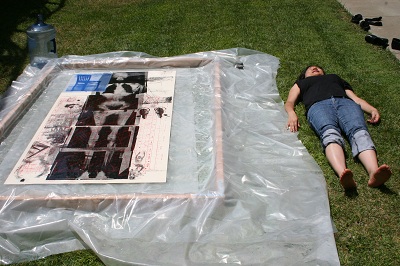 Sunbathing with
Booster
Just like diving into a pool of cool water, the work of art was lowered in to the inviting water in our portable "Doughboy pool." For the rest of the afternoon, we monitored the progress of the bleaching while partaking in the popular Los Angeles pastime of working on our tans by the pool.