As we prepare for our 50th anniversary celebrations, please be aware of campus closures. On Friday and Saturday, Nature and the American Vision: The Hudson River School will be closed all day. And on Saturday, LACMA's west campus galleries and Ray's and Stark Bar will be closed all day. The remaining galleries will close at 3 pm. Parking in our underground lot on Sixth Street will be closed all day. Please park in LACMA's lot located at Spaulding Avenue at Wilshire Boulevard.
The Art + Technology Lab is keeping busy over the weekend. Saturday, join artist Craig Freeman off-site in an augmented reality tour through historic Olvera Street at 4 pm. In his project, EEG AR: Things We Have Lost, Freeman has created a database of lost objects which have been "embedded" in specific locations throughout L.A. Participants in the tour will meet with the artist and uncover public art in the digital realm. Reservations are required to this free event. The lab's next project, A Piece of the Pie Chart, features an interactive robotic installation to examine the gender gap in the art and technology industries. See the project in action during A Piece of the Pie Chart Drop-ins beginning at noon on Sunday.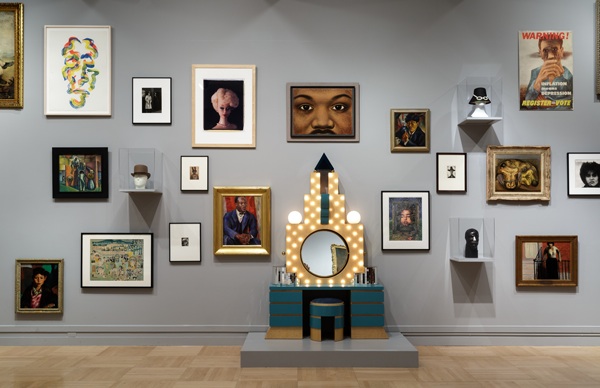 In the galleries, it's the final week to see over 150 drawings, manuscripts, posters, and set models from German Expressionist cinema in Haunted Screens: German Cinema in the 1920s. One floor above, check out Faces of America: LACMA Collects for a pictorial narrative of the country's increasing urbanization, modernization, and diversification. And beginning on Sunday, members at different levels will have early access to 50 for 50: Gifts on the Occasion of LACMA's Anniversary. Visit us on Sunday, April 26, when the exhibition opens to the public and LACMA celebrates with free admission to the entire museum. 
At Andell Family Sundays, make your own Renaissance-inspired art as seen in Four Allegories by Veronese: A Rediscovery and a Reunion. The family fun begins at 12:30 pm.
Saturday and Sunday's Japanese Tea Ceremonies, part of Raku: The Cosmos in a Tea Bowl, are no longer taking advanced reservations, but a limited amount of walk-up seats are available. These free sessions occur on each day at noon, 1 pm, and 2 pm.
Lastly, enjoy free tours early on Saturday and throughout the day on Sunday. The popular Highlights of the Museum at noon on Saturday covers European, South and Southeast Asian, and Middle Eastern art all in an hour. Sunday's Love and War in French Art draws new connections between related works.