Design scholar and film producer Daniel Ostroff has mined the archives at the Library of Congress, Herman Miller Furniture Company, Eames Office, Vitra, and even the U.S. Navy in search for the written record of the influential designers Charles and Ray Eames. While their designs are ubiquitous, and their films, buildings, toys, and exhibitions have shaped the world we live in today, their written legacy is less well known. Ostroff's new book An Eames Anthology: Articles, Film Scripts, Interviews, Letters, Notes, and Speeches by Charles and Ray Eames, released today by Yale University Press, is the first compilation of the Eameses' writings. —Bobbye Tigerman, Marilyn B. and Calvin B. Gross Associate Curator, Decorative Arts and Design
Daniel Ostroff: I worked enthusiastically on this book for five years, thinking often about the Eames admonition to "take your pleasure seriously." The work was a pleasure because Charles and Ray were eloquent and witty, and their ideas were profound and practical.  Almost seventy percent of the texts are previously unpublished. The Eameses explained their process with regard to specific projects, and because they created many museum exhibitions, they even have something to say about the topic of this post—texts from the book that enrich our understanding of LACMA's collection. 
In an interview with renowned Harvard professor Owen Gingerich for American Scholar magazine, Charles Eames remarked, "I think that today our growing institutions have a growing commitment to give cogent information. I feel that anything that can be done to put art objects in their context without detracting from their rich qualities is helpful. Unlike Keats, who said that knowing about the rainbow shatters its beauty, I feel that knowledge about an object can only enrich your feeling for the object itself."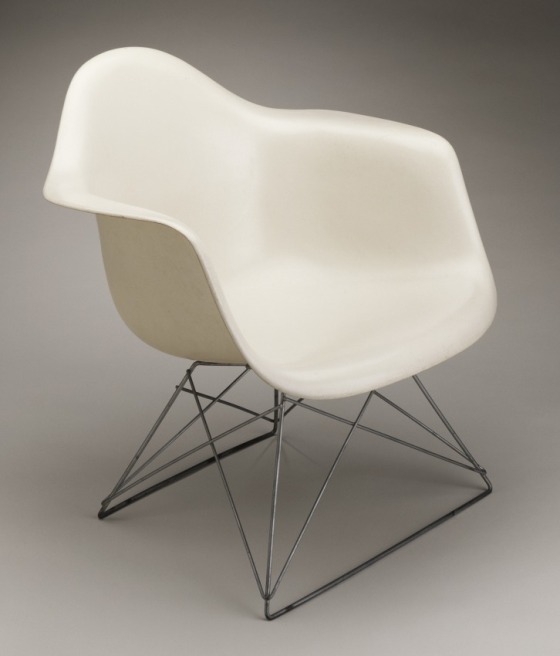 Of this low lounge chair Charles Eames in a 1950 letter to Eero Saarinen wrote, "the wire bases we have been working on for the chair have been terrific in price and weight and seem to be a form that does not conflict with the base itself."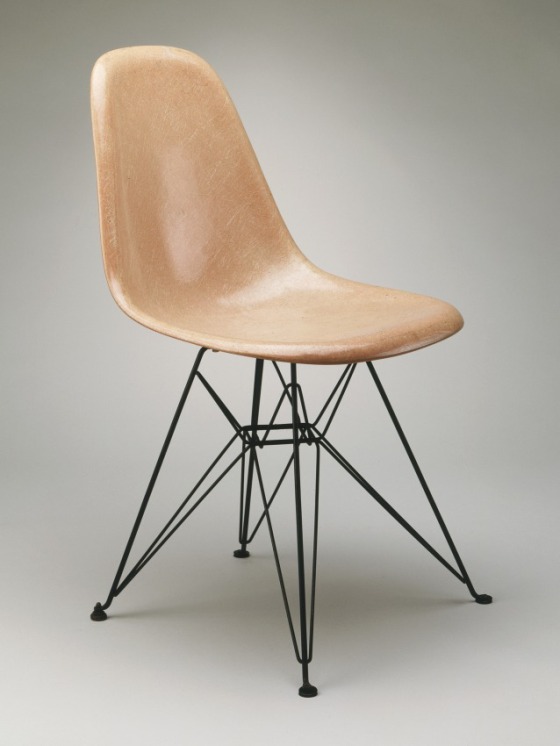 He continued, with regard to this dining chair, that "the next step we are taking in this direction is very interesting." These may appear to be sculptural bases, or stylistic flourishes, but in fact the Eameses were focused on the strength-weight ratio and a material for the base that allowed them to make very durable, easy-to-clean lounge and dining chairs that weigh only 10 to 12 pounds, respectively.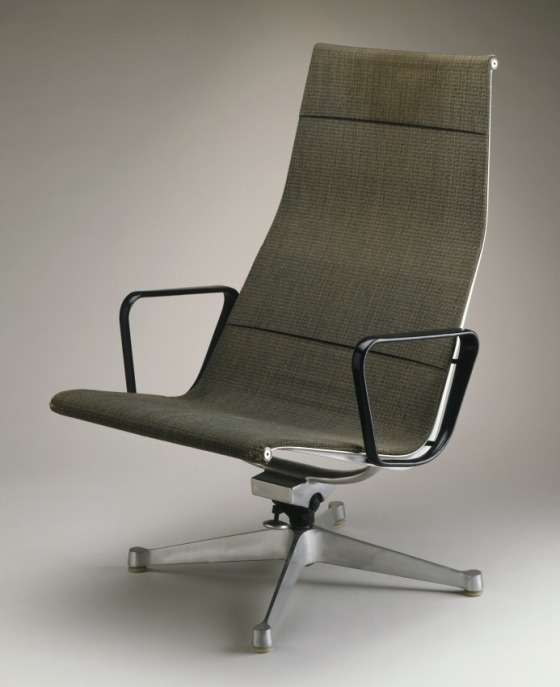 This is an early Eames aluminum group chair, the first Eames chair that required extensive metal casting, a process that Charles and Ray Eames approached with great caution.  In an interview in the April 1958 issue of Interiors magazine, Eames said that "when you've committed yourself to casting, you've committed yourself to a plastic material and the kind of freedom that can really give you the willies. If you're dealing with extrusions or rolled sections, you're really given a limitation, which is pretty nice to fall back on. But in casting there are times where the definition of the problem is pretty vague. At that moment you find yourself face to face with sculpture, and it can scare the pants off you. There's the suspicion that maybe you're doing sculpture for which there is a valid, practical need—a need you've neglected in the past somewhere along the line."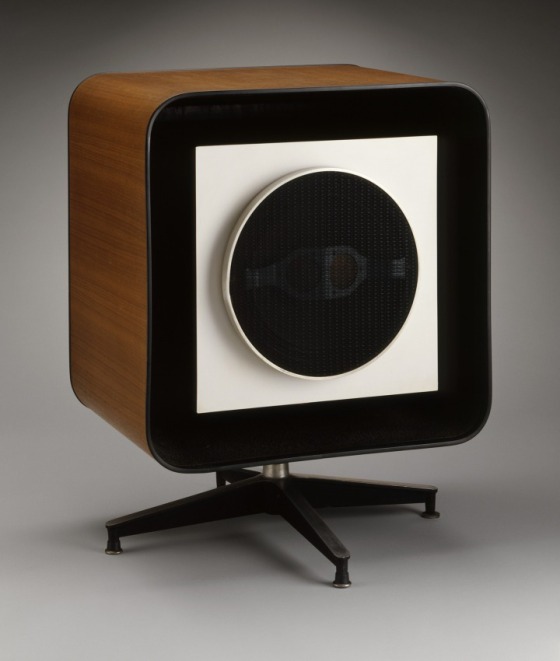 This Eames loud speaker for Stephens Tru-Sonics of Culver City, CA, is reported on in a 1957 issue of Industrial Design, based on an interview with Charles Eames and the company owners.  Charles explained that when they learned that the round grille cloth protected the speaker cone from stray fingers, they specified a more durable, industrial fabric for it. But even more importantly, they insisted that it be stretched across a removable aluminum ring, so that if the grille cloth got dusty or was accidentally punctured, it could be repaired or replaced. Easily reparable and replaceable parts is a key Eames principle that is amply demonstrated in this speaker.
There are 41 Eames designs in LACMA's permanent collection (plus the entire contents of the reception area of the Eames shop at 901 Washington Boulevard, in Venice, California) and in this book, you will learn something about each of them. Given their work in the fields of architecture, filmmaking, furniture, graphics, and science and history exhibitions, the Eameses' writings can offer inspiration and guidance for almost any creative problem.