We are saddened to note the passing of Chris Burden, an artist who has left indelible marks in both the international art world and here in Los Angeles through his tireless, relentless pursuit of innovation in performance, sculpture, and performance-sculpture, among other media.
At LACMA, Burden's iconic work, Urban Light, has been unofficially adopted by the city as its symbol and is indisputably the most popular artwork on campus. Composed of 202 historic streetlamps dating from the 1920s and 1930s originally spread throughout Southern California, the large-scale sculpture, the Gordon Family Foundation's gift to Transformation: The LACMA Campaign, has, in only seven years since being erected, become ubiquitous as the face of LACMA, a point of pride for many Angelenos, and a destination for visitors from around the world.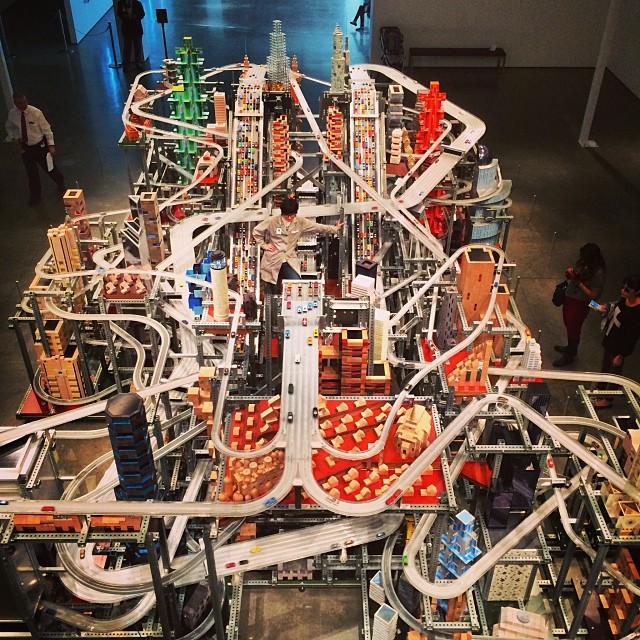 Similarly, Burden's Metropolis II, featuring over a thousand cars that zip through a miniature city, is a testament to the artist's inventiveness in employing complex sculpture to fashion a kinetic, engaging artwork that has thrilled millions. On long-term loan from the Nicolas Berggruen Charitable Foundation, Metropolis II is inspired by the frenetic, human-made environs that characterize today's cities.
LACMA's collection also includes another work in which Burden used toys to construct large-scale sculpture. Acquired jointly with MOCA, Burden's Hell Gate from 1998 articulated the artist's interest in re-creating monuments, in this case, New York's Hell Gate Bridge, connecting Queens to Manhattan. Made entirely out of Meccano and Erector parts, the seven-foot model of the famous bridge shows Burden's long-standing fascination with bridges and feats of engineering. Hell Gate was acquired with the Museum of Contemporary Art, purchased jointly with funds provided by the Broad Art Foundation and a gift of John McEnroe Gallery, Inc.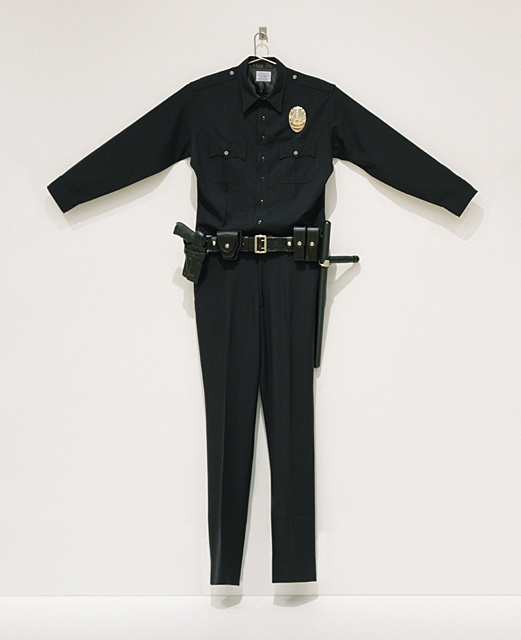 In 1981, Stephanie Barron, senior curator and Modern Art department head, organized Museum as Site: Sixteen Projects, for which Burden created A Tale of Two Cities. The immersive gallery installation was, like Metropolis II and Hell Gate, made with small toys and featured two miniature cities at war. The work was acquired by the Newport Harbor Art Museum (now the Orange County Museum of Art).
Burden's investigations were not limited to physical forms; he also enunciated the political and institutional through his work. In 2000, the museum acquired L.A.P.D. Uniform, created in 1993 following the L.A. riots. The oversized uniforms—made to fit a colossal 7'4" officer—were modeled to exacting specifications, down to the regulation holster and a facsimile of the department badge. Installed with outstretched arms and in sequence, L.A.P.D. Uniform is an imposing work that brings to light the dominance of institutions and the abuse of power.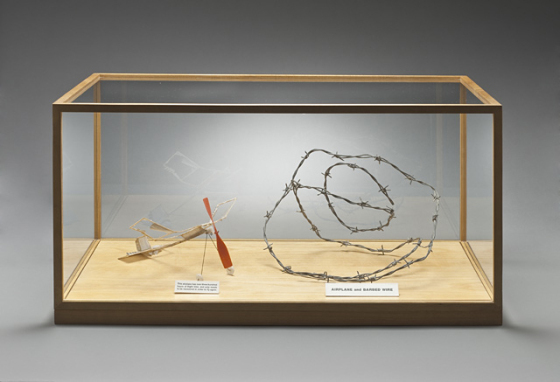 The artist was recognized early on by LACMA, winning in 1973 the Modern and Contemporary Art Council's (MCAC) Young Talent Award. With that recognition, LACMA acquired Chris Burden Deluxe Photo Book 71–73, a limited-edition three-ring binder comprising 42 pages of documentation of past projects. Burden's work from the 1970s, such as Airplane and Barbed Wire, show the artist's nascent interest in the mechanical and in aviation, even as he was in the midst of his performance works. The inscription in the work states: "This plane has over three hundred hours of flight time, and only needs to be recovered in order to fly again."
In total, LACMA's holdings of Burden's work span four decades of his prolific career and include eight works on paper and four sculptures and installations.
In 2009, Michael Govan, LACMA CEO and Wallis Annenberg Director, spoke to the artist as part of a Director's Series talk. Watch the conversation in the video below.
Burden's memory lives on every day on Wilshire Boulevard. In his honor, we are leaving Urban Light on through Sunday, May 17—a testament to the work that will live on for generations. The monumental sculptures created by the artist on view at LACMA and photographed by nearly every visitor to the museum recall the legacy of an artist who dared to realize what he imagined.