It's a busy weekend at the museum. Sunday is your final opportunity to see Nature and the American Vision: The Hudson River School before it closes. Exquisite landscape paintings from the 19th-century depict realistic and romantic views of the outdoors in New England, the American West, and even South America. See works from Thomas Cole, Asher B. Durand, and others from this movement. The exhibition concludes with the masterpiece The Course of Empire by Thomas Cole, on view for the first time in its entirety on the west coast.
Also this weekend, unearth a pivotal yet under-recognized figure of postwar American Art in Noah Purifoy: Junk Dada. As a founder of the Watts Towers Art Center and over a decade of public policy work for the California Arts Council, Purifoy's art relies on the street and its objects. In his final 15 years of work the artist, living in the Mojave desert, focused on large-scale sculptures constructed entirely from junk. Members see it first during Member Previews Friday and Saturday, before opening to the public on Sunday. To commemorate the opening, check out a superb panel discussion, Noah Purifoy: From Watts with 66 Signs of Neon to the Gallows, on Sunday at 1 pm, moderated by exhibition curators Franklin Sirmans and Yael Lipschutz.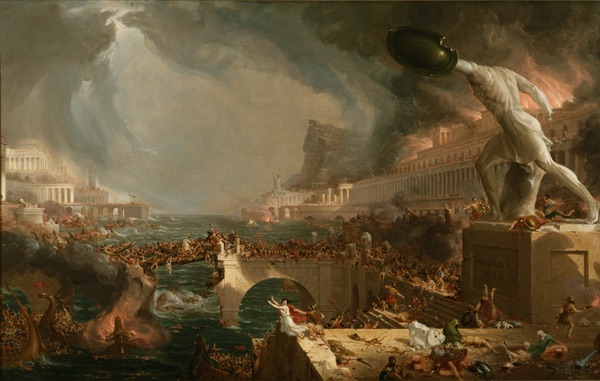 Raku: The Cosmos in a Tea Bowl also ends this weekend. Comprised of nearly 100 Raku ceramic objects, the exhibition is the first of its kind ever presented in the country. Learn more about Japanese tea ceremonies during demonstrations at noon, 1 pm, and 2 pm on Saturday and Sunday.
At 4 pm on Sunday, stop by Art Catalogues for a discussion between Nick Brandt and Kathryn Bigelow, talking about art and activism. Andell Family Sundays is brand new for June, celebrating LACMA's 50th anniversary. Bring the whole family and take part in various docent-led tours throughout the museum, like Korean Art and German Expressionism. Lastly, enjoy free concerts on Friday's Jazz at LACMA, with the Phil Norman Tentet; Saturday's Latin Sounds with Conganas; and Sunday's Sundays Live with the UCLA Camarades.