On February 25, Art Here and Now (AHAN), one of LACMA's active and engaged acquisitions groups, met to discuss works to be added to the museum's collection. Began in the 1960s under a different name, around the same time the museum was founded, AHAN supports acquisitions that further LACMA's position as a place for contemporary art. Every year, collectors, philanthropists, enthusiasts, and supporters gather to choose works to be included in LACMA's collection. The group recognizes and aims to support the work of emerging and mid-career artists based in L.A., and the works acquired reflect that.
This year, AHAN acquired a total of eight works by six artists, including Math Bass, Brian Bress, Njideka Akunyili Crosby, Brendan Fowler, Gala Porras-Kim, and Channing Hansen. Contemporary Art curator Christine Y. Kim spoke to the artists about their practice and how their work fits into LACMA's collection.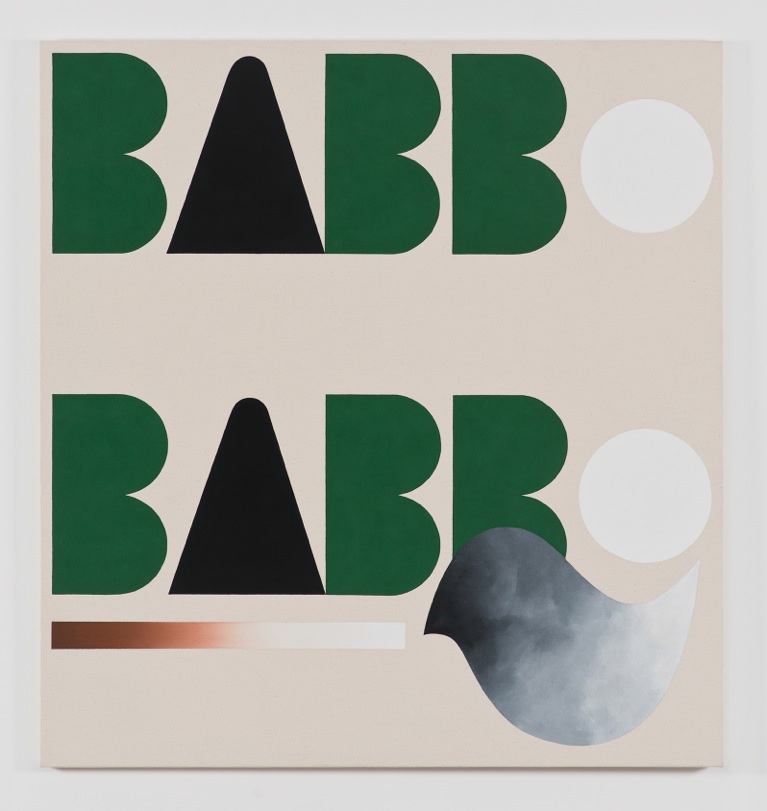 Math Bass
Christine Y. Kim: What are the Newz! paintings and how long have you been making them?
MB: Originating from a practice invested in performativity and activation, my work possesses potential for movement which is implicit and often physically elicited. Sculptures function in a nuanced state between sculpture-object and theatrical props, becoming stand-ins as bodily masses, catalysts for path making, or poetic trajectories. These spatial explorations make their way into the pictorial plane, utilizing a lexicon of symbols. My use of repetition causes the symbols to become both obtuse and familiar, outside of their already fundamental qualities. The symbols themselves are displaced objects of written language, architecture, bodies—with each painting staging a new composition of space and tension. And with each painting, a generative progression occurs within the lexicon. These compositions then have the capabilities of informing my practice in physical space.
CYK: What works are you showing in your current exhibition, a site-specific installation called Off the Clock, at MOMA PS1 in Queens, NY, and has this project pushed your work in a new direction?
MB: The premise of the exhibition was to place recent, but separate, bodies of work together in the same space alongside new works. It was really exciting to be able to revisit, remake, and reframe. In the exhibition is a selection of sculptures that oscillate between bodily and architectural, a two-part collaborative gesture in which artist Lauren Davis Fisher's sculpture is inserted into the gallery's walls, reframing and opening two otherwise disconnected rooms. Punctuating the sculptures are paintings from the Newz! series and a new six-minute video called Drummer Boi. Every show signals a shift in orientation, this is the largest show I've done and it's allowed me to experience the connectivity across the varying approaches.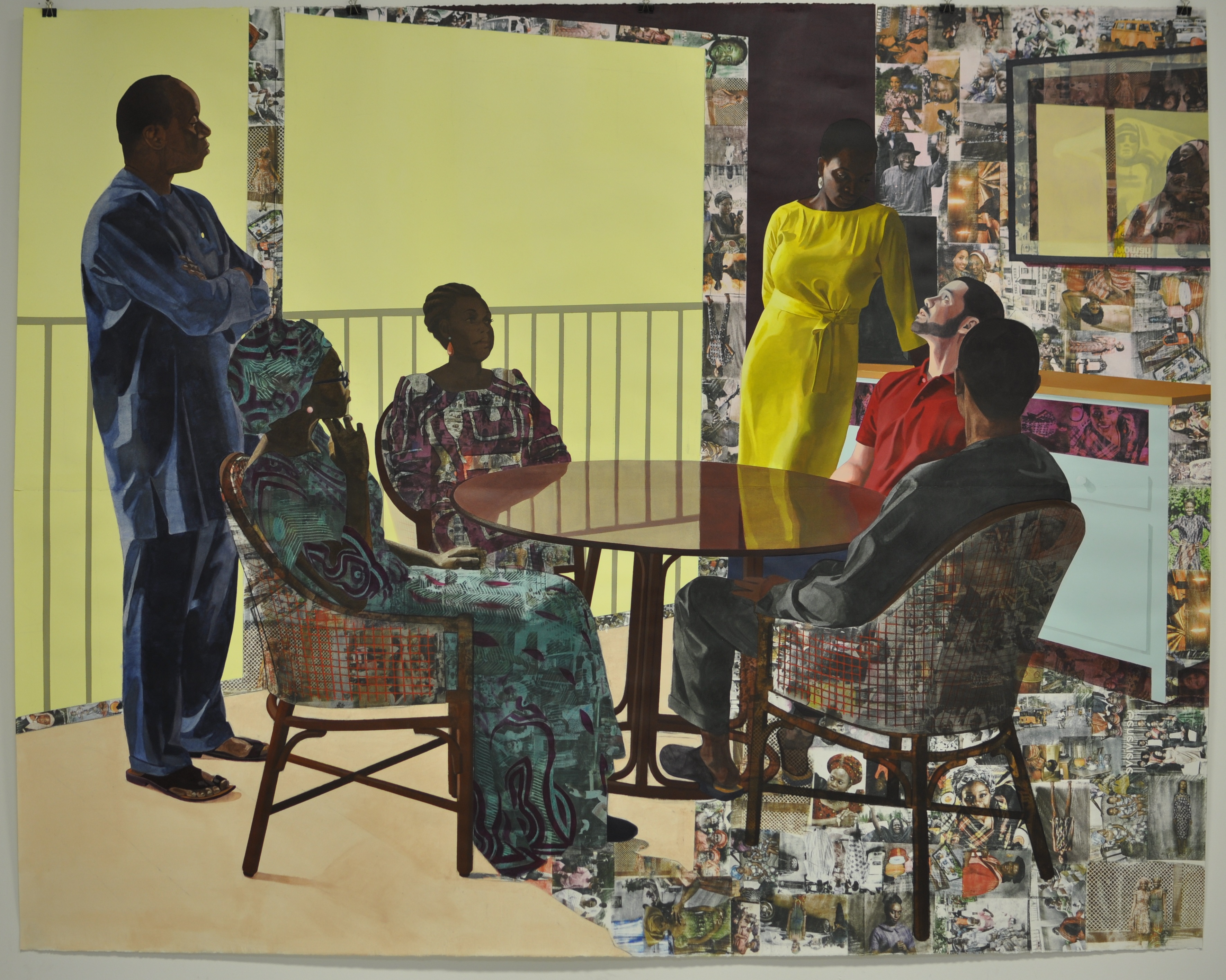 Njideka Akunyili Crosby
Christine Y. Kim: How does your work most significantly occupy the liminal space that post-colonial theorist Homi K. Bhabha refers to as "the third space," where cultural mixing, conflation and collapse surface?
NAC: I work from my experiences of having lived in Nigeria and immigrating to the United States as an adult. I have experienced Homi Bhabha's idea of the third space in both places. Nigeria has a syncretic culture because of its history as a former British colony as well as from the influx of American popular culture as the country developed. Then as an immigrant in America, I had to negotiate being Nigerian within my newfound home. I also extend this idea of the third space to other areas in my life where mixing and conflation of disparate situations have occurred—moving from the small town where I grew up to a boarding school in Lagos, a large cosmopolitan city; having a family whose economic situation moved from lower middle class to upper ruling class; and finally leaving Nigeria in my late teens to move to the United States and later marrying an American man. I mix disparate elements in my work—painting/drawing, past/present, Nigeria/America, Nigeria/Europe, inside/outside, sensual/crude, quiet/noisy, flat/rendered, etc.—in order to effectively have the work occupy a liminal space.
CYK: How has living in L.A. the past two years impacted your work, whether imagery, process, scale or otherwise?
NAC: (Note, I have only been in LA for a year.) I'm gradually becoming aware of the ways living in Los Angeles has impacted my work. Since my subject is often autobiographical, I frequently model my interiors after my living spaces, so it follows that the architecture and light of Los Angeles find their way into my work. Also, I just moved to the largest studio I have ever worked in, and the space has encouraged me to experiment with larger scale.
CYK: Do you have a favorite exhibition or work of art at LACMA? If yes, what and why?
NAC: One of my favorite works of art at LACMA is Barbara Kruger's Untitled (Shafted) from 2008 in the lobby/elevator shaft of BCAM. I respond to the dark humor in the work, from the text in the piece to the wordplay in the title to its unconventional installation location. One experiences this immersive piece anew with each visit: over a short period of time, one moves up and down trying to read the texts set at different orientations and in different colors and sizes as they are revealed by the moving elevator. In this way, the piece is perpetually active (or activated).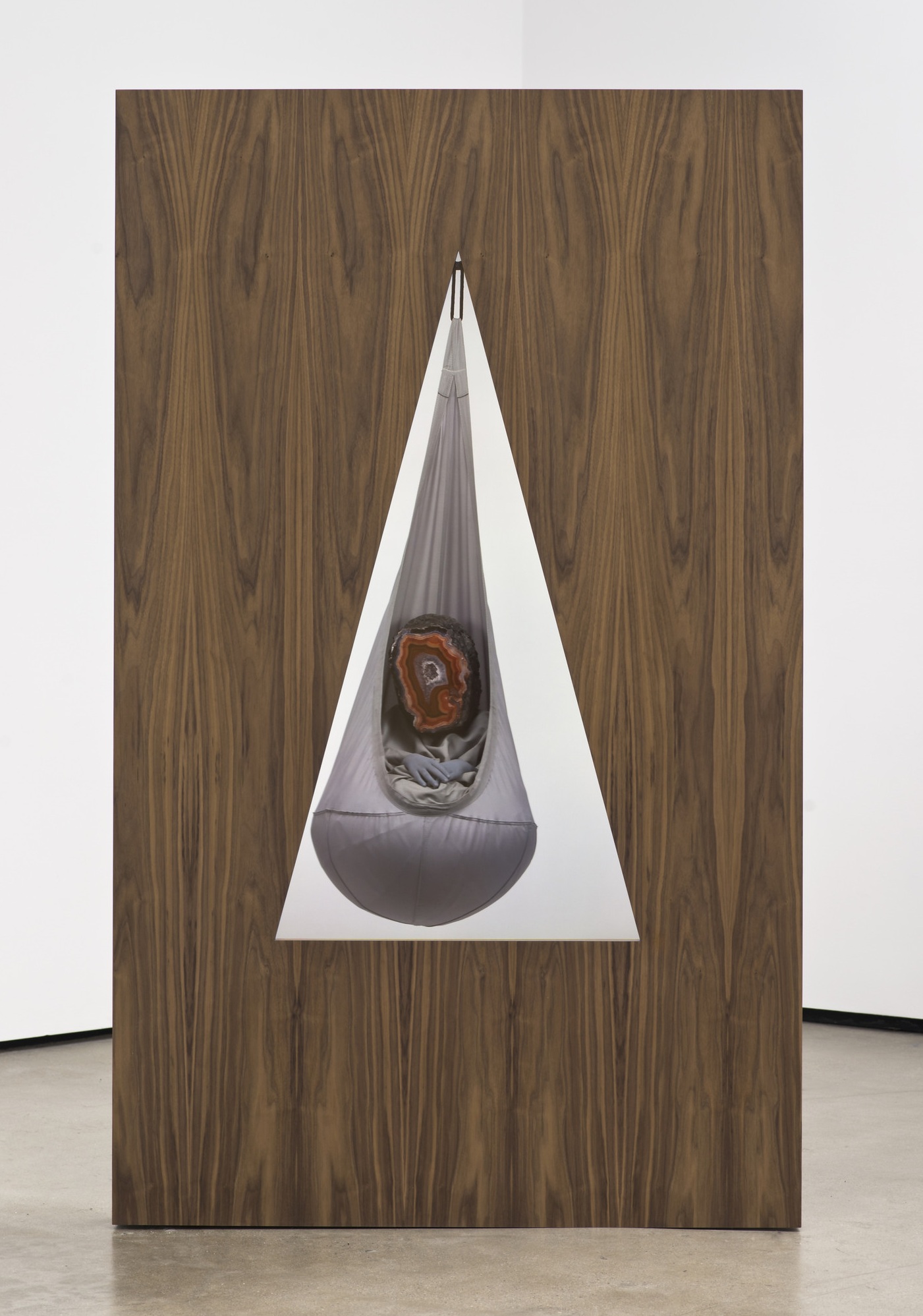 Brian Bress

Christine Y. Kim: 

Is Pendulum your most sculptural video work? How did you come up with the idea for it? 


BB: I would say Pendulum is by far my most sculptural video work to date. The idea for Pendulum came out of my desire to create a video that intimately acknowledged the structure that contained it and visa versa. I wanted to do this because it seems to me that in this sculptural component of the work would be a sort of bridge between the figure in the video and our own figures in "real" space. In some way the fact that we have to move around this rectangular form while the figure in the video has to move within the confines of the triangular form seems like a sort of dance to me. The other idea that drove the work is this idea of time and aging and measuring the two. In the video there's a child sitting in a swing that sways back and forth like a pendulum. Initially I hadn't planned on the actor being a child but in the end that's the only size person that would fit in the swing. However, once I saw the child in the costume it seemed the best solution to use a child to talk about time. Children seem to embody the potential of time. I should mention I'm expecting my first child in a week so I might be skewed to think a little more deeply about kids these days. The other component that worked it's way into this theme of time was the mask that the figure wore in the video which was made to look like a cross section of an agate crystal. You can find agate crystals in new age stores and gift shops but I was drawn to them because they represent this epic geological potential, a measurement that goes back to the beginning of the planet. Some are billions of years old. This contrast of a child dressed up as an agate seemed a little poetic to me.
CYK: 

Do you consider the elaborate masks and costumes you make for your videos as work for presentation? Are you planning on showing some of in your upcoming exhibition at Utah Museum of Fine Arts in Salt Lake City, which will travel to the Museum of Contemporary Art in Denver in 2016?
BB: 

I do consider some of the costumes and masks as objects that can stand on their own independent of knowing the videos in which they were used. However, it's a case by case basis and I'm surprised when some work for presentation on their own and others do not. I am indeed planning on exhibiting some of the costumes and masks in my upcoming Utah/Denver shows. It's exciting to get a chance to share this side of the work. So few of the costumes have ever left my studio or even been seen outside of the videos. 


CYK: Do you have a favorite exhibition or work of art at LACMA? 


BB: That's a hard question. There have been so many great exhibitions at LACMA since I started seeing them when I moved here in 2003. And the last year has been full of some especially excellent exhibitions. I loved the Calder, Turrell, and Huyghe exhibitions a lot. But what I learned the most from and what inspired me the most was the Samurai exhibition! It was amazing.
Brendan Fowler


Christine Y. Kim: Do you have a favorite exhibition or work of art at LACMA? If yes, what and why?
BF: I'm not sure if it will be my all-time favorite exhibition at LACMA, or if it is even my favorite so far, but I must admit that that Pierre Huyghe show has really stuck with me in a pretty major way. The environment, the whole experience. I went on two different occasions and had two very intense but totally different experiences. I wish I could have gone more than just twice. I have a lot of problems with his work, actually—I find how I think he deals with certain topics to be sort of overly twee and annoying—and in spite of that was still so moved. It was like a "documenta" level experience and really pushed what I think an exhibition can be.  
CYK: You started your career in music performance and released records released under the name of BARR. In fact, you still have a functioning record label called DM8H943. How do you integrate live performance and sound work with you visual art practice?
BF: It's true. For the most part I spent the first six years I was kind of "showing" just doing this one performance, which was Barr, the deconstructed pop singer-songwriter thing. I started it as a way to make very immediate political art. The performance was so predicated on me being there in the space, I arrived at the point of making sculptures curious how I might be able to make something that would function differently, or even better in my absence. At different times since my focus has shifted from object to performance or sound recording, but for the most part I have kept my practice inclusive of objects and performance. I see art as sort of the ultimate open field for problem solving; different ideas, different means of expressing those ideas, it is for that openness that I have always identified as "artist," rather than "sculptor," "photographer," "musician," or whatever else.
CYK: Given your recent success internationally, with shows in Boston, Tel Aviv, London, Chicago, and especially in New York with your inclusion in major group exhibitions such as The Generational: Younger than Jesus at the New Museum in 2009 and New Photography at the Museum of Modern Art NY in 2013 greater New York, how does it feel to be taking big steps in Los Angeles these days?
BF: You know, it's sort of interesting, I have lived in Los Angeles for the most part since 2002, but I had four solo shows in New York galleries and those museums you mentioned before I had ever had a show in L.A. I love that art life is long, and I always feel grateful for opportunities to show, but I must say that I do really appreciate local recognition, as I do live and love here.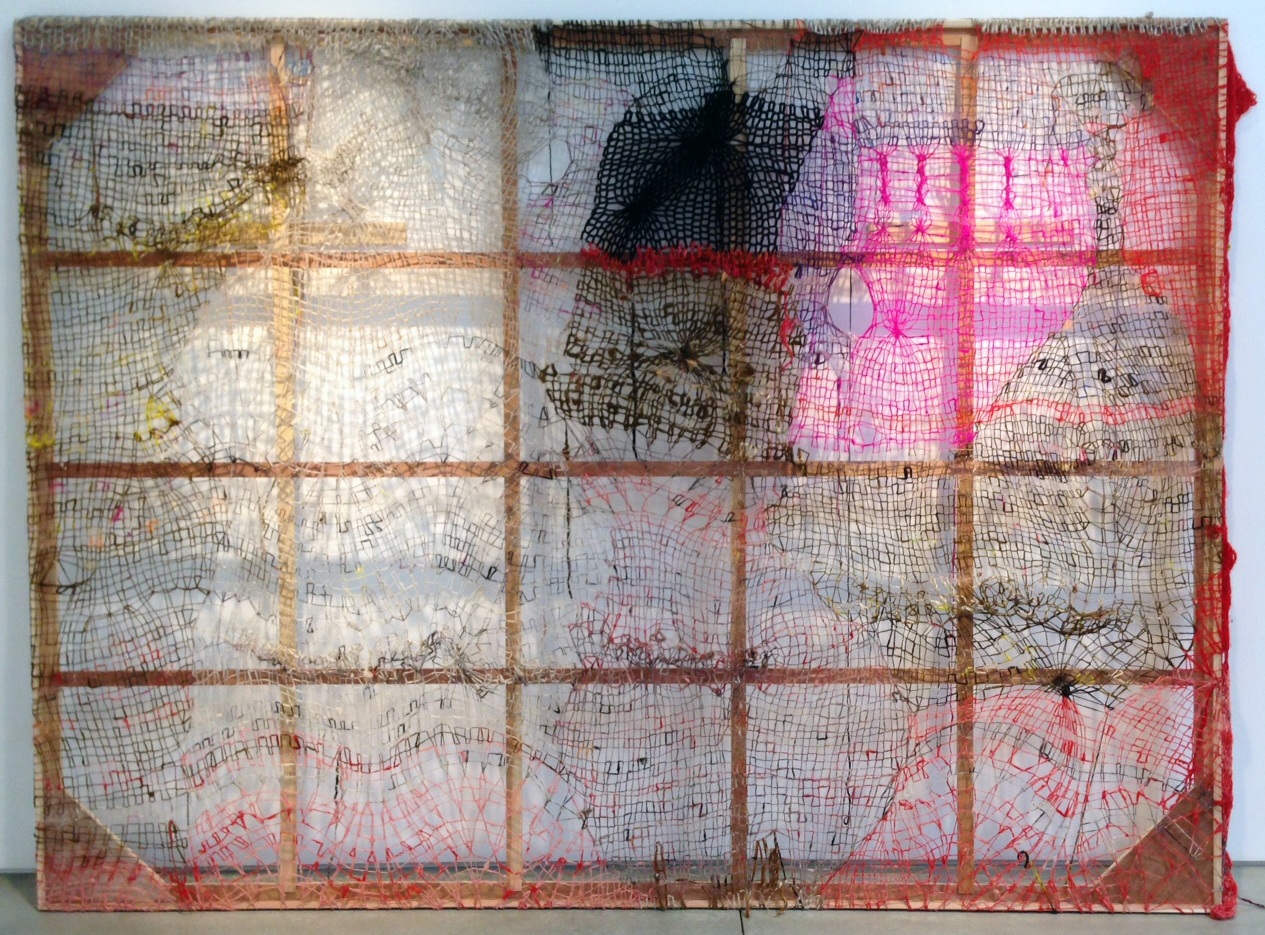 Channing Hansen
Christine Y. Kim: When did you take up knitting, and why? 


CH: I started knitting in 2007. Before then, I had been working in collage and performance, and working a lot with computers and "new media." I had taken up woodworking as a way to get into a dialogue with materials but I wanted something portable, something I could do anywhere. 


CYK: A lifelong Angeleno who grew up in an art family, what has LACMA meant to you over the years and how do you feel about being in the collection?
CH: It is a dream come true. I grew up going to LACMA with my family. It was a place we went to get inspired. In a family of artists and musicians, I was a little bit the weird one who was also deeply interested in science, so the fact that LACMA had initiated the Art and Technology program was so important and validating to me as a kid. 


CYK: What are some of your most memorable exhibitions or permanent collection works at LACMA?
CH: My first exposure to real works of art in a museum was at LACMA. 

I always enjoyed visiting the Japanese Pavilion, looking at art in a continuous movement along a spiral as opposed to moving from one rectangular gallery space to another. It seemed so radical to me. Speaking of exhibition design, I loved the way the Pierre Huyghe exhibition was laid out. In every nook and cranny there was something to be discovered. For me, he really opened up new ways of thinking about presenting the relationship between works in a monograph presentation, as a kind of time-space continuum. Worlds within worlds. Fashioning Fashion was very exciting as it allowed me to nerd out about the history of textiles, which is something I'm very passionate about. Most recently, I was totally enthralled by Chris Burden's Ode to Santos Dumont. He was a very important influence for me and that work is pretty majestic. To see someone turn the overwhelming energy of some of his previous works (like Chris Burden's Metropolis II) into something lighter than air struck me as very poetic.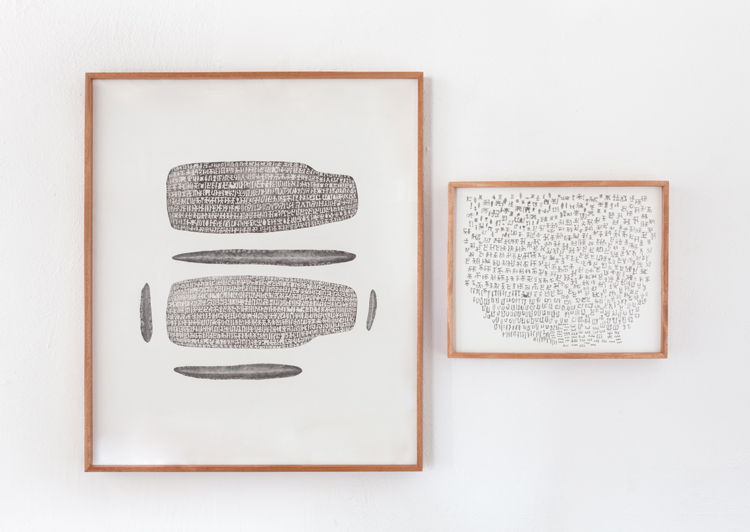 Gala Porras-Kim
Christine Y. Kim: The works on paper and the vinyl record that are entering into LACMA's collection all are nontraditional representations of language that are rooted in serious research but take license with translation. Can you describe the various ways in which you approach the Zapotec?
GPK: Zapotec is a tonal language that has over 60+ variants. I begun to learn the one from San Lucas Quiaviní, and making objects as strategies to learn and remember the language and to work with its different characteristics. I thought about this language made up of specific sounds put together, and approached it just through its tones, like a composition, and this was the base for the making of the vinyl record of the translation into its whistled form. Also linguistically, I am thinking about what symbols are used to represent these tones in a written form, how the Zapotec communities chose its representation, and the influence of the ancient past, on the present.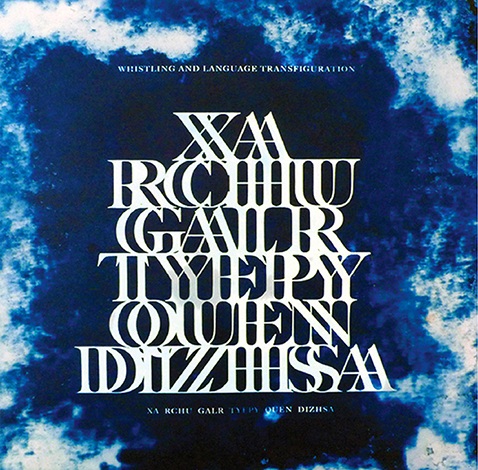 CYK: In 2017, you will be included in LACMA's A Universal History of Infamy as part of Pacific Standard Time LA/LA. You have long been interested in LA/LA, or the confluence of cultures and forms of linguistic survival on both sides of the U.S.–Mexican border. How does this notion of a Latin American Los Angeles shape your approach to art making?
GPK: When you move from one culture to another, you find new ways of representation. In L.A. there are so many different traditions that exist in the same geographic location, I think about the interactions between them, the ways they mix together or use their difference, fighting categorization and wanting to be defined at the same time. I think about art making in the same way, objects can be part of these existing categories, and also not belonging to them. 
CYK: Do you have a favorite exhibition or work of art at LACMA?
GPK: I love my catalog for the 1970 show Sculpture of Ancient West Mexico Nayarit, Jalisco, Colima, every time I look at it it makes me want to make work. Also Contested Visions in the Spanish Colonial World was great and the symposium for that show was so informative, and the Phantom Sightings show too!