Upon entering the Korean galleries on your way to see the greatest hits of traditional Korean art—from a Joseon moon jar to textiles to hanging scrolls—a breathtaking burst of blue to your left will stop you in your tracks. This is Young-Il Ahn's Water SZLB15 (2015), the newest addition to LACMA's growing Korean contemporary art holdings and the first work of art by a Korean painter active in Los Angeles to enter our collection. One of the leading abstract Korean artists working in Los Angeles today, Ahn has explored the theme of water over the past 15 years, producing a series of works (almost 400 paintings) inspired by his memories of being lost in the Pacific Ocean on a small boat in July 1983. This large-scale portrait of the sea is dominated by the color blue, but if one looks closely, Ahn has interpreted the subject of water—its fluidity, its mystery, its beauty—through an array of colors and textures. (Take a closer look at the water in Rain Room; what do you see?) Seemingly or misguidedly simple, his practice is meticulous, encouraging a meditative state during the artist's creative process as well as later for the viewer. Significantly, the addition of Ahn's work to LACMA's collection represents a growing area for the museum's holdings and further solidifies the presence of Korean art in Los Angeles. 
Who is Young-Il Ahn? He was born in Korea in 1934, but spent much of his childhood in Japan with his family. His father was a painter and his mother a musician, and Ahn's work began to attract attention as early as the age of six, when his paintings were first shown in a solo exhibition in Japan. In 1945 the family returned to Korea, and Ahn graduated from Seoul National University in 1958 with a Bachelor of Arts degree.
As you find yourself submerged in Ahn's captivating depiction of water, it's worth noting that this painting has some interesting ties to the city and our community. Ahn moved to the City of Angels in 1966, which was around the time LACMA opened on Wilshire Boulevard, as well as when the first major gifts of Korean art were presented to the museum. In this way, the artist and LACMA share a  symbiotic history. Water SZLB15 is a generous gift of Susan Baik and Prem Manjooran, Angelenos dedicated to elevating the presence of Korean art in the city.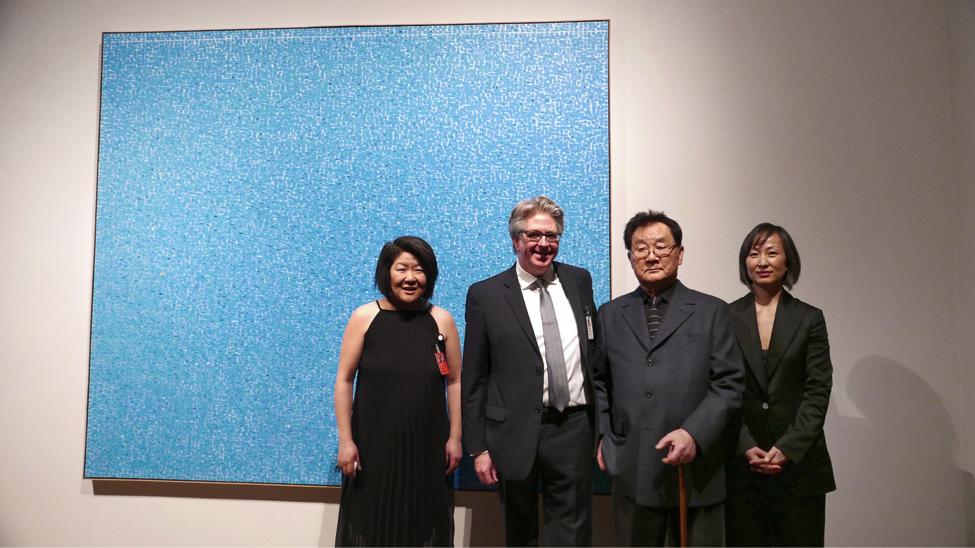 LACMA curators Stephen Little and Virginia Moon recently welcomed guests to a reception honoring the artist. "I speak through paintings, not in words," the 80-year old Ahn confided as he stood proudly in front of his painting. "And I think my best days are still ahead."
"This is not just a special moment for Mr. Ahn," Susan Baik added. "It is an equally heartwarming moment for the Korean community here,  which is the largest outside of Korea. To me, it feels significant that LACMA, an international museum as well as our local museum, is recognizing the talent of a local Korean American by adding his art to their collection. I hope this inspires an even closer relationship between LACMA and the Korean community." 
Visit the Korean galleries to see Water SZLB15 in person!