Claes Oldenburg is one of the most important American artists of the twentieth century, whose remarkable and diverse body of work of the past seventy years reveals a rich and provocative visual language, and an intense engagement with and keen observation of the world around him. His work is characterized by its audacious, witty, and profound depiction of everyday objects, and is easily recognizable and universally admired. His sculptures of everyday objects play with materials and his easily identifiable public sculptures use scale in signature ways.
In the 1950s and '60s, Oldenburg was associated with the early days of performance, happenings, and pop art. Unlike Jasper Johns or Robert Rauschenberg, who incorporated real objects in their work, Oldenburg never uses found objects, saying, "I always rebuilt the whole thing. That way I had it both ways. It was a work of art and an object."
Oldenburg's art operates in the limbo between how objects look and how he feels about them. His wit is a source of his imagery and he enjoys the contradictions of prosaic objects suddenly expanded to monumental scale, and hard, industrial forms or food that he converts to droopy, soft sculptures. He delights in disrupting the functionality of common objects.
For decades, he has transformed mundane objects into mysterious, sensuous, and humorous works of art that invite us to reexamine many of our fundamental observations about the world. By 1975, these six themes had emerged in Oldenburg's practice—the clothespin, the cigarette butt, the typewriter eraser, the three-way plug, the geometric mouse, and the standing mitt with ball—and we see them in many forms, from expressive watercolors and detailed drawings to soft sculptures and beautiful wood versions to larger, industrially fabricated works that challenge the notion that monuments must commemorate historical figures or events.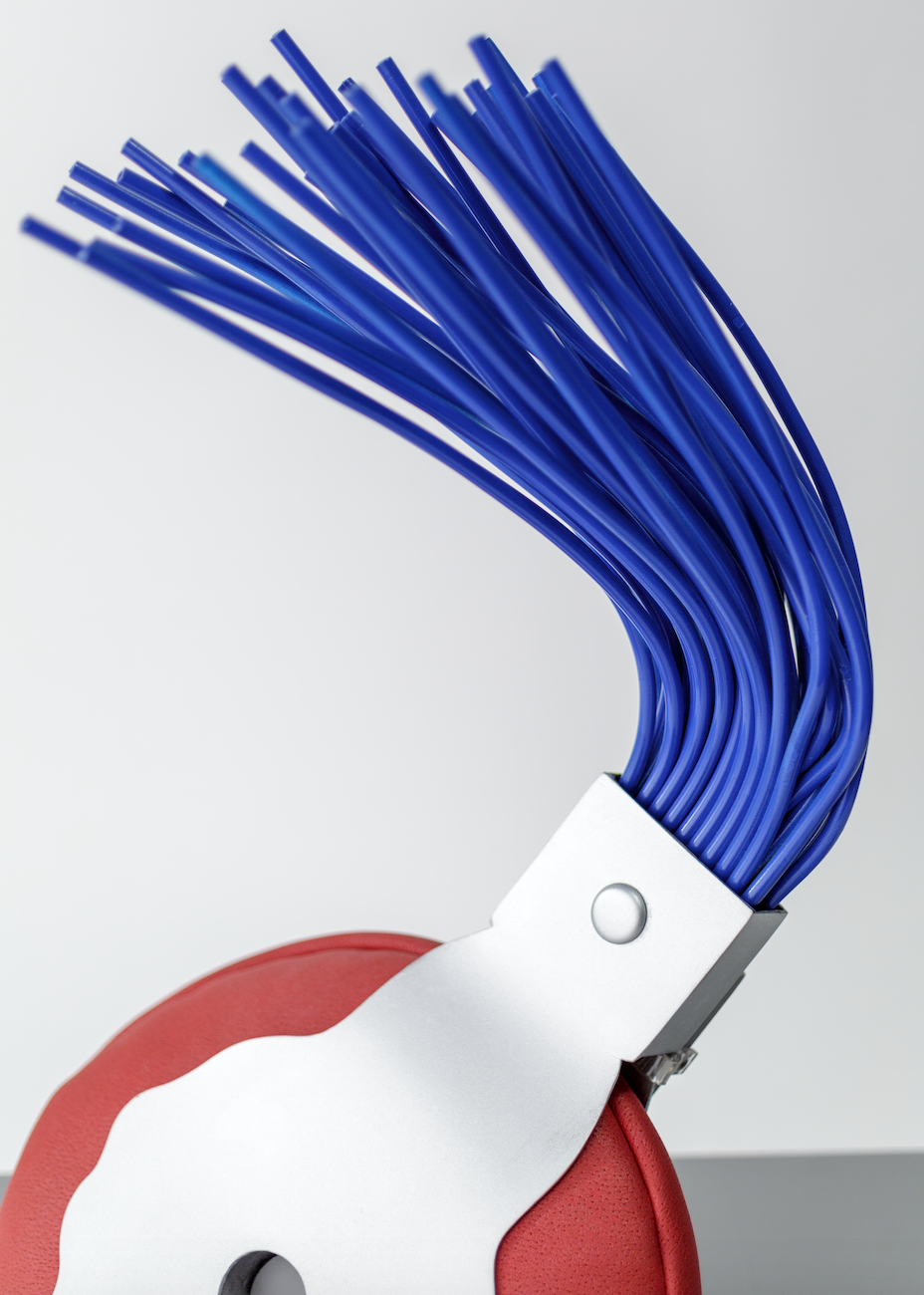 Typewriter Eraser (1970) has an interesting history. The artist's father was the Swedish Consul General posted in Chicago, and, as a child, Oldenburg enjoyed playing with the machines in his father's office. The inherent banality of office supplies would become a rich source of inspiration, leading to sculptures of typewriters, scissors, and the typewriter eraser (a now-obsolete object). 
In 1968, Oldenburg was invited to propose a sculpture for an outdoor site in New York. He dreamed up an "anti-heroic monument" with forms suggestive of body parts, "the belly with its 'button' and a brush of pubic hair below." That sculpture was never built. Yet Oldenburg remained committed to the subject, proposing it again in 1972 as a monument for Alcatraz. But that, too, was never realized.
Between 1969 and 1971, Oldenburg was spending time in Los Angeles in conjunction with his involvement in LACMA's groundbreaking Art and Technology program. He created a lithograph of the eraser at Gemini G.E.L., which led to a number of drawings and then a series of sculptures in varying scales and materials. Typewriter Eraser is the first single soft eraser, and it is the basis for subsequent versions. In 1976 Oldenburg executed a large version of the sculpture (about 7.5 feet high) in an edition of three, and in 1977 Oldenburg produced a 32-inch-high edition of eighteen. Finally, there is Typewriter Eraser, Scale X, 18 feet high, which Oldenburg made with his wife and collaborator in 1999 in an edition of four.
For Oldenburg, the eraser form has always been closely associated with the human figure. In this erect position, the soft, malleable eraser seems to be crowned by unruly, stiff, blue bristles. It is striking in its unexpected elegance, and we experience a common object made strange—scaled up and frozen in balletic motion. Our first soft Oldenburg object and the original handmade one that is the basis for all the editioned multiples, Typewriter Eraser, which was in the artist's personal collection for 46 years, ranks among our most important postwar sculptures. Acquired during the 30th Collectors Committee last weekend with additional funds provided by the Buddy Taub Foundation, Typewriter Eraser joins 16 works by Oldenburg in the museum's collection, including Baked Potato (1963), the iconic Giant Pool Balls (1967), and a related drawing, Typewriter Eraser as Tornado (1972). The sculpture is on view in the Modern Art galleries.
During our 30th annual Collectors Committee Weekend (April 15–16), members of LACMA's Collectors Committee generously helped the museum acquire a record-breaking $6.4 million worth of art spanning a breadth of eras and cultures. Check back tomorrow to read about another acquisition.