Siamak Filizadeh has the remarkable ability to blend past and present, real and surreal, East and West, to produce a new and exciting form of art. His muses are Iranian history and literature, Persian miniature painting and Old Master painting, and Iranian and American popular culture and cinema. But whether his visual inspiration is derived from historical or contemporary sources, the venue for Filizadeh's narrative and its meaning are always anchored in today's Iran.
Filizadeh's great talent was already in evidence in his wonderful series Rostam 2—The Return, acquired by LACMA in 2011. Here, the artist transported the mythical Iranian hero Rostam into the context of present-day Tehran. In his latest series, Underground, Filizadeh again mixes anachronistic visual metaphors while manipulating and reinterpreting historical circumstances; but now he has clearly raised the stakes in terms of thematic scope and creative breadth, moving his art to the next level.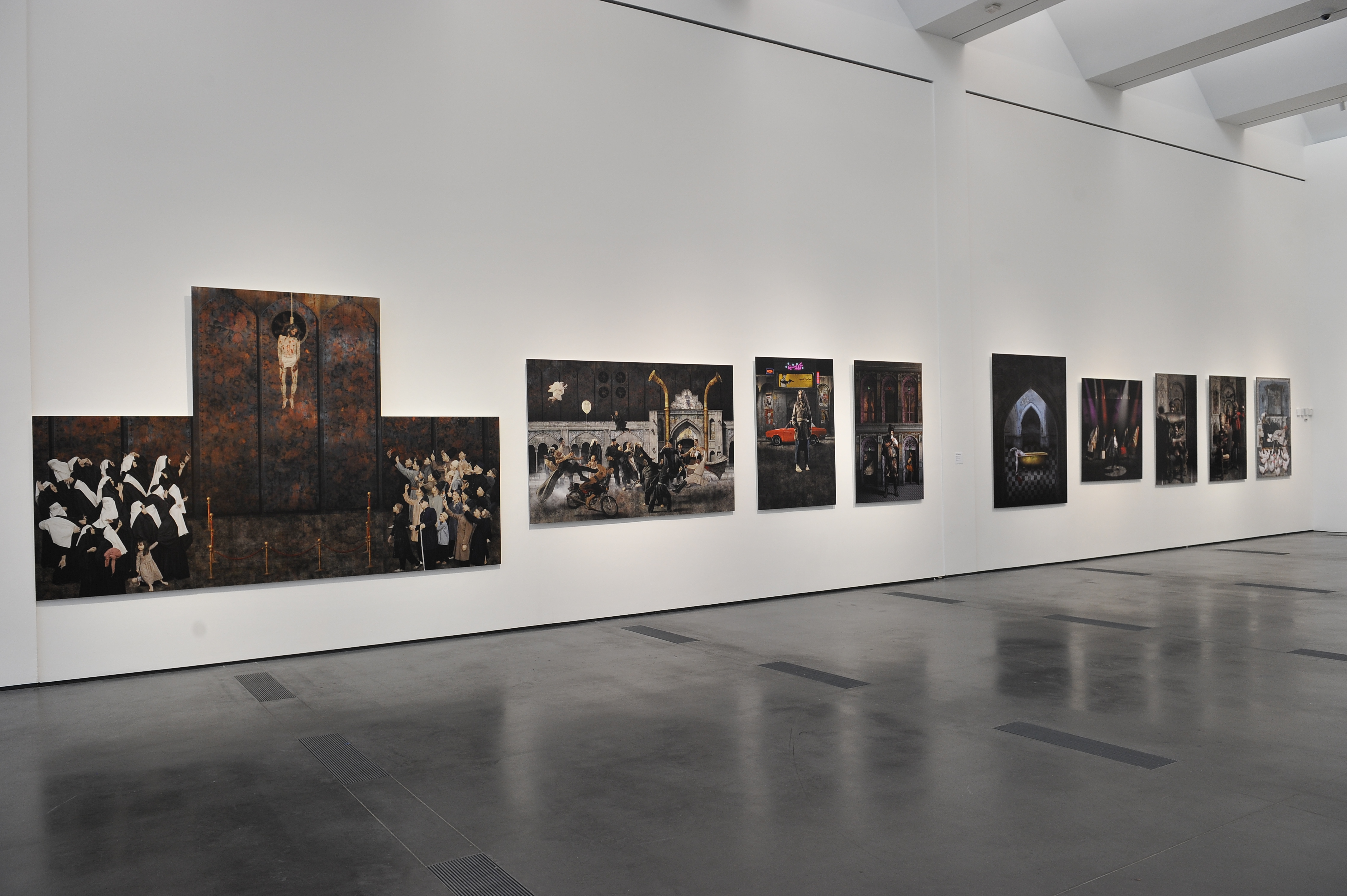 His ambitious new work includes 22 digitally manipulated photographs, which give the impression of monumental oil paintings. It takes as its theme the long reign of Nasir al-Din Shah (r. 1848–96), who was assassinated just short of his 50th jubilee. Filizadeh's king rules an underground city in 50-year intervals; he dies, is resurrected, and governs again exactly as before. The nature of the storyline was inspired by an alleged quote attributed to the dying Nasir al-Din: "I will rule you in a different manner, if I live…." As the lessons of history have shown, and as the artist subtly suggests, part of the great tragedy of Nasir al-Din's reign is that the same types of mistakes were repeated under his successors, royal and otherwise.
A martyred king, Nasir al-Din is a semi-tragic figure with much the same appeal as a literary character or even a modern-day politician. He was the first shah to visit Europe, coming of age as photography, printed newspapers, and telegraphic communication all coalesced to enhance and disseminate his celebrity status while also preserving a full record of his deeds and misdeeds. Crowned king while still in his teens, Nasir al-Din's time in power may have been doomed to failure from its inception. The excesses of his predecessors, his interfering and politically influential mother, and the continued encroachments of England and Russia would have tried even a stronger and less flawed leader. Details of his life and loves are preserved in a variety of sources, including his own photographs of the royal harem. All of this makes Nasir al-Din fascinating subject matter for Filizadeh's new body of work.
The strong filmic quality of the narrative cycle and the artist's familiarity with history and art history are enhanced by his carefully honed sense of the absurd. Every detail of each print, from the complex architectural settings to the smallest accessories, is meticulously thought out and constructed as demonstrated by the artist's copious sketchbook. The end result is a remarkably coherent fusion of something entirely novel and visually stunning. 
During our 30th annual Collectors Committee Weekend (April 15–16), members of LACMA's Collectors Committee generously helped the museum acquire a record-breaking $6.4 million worth of art spanning a breadth of eras and cultures. Check back tomorrow to read about another acquisition.