Bold and daring, this canvas is arguably one of Antonio de Torres's masterpieces. Torres was one of Mexico's leading painters of the early eighteenth century. He created an extraordinary number of works for the wealthy mining towns of San Luis Potosí and Zacatecas, in north-central Mexico. Part of his set of the via Crucis (Way of the Cross), this painting was originally commissioned by the Franciscan convent church of San Luis Potosí—one of the largest and most opulent in all of New Spain.
The dramatic scene is portrayed with a notable degree of decorum and dignity. The cross is raised on a diagonal, up and back into space, as Christ's tormentors strain to lift it. Christ's body is a tour de force of anatomical drawing and stands apart from the rest of the figures through its whiter coloration. The Virgin Mary and Christ's disciples look away, disconsolate, while, in the back, Roman soldiers usher the two naked thieves about to be crucified next to Jesus. Torres's interest in formal experimentation is evident in how he foregrounds the action and through the highly theatrical construction of the pictorial narrative.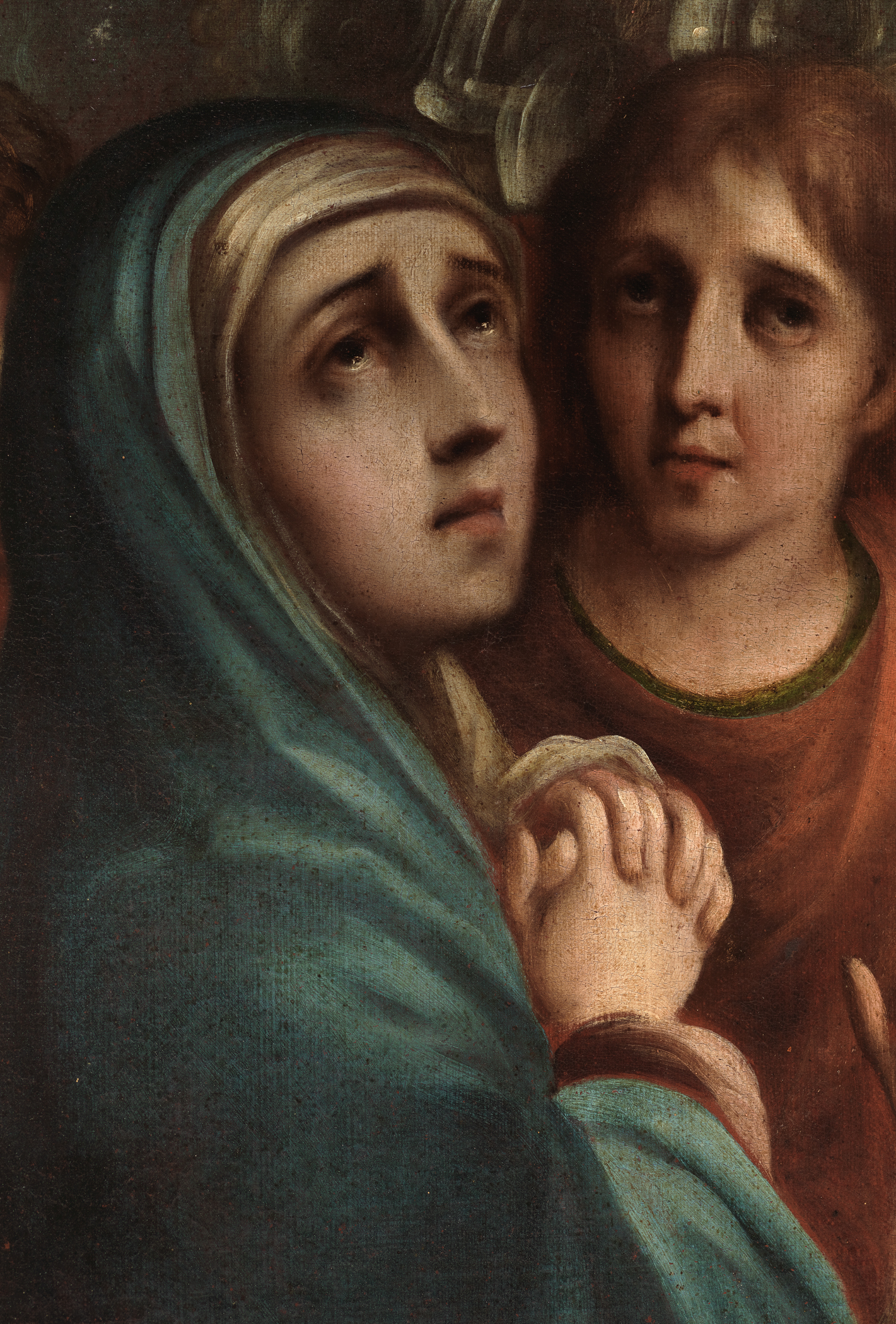 The picture epitomizes Torres's masterful style and ability to create complex yet moving compositions. These multi-image sets were conceived as "storyboards" to aid the faithful in remembering the episodes leading up to Christ's death and his resurrection. Those meditating on the story could stop before each painting, transport themselves to the place of action, and visualize Christ's suffering with a heightened sense of compassion.
The Elevation of the Cross has been traced to one of the most powerful Basque clans in San Luis Potosí. In the nineteenth century, numerous Spaniards made the arduous voyage across the Atlantic to strike it rich. After the devastating wars of independence and the Mexican Revolution, during a time of growing anti-Spanish sentiment, many individuals returned to Spain and shipped back important artworks. The Elevation of the Cross remained in the same family in Spain since the early twentieth century.
Acquired as part of the 30th annual Collectors Committee, which took place over April 15 and 16, 2016, the work adds another dimension to LACMA's expanding collection of Spanish colonial art. The painting will be on view in LACMA's upcoming exhibition Painted in Mexico, 1700–1790: Pinxit Mexici, scheduled to open in 2017. Co-organized with Fomento Cultural Banamex, Mexico City, the show will subsequently travel to the Metropolitan Museum of Art, New York. 
During our 30th annual Collectors Committee Weekend (April 15–16), members of LACMA's Collectors Committee generously helped the museum acquire a record-breaking $6.4 million worth of art spanning a breadth of eras and cultures. Check back tomorrow to read about another acquisition.