In December 2013, I embarked on a 28-month journey with 131 men. These men came to represent three centuries of men's fashion, fully dressed and accessorized on mannequins presented in the exhibition Reigning Men: Fashion in Menswear, 1715–2015.
The tremendous task of displaying men's fashions in a historically accurate way offered many challenges. From the slightly protruding belly of the 18th century, to the body-conscious hourglass shape of the early 19th century, to both the skinny and the athletic bodies fashionable through the 20th and early 21st centuries, men's fashionable silhouettes were shaped by history and our changing economies, class structure, and leisure activities.
Once the date and appropriate silhouette were determined, the ensemble was thoroughly researched before dressing in order to be true to the period, or achieve a fashion designer's general aesthetic. The curators and I studied portrait paintings, daguerreotypes, photographs, fashion plates, historic periodicals, and runway shows to inform how the ensemble would have originally looked on a body—from collar height to waistcoat length to pant hem break.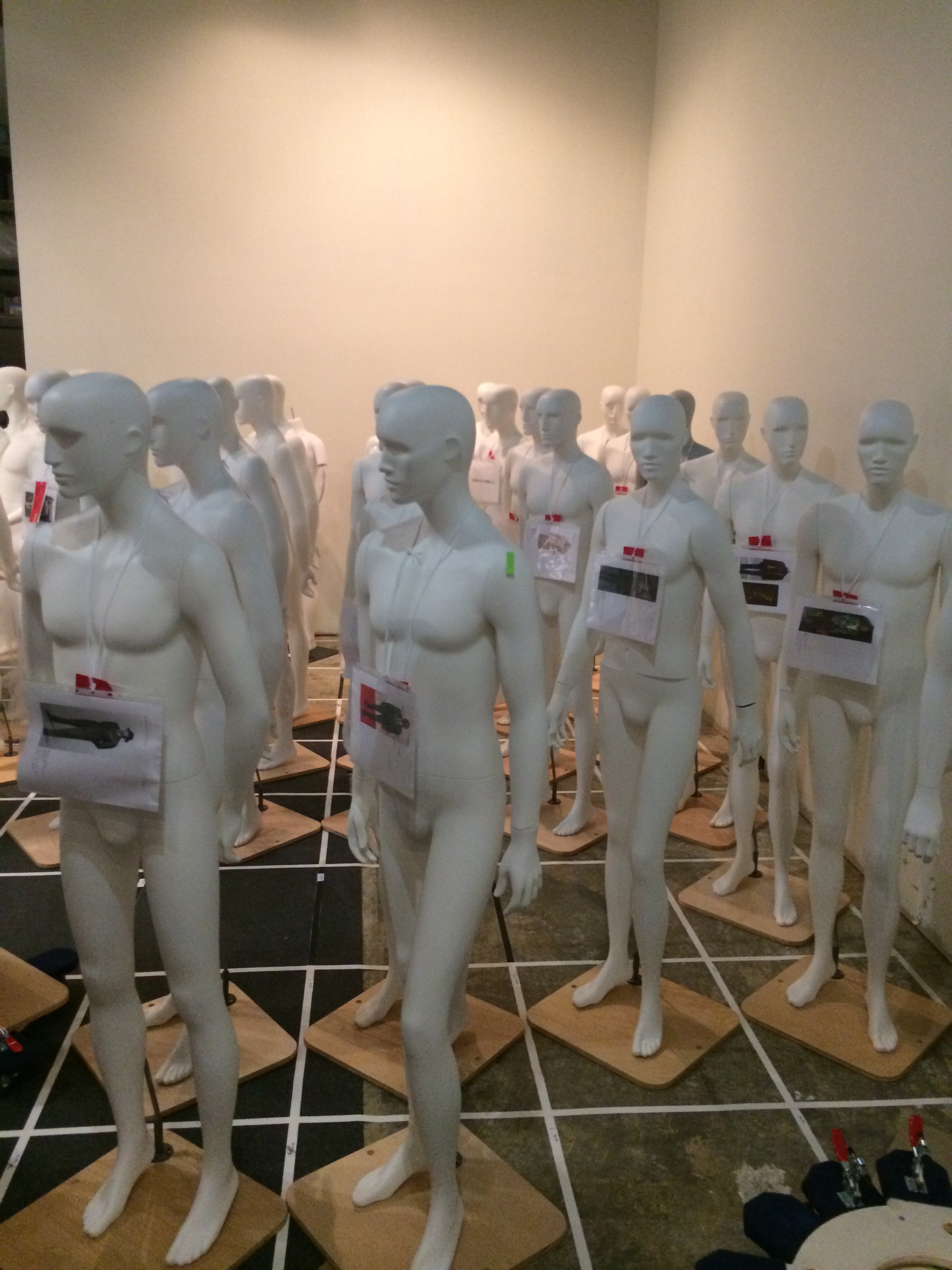 Next, we selected an appropriate mannequin. Five different types of mannequins were used in Reigning Men, each for their period-specific attributes (one representing the 18th century, two 19th century, and two contemporary). Mannequins that are appropriate for historic 19th century dress in particular were not commercially available, so LACMA worked with specialists and fabricators to develop and produce an adjustable form with the historically correct posture. Not only were silhouettes for a historic era a criterion for dressing, but also many of the fashions in this exhibition were tailored for a body that did not match any mannequins. To this end, over 40 mannequins were cut down and re-sculpted to fit the extant garments.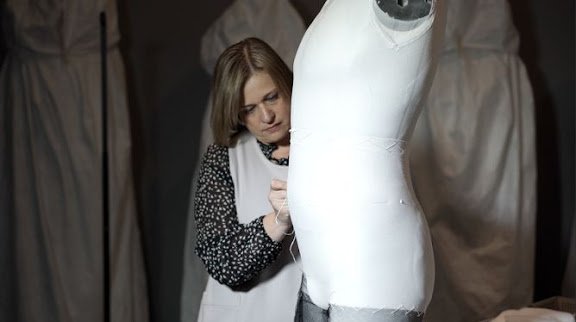 After carefully measuring each piece of clothing, the process of dressing the selected mannequin begins with covering it with two pairs of control-top pantyhose, which secures layers of batting used to pad out the mannequin in the shape of the original wearer's body and the prevailing fashionable silhouette. Two weights of tulle were also used to achieve a softer look or to create a layer of air between the padding and the garment itself. This process can take from one day for a contemporary ensemble to two or three days for a historic piece. Over 275 yards of batting and 400 yards of tulle were used to pad out the mannequins and mounts in the show, as well as 300 pairs of queen-size control-top pantyhose! A step-by-step process of dressing a mannequin was outlined for our 2010–11 exhibition, Fashioning Fashion: European Dress in Detail, 1700–1915.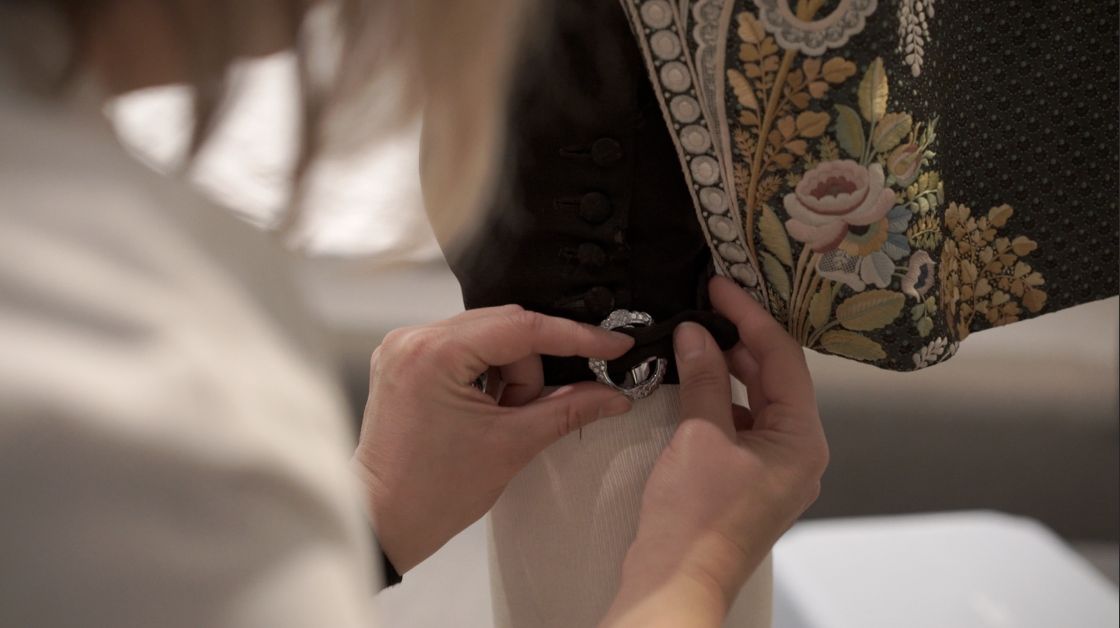 Accessorizing these looks was a monumental and collaborative task. Each ensemble was painstakingly accessorized with pieces from LACMA's permanent collection, or were specially sourced. We searched high and low for over 300 prop and collection objects to finish the mannequins' total looks. Historical accuracy was our goal and involved many hours of research—even when making reproductions, everything was recreated with intention. Some props were made in-house, including many of the historic neckwear, while other props were contracted by local, national, and international artisans. To literally top everything off, meticulously crafted wigs by the talented milliner Deborah Ambrosino took two years to create with the aid of hairstyle research by assistant curator Clarissa Esguerra. (Stay tuned for more detailed blogs on the neckwear and wigs in Reigning Men.)
Following years of research and preparations, the mannequins were ready for installation, which commenced in the galleries on March 14. Dressed mannequins, protected by white Tyvek capes, were rolled from the Ahmanson Building into BCAM on customized dollies. Over the course of three-and-a-half weeks, the costume and textiles department, textile conservation, and LACMA's stellar art preparation and installation team worked together to install 131 mannequins, 5 torso forms, 27 custom "invisible" felt mounts, and numerous textiles and accessories. It took a village to install Reigning Men!
Museum Exhibition /// Reigning Men: Fashion in Menswear, 1715–2015 from LACMA on Vimeo.