LACMA's Decorative Arts and Design Acquisitions Committee (DA2) held its fifth annual meeting in May. Working with the department's curators, DA2 acquires outstanding examples of decorative arts and design for the museum's permanent collection. Through the group's generosity, LACMA was able to add eight extraordinary objects in some of our strategic collecting areas, including the Arts and Crafts movement, California design and craft, and graphic design. 
This splendid silver piece (above) had become separated from a smaller pair of identical two-handled covered cups when they were offered at auction in 1948 as a different lot. The two-handled cups were purchased for the museum by renowned collector and newspaper titan William Randolph Hearst. Reunited at LACMA, the garniture of three cups exemplifies the impressive symmetry and uniformity of the grandest displays of material wealth from the golden age of English country house silver. The maker Anthony Nelme (c.1679–1723) was a leading English-born silversmith at a time when the London trade was dominated by foreign craftsmen. However, the precise identity of the original owner, whose initials "HW" appear on all three cups, remains elusive.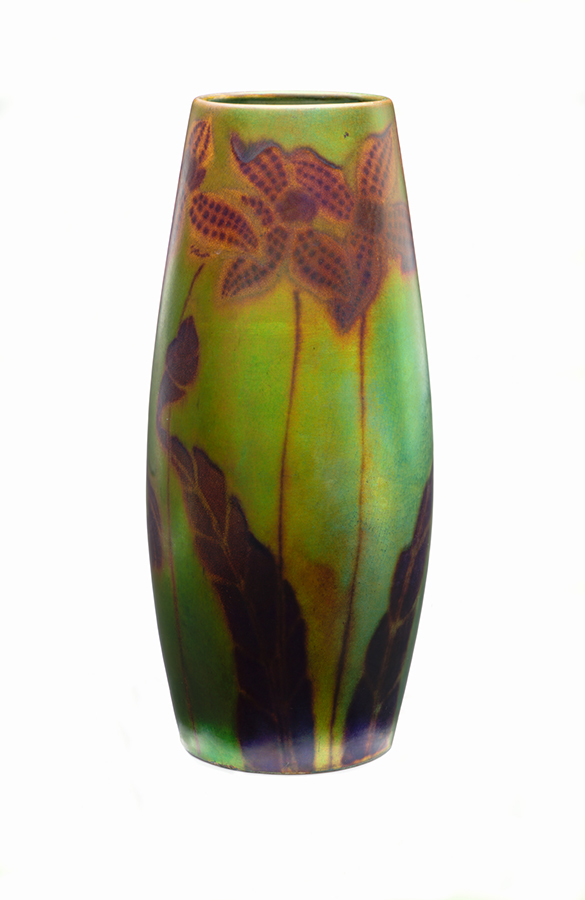 Founded in 1853 (and still going strong), Zsolnay was the most important ceramics manufactory in the Austro-Hungarian empire. This vase exemplifies one of the company's most dramatically beautiful innovations—the iridescent Eosin glaze, named after Eos, the Greek goddess of the dawn. Introduced by Vilmos Zsolnay, the company director and son of the founder, Eosin was widely acclaimed at the World's Columbian Exposition in Chicago (1893) as well as the Exposition Universelle in Paris (1900). The company produced several tiers of manufacture; this vase comes from the highest or Kunst (the German word for "Art") line, demonstrating the firm's remarkable aesthetic and technical achievements.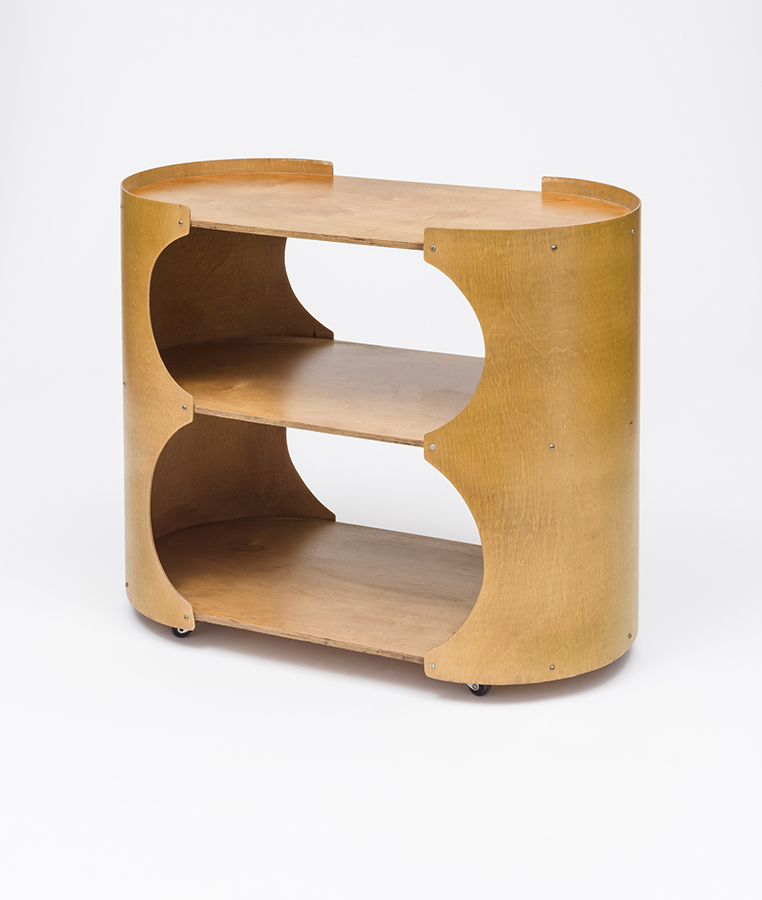 While best known for his important role in disseminating British Arts and Crafts movement furnishings in the decades around 1900, Ambrose Heal continued to lead the family company until 1953, providing the middle classes with "beauty…due to well-chosen materials, admirable proportion, harmonious design, and rigid economy of ornament." This 1898 description of Heal and Son's furniture also applies to the plywood "dinner wagon" we acquired, which was advertised in a company catalogue in 1938. Designed in about 1935, this trolley demonstrates Ambrose Heal's continuing commitment, as chairman of the company, to providing simple, attractive, and reasonably priced design. For this role, he was knighted in 1933 and named a royal designer for industry in 1939. Since very few British companies were experimenting with the breakthroughs in plywood technology that had been developed in the late 1920s, this Heal's example will enable us to tell a richer story about the material that was used by such famous designers as Alvar Aalto, Marcel Breuer, and Charles and Ray Eames.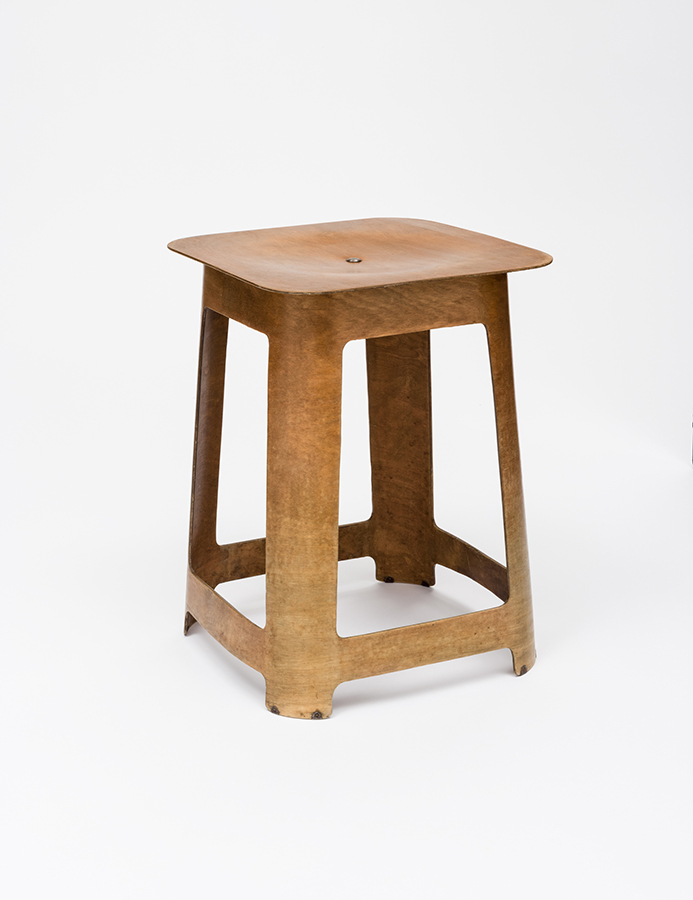 This plywood stool was part of a line offered by the British company Isokon. Founded in 1929, this firm was the first in Britain solely devoted to constructing modernist apartments and houses, and soon after, plywood furniture for them. Jack Pritchard, who started the furniture part of the company in 1935, immediately hired émigré and Bauhaus founder Walter Gropius as the "Controller of Design" (a grand term for a tiny experimental endeavor). While a variant of this stool had been in production for a few years, this particular version was modified by Gropius, as documented by drawings signed by him and now at the Victoria & Albert Museum.
The stooI provides a fascinating story of design transmission and collaboration. In the early 1930s Pritchard had worked for the Venesta Plywood Company in Estonia (Venesta is a contraction of "veneer" and "Estonia"), and used this experience to found the furniture part of Isokon, initially importing the furniture from Estonia. He soon started manufacturing in England as well. This stool has a paper label marking it as a Venesta product, indicating it was imported from Estonia. It will be a wonderful complement to the iconic Marcel Breuer chaise longue designed for Isokon and already in LACMA's collection.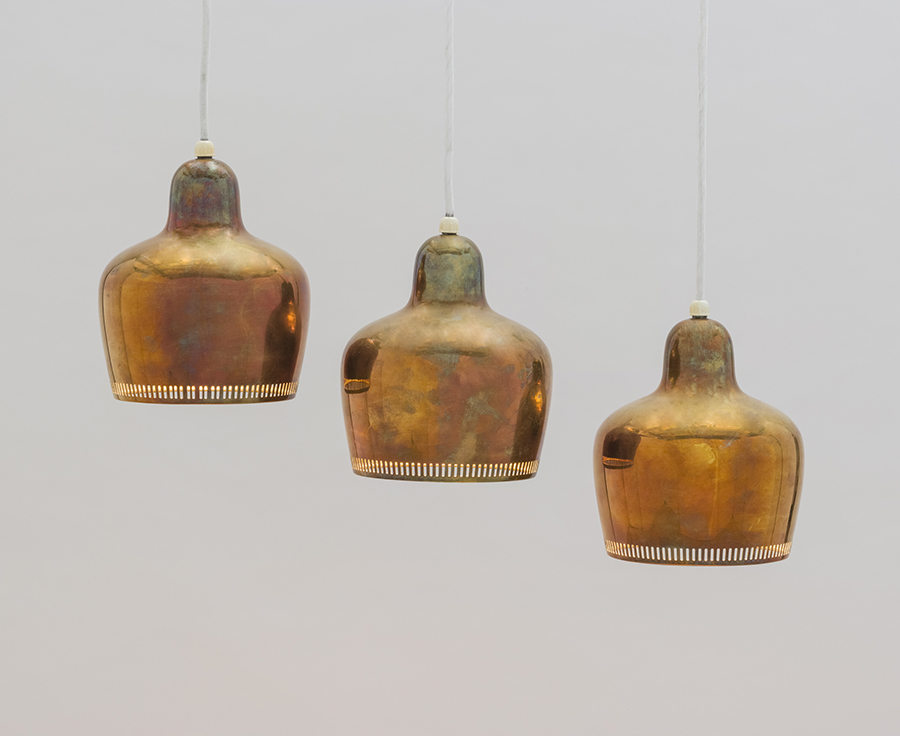 Alvar Aalto was the leading Finnish architect of his generation, and his work epitomized the pursuit of organic modernism in the 20th century. The Golden Bell lamps were created for the elegant, luxurious Savoy Restaurant in Helsinki, for which Alvar and his wife Aino designed all the interior elements, creating a total work of art. They sought a soft and warm light that would complement the food and the diners and achieved this through a rich brass color on both the exterior and the interior of the shade, and a pleasingly organic curving shape. These lamps are extremely rare early examples, dating from the late 1930s or '40s and were made by the original manufacturer Taito Oy.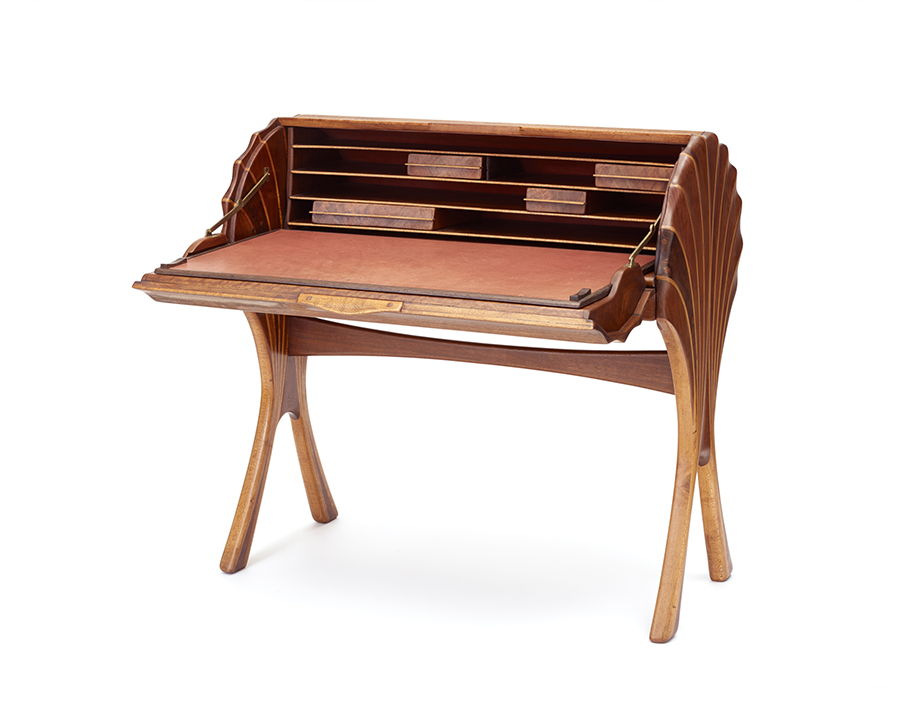 Furniture maker and woodworker Arthur Espenet Carpenter embodied the ideal of the successful rural craftsman and served as a role model to a generation of woodworkers in California and beyond. Carpenter's shell desk was arguably his most important and treasured form, and he only made three in his entire life. He said that "desks are a place for private thoughts, pleas, aggravations, love letters, and balancing the books." The desk was made in 1974 and was later owned by fellow Northern California furniture maker Garry Knox Bennett. 
In 1968 Mexico City hosted the XIX Olympiad, the first Olympic games held in Latin America. Architect Pedro Ramirez Vasquez, chair of the organizing committee, seized this opportunity to present a newly modernized Mexico to an international audience. Seamlessly referencing both contemporary Op-Art and ancient Mexican cultures, the games' hypnotic logo has become an icon of graphic design. The Olympic design team, which included Lance Wyman, Eduardo Terrazas, Beatrice Trueblood, and Peter Murdoch, integrated the logo's radiating lines into environmental design, clothing, publications, and other graphic elements, unifying the sprawling metropolis with a cohesive visual language. In addition to the famous logo poster, LACMA acquired 10 other designs promoting the cultural and athletic events that surrounded the XIX Olympiad.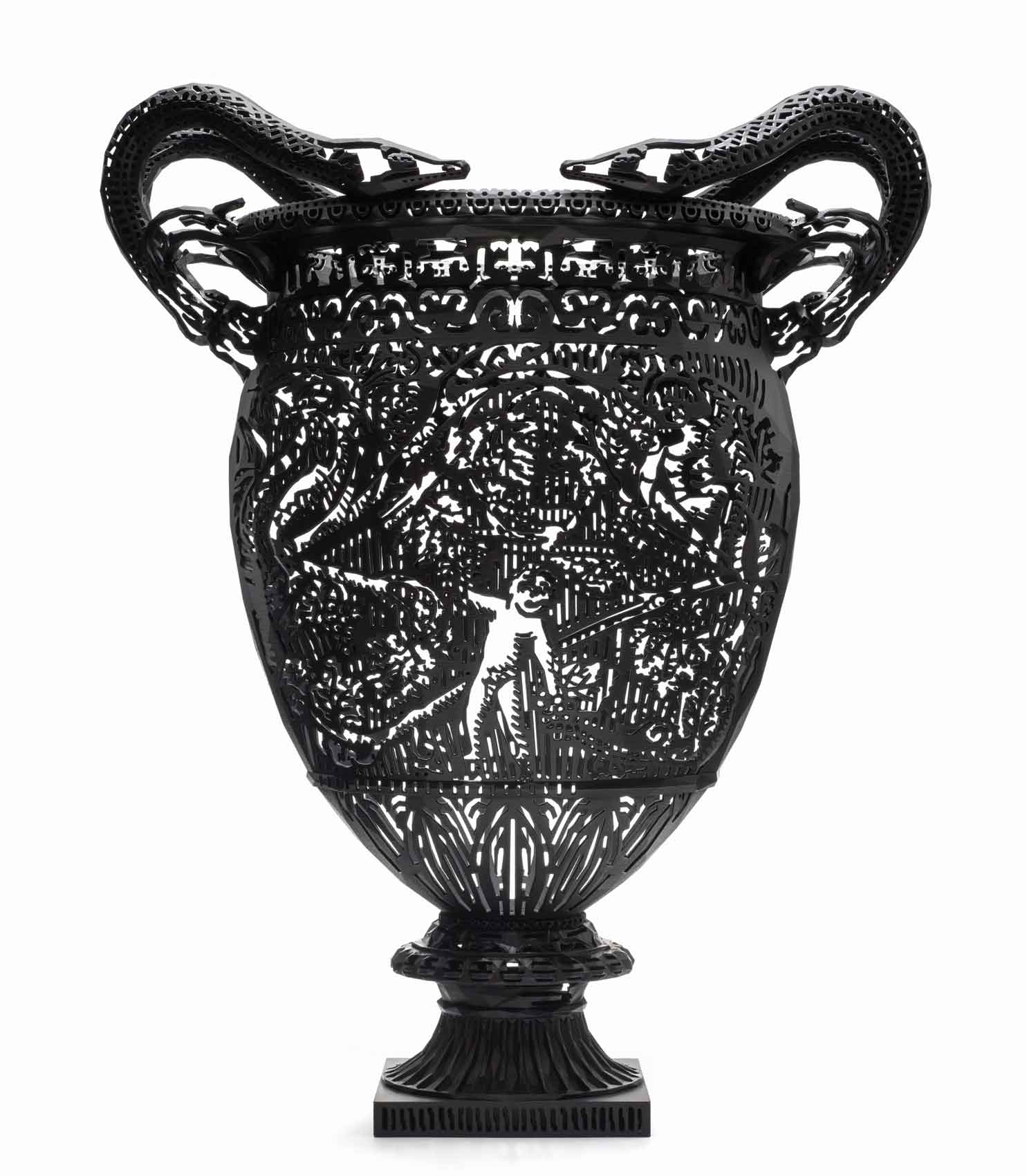 This 3D-printed, coated nylon vase is a contemporary work inspired by the design legacy of the Stowe Vase—a monumental second-century marble sculpture excavated near Rome in 1769 and donated to the museum in 1951 by William Randolph Hearst. In the current exhibition The Stowe Vase: From Ancient Art to Additive Manufacturing, on view through September 5, 2016, the marble vase is featured with etchings of it by Giovanni Battista Piranesi, whose 1778 album of classical antiquities helped shape the Neoclassical style by promoting archaeological sources (especially vases) as models for craftsmen. As a 50th anniversary gift, LACMA received a magnificent example by leading London silversmith Paul Storr (1771–1844). Michael Eden's 2016 version, which combines a three-dimensional approximation of the vessel's form with a two-dimensional cut-out design inspired by Piranesi's prints, was specially commissioned for display alongside these earlier works in the exhibition.