Unframed is taking a look behind the scenes to profile the creative, dedicated people who make LACMA special. We chatted with Mitch Glickman, director of music programs, about pairing art with music, Jazz at LACMA's 25th anniversary, and meeting great musicians.
What do you do at LACMA?
I produce three of the museum's four concert series—Jazz at LACMA, Latin Sounds, and Art and Music. Bill Vestal produces Sundays Live—that's his baby. This is my 11th season. 
What are your goals for each series?
They each have very separate goals. Three out of four are free and focused on outreach; we want to bring people to the museum and encourage them to come in to see exhibitions, to cross-pollinate the art and music audiences. Art and Music is the only ticketed series. We take a special exhibition and marry it with music. 
How do you choose the exhibitions you want to highlight for Art and Music? 
Some of them are the big exhibitions. Or sometimes there's a nice opportunity for a smaller show. It's a chance for us to do something really artistic. Agnes Martin wasn't one of the bigger shows, but her art is incredibly minimalistic. I thought, wouldn't that be a great pairing for Terry Riley, the godfather of minimalism? It would be the perfect combination. So on August 27, we had a concert featuring the music of Terry Riley in the galleries.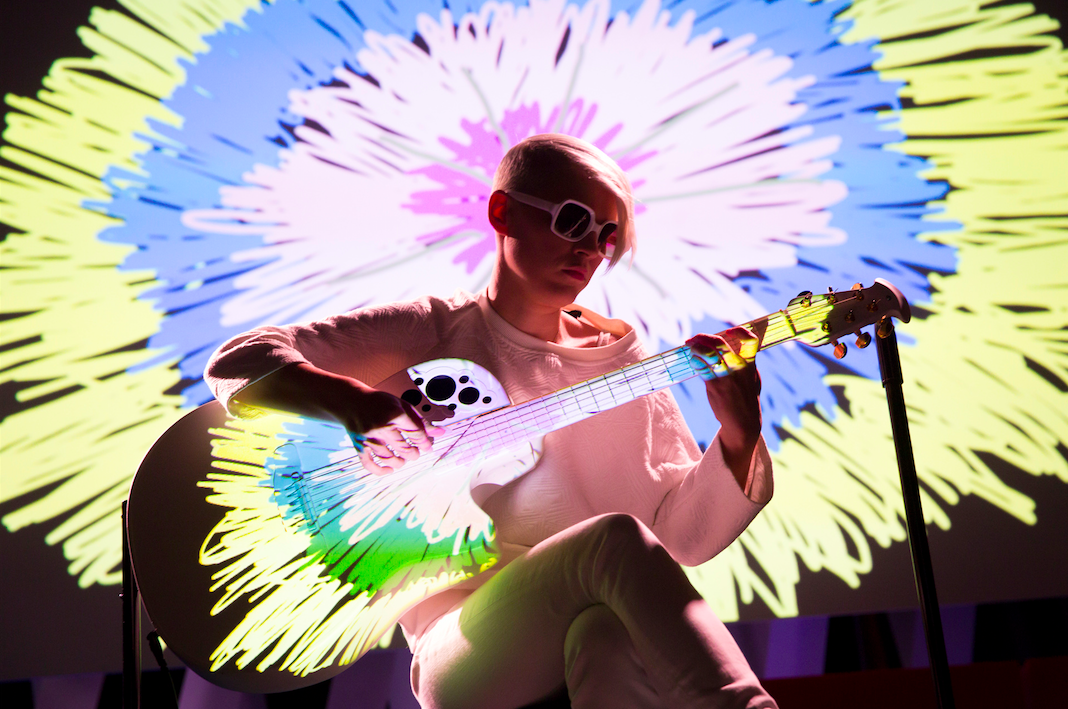 In the past year, we had Diana Thater, a great visual artist working in multimedia. That got me thinking: how do I translate that into a concert? Who are the artists integrating visual art and video into their music? I found this brilliant young guitar player, Kaki King, who is doing integrated videos with her music. It was a great concert. It was a way to get music people interested in the exhibition, and a way to get people who are into Thater's work to learn about King's music. 
Let's talk about Jazz at LACMA. 
Jazz at LACMA celebrates L.A. That's one of the things I changed, to exclusively feature L.A. artists. The greatest performers in the world are here, from established to emerging to everything in between. That's the great thing about the [KJazz] broadcast; we're exporting L.A. jazz and putting LACMA out there. We have international listeners. I get fan mail from Denmark!
And people love it. People get off work early and come from West Covina, from Orange County, from the Valley. It's truly insane what people do to get here on Friday night.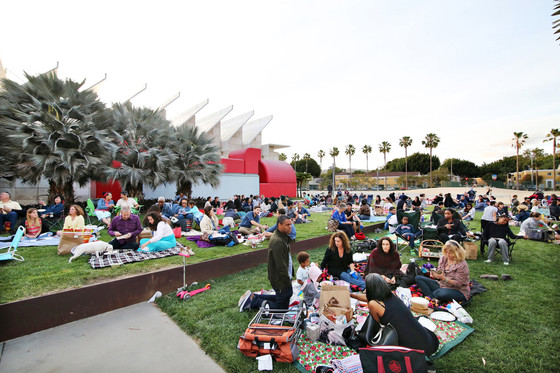 To celebrate Jazz at LACMA's 25th anniversary, we opened the season with Les McCann, one of the great living legends, a virtuoso. It was such a joyous night; it was packed and everyone was feeling the love and giving it back. We're bringing special artists, many of whom have never performed here before.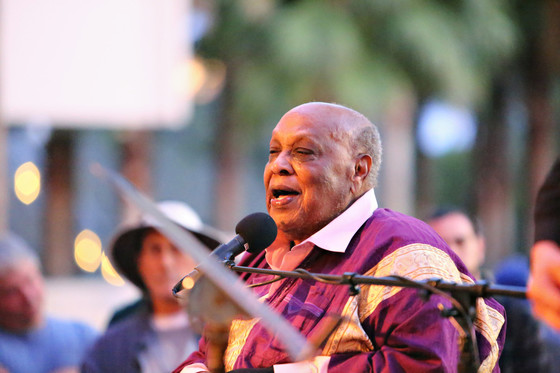 People think of New York as the jazz capital, but I understand there was a very vibrant jazz community out here. 
Yes, from the '20s to the '50s, Central Avenue was the heart of L.A. jazz. People like Louis Armstrong, Duke Ellington, Billie Holiday would play. Everyone would go down to Central Avenue, whether they were white or black or Latino. All the clubs were there, and limos would go up and down the streets. The history of L.A. jazz is incredibly rich. Most people don't know about it. There's an interesting shift going on now, with more and more New York artists coming out here. Eric Reed, Bob Mintzer, Arturo Sandoval—they're all in L.A. now, and those are the heavyweights in the New York scene. 
Do you have any favorite concerts or moments?
One of my highlights was Anoushka Shankar, Ravi Shankar's daughter. She's one of the leading contemporary sitar musicians. I brought her for an Art and Music concert for a south and southeast Asian art exhibition eight or nine years ago. The concert was so popular that we added a second night. Ravi Shankar came up from San Diego. He was about 90 at the time. Anoushka was brilliant; she played old and new Indian music. And to see the whole community come out—it was great. 
It's always fun to work on commissions, it's great to create something. Perla Batalla was one of our artists, and she wrote a set of songs based on paintings in In Wonderland: The Surrealist Adventures of Women Artists in Mexico and the United States (2012). Subsequently it turned into a musical. She took something we helped foster, and now it's become something else. It's rewarding to support artists and give them a chance to do something they never would have done.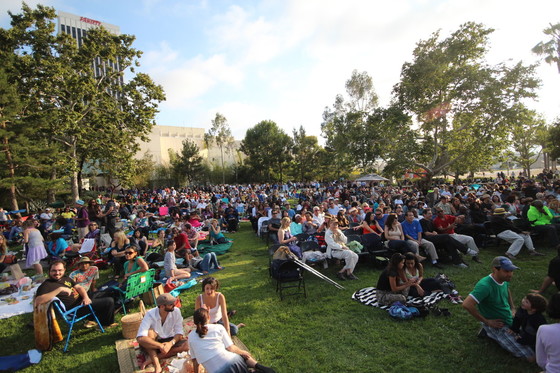 Any special Latin Sounds moments that stand out in your mind?
When we celebrated the 10th anniversary of that series last year, we had Poncho Sanchez. We had 3,000 people in the park. They were hanging from the trees, they were behind the stage, they were everywhere. In the first season, we had dozens and dozens of people, and now we welcome thousands and thousands. It's been great to see it grow and be loved by the community. It's a cool place to hang out and bring your family and listen to music. There aren't a lot of places like that. And it's great to see the diversity of the audience. Everyone's here, all mingling and chilling and enjoying. You look around and think, man, L.A. is amazing.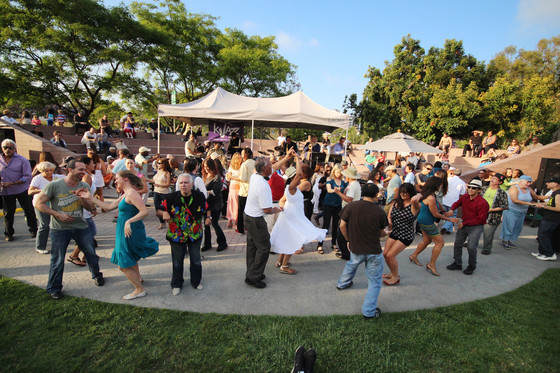 Can you talk a little bit about your background and your route to LACMA?
I wear a multitude of hats, with LACMA being just one. I'm an Oberlin-trained composer and conductor. I have what I like to call a small, 67-member jazz band—the Symphonic Jazz Orchestra. We commission and perform around L.A. I also compose for film, concert, stage, and commercials and am a writer-arranger-composer. I also do outreach programs with public schools. I love classical and jazz, and the space where they come together. When LACMA was looking for a music director, they were looking for someone with a foot in both worlds. The rest, as they say, is history.
How has working in an art museum influenced you?
It certainly taught me a lot. One of the great things for me is working with the curators before an exhibition and dig in, asking, what's the essence of this exhibition? Is there a musical element? I get to figure out where it all connects. It's a great education to be able to learn from them and explore things I'd normally never have the opportunity to explore.
For example, we did a Jackson Pollock concert for Art and Music [in 2006]. He was hugely influenced by jazz, so we did this really interesting concert; half was the music from the movie Pollock, a brilliant score by a local jazz composer. The second half was songs that inspired the artist. He listened to them over and over while he painted. We had the art of Pollock and the music that inspired it. It was nice see how it all tied in together. 
I'm a kid in a candy shop here. I get to do all these crazy, wacky things, try something different. And to meet all these great musicians—it's amazing.
Enjoy Jazz at LACMA every Friday evening through November! This conversation has been edited and condensed for clarity.