This summer, LACMA launched an online video series, Artists on Art, for which we asked contemporary artists to speak on an object of their choice from our permanent collection. Mario Ybarra, Jr. is an artist, educator, and activist deeply involved in the Mexican-American community and street culture of greater Los Angeles and co-founder, with Karla Diaz, of Slanguage, an artist group that promotes intergenerational art education and cross-community discussion of contemporary art. For Artists on Art, Ybarra selected three works by Edward Kienholz; today, he speaks more about his connection to LACMA and the artworks.
Tell us about coming to the museum when you were a kid. 
When I was a child, my mom would drag me and my cousins to all these cultural places. She brought us to LACMA, and I don't remember anything else about the day other than walking through the galleries and turning the corner and seeing this car [Edward Kienholz, Back Seat Dodge '38 (1964)]! We were looking at paintings all day, and around the corner there was a car in the museum and the radio was playing. I looked inside and there were these two mannequins making out! I was looking at my mom, thinking, "Is it OK if I look at it?" I just stood there, wondering how a car got into the museum. When I was a 10-year-old kid, that totally shocked me.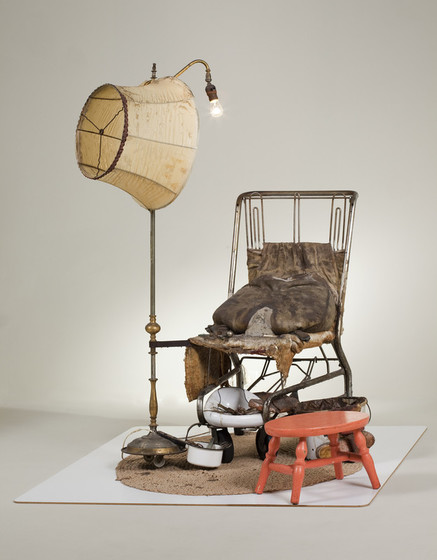 Do you see a relationship between your work and Kienholz's? 
Storytelling in both of our work is super important. Kienholz leaves space for the viewer's insertion. We become the thing that fills the gap. There is a narrative that is kind of linear, and we can figure it out and piece things together. So with The Illegal Operation, the title gives it a context. There is a bag there, open like a body would be. I once read about why human beings are fascinated with ruins. It's because there are big chunks that are missing that we can fill in the gaps. We project our own subjectivity into those missing chunks, and that's what makes them beautiful. In my work, there is that moment, like when we see that there is a bodily figure in this piece. The open sack kind of communicates the body, but there is no mannequin that is the body. We have an empathetic moment with the sculpture, when you've inserted yourself into the work. It isn't just a viewing experience but an actual experience of stepping in.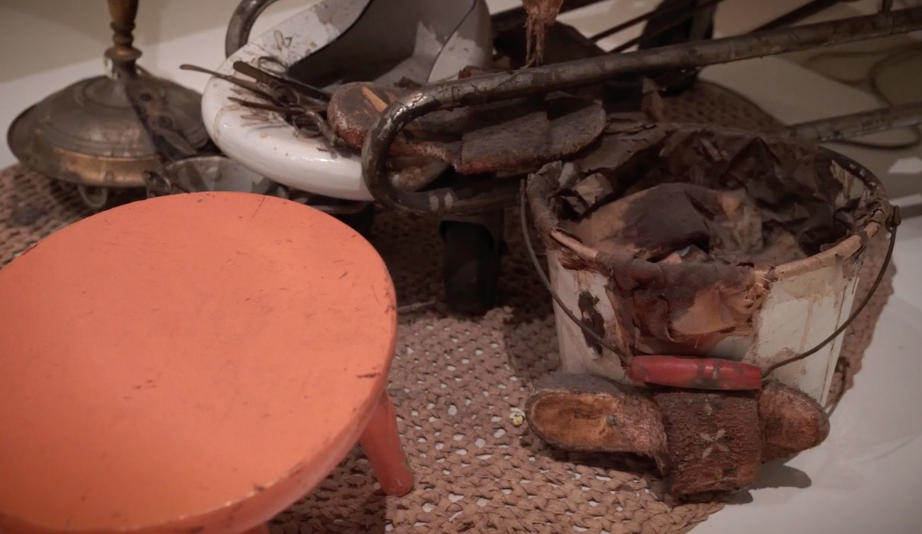 What's the most intriguing detail of this work for you? 
That woman's slipper shoved underneath the bucket. It's one of those surprises…once you dig in a little bit deeper, you're like, "Oh my gosh, why are these shoes stuck there? Why are these surgical instruments stuck there?" And they take you to not only to the image or narrative that Kienholz is trying to create, but to your own personal stories. That sandal. . .My grandmother is always a very put-together woman. One day she had a pair of canvas sneakers on and the glue was coming apart and it got me depressed. The image in my mind of who she is and how she presents herself wasn't lining up with her sneaker glue coming apart. I couldn't figure it out. So when I'm looking at this work, there are certain things that connect with the gender narrative that Kienholz would have been putting together and the personal notes I would pull out and try to relate to my own experience. That's what great works of art do, and that's why people continue to look at them for such a long time.
What are your thoughts on controversial work, art that some feel doesn't belong in a museum?
As artists our role is to constantly push at the edge of what a museum can do or what the world should be considering as art. Abstract Expressionist painters were radical and pushing the limits of image-making and painting. And with somebody like Kienholz, he is pushing the limits of materiality. What is materiality? Is it just supplies? It's pushing the boundaries, these things coming from a mass-produced culture that are put together to be infused with political content and context. That's what's exciting about contemporary art, because it uses everything in the world. You realize that everything can be infused with poetry to create art.
Edward Kienholz's The Illegal Operation (1962), History as a Planter (1961), and A Lady Named Zoa (1960) are on view in the Ahmanson Building, Level 2. The conversation was condensed and edited for clarity.