In 2016, LACMA acquired seven works of contemporary Korean art with the generous support of the AMOREPACIFIC Corporation. These works of art join four earlier acquisitions funded by a five-year gift from AMOREPACIFIC, and strengthen our dedication to promote, disseminate, and support Korean arts and culture in Los Angeles and beyond.
Born in 1965, Inhwan Oh won the 2015 Korea Artist Prize from the National Museum of Modern and Contemporary Art, Korea. He makes work in sculpture, installation, performance, film, and video that question human relationships and heteronormative social codes. One of the 2016 acquisitions is the artist's The Real Man (2009), which represents a deconstruction of a popular military song in Korea; the work repeats, inverts, reverses, and transforms the familiar tune played on a nightclub-like sound system in a darkened space. A phonetic and graphic translation of the lyrics in Hangul appears as a projection on a long wall within the installation.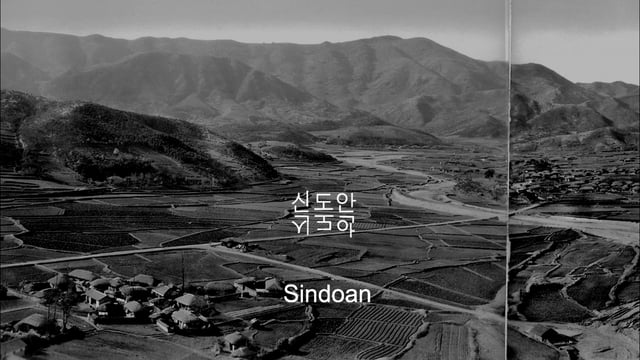 The work of Park Chan-kyong (b. 1965) explores cultural practices in Korea from the period of colonization to the present. Sindoan (2007) is a 45-minute, six-channel video installation that meditates on the power of the fear of the unknown, honing in on the fear and anxiety that traditional and religious beliefs and superstitions can evoke in local populations. Part-documentary and part-sociological investigation, the work incorporates photographs, scriptures, and footage of testimonies and rituals. Park plays with imagery and narratives from the region to discuss the paradoxes illustrated by the interchangeability of Confucianism, Buddhism, Taoism, shamanism, and Christianity throughout the decades of oppression under varying regimes, dictatorships, and the Cold War in Korea.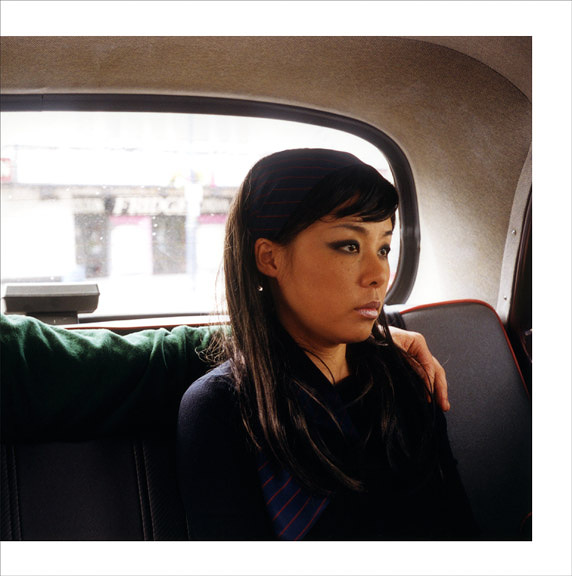 Nikki S. Lee examines the construction and interpretation of identity through photography and film. As an émigré to New York City in the late 1990s, the artist used her practice to explore many American subcultures and groups—such as skateboarders, senior citizens, hiphop musicians, exotic dancers, and the residents of Spanish Harlem. For the Projects series, she created identities that were extensions of herself to assimilate into these groups as a way of questioning how her own image or semblance might be located or integrated into notions of America. Parts (14) (2003) is from her series titled Parts (2002–06). For this work, Lee explores portraiture of intimate relationships. Each image consists of a cropped photograph in which Lee appears, but her (assumed) romantic partner is cropped out. An appendage, a torso, or other body part may appear, but only as a reference to another body in the narrative. These halved images investigate notions of dependency and interchangeability in intimate relationships.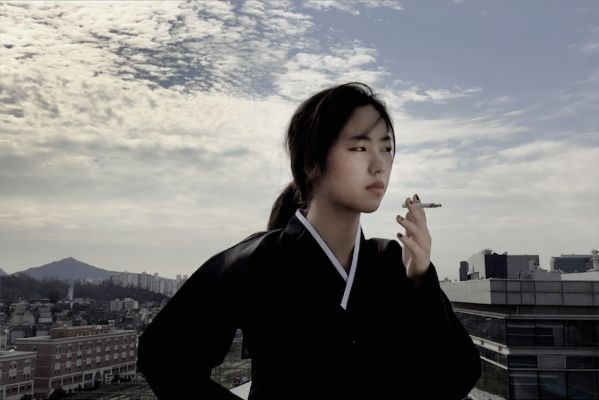 Yours (2015) is a short video work by Lee shot entirely on her iPhone 6 in Seoul, Korea. The story focuses on a young woman who must come to terms with her father's death as the keeper of his ashes. It touches on themes of privacy, gender, tradition, and loss Korean culture. It is the first time-based media work by Lee to enter LACMA's collection.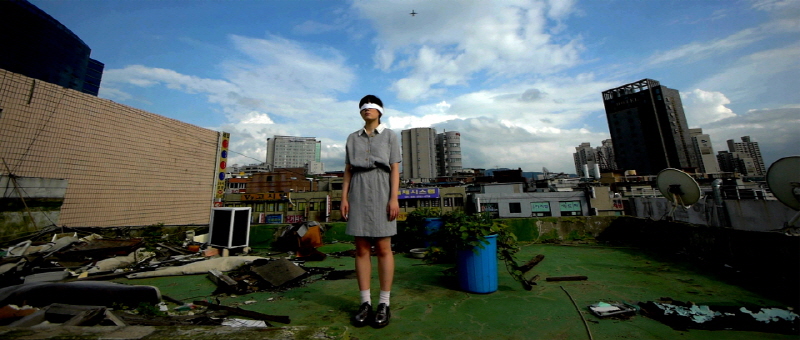 IM Heung-soon won the Silver Lion at the 2015 Venice Biennale for his feature-length documentary, Factory Complex, about the labor conditions of women in textile factories in South Korea and Southeast Asia from the 1960s. The film weaves together narratives about the exploitation and abuse of female factory workers who produced much of ready-to-wear apparel in the West during Korea's most radical period of industrialization. In addition to historical footage, personal narratives, and interviews with union leaders, IM has interwoven poetic and cinematic moments of women gazing at birds flying overhead, hooded and embracing (pointedly reminiscent of Rene Magritte's The Lovers), and walking blindfolded through a bamboo forest. The work functions as an art installation for a black box or can be screened in a theater as a film. This flexibility and duality has become a popular approach to making film and video in South Korea.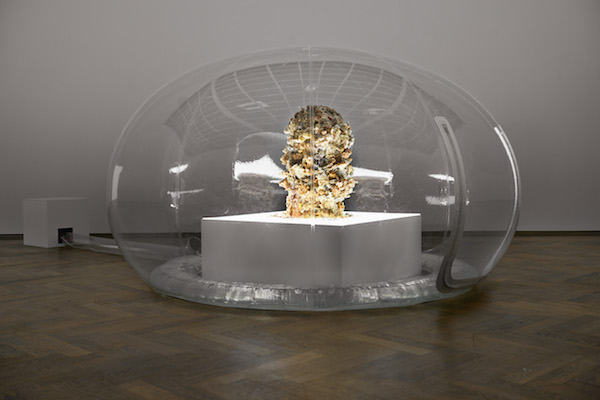 Anicka Yi's (b. 1971) amorphous and alchemical works of art are made with materials such as bacteria, fungus, hair gel, antiseptics, and foods. Interested in ecosystems, female pheromones, and olfactory senses, among other ways in which we sense, consume, metabolize, and rely on manufactured products, she constructs objects for sensory experience. The title of this work, Maybe She's Born with It, comes from a slogan by Maybelline. For the installation, a bouquet of flowers powdered with tempura flakes and coated in resin (for preservation) is deep fried. It is then placed on a pedestal and exhibited in a Mylar bubble that retains its bulbous shape with the help of a hidden blower. The implication or expectation of this scent (or odor)—flowers and grease—trapped in a bubble represents an odd blend of signifiers and a dramatic shift from the initial form. In this way, her works consistently have a time-based component and performance aspect to them.
To Ilmin Museum of Art (1981–) is a remarkable representation of nearly four decades of Kim Yong-Ik's (b. 1947, Seoul) artistic practice. This sculptural installation speaks to Kim's sense of contradiction, concept, and humor. Kim says, "This is an age where editing is a required process for art-making, in place of creating… As I move forward towards the 'deconstructed self' from my initial 'modernist self' I will no longer create new works. Instead, I will present those I have reinterpreted, restructured, and reappropriated from my previous works." To Ilmin Museum of Art (1981–) appears as a soft-wrapped package of brown paper, stuffed with images and pieces of paper, tied with twine, and hung from the ceiling. Inside is a carefully folded fabric work he created in 1977 entitled Plane Object—this piece's "death" meant the "birth" of an entirely new work of art. The artist continues to cannibalize the pieces he created as a younger artist by repackaging, manipulating, and painting or drawing over them.  At once enigmatic and highly charged, this work challenges the museum's conventions around Western classifications, museological practices, and ethnography, and serves as a constantly transitioning objects driven by concept and context. This is the first work by Kim to enter LACMA's collection. 
We hope to display these works of art in the galleries in the near future. In the meantime, visit the Korean art galleries to view Yeesookyung's Translated Vase (2013), acquired with funds provided by AMOREPACIFIC Corporation in 2013.