The paintings of Los Angeles-based artist Toba Khedoori (b. 1964, Sydney) have been celebrated for their precise draftsmanship, monumentality, and extraordinary use of negative space. Her slow, methodical way of working produces images that are arresting and sublime, oddly decontextualized and yet acutely detailed depictions of everyday objects, architectural forms, atmospheric moments, and enigmatic vistas. For this public program, Toba and I felt it was necessary to bring the audience into the galleries of her survey exhibition to discuss the work, with the work, and in the architectures that the works themselves create. Thus, we have invited three contemporary artists with divergent practices to respond to specific works of their choosing in the exhibition.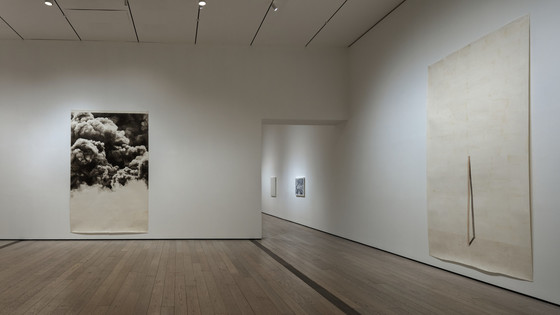 Artist Julien Bismuth (b. 1973, Paris) practices at the intersection of visual art and literature. His work combines objects with text, photographs, film material, and other sources to create collages, installations, text-based performances, and time-based works. In addition to his own writings (he wrote an essay on Khedoori's practice for a 2013 publication), he is a publisher at Devonian Press, which he co-founded with artist Jean-Pascal Flavien in 2005. Through these forms, Bismuth's work seeks to explore communication and miscommunication, the efficiencies and inefficiencies of language, and how we derive meaning from images and the written word. 
Bismuth received his BFA from UCLA in 1994, where, with Khedoori, he studied with Richard Jackson and Paul McCarthy, and an MA from Goldsmiths in 1997. He is also a PhD candidate in Comparative Literature at Princeton. He had a solo exhibition at the Solomon R. Guggenheim Museum, New York in 2016, and has exhibited work at various other institutions and art spaces, including the La Ferme Du Buisson, Marne-la-Vallée, France; the Gesellschaft für aktuelle Kunst Bremen, Germany; The Box, Los Angeles; Bloomberg Space, London; Palais de Tokyo, Paris; Musée du Jeu de Paume, Paris; Orange County Museum of Art, Newport Beach, CA; MUSAC, Leon, Spain; and Tate Modern, London.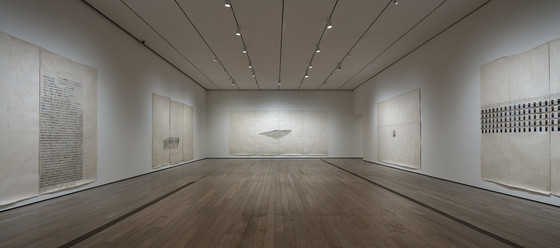 Richard Jackson (b. 1939, Sacramento) is an L.A.-based contemporary artist whose practice has pushed the boundaries of painting since the 1960s. Despite coming of age, and coming into close contact, with some of Southern California's most prominent contemporary artists of his generation (he shared a house with Bruce Nauman in Pasadena in the late 1960s), Jackson managed to evade the pressures of the commercial art market. With humor, relative freedom, and a tendency to "raise hell," Jackson abandoned the traditional instruments of painting and experimented with machines, vehicles, and everyday objects. For his solo exhibition Accidents in Abstract Painting at the Armory Center for the Arts in Pasadena (2012), for example, he filled a radio-controlled, 15-foot wingspan model airplane with paint and crashed it into a 20-foot wall to create a painting. 
Jackson studied art and engineering at Sacramento State College from 1959 to 1961, and then went on to make a living as a gold miner, contractor, and a Christmas tree cutter while continuing his practice. He taught Sculpture and New Forms at UCLA from 1989 to 1994, during which Toba Khedoori was one of his students. He's had career retrospectives at the Orange County Museum of Art, Newport Beach, CA (2013);  Museum Villa Stuck, Munich Germany (2013); and The Menil Collection, Houston, (1988), as well as various solo and group exhibitions around the world.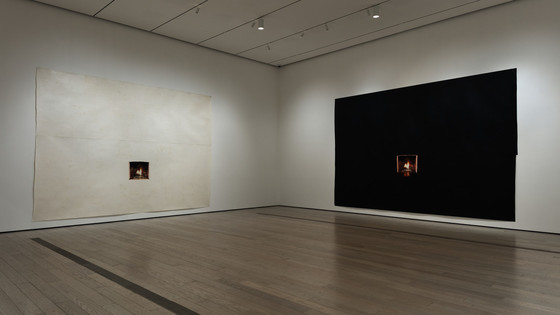 Rebecca Morris (b. 1969, Honolulu)  is a painter best known for her elegant abstractions that play with the picture plane. Taking inspiration from Piet Mondrian and Russian Constructivism, she created her own painterly abstract language based on the grid. Her artistic process, in which she builds up a flat surface with interlaid geometric shapes in a variety of textures, results from spontaneity and compositional acuity. In response to criticisms of abstraction, Morris penned "Manifesto: For Abstractionists and Friends of the Non-Objective," published as an Artforum advertisement for a 2006 solo exhibition at Barbara Weiss Galerie in Berlin. The list of humorous and brazen one-liners, such as "BE A FORCE," "Perverse formalism is your god," "Don't pretend you don't work hard," and "Abstraction never left, m*****f******," struck a chord with the art world. 
Morris received her BA from Smith College in 1991 and MFA from The School for the Art Institute of Chicago in 1994. Currently a professor of painting at Pasadena City College, she has lectured at Columbia University, Bard College, UCLA, USC's School of Fine Arts, and many other universities and art schools. She's received several major grants and awards, including the John Simon Guggenheim Memorial Foundation Fellowship in 2008. Most recently, the artist has participated in the 2016 Hammer biennial exhibition Made in LA: a, the, though, only; had a 2015 solo exhibition at 356 S. Mission Rd, Los Angeles; and participated in the 2014 Whitney Biennial. Her work has been exhibited at LAXART, Los Angeles; The Renaissance Society at the University of Chicago; and Bonnefanten Museum, Masstricht, The Netherlands, among other museums and galleries internationally.
On February 21, at 7 pm, we will gather on Level 2 of BCAM at LACMA, where the exhibition Toba Khedoori is installed, and listen to these artists reflect and respond to the work. This program is free and open to the public. We hope you will join us!