While he never received the wider attention that his oeuvre deserved, Southern California painter John McLaughlin—whose retrospective John McLaughlin Paintings: Total Abstraction is on view at LACMA until April 16—has become a cult hero among subsequent generations of Los Angeles artists across a broad range of disciplines and styles. His extraordinary, unique body of work and independent approach have earned him the title of "artist's artist." The term refers to artists who are under-recognized within the art market but whose brilliance has garnered the respect and admiration of fellow artists. Senior curator Stephanie Barron and I wanted the show's exhibition design to capture and highlight what makes his work so inspirational. In other words, what does an artist see in McLaughlin's reductive geometric abstractions that makes them so poignant?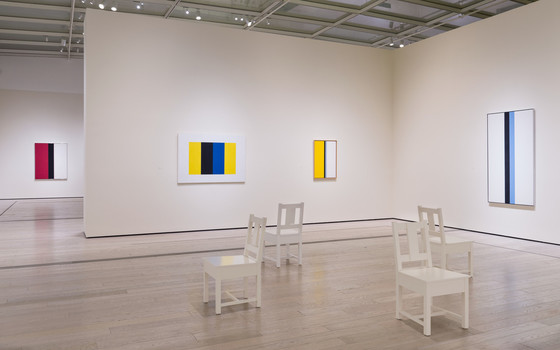 With this question in the forefront of our minds, we contacted the contemporary artist Roy McMakin, who examines the relationship between artwork and function by making sculptures that are also meant to be used, to see if he could assist with the exhibition's seating and wall colors. He has often cited McLaughlin as a major artistic influence, in particular for his iconic slat-back chair that he has been creating since the late 1980s; the backs of these chairs are inspired by the harmony and subtle power of McLaughlin's compositions. Along with choosing the paint colors and where the shifts in color occur, McMakin made 12 chairs, now a part of our permanent collection, that are installed throughout the exhibition—each has a different back and often there are surprises such as mirrors and indentations that make the visitor more aware of the subtle, yet powerful changes within McLaughlin's canvases. In the below video McMakin discusses his thought process and what he aimed for when making this revealing artwork. 
Who made the chairs? Roy McMakin, artist from LACMA on Vimeo.