In 1992, Audrey and Sydney Irmas donated to LACMA 139 photographic self-portraits, an outstanding collection created by the couple, together with their daughter Deborah Irmas. Beginning in 1994 with The Camera I, curated by the late Robert Sobieszek, senior curator and head of the photography department from 1990 to 2005, the collection has been featured in seven exhibitions at LACMA and has toured nationally and internationally. Fifty additional works have been added since that original gift, many of which will be featured in the exhibition This Is Not a Selfie: Photographic Self-Portraits from the Audrey and Sydney Irmas Collection, which tours to the San Jose Museum of Art in August 2017. Here Deborah talks to LACMA about developing the print-on-demand catalogue published in anticipation of that exhibition.
How did the idea to collect photographic self-portraits by artists take shape? What were some of your earliest acquisitions?
As I wrote in the in The Camera I in 1994, the idea came about by chance. My parents, Audrey and Sydney Irmas, and I started collecting photography randomly, and a few beautiful and unusual self-portraits came our way: a wild self-portrait by the 19th-century French photographer Nadar wearing a wig and a leather American Indian outfit, as well as what we thought was a self-portrait by the English photographer F. Holland Day in Arab costume replete with a keffiyeh. Then others started to turn up and we found our path. Works by Francis Frith, Pierre Molinier, Diane Arbus, Henri Cartier-Bresson, and a then-unknown Cindy Sherman found their way into our collection. Later we discovered that the F. Holland Day was not a self-portrait but a portrait of Day by Frederick Evans; by then we were well on our way in the search for self-portraits.
​So much has changed since that book came out. Now it seems impossible not to address the phenomenon of the selfie in assembling a selection of artists' self-portraits—hence the title of the new book, This Is Not a Selfie. Did publishing in 2017 give any of the work any new resonance for you?
I am still so moved and impressed by the depth of vision and the breadth of meaning that photographers have expressed in their self-portraits. From the beginning of the practice until today, artists have used their bodies to comment on personal concerns, political ideas, or creative expression. Catherine Opie has said she makes a self-portrait when she wants to say something bold; any one of the other artists in the collection could easily have made the same assertion. This is the fundamental difference between these works and most of the selfies on your cell phone or your Instagram feed.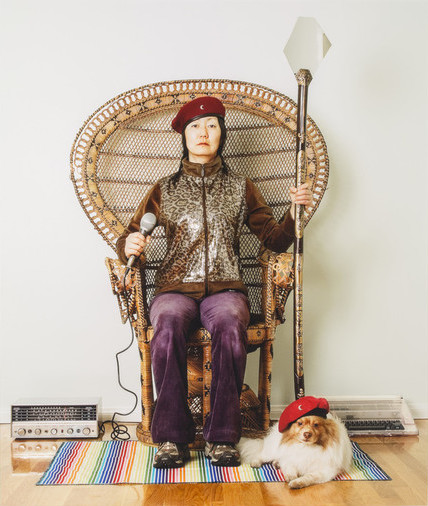 Are there works that have come in to the collection since The Camera I was published? I know you worked with LACMA curators to develop the contents for This Is Not a Selfie—was it important that it feature recent work?
Since the collection has grown over the last 20+ years, we wanted to show these new acquisitions. I found the more recent works to be more challenging as a collector. Without the help of history books or, in some cases, many years of artistic practice, I had to make decisions about what I thought were unique or original self-portraits. In some instances these artists were colleagues or friends, and it is exciting to see how many of them are recognized now as significant in their field: Martin Kersels, Cathy Opie, Ilene Segalove, Warren Neidich, Amalia Pica, et al. I also love the self-portrait by Jennifer Moon. Keep an eye out for her. The LACMA curators—especially Britt Salvesen, Rebecca Morse, and Eve Schillo—have been so generous and encouraging. We did a small show for Paris Photo in 2012, titled Face to Face, which highlighted the collection, and their enthusiasm for this collection is fantastic. It is a living, breathing collection that will evolve into the future as well. That was my idea for this collection.
The work on the front cover is a very famous image by Yves Klein, Leap into the Void, 5, rue Gentil-Bernard, Fontenay-aux-Roses, octobre, 1960. How did that selection come about?
Leap into the Void is probably the least like a selfie of any image in the collection and thus corresponds to the title, This Is Not a Selfie. The complexity involved in creating that photograph makes it unlike today's selfies; yet Klein's impulse for the image to "go viral" was as strong as it is for many social media users today. What Klein had to do to achieve the image is an interesting story—but you will have to read the entry in the book to find out!
This Is Not a Selfie is available at the LACMA Store and Art Catalogues at LACMA.