Over the past few weeks, 2016 Art + Technology Lab grant recipients Kata Kovács and Tom O'Doherty have been perched on LACMA's rooftops, tracking the signal of the LES-1, an abandoned satellite launched in 1965. 
Working together as Kovács/O'Doherty, the artists are preparing to launch their four-day engagement, Signal Tide, on September 21. The work is a sound and extraterrestrial radio installation, which combines the satellite's wavering signal with a special musical score, outside by LACMA's Pavilion for Japanese Art.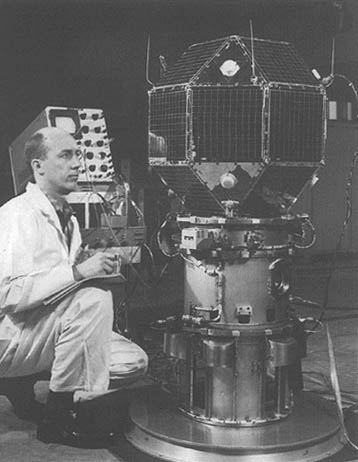 The LES-1 was designed and built by Lincoln Labs at MIT in Cambridge, Massachusetts. In developing their "response" to the satellite's "call," Kovács/O'Doherty looked into the regional tradition of Sacred Harp singing, a type of choral music that traces its roots back to 18th century New England. "The LES-1 satellite can be considered, anthropomorphically, as a weary pilgrim on a repeating journey, having left Boston in 1965 and travelled ever since," the artists explain. "Signal Tide will allow the satellite to be serenaded with music derived from the place that it is originally from."
Earlier this year, the artists traveled to Montreal, Canada, to record new interpretations of Sacred Harp music with musicians from Massachusetts and Quebec. The result was three new versions of the traditional folk songs Fleeting Days, Funeral Anthem, and The Lone Pilgrim.
Sacred Harp music is typically performed in a cappella four-part harmonies. These new renditions feature a rich overlapping of voices and instruments, influenced by the layered style of their musical collaborators, David Bryant (of Godspeed You! Black Emperor), Drew Barnet, and James Hamilton. A wall of sound—but perhaps not how Phil Spector or the Beach Boys would have imagined—welcoming and combining with the tumbling signal of the LES-1. 
Signal Tide will take place outside, by LACMA's Pavilion for Japanese Art from September 21 through September 24. Click here for more information and performance times. To learn more about this project and other Lab events, join our mailing list by sending a message to lab@lacma.org. 
The Art + Technology Lab is presented by:

The Art + Technology Lab is made possible by Accenture, with additional support from Google and SpaceX.
The Lab is part of The Hyundai Project: Art + Technology at LACMA, a joint initiative exploring the convergence of art and technology.
The presentation of Signal Tide has been part-funded by the Berlin Senate Department for Culture and Europe.