Visit Home—So Different, So Appealing before it closes on Sunday, October 15! Including works by internationally known figures such as Daniel Joseph Martinez, Gordon Matta-Clark, Raphael Montañez Ortiz, Guillermo Kuitca, and Doris Salcedo, as well as younger emerging artists such as Carmen Argote and Camilo Ontiveros, Home features U.S. Latino and Latin American artists from the late 1950s to the present who have used the deceptively simple idea of "home" as a powerful lens through which to view the profound socioeconomic and political transformations in the hemisphere.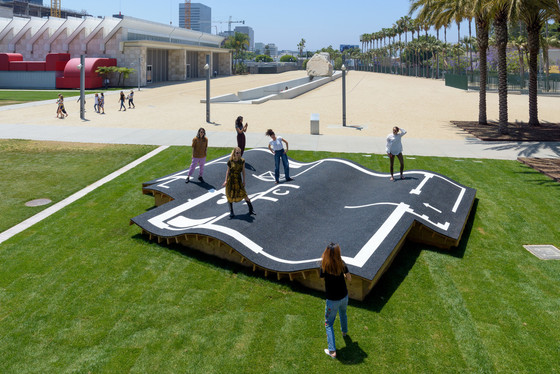 Dive into Unframed posts relating to the exhibition. Vincent Valdez and Raphael Montañez Ortiz wrote about their work, and curator Chon A. Noriega examined María Elena González's Magic Carpet/Home and Daniel Joseph Martinez's The House That America Built. We also have a trove of videos, from Carmen Argote discussing her 720 Sq. Ft.: Household Mutations to various tours of the exhibition by artists and curators. For a look behind the scenes, read about Jennifer Cernada's journey from Mellon Undergraduate Curatorial Fellow at the Museum of Fine Arts, Houston to curatorial assistant at LACMA, and how works in the Home exhibition helped smooth that transition.

Home—So Different, So Appealing is on view in BCAM through October 15, 2017.