Last month, artist Ikezaki Yoshio visited LACMA in conjunction with Atmosphere in Japanese Painting, currently on view in the Pavilion for Japanese Art. Curator Hollis Goodall spoke with the artist about his practice and his works on view in the exhibition.
Your paintings on view here at LACMA were brushed with sumi ink. Could you tell us about the characteristics of this ink?
Water has the power to make the ink shift on paper. After everything dries, I make the paper wet again. Once the ink is dry, it never smears; this is a characteristic of sumi ink. So I can go over and over it again. I stay very quiet. I do it maybe three or four times, as the paper dries and becomes wet and dries and becomes wet. Sometimes I leave it partially dry for beautiful gradations on the paper, like clouds.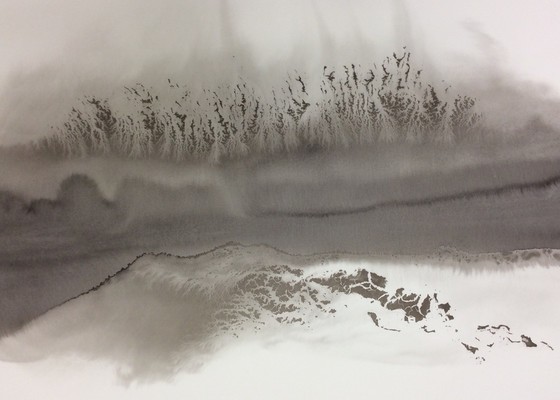 And you make your own ink and paper.
I make my own mulberry paper, washi, which is very porous. So when you make it wet, the ink doesn't stay on top. You can use different techniques and create very fine gradations of color.
I also create my own sumi ink. It's interesting how sumi is charcoal; you can make it fine or not fine and it affects how the ink spreads. It's a combination of the volume and amount of water. 
What are some of the materials you combine to make your sumi ink? 
Nikawa glue comes from fish or cow thigh bones. You have to heat up the water and melt it in. Gofun [a white pigment] is ground oyster-shell.  
Can you talk a bit about the concept of ma in your work? 
I often keep parts of the paper white. This has to do with the Japanese aesthetic term, ma, the void. It's about how much you feel comfortable with the void, how the ink agitates the area, and I think about making the perfect ma. Ma already fills the space and makes it untouchable. I like to make the perfect ma.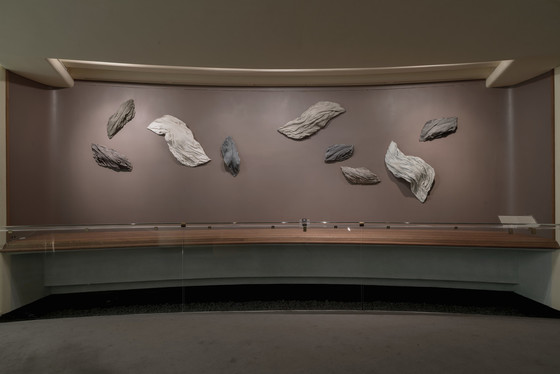 Tell us about these sculptures.
I start with wet paper and have many layers. The paper itself is a block and slightly damp. I form it and dry it under the sun, and it takes a long time, like a month. Sometimes you have to fight fungus growing. In Japan, it's very wet, so it's very difficult to do these kinds of things. I don't like to use spray or artificial formula, as they change the characteristics of the paper. I just use mulberry paper, which has pure fibers that are three to four times longer than cotton. That makes it very strong. Each sculpture is made of 150 to 200 pieces of paper.
And these shapes; they are beautiful.
When people ask me about these shapes, I tell them, "This is what is living inside me, feeling like insects." As I mentioned before, ma is something potent. This arrangement depends on ma, and allows me to put one on, then put another on, and so forth. I had sketched out the arrangement before I came to LACMA, but then when I was here, I changed it. The actual space is very important.
View works by Ikezaki Yoshio in Atmosphere in Japanese Painting in the Pavilion for Japanese Art through February 4, 2018.