Last week we announced the debut of a new installation in LACMA's Resnick Pavilion, Mark Bradford's 150 Portrait Tone. Today, we take you behind the scenes of how the monumental painting came together.
In August, LACMA announced that Bradford and filmmaker George Lucas will be honored at this year's Art + Film Gala taking place on Saturday, November 4. Soon after, CEO and Wallis Annenberg Director Michael Govan visited Bradford's studio, where he saw large-scale studies for the artist's series of paintings commissioned by the Art in Embassies program for the U.S. Embassy in London. Govan recounts, "I had seen the paintings being made, and was interested in them as a meditation on the U.S. Constitution. I knew there were some individual studies (10 x 10 feet) that I thought could be shown on their own, so I went to see them in the studio, and we spent a fair amount of time dragging them around on the floor and looking at them."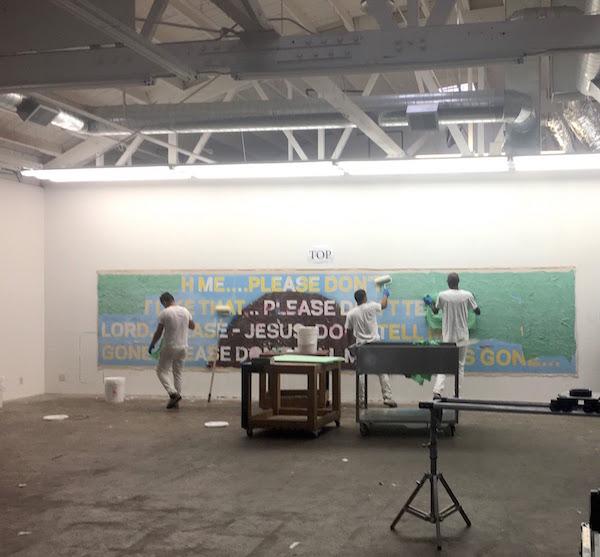 As they discussed exhibiting the Embassy studies at LACMA, Bradford and Govan also talked about the possibility of new commission, potentially made directly on a wall at LACMA. After the visit, Govan says, "back and forth by text Mark threw out the idea that resulted in the current amazing painting." Although Bradford planned to make 150 Portrait Tone directly on the large wall in the Resnick Pavilion, the complications of making a large painting inside an art museum with climate and security regulations (and with the extremely dust-sensitive Ardabil Carpet on view in an adjacent gallery) made such a proposition logistically challenging. Instead, the painting was made in three large sections in Bradford's studio. After being stretched on-site, these sections were carefully installed by LACMA's amazing team of art preparators.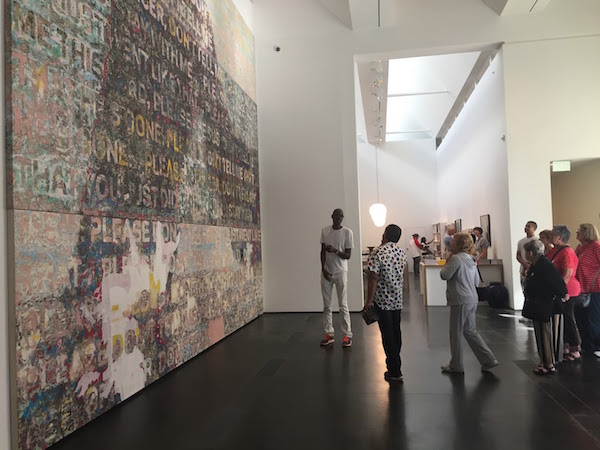 A day after the work was installed, Bradford graciously gave an impromptu gallery talk to the admiring museum visitors who rapidly gathered during the artist's drop-in appearance in the Resnick Pavilion. We hope you'll drop by yourself to see 150 Portrait Tone, as well as the many other artworks on view at LACMA.