When LACMA Prints and Drawings curator and department head Britt Salvesen asked me to assist her in organizing the current Rifkind Gallery installation, 1917/1918: Looking Backward, Stepping Forward, she only gave me a few guidelines. One was that the works had to be drawn entirely from the permanent collection—we had no budget for any loans—and the other was to select works from either 1917 or 1918, to commemorate a moment in time that was exactly 100 years ago from the time we now inhabit. Britt had not yet come up with definite themes or a title for the installation, but she envisioned that something interesting could be assembled from the rich and varied LACMA holdings by limiting selections to works on paper created in these two years. The breadth of possibility was thus harnessed by this narrower focus, but it challenged us to develop distinct themes and find examples from the collection that would resonate with our audience.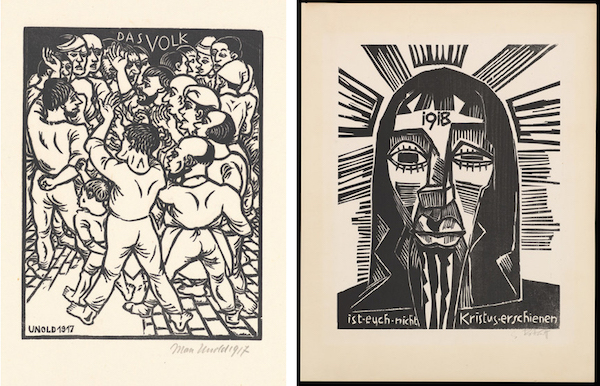 In considering the years of 1917 and 1918, which witnessed destruction and violence on an epic scale with the horrors of World War I and the start of a new (and hopefully better) world order in its aftermath, I realized how parallels can be made between that moment in time and our explosive contemporary world. In pre-1920s Germany and Austria, soldiers were at war on the not-so-distant battlefields, but the routine of everyday life still proceeded for civilians at home. There were many prints and drawings by German artists that testified to the atrocities of the war 100 years ago, but there were also many available works of art that illustrated themes far removed from conflict, where the ebb and flow of life reflected a sense of normalcy.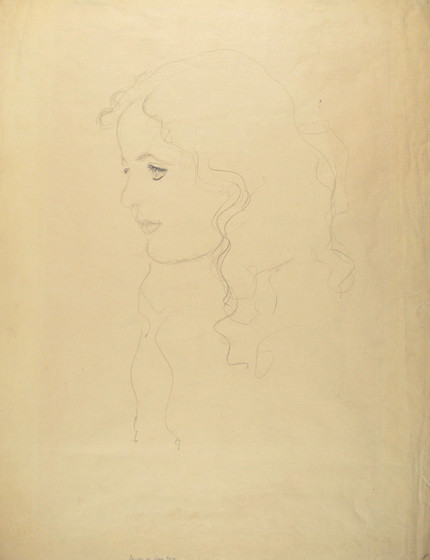 We thus decided to concentrate on "normal" subjects. Landscapes and cityscapes, the exoticism of faraway places, portraits and figurative subjects, advertising posters and publications, and a Germanic response to Shakespeare are just some of the themes we incorporated as we culled from the offerings in our collection. Many were easily made selections, such as a recent gift to LACMA of a drawing by Gustav Klimt (the first drawing by the artist to enter the collection). It depicts a delicately drawn profile of a young girl, Dési von Halban, who was raised in a musical family in Vienna and, as an adult, became an accomplished opera singer and wife of the renowned Dutch art dealer Jacques Goudstikker.
Actresses and actors who were famous in their day are displayed in prints, posters, and periodicals.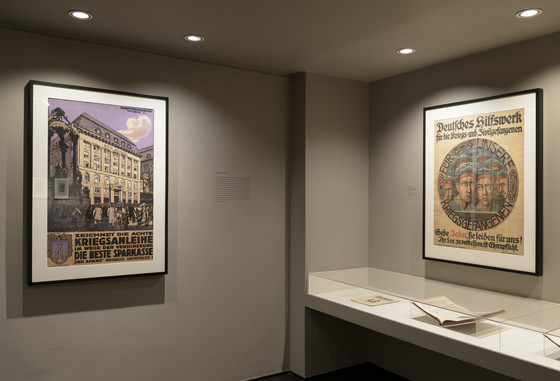 Posters and magazines, as well as short films, rallied viewers to contribute to the war effort, either by purchasing war bonds or by donating to the relief funds for German prisoners of war in France.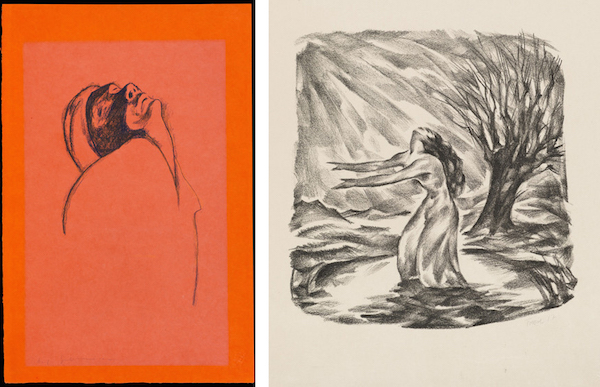 A selection of prints from the multi-sheet portfolio published in 1918 entitled Shakespeare Visionen (Shakespeare's Visions) provides a sampling of works by many of the forgotten artists who were featured in this compilation, which illustrated scenes from many of the Bard of Avon's works. 

In finalizing our checklist for the installation, a happy coincidence presented itself when a local family contacted me about coming to the Rifkind Center to look at works by a distant relation, Arthur Segal. I assembled the Segal works in the collection for their visit, which was also a celebration of the 97th birthday of one of the visitors, a grand-niece of the artist. It was fortuitous to discover two works by Segal in the Rifkind holdings, a drawing and its corresponding woodcut depicting the "Flight into Egypt." The fact that Segal, who was Jewish, chose to illustrate this Christian story while in exile in Switzerland reflects the human yearning for integration and inclusion that continues to be challenged in many societies today. Bringing these rarely seen works to public view now offers a timely reminder of our attempts to make the art of our collection all-inclusive and available for generations to come.
1917/1918: Looking Backward, Stepping Forward is on view in the Ahmanson Building, Level 2, through April 1, 2018