Recently, LACMA acquired three works of contemporary Korean art, including two by artist Young-Il Ahn, whose Water series is currently on view in the Hammer Building. Ahn, a Korean-American artist who came to the U.S. in 1966, was born in Gaeseong, which is part of North Korea today. He lived in Japan for nearly 10 years in search of better materials for his art and returned to South Korea before making the move to Los Angeles, a decision he never doubted. He continued painting in the Art Informel style initially, completing his Birds, California, Sunset, and Self-Reflection series upon his arrival in Los Angeles. His best-known series, Water, was inspired by a near-death incident on the Pacific Ocean in 1983.
Water S-397 (1997) represents one of his earlier works from this series. The work maintains the grid structure that holds all his works in this series, and the overall emerald green palette reveals a richness of tone and color. Water S-397 is also a love note, painted by Ahn for his now-second wife, and joins Water SZLB15 (2015) in LACMA's collection. The two paintings show the development of style, texture, color, and sensibility from 1997 to 2015.
While the Water series produced paintings for over 34 years, Self-Reflection 14 (2004) represents Ahn's earlier style. A large-scale oil on canvas work using Korean hangeul characters, the painting contains characters that are not fully legible or express any actual meaning. Taken together with the gray palette paint strokes of an abstract style, this work is strong in identity and representation. Ahn often claims that he never looked back to Korea for artistic inspiration, but this series belies a reality that is strong and graphically represented.
As the second of two works being gifted by Young-Il Ahn and his wife, Soraya Ahn, this painting builds LACMA's contemporary Korean art holdings but also aims to be more representative of Young-Il Ahn's range, grounding his earlier talents with the later Water series.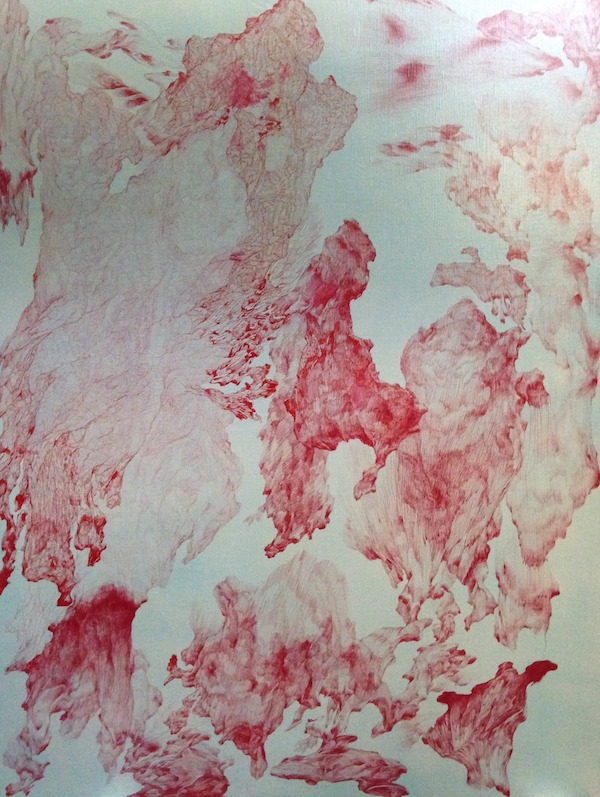 Artist Moon Beom was born in Seoul in 1955.  While his works are minimal in nature, the abstract forms show an affinity with traditional landscapes, giving his works a hybrid sense of modernity. Moon's portrayal of landscape is broad, giving it a dynamic sense between the interior mode of thought and the exterior sensibility of landscape.
Possible Worlds #9021 (2013) possesses these similar characteristics, but has the distinction of being a work completed in ballpoint pen, bringing an added complexity of exploring with the non-traditional pen instead of brush. The stunning use of red against an inconsistent light blue background both brings the use of the pen into sharp focus when viewed up close, and brings the work back into the hybridity of interior and exterior when viewed from a distance, highlighting the ambiguity of time and space.
The work, a gift by Dorothy Goldeen, resists classification and is a welcome collection-broadening piece that helps expand LACMA's holdings of contemporary Korean art.
View Water S-397 in Unexpected Light: Works by Young-Il Ahn in the Hammer Building, Level 2.