Established in 1954, the Costume Council is the oldest active art council at LACMA. For over 60 years, its members have supported important art acquisitions for the Costume and Textiles department, and this past year was no exception. In addition to co-funding two dynamic mid-20th century textiles with the Decorative Arts and Design Council for an upcoming exhibition on Swedish design, the Costume Council lent its support toward several fashion acquisitions which continue to strengthen the museum's holdings of men's and women's contemporary dress.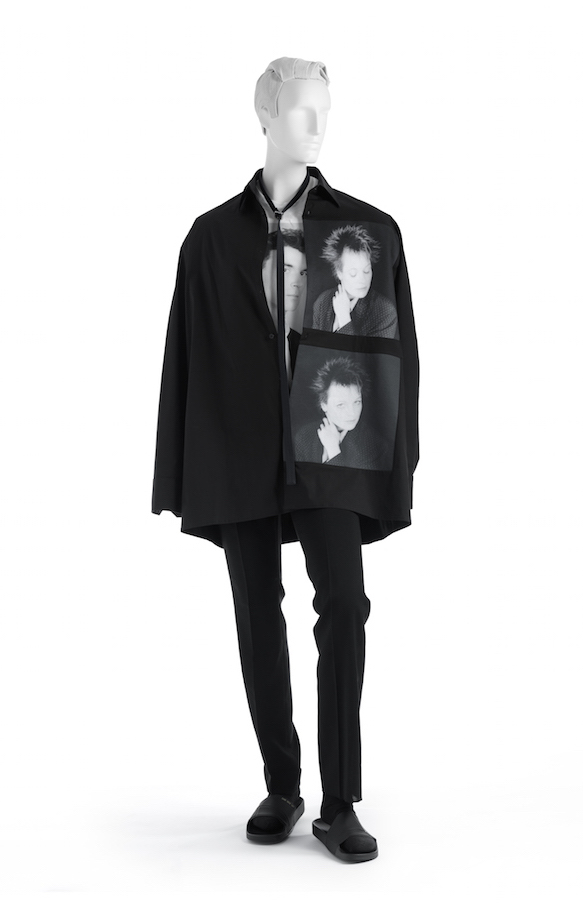 This includes two menswear looks from Belgian designer (and former artistic director of Dior), Raf Simons. In early 2016, the Robert Mapplethorpe Foundation contacted the designer with the offer of a collaborative project. A confessed admirer of the photographer's oeuvre, Simons's Spring/Summer 2017 collection featured at least one reproduction of a black-and-white Mapplethorpe portrait on each runway look. Two ensembles were selected and co-funded in partnership with the Wallis Annenberg Photography Department: one which incorporates an oversized, black button-down shirt with two photographs of avant-garde performance artist/musician Laurie Anderson (1987), and a stark white T-shirt featuring David Byrne (1985); and another which pairs black faux-leather trousers with Simons's cotton mattress-ticking "dungaree apron" that "frames" a photo of Willem de Kooning (1986) on its front panel. All three Mapplethorpe portraits are promised gifts to LACMA and the J. Paul Getty Museum from the Robert Mapplethorpe Foundation as part of the institutions' seminal 2011 co-acquisition of works from the Mapplethorpe archive. Not coincidentally, Simons's collection debuted during LACMA and the J. Paul Getty Museum's joint exhibitions Robert Mapplethorpe: The Perfect Medium (March–July 2016).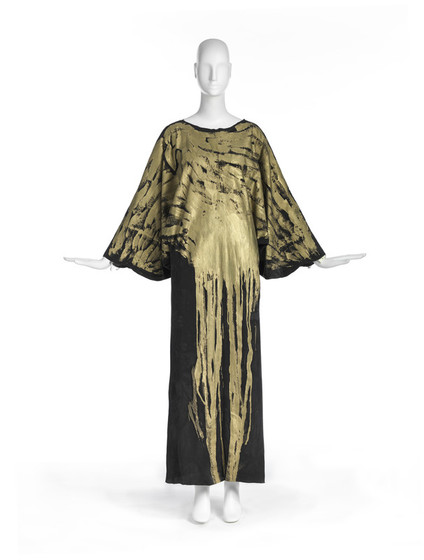 Another 2017 acquisition comes from Sardinian-born, Los Angeles-based Valerj Pobega. Her garments, which blurs the line between "art" and "fashion," are uniquely designed and hand-painted, cut, and sewn by the designer. The Phoenix dress from her "Kabaret 1939" collection was inspired by the decadence of pre-war Germany (evoked in its languid black silk crepe and gold paint), as well as the resiliency of the human spirit after the horrors of World War II, represented by the image of the rising phoenix spreading its gold wings on the dress's dolman sleeves.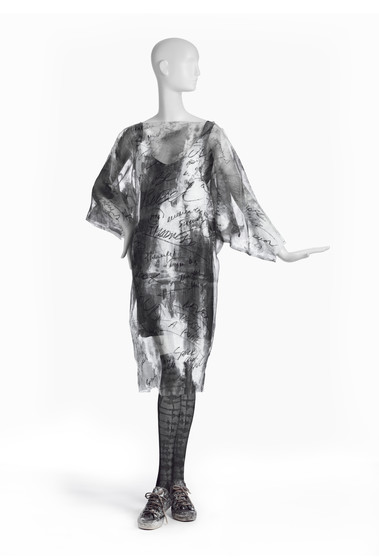 The Rebel dress ensemble from the "This is England" collection has its roots in punk music, style, and emergence of the rebellious youth culture in 1970s England. Pobega used the painterly quality of calligraphy to scribble garish and defiant slogans, words, and phrases imitative of the dingy displays on streets and clubs, creating instead intriguing textiles that whisper their messages on soft flowing silk.
In 2016, Issey Miyake launched a series of clothing and accessories that featured imagery by the late Ikkō Tanaka, an internationally renowned graphic designer. Tanaka and Miyake met in the 1960s as both were establishing their design careers. Their friendship and admiration for each other's work would last until Tanaka's death in 2002. Fourteen years later, with the release of the "IKKŌ TANAKA ISSEY MIYAKE" series, Miyake respectfully acknowledges the artistic mastermind of his friend and the deep artistic connections they shared.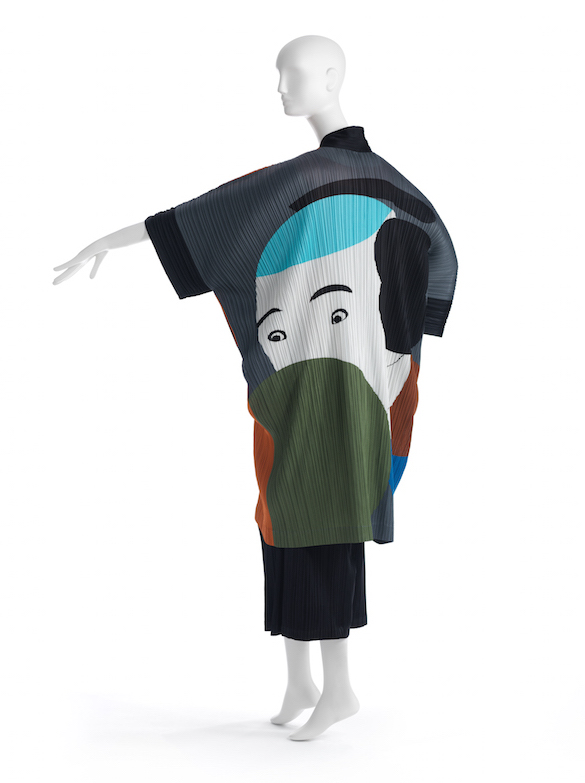 From this inaugural collection, the Costume Council helped to acquire an ensemble that features The 200th Anniversary of Sharaku (1995), a poster for an exhibition commemorating the 200th anniversary of the birth of Toshusai Sharaku (1794–1795), an ukiyo-e artist known for his portraits of kabuki actors. The size and colors of Tanaka's Sharaku motif was faithfully replicated onto Miyake's clothing, which were finished with heat- and pressure-set pleating technology. Miyake's intention was not to simply copy Tanaka's graphic designs but to breathe new life into them by turning them into three-dimensional objects animated by a human body.