In addition to the eight works of art acquired by the Decorative Arts and Design Acquisition Committee (DA²) this year, the Decorative Arts and Design Council (DADC) also enabled the purchase of several objects for the museum. The goal for DADC acquisitions this year has been to broaden holdings that will illuminate future major exhibitions at LACMA. These include two spectacular Scandinavian textiles purchased in conjunction with LACMA's Costume Council.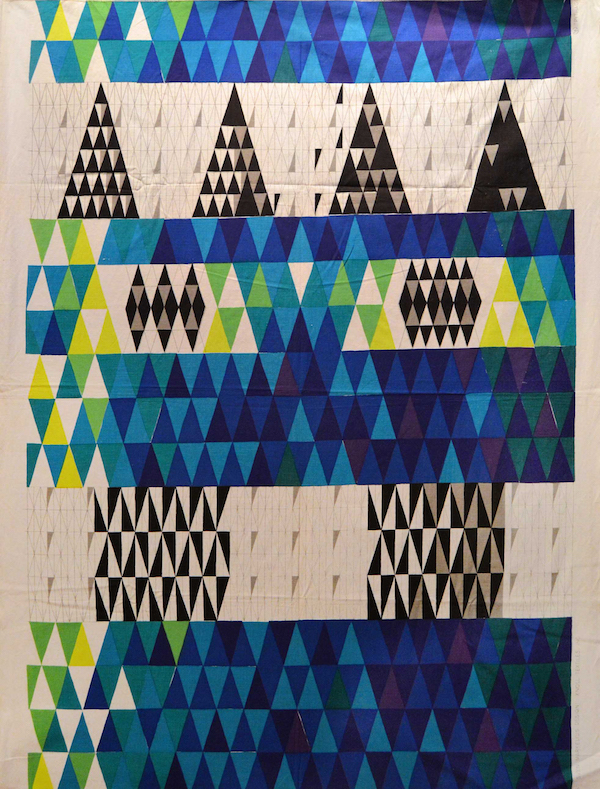 Sven Markelius was a prominent Swedish architect who designed the striking, colorful Pythagoras textile as a stage curtain for a theater in Linköping and for the Royal Institute of Technology Student Union building in Stockholm. Unsatisfied with commercially available textile patterns, Markelius developed his own geometric design with shapes and color adjacencies in a pattern that would be attractive in long lengths. To create it, Markelius worked collage-like with triangle-shaped pieces of paper in a range of colors until he resolved this ode to the ancient Greek philosopher. (Pythagoras is best known for his theorem involving the mathematical relationships between the three sides of a triangle.) After World War II the American furnishings firm Knoll Associates received an exclusive right to import several Nordiska Kompaniet textiles to the United States, including Pythagoras, beginning in November 1953.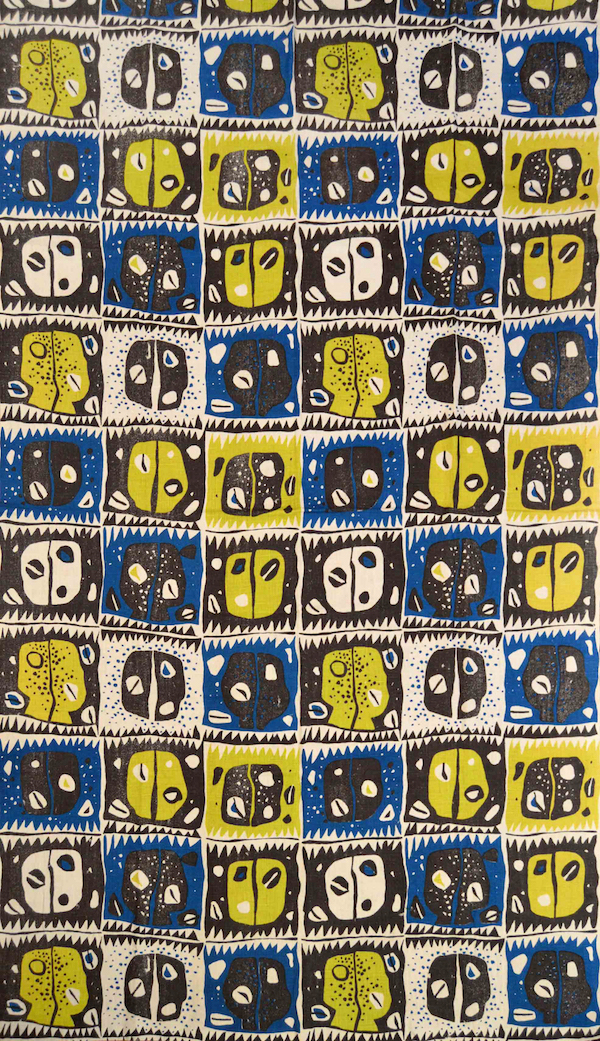 Fellow Swedish designer Viola Gråsten created her hand-printed textile Masker in two colorways—a red and orange combination, and this one in turquoise and yellow. Like Markelius, she was associated with the Nordiska Kompaniet (NK) department store, which printed and distributed her designs. This pattern was included in the major exhibition Design in Scandinavia that traveled to 24 museums in the United States and Canada between 1954 and 1957, including the Los Angeles County Museum (now LACMA) when it was in Exposition Park. As both textiles were widely imported and exhibited in the United States, they will be included in LACMA's exhibition Scandinavian Design and America, 1890–1980, scheduled to open in 2020.
Two of DADC's acquisitions will be on view even earlier. On September 17, the exhibition Found in Translation: Design in California and Mexico, 1915–1985 will open, displaying among its 250 objects a magnificent 1920s fireplace surround with Maya Revival motifs made by California Clay Products (CALCO).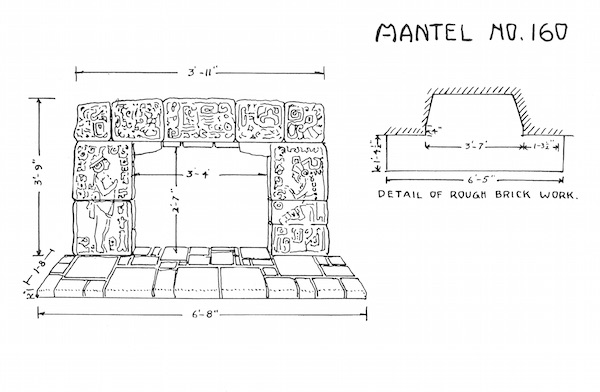 While such fireplaces were popular, particularly in Spanish Colonial revival homes as noted in the company advertisement (first image at the top of this post), their survival beyond a tile or two is very rare. We were thrilled when a complete surround recently came on the market. Support from the DADC enabled us to carpe diem. So recent was this acquisition that conservation is not yet complete, and we can only share these two images from the CALCO catalogue. (A longer blog post documenting the adventure that was the purchase and conservation will follow in the fall.) Note that the fireplace is touted as being made of "Everlasting Aztec Tiles," although we know that the sources for the designs were specifically from Maya sites. This will enable us to demonstrate an important point in the exhibition: during the 1920s and '30s, very few Americans understood the distinctions among Mesoamerican civilizations, which were separated by hundreds of miles and many centuries.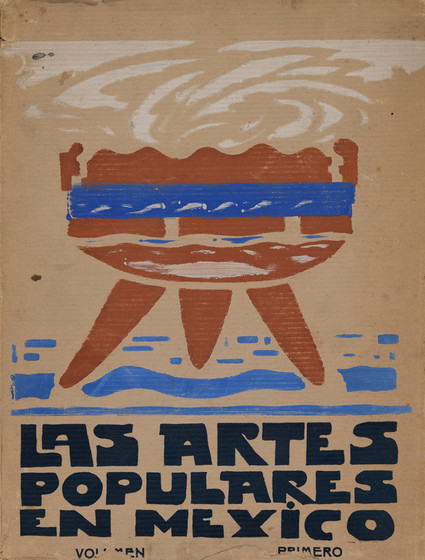 Las Artes Populares en Mexico is another object we acquired as essential to  the narrative for Found in Translation. It is a very rare catalogue to an exhibition of folk art that took place in Mexico City in 1921, when Mexico celebrated the 100th anniversary of the country's independence from Spain. That the government mandated a celebration of contemporary folk art as the first major exhibition after the Revolution (the civil war of 1910–20) speaks volumes about its priorities. This display of pottery, furniture, textiles, and other crafts was central to the establishment of Mexican national identity and a version of Las artes populares traveled to Los Angeles the following year.