Over the last few years, we have been focusing on building our collections of design from Latin America. We are now thrilled to announce the recent acquisition of 29 posters by the Argentinean artist Edgardo Giménez (born 1942)—a gift from the Institute for Studies on Latin American Art (ISLAA), New York. This seminal gift also adds an important dimension to LACMA's overall graphic design initiative.
Since the 1960s, Edgardo Giménez has had a highly prolific career and produced a number of paintings, sculptures, furniture, graphic works, film and theater set designs, and even "Pop houses." Self-taught as a graphic designer, Giménez started out his career as a poster-maker for important galleries and cultural events in Buenos Aires, garnering recognition as the resident "afichista de la cultura (cultural poster artist)" or "afichista de los intelectuales (poster artist of intellectuals)." It was not too long before he become a central figure of Pop art in Argentina. The bold poster illustrated above, featuring a poem by Luciana Daelli (born 1939), brilliantly exemplifies his work of this decade.
Pop art emerged in Buenos Aires in the early 1960s during an energetic period of growth and optimism among a group of artists committed to blurring the lines between art and everyday life. Along with the artists Dalila Puzzovio (born 1943) and Carlos "Charlie" Squirru (born 1934), in 1965 Giménez rented a billboard at the corner of Florida and Viamonte streets, a busy intersection that was home to many galleries and close to the Instituto Torcuato Di Tella—a hub for the Argentinean avant-garde. The billboard, designed by Giménez, projected the three artists' oversized smiling faces, taking their work to the streets and quite literally making them the model figures of new artistic practices in Buenos Aires.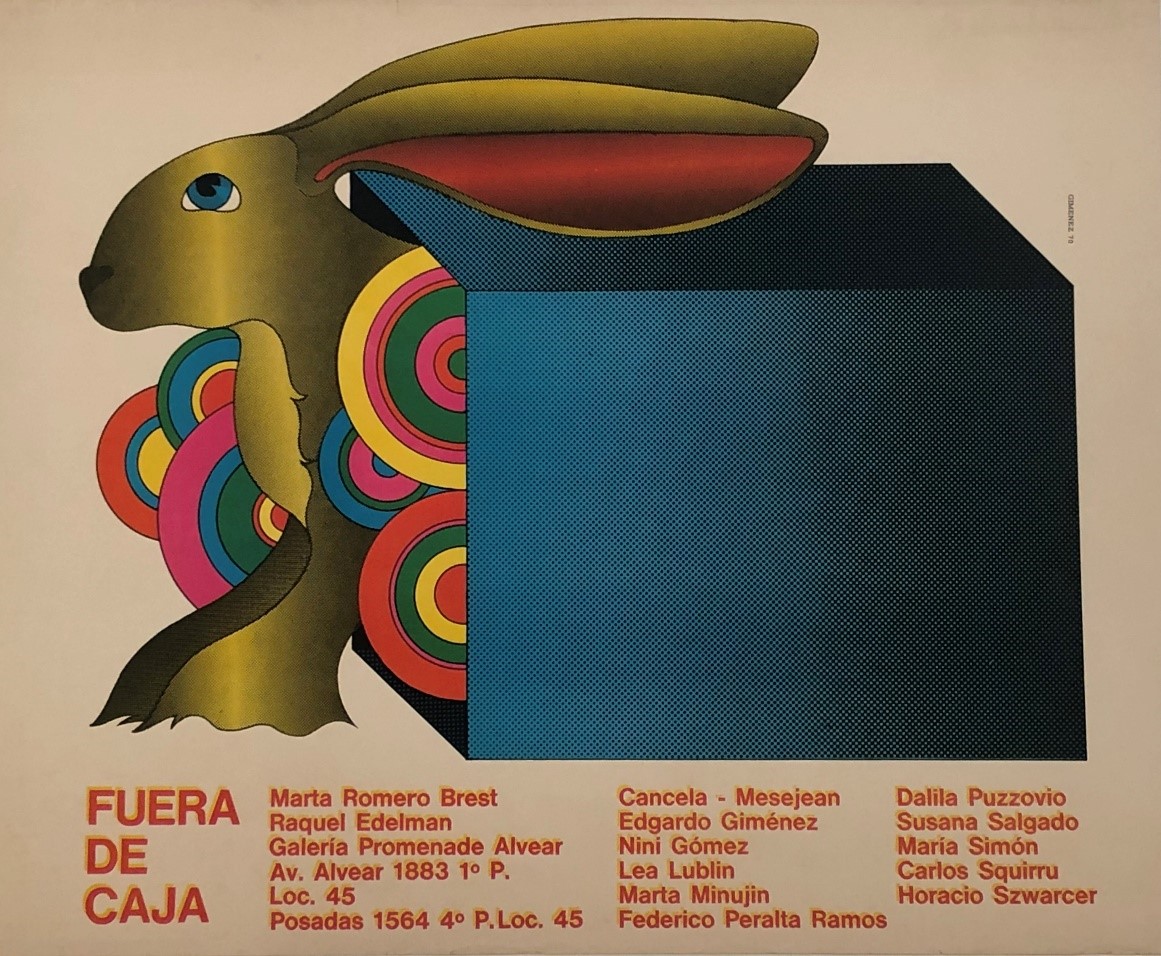 Giménez's works of this period stand out for their vibrant colors, clever use of humor and fantasy, and the frequent inclusion of psychedelic patterns. Among his most iconic images is the poster he designed for Fuera de Caja (Out of the Box), a gallery he co-founded in 1969 with art critics and promoters Jorge and Marta Romero Brest and Raquel Edelman to sell artist-designed objects for everyday use. With a rabbit materializing from a blue cube amid rainbow swirls, Giménez's alluring poster illustrates the magical implications of emerging "out of the box."
This gift of 29 posters by ISLAA highlights Giménez's graphic achievements of the 1960s, and represents an important boost to our collection of graphic design from Latin America.
Plans are in the works to exhibit many of our new acquisitions of Latin American art in upcoming exhibitions and in LACMA's new building for the permanent collection. This is the second installment of recent acquisitions in the Latin American art department. Stay tuned for more in the coming weeks.