Frank Stella (United States, b. 1936) has been a pivotal figure in the development of modern art since the late 1950s. Working in multiple mediums, he has created an extensive body of work that has consistently challenged the conventions of art making. Over the past 60 years, Stella has pushed the boundaries of Abstract Expressionism, helped usher in Minimalism, and blurred distinctions between painting and sculpture, continuously experimenting with new materials, abstract forms, and innovative techniques.
Stella worked in series throughout his career, exploring various formal issues and themes in depth. Frank Stella: Selections from the Permanent Collection features nine works from LACMA's collection that represent significant developments in the artist's oeuvre—many of which have not been on public view in more than 30 years. From an example of his groundbreaking Black Paintings of the 1950s to his recent monumental sculpture, the works on view present a glimpse into the rich trajectory of Stella's artistic practice, while revealing central themes that recur throughout his career.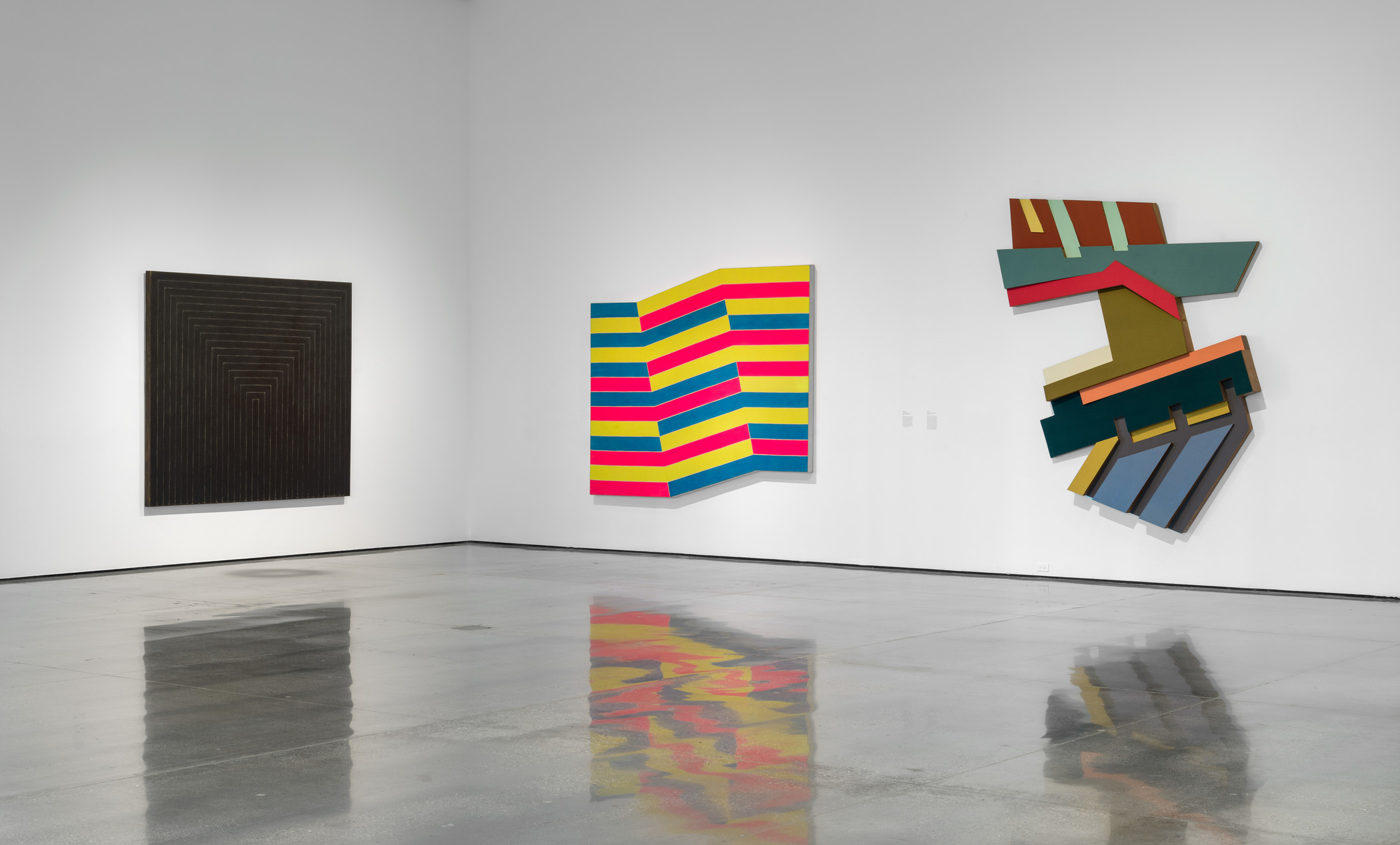 Getty Tomb (above left) is one of about two dozen works by Stella known as the Black Paintings (1958–60), which are composed of parallel bands of flat black paint separated by thin lines of unpainted canvas. To make these works, Stella applied commercial paint with a housepainter's brush, which dictated the width of the black stripes. With their highly controlled brushwork and minimal compositions, the Black Paintings were a radical departure from Abstract Expressionism, the movement that dominated art in the previous decade. Eliminating illusionistic space and narrative or symbolic allusions, this series called attention to the physical properties of paint and canvas, conveying the artist's statement at the time that "what you see is what you see." Getty Tomb is the earliest Stella piece in LACMA's holdings of his work, and the first to enter our permanent collection when it was acquired in 1963.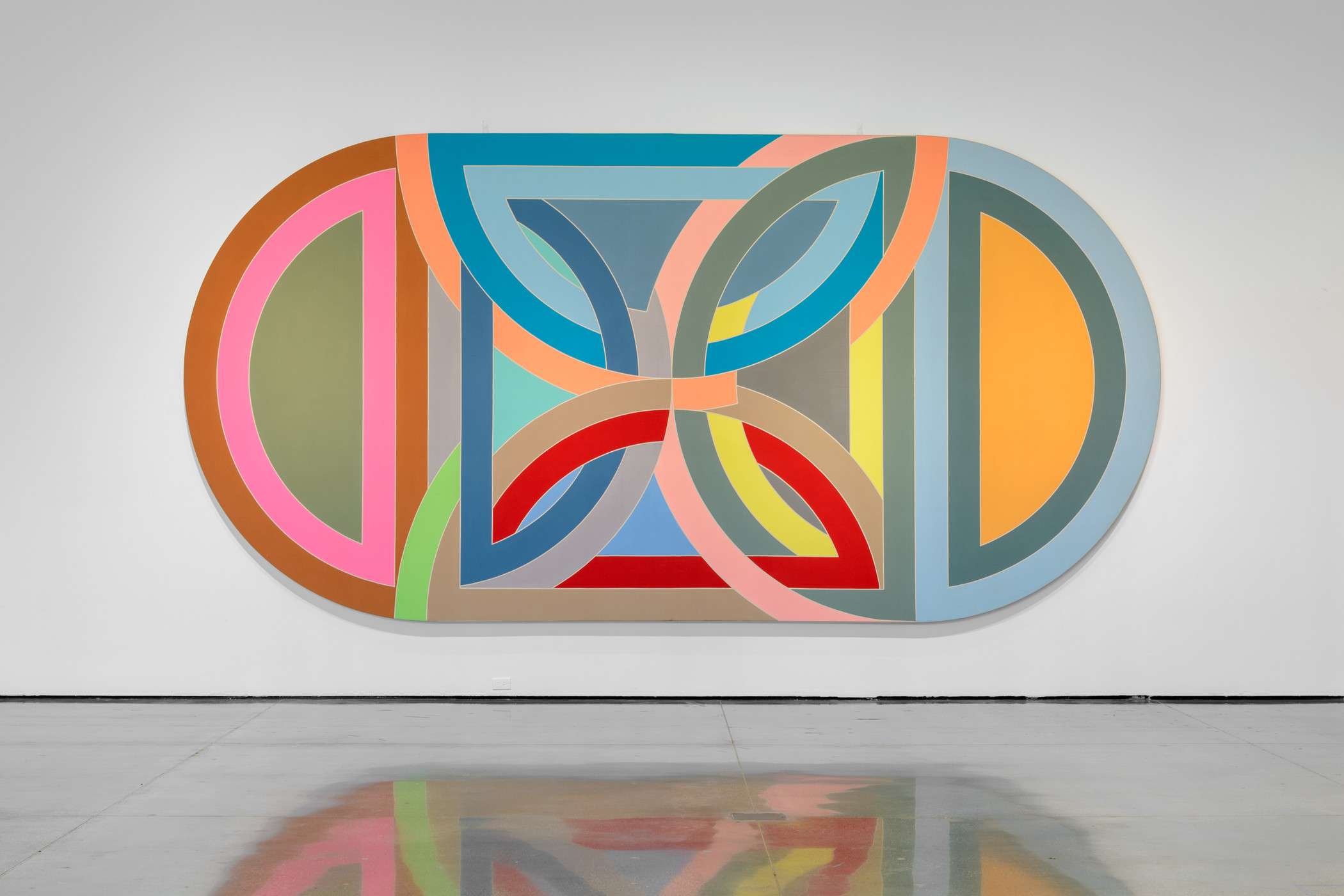 Stella's paintings from his Protractor series (1967–71), including Hiragla Variation I, are based on the instrument used for measuring and drawing angles. Hiragla Variation I's intricate composition consists of interwoven bands of bright colors that form semicircles and squares. Monumental in size, the Protractor works express Stella's interest in architecture: the paintings in the series are named after ancient Middle Eastern cities with circular plans and architectural structures such as gates that surrounded them.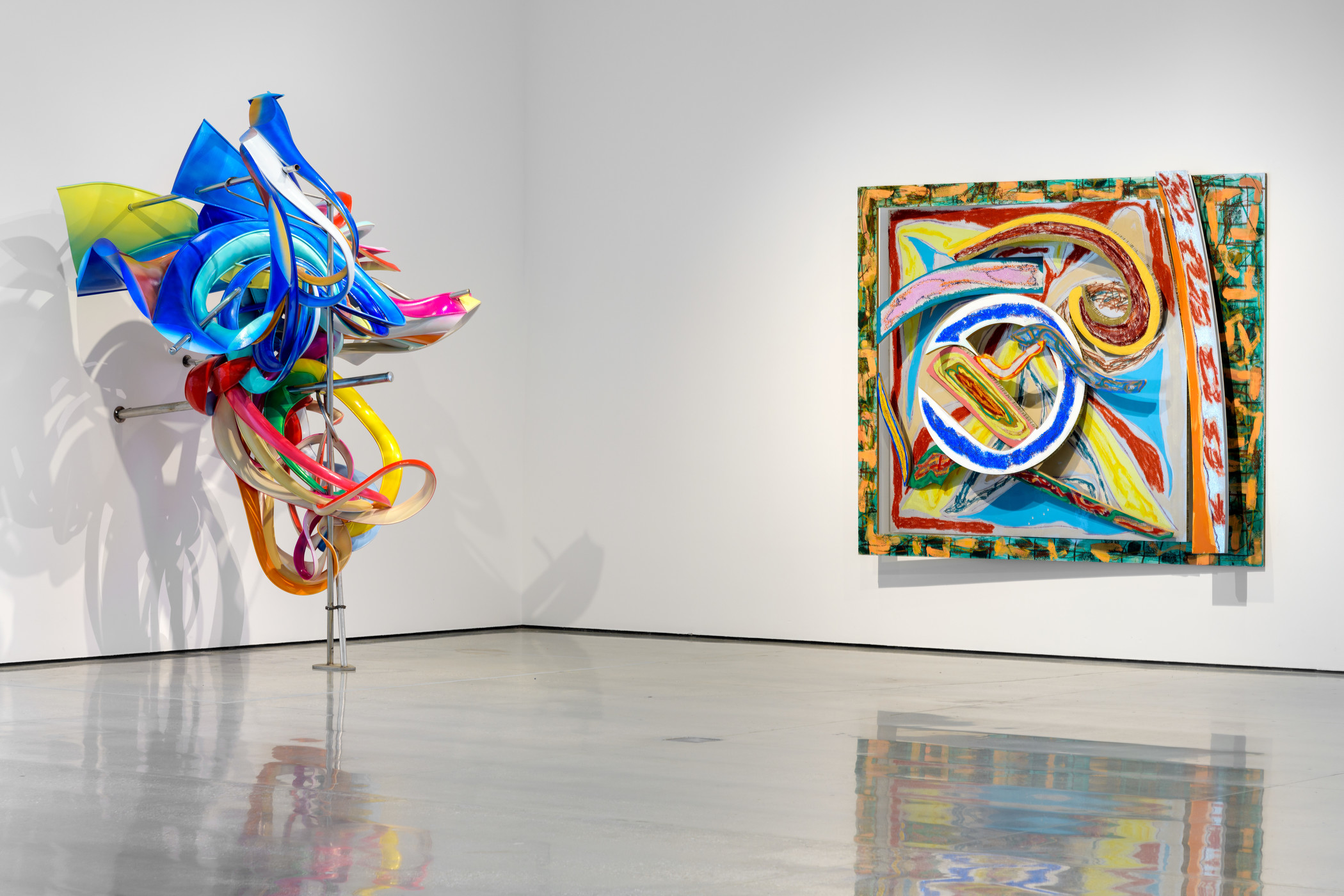 K56 (large version) (above left), from Stella's recent Scarlatti Kirkpatrick series (begun 2006), emphasizes the relationship between color, form, and space. The title of the series refers to 18th-century Italian composer Domenico Scarlatti—best known for his harpsichord sonatas—and 20th-century harpsichord virtuoso and musicologist Ralph Kirkpatrick. K56's vibrant, lyrical lines evoke musical composition, suggesting both the lively rhythm of a Scarlatti sonata and a swirl of gestural brushstrokes. Stella employs 3-D printing technologies in the Scarlatti Kirkpatrick series, representing a new chapter in his artistic evolution and technical experimentation. This piece is the most recent Stella work to enter LACMA's collection, on view for the first time since its acquisition!
Frank Stella: Selections from the Permanent Collection is on view in BCAM through September 15, 2019. Don't miss your chance to view these monumental works!