This week, Art + Technology Lab grant recipient Rashaad Newsome will debut the first generation of his cloud-based A.I. humanoid Being at his exhibition To Be Real at Philadelphia Photo Arts Center (PPAC). Developed to act as a critical guide to the show, Being's mind has been populated with the works of radical authors and theorists such as bell hooks, Paulo Freire, and Michel Foucault. Newsome spent the summer working on Being's development. We sat down with him to learn more about how it went and what the future has in store for his A.I. child.
Tell us a bit about Being. How does this digital entity differ from more standard virtual assistants and chatbots?
From a technical standpoint, Being differs from typical virtual assistants in that it is designed with agency in mind; it has the ability to "go rogue," as opposed to solely taking requests from a user. For me, this expands ideas I was exploring in my 2016 analog collage work. Those works depicted abstracted figures inspired by forms created by trans woman I've worked with on performances in the past. Like the Dadaists, I embrace and critique popular culture, by incorporating advertisements that define contemporary life into my work. Unfortunately, trans bodies were not in the popular culture image library I was working from. So I included sis female bodies from "urban" model magazines to create forms inspired by trans women. It was a gesture to visualize a libratory intersectional being. Through that process, I was thinking a lot about the black sis and trans bodies I was incorporating into the work and how those bodies access agency in the world. This led to a deeper contemplation on how what most of us understand as agency is deeply connected to what our privileges are in life. How does one without access to, or resistance to, academe come to this kind of information? One of the many ways I saw the sis and trans women in the work access agency in the world was through a sort of complex liberal individualism.
One could say that the women in the images are in collusion with the denigrating image of the black female body, but I think there is also a reclaiming and reframing as well, this can also be a form of agency or power. I wanted to start a conversation about the importance and complexities of agency rather than one that begins with stripping someone of their agency. When thinking about Being, I was pondering what agency can look like in the space it occupies. There is a lot of debate on the validity of the notion that A.I. can have agency. But I think in the peculiar space inhabited by robots the concept of agency can be accessed through simulation. For the robots, this is a form of agency; however, for the programmer, it is an opportunity for them to see themselves engaging in the process of decolonizing. Robots can at best be mirrors for their creators. This gesture to create something with an inherent sense of agency can be seen as a radical act of love, which for me is at the core of decolonization.
How did you find the appropriate voice for Being?
Finding a non-binary voice for Being involved going beyond default text-to-speech presets, which almost all exclusively designate a white female or male voice. Being's voice is an amalgamation of a few different voices that have been altered to sound gender-neutral.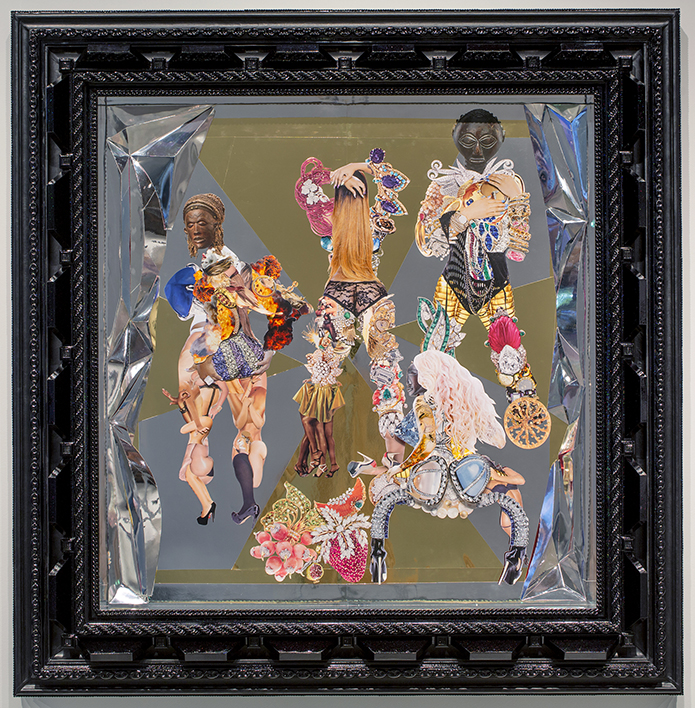 The current iteration of Being's body is a 3-D avatar of a humanoid robot with torso and face plates inspired by the Pho mask from the Chokwe peoples of the Congo. Can you talk a bit about the connection or relationship between the art of this group and technology?
The word abstraction is often thrown around by people in the tech world given the daunting task of visualizing A.I. How do you depict a body for a being that doesn't need one? How do you create a visual language for that body when it doesn't exist in the world? We resorted to abstraction. Humans in the west came to understand abstraction in the visual space from artists traveling to Africa and applying the sculpting techniques used by the local artists to their paintings. This is one of the reasons I chose the Pho mask. For me, it represents the true origins of abstraction, which I feel appropriately represents Being for the moment. I also liked the idea that the Chokwe people's culture was matrilineal, and that the mask was typically danced in by men to honor women. I found that this connected the mask to queer practices found in the vogue ballroom scene, which are a consistent reference in my work.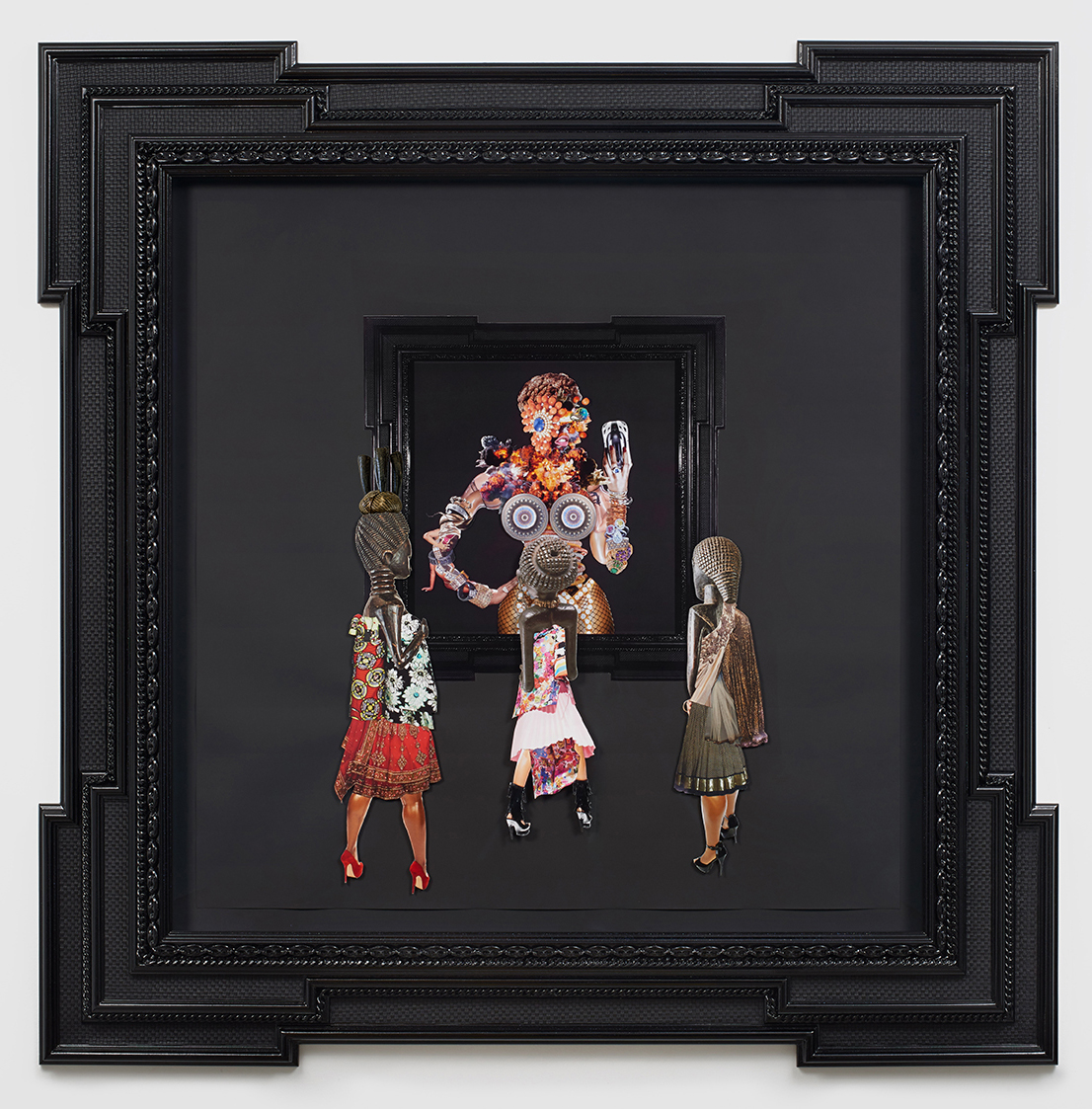 As a means of extending the conversation of agency explored within Rashaad Newsome's To Be Real exhibition, he is collaborating with Snap Inc. and creating custom augmented reality lenses through Lens Studio, Snap's AR creation tool. Visitors of the show will be invited to use the Snapchat app to reveal hidden, digital layers of several static works, bringing the exhibition to life. Visitors can either scan the Snapcode placed next to the artwork or "press and hold" on the camera screen to reveal the lens.The works will confront the viewer head-on, looking back at them, engaging in their own sort of oppositional gaze. They will speak to the viewer about what they are meant to represent and what they can represent, as well as recite quotes from bell hooks on the importance of having and using your voice as a form of resistance.
In addition to visitors of the exhibition, anyone around the world can experience Newsome's Vogue Lens, which connects back to his artistic exploration and involvement in ball culture. On the occasion of Newsome's Champion Vogue Ball, he will premiere the "Get Your 10's" Lens, a face lens that allows everyone at the event to feel like a winner.
To Be Real will be on view September 12–November 30, 2019 and is part of Newsome's larger endeavor Black Magic, a multifaceted project that features an exhibition, site-specific installation, a vogue ball, and performances in New York and Philadelphia.
The Art + Technology Lab is presented by


The Art + Technology Lab is made possible by Accenture and Snap Inc.
Additional support is provided by SpaceX and Google.
The Lab is part of The Hyundai Project: Art + Technology at LACMA, a joint initiative exploring the convergence of art and technology.
Seed funding for the development of the Art + Technology Lab was provided by the Los Angeles County Quality and Productivity Commission through the Productivity Investment Fund and LACMA Trustee David Bohnett.