For many years, humanity has speculated about what lies on the opposite side of the earth. For her Art + Technology Lab project and installation, Soul Mate 180°, artist Kirsten Mosher researched LACMA's antipode—the point on the earth that is diametrically opposed to it—to explore the tension between what can be seen and what is imagined. We caught up with Mosher in her studio in western Massachusetts, where she has been writing a novel related to the project.
This is the third installment of our Q&A with Art + Technology Lab grant recipient Kirsten Mosher.
What inspired you to work with LACMA's "antipode"?
LACMA's history with art and tech. And a museum, especially LACMA, provides a lot of layers of context right off the bat. The Art + Technology program is the second iteration of the series of experiments that began in 1967–71 with artists like Richard Serra, James Turrell, and Robert Irwin—whose work Primal Palm Garden is an important layer of this site. I love how the grid of the pavers maps the ground with a kind of longitudinal and latitudinal grid and the less predictable clumps of grass grow through. Placing the work there was natural. I am really pleased to be part of that history and also to be in conversation with the program as it moves forward.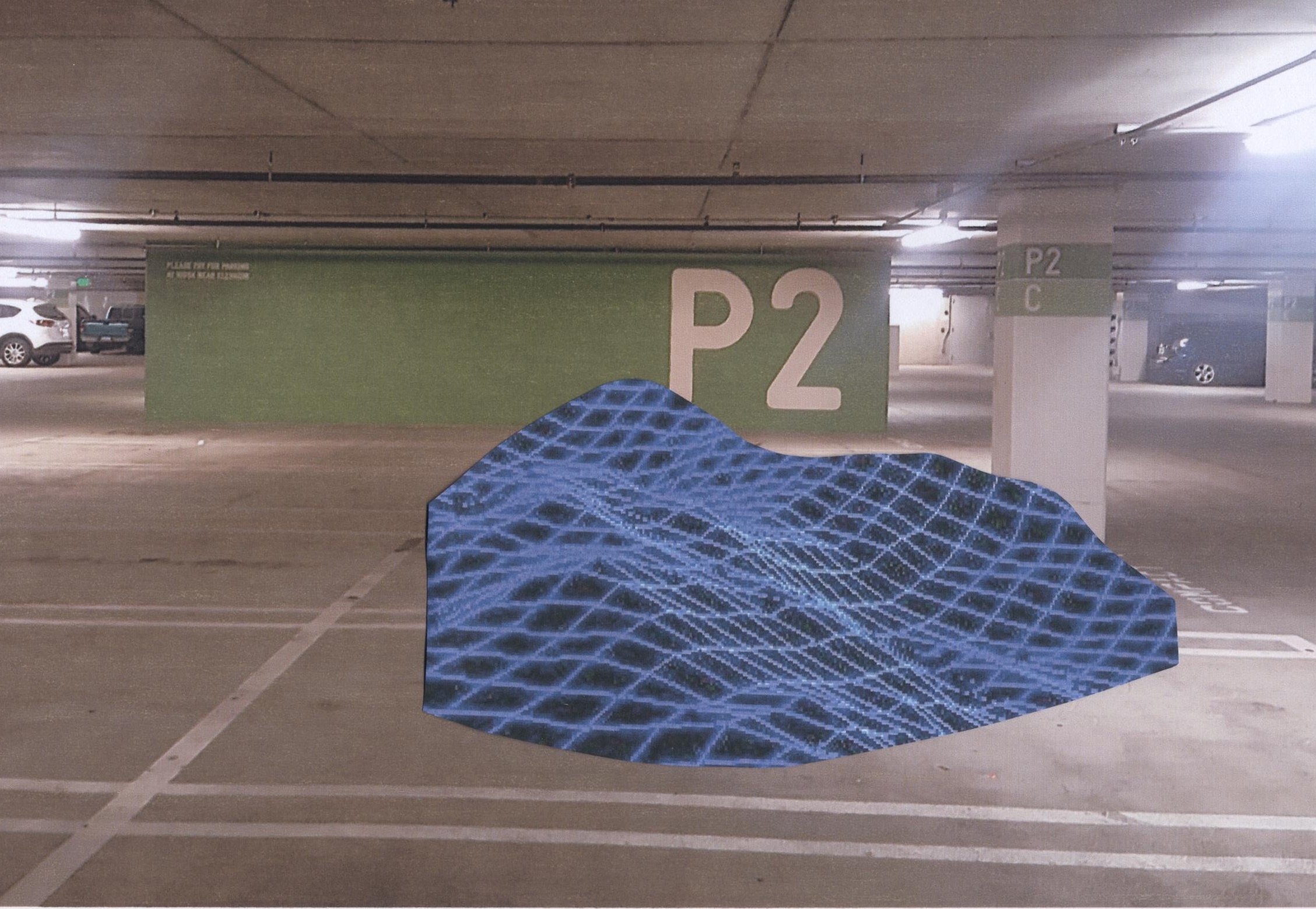 Do you have a personal connection with the Indian Ocean?
Every step I take at home on the East Coast or here in L.A., I am walking on the other side of the Indian Ocean. That feels very personal to me. And now I get to feel the shape of it.
Any site I work with will have a unique social, political, and environmental identity. Uniting a museum with a wave on the other side of the world makes a relationship between something very familiar and packed with human history with something that at first seems abstract, a wave in a vast ocean, constantly in motion, hard to catch, hard to quantify.
I would love to work with a series of waypoints across the U.S. that would coordinate with points across the Indian Ocean. I've started with LACMA, and could travel on to a Chevron Station in Death Valley, a spot at Mall of America in Minnesota, a youth center in Kansas City, MO, and so on.
Soul Mate 180° is driven by a curiosity about what lies on the other side of the earth. How did technology help you to imagine opposites?
Well the other side of the earth is an opposite geographically. It's night there and day here. Opposite sides of a ball. Eventually the idea of opposites ends and less obvious relationships begin. It's not that land is really the opposite of water. A lot of things we think of as being opposite are just two points on a line that you realize is so long that those things are just next to each other, not really in opposition to each other.
Imagining or fantasizing for me is easy. But looking through the view of a particular technology can be unexpected, because of its limits. What is interesting to me about the tech aspect is not the idea of getting the perfect replica, but what gets left out. The data gaps that paint their own picture of what something is like. Like the satellite pictures that create an ocean of square shades of blue. And weather data that gave us wind direction, wind speed, and wave height which we could make a grid map with but not fill in the color. The awkward unknown parts are what the tech points out most clearly.
The Art + Technology Lab is presented by


The Art + Technology Lab is made possible by Accenture and Snap Inc.
Additional support is provided by SpaceX and Google.
The Lab is part of The Hyundai Project: Art + Technology at LACMA, a joint initiative exploring the convergence of art and technology.
Seed funding for the development of the Art + Technology Lab was provided by the Los Angeles County Quality and Productivity Commission through the Productivity Investment Fund and LACMA Trustee David Bohnett.