As safer-at-home orders go out across the nation, many of us are taking this opportunity to tackle home projects that have been on the backburner for a while, including cleaning out our closets and reorganizing our wardrobes. LACMA's staff recently completed a similar project on a much larger scale in preparation for construction of the museum's new building for the permanent collection. A team of collections management technicians, collections administrators, and registrars have deinstalled, inventoried, packed, and relocated over 125,000 permanent collection objects. The team responsible for this gargantuan undertaking is known as PACMA. To inspire you in your own wardrobe overhaul, I spoke with Associate Collections Manager for Costume and Textiles, Rachel Tu—to learn more about how this process was handled in the museum's Costume and Textiles department. 
Please describe your role within the Costume and Textiles department.
As the collections manager for Costume and Textiles (C&T), my role is the physical care and storage of the collection, ensuring the safe movement and handling of costume and textiles for the museum's various programs—be they exhibition, outgoing loans, research viewings, or classes—as well as organizing and maintaining accurate locations in the objects database.
How did the Costume and Textiles Department prepare for this inventory?
Several projects between 2011 and 2016 paved the way for our recent project. In 2007, the department acquired a landmark collection of over 1,000 European costumes dated from the early 18th century to the early 20th century. Up until this point, LACMA's Costume and Textiles had been known for key individual objects and object groups in its encyclopedic collection, but this acquisition significantly raised the quality of its fashion collection and really put us on the map in terms of international recognition in the area of European dress. The Fashioning Fashion: European Dress in Detail, 1700–1915 exhibition in 2010 was a celebration of this acquisition. When I started in 2011, the exhibition had just closed at LACMA and we were entertaining the idea of an international exhibition tour. My first priority was to safely rehouse and consolidate the tour objects and get the rest of the recent acquisition properly housed and integrated into storage.
At the same time, we were also moving a portion of LACMA's overall collection (which included about 10,000 costumes and textiles) from LACMA West (now the Academy Museum of Motion Pictures) to a new off-site storage facility. Within the next three years, we migrated to a more powerful collections database and acquired three more major collections (collectively totaling 950 objects) that greatly enriched our African textiles and 20th-century international high fashion areas. In processing these acquisitions we developed a great collaboration between our C&T curators, collections staff, and graduate-level interns, with support from Registration and Collections Information to systematically catalog, label, and house the objects. These projects laid the groundwork for our inventory process.
What unique challenges did the Costume and Textiles department have during this inventory and packing process compared with other curatorial departments?
While the larger PACMA project was led by Collections Management, the C&T inventory project was spearheaded by the Costume and Textiles curatorial department. The department itself was also unique in that it had its own collections managers, me and Yvonne Sone, as part of the curatorial team. When we started the C&T Inventory in May 2016, our curators were full participants in the project, and as such every object that was taken out of storage was examined by both curatorial and collections staff. With C&T's active exhibition schedule, it was an impressive exercise in scheduling!
In addition, a significant portion of our project was made possible by a grant from the Institute of Museum and Library Services (IMLS) awarded in October of 2016, which allowed us to hire two IMLS Curatorial and Collections Fellows, Jennifer Iacovelli and Christina Frank.
What else did the IMLS grant enable you to do?
More than half of the C&T collection did not have documentary quality photographs in the objects database. The IMLS grant allowed us funding to set up a full-scale photo studio which made it possible to efficiently photograph all objects and, what's more, improve the quality of our documentary photographs. Prior to this project, only publication-quality photos were released to LACMA's Collections Online, which limited public access significantly. With our new photography setup we were able to get decent photos of well over 8,000 objects which our curators approved for release to LACMA's Collections Online, with the aim of making the collection more accessible to the public. There are now almost 11,500 photos online which has resulted in a significant increase in communication from researchers, as well as institutional requests for loans.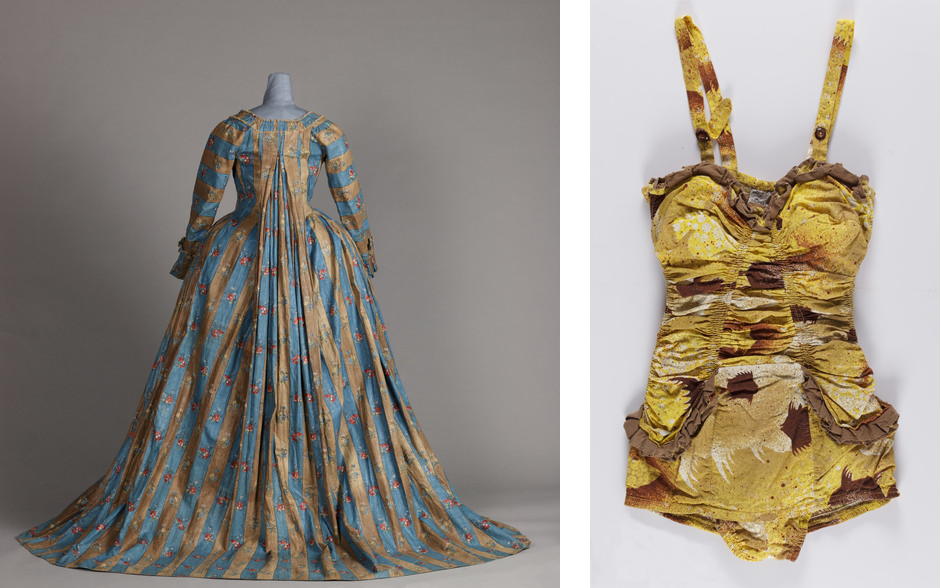 Left: Woman's Dress and Petticoat (Robe à la française), France, 1775–85, Los Angeles County Museum of Art, purchased with funds provided by Suzanne A. Saperstein and Michael and Ellen Michelson, with additional funding from the Costume Council, the Edgerton Foundation, Gail and Gerald Oppenheimer, Maureen H. Shapiro, Grace Tsao, and Lenore and Richard Wayne, photo © Museum Associates/LACMA; Right: Mary Ann DeWeese, Woman's Swimsuit, c. 1953, Los Angeles County Museum of Art, gift of Esther Ginsberg and Linda Davis in honor of Pam Klein and Maria Giacosie, photo © Museum Associates/LACMA
How vulnerable are the objects during this process?
As a general rule, objects are most vulnerable when they are being handled or are in transit. The flexible nature of textiles makes them particularly vulnerable during handling, so as we were assessing the existing housing methods for each costume and textile, the two basic questions at the forefront were: 1) How can we reduce the need for handling? and 2) When handling is absolutely necessary, how can we reduce over-manipulation and folds?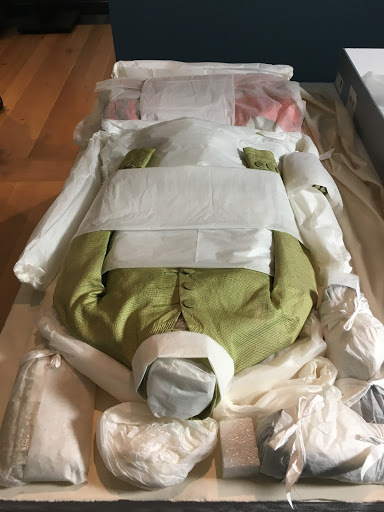 For costume housing, we integrated "boats" into the packing system which are made up of an acid-free muslin sheet attached to a flat archival board that fits inside of a standard costume box. When the costume is placed on the boat and padded out with tissue to soften natural folds and curves, it can then be lifted into and out of the box without direct handling. This system was developed by conservators Cara Varnell and Catherine McLean for traveling the Breaking the Mode exhibition (September 17, 2006–January 7, 2007) and is now part of our standardized method for housing the permanent collection.
Have there been any exciting discoveries made during this process?
Yes absolutely! In terms of the objects, our whole team knew the C&T collection was encyclopedic with standout acquisitions, such as the Ardabil Carpet (gift of John Paul Getty) and the vast collection of Japanese and Chinese textiles from Bella Mabury in 1939, but I think we were all surprised by the depth and quality of some of the earlier acquisitions, particularly in the areas of early 20th-century women's costumes, such as two donations of Callot Soeurs costumes by Alexander J. and Anthony D. Cassatt (nephews of Mary Cassatt) in the mid-1950s. We also discovered some well-crafted early women's wear with obscure Los Angeles labels. These objects enrich our understanding of Los Angeles's history and provide much fodder for ongoing research, as well as future exhibition programming.
In terms of people, this project has brought to light understated but impressive talents amongst our C&T Collections team: Jennifer Iacovelli is the master investigative researcher, Lauren Helliwell makes the most beautiful and efficient cavity mounts for 3D objects, Tia Marone is perseverance personified, Bailie Karcher made order out of chaos over and over, and Christina Frank constantly kept an eye on the bigger picture. As Senior Curator and Head of the Costume and Textiles Department, Sharon Takeda always says, "It takes a village." This team has truly made it a joy to come to work every day and each of their talents has made this project successful.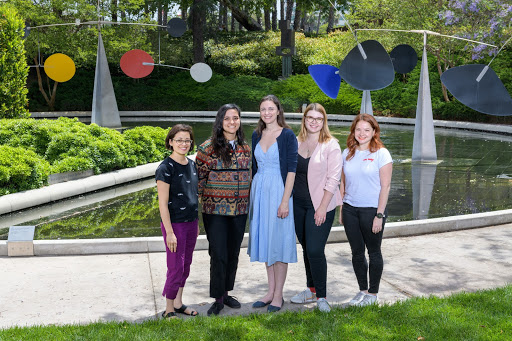 What would you say has been the most challenging part of the entire process?
Given the scope and size of the collection, I would say the most challenging part has been the looming deadline for moving off campus. While we were dealing with high value objects and a quickly approaching deadline, our number one priority was (and always is) keeping our team members and the objects they were handling safe. But there's also the minutiae... that moment when we entered the next storeroom to begin inventory knowing there were about 7,000 objects in this room give or take… sometimes the numbers felt overwhelming. We had to keep our noses to the ground while also remembering the bigger picture in order to prioritize and motivate.
What has been the most exciting part of this process for you?
When I started at LACMA 9 years ago, Sharon warned me that the Costume and Textiles collection—in fact LACMA's collection as a whole—had already outgrown existing storage and it would probably be a long time coming before anything changed. So the most thrilling part of this process has been that during my time here, our team has accomplished that heretofore inconceivable goal of bringing the state of our collection and art storage to the highest standards, better than it has ever been in the history of LACMA. The support of the museum for this huge undertaking made it possible for us to build our impressive 40-person PACMA team. It is herculean projects like this that provide opportunities for individual talents to rise, and for the team as a whole to become something greater than we could ever be by ourselves. The work of this team will have a long-lasting impact for generations to come.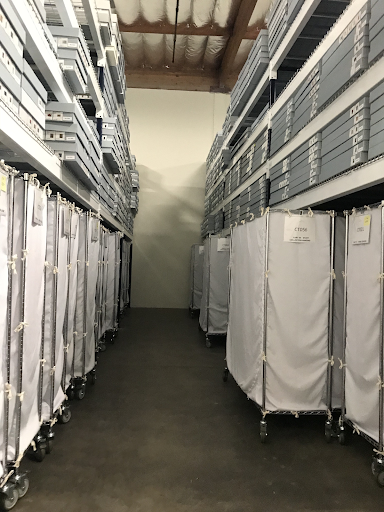 This interview has been edited and condensed for clarity.