Cooking with LACMA is a new series where chefs and culinary historians demonstrate recipes inspired by artworks at the museum.
For the first blog in this series, we invited Maite Gomez-Rejón, founder of ArtBites: Cooking Art History, to share a recipe responding to the works of Mexican artist Rufino Tamayo. Learn about Gomez-Rejón's interests and inspirations, then try her recipe for a Mango-Pineapple Mezcal Margarita!
Tell us about yourself.
I'm Maite Gomez-Rejón, an art and culinary historian, writer, educator, and cook. In 2007, I founded ArtBites: Cooking Art History and have been exploring the nexus of art and culinary history ever since. I do this through lectures, cooking classes, dinners, and tastings at museums across the country (including the Cur-ATE dinner series at LACMA which began in 2012). Most recently I've shifted gears and have been "cooking art history" through online cooking classes and videos.
Why did you decide to make a Mango-Pineapple Mezcal Margarita in response to works by Rufino Tamayo?
One of Mexico's renowned artists of the 20th century, Rufino Tamayo (1899–1991) drew from various influences in his work, from Mesoamerican art to the European avant-garde. I wanted to make something specific to his native Oaxaca and give a nod to the region's rich culinary history. Given that mezcal was first made in Oaxaca, a simple summery cocktail made with seasonal fruit seemed appropriate.
Watch the video to learn step-by-step how to make a refreshing Mango-Pineapple Mezcal Margarita!
Can you share more about the artworks that inspired the margarita? As a culinary historian, can you explain the history of the ingredients?
I was particularly drawn to Woman with Fruit Basket (Mujer con canasta de frutas) and Man with Tall Hat (Hombre con sombrero alto) because both paintings reminded me of the colors and textures seen all over Oaxaca. Man with Tall Hat (featured in the exhibition Rufino Tamayo: Innovation and Experimentation) even depicts a typical hat from the Isthmus of Tehuantepec region of Oaxaca, while the stacked homes in the background allude to Cubist landscapes. These two works made me think about the region and the trajectory of the fruits depicted in the painting, including the history of mezcal. When I then learned that Rufino Tamayo worked at his family's fruit stand in his youth, a mezcal margarita made with seasonal fruit was a no-brainer.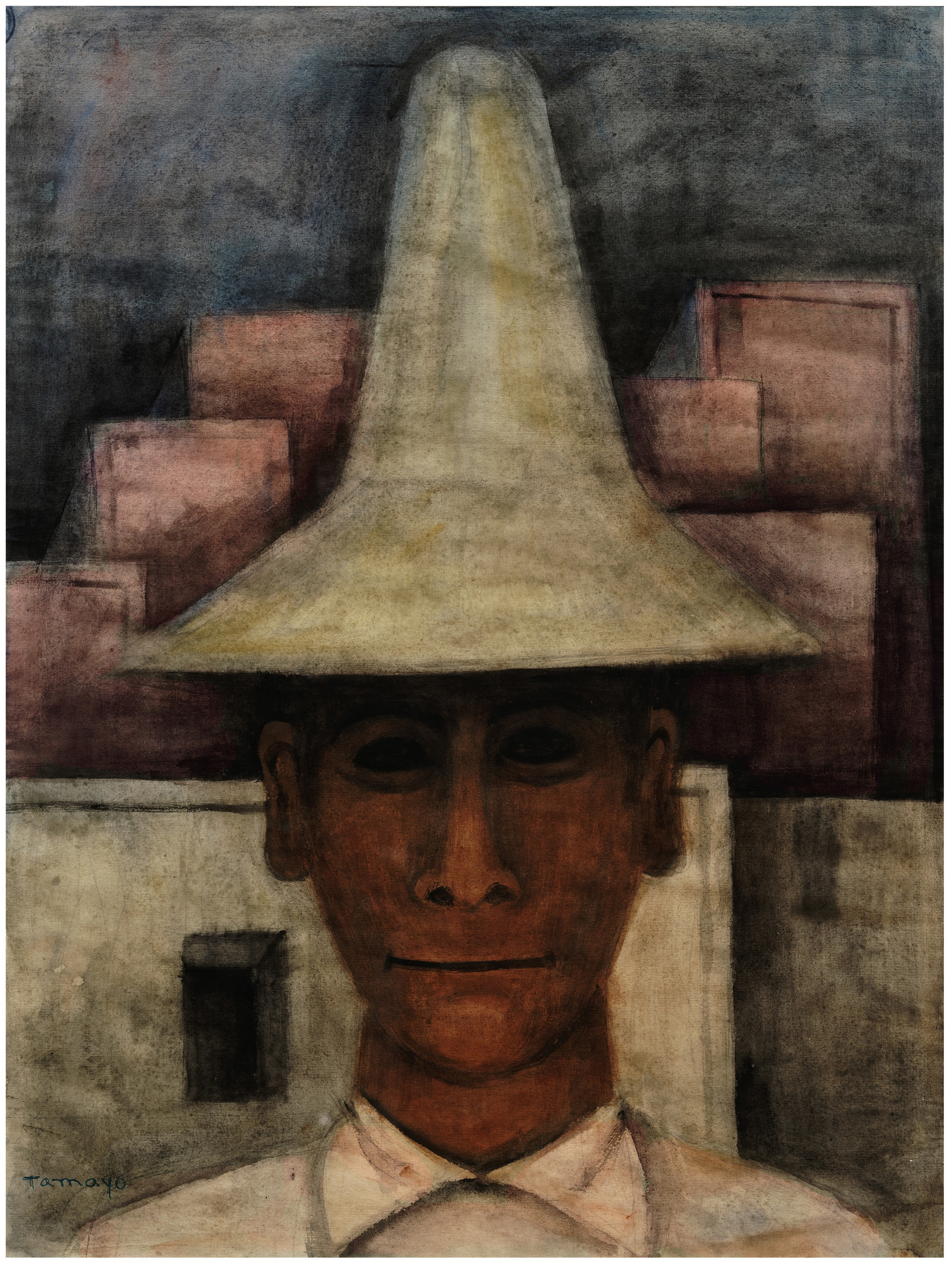 We associate tropical fruits like mangoes and pineapples with Mexico although the only native fruit in Woman with Fruit Basket is the mamey, the fruit seen with its flesh peeking out. Mangoes are native to India and made their way to Mexico via the Philippines on the Manila Galleons in the 18th century and quickly became a part of the viceroyalty's culinary repertoire. The fruit is often referred to as mango de Manila (mango from Manila).
The pineapple, on the other hand, is native to the lowlands of Brazil but its cultivation had spread to Mexico well before the conquest. The Aztecs referred to the fruit as matzatli. Tepache, a fermented beverage made from maize in pre-colonial times is now commonly made with fermented pineapple rind and piloncillo or brown sugar. Oaxaca is one of the main producers of pineapple in the country.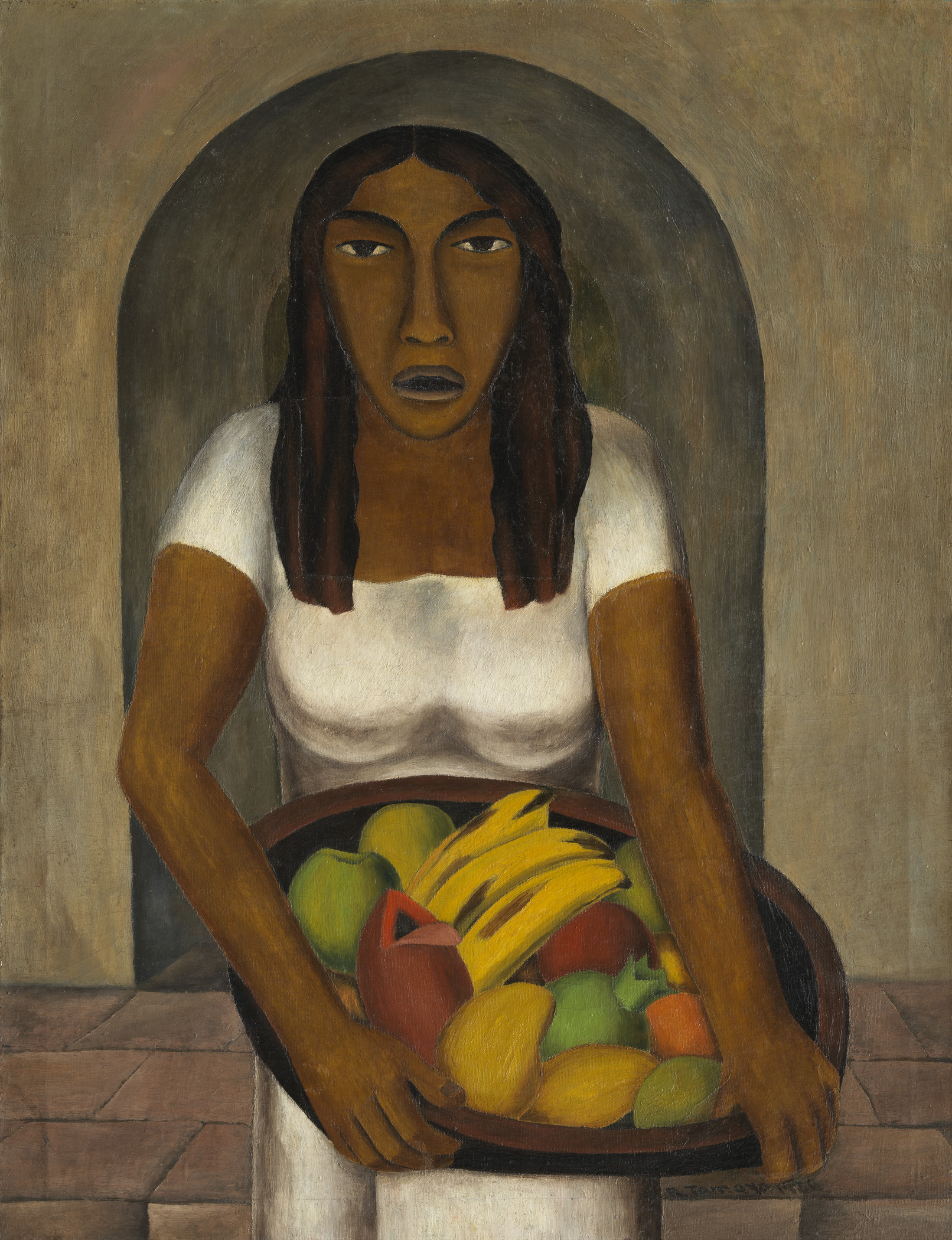 We also associate citrus—especially lime—with Mexico when in fact all citrus fruits are native to Asia. Spaniards brought citrus fruits to Mexico in the 16th century. It's impossible to imagine Mexican food (and margaritas!) without it.
As for mezcal, distillation techniques were also introduced in the 16th century. It is thought that the first mezcal was made in Oaxaca around 1535 although fermented beverages were consumed mainly for ceremonial purposes in the country for centuries. The smoky spirit made from agave was marketed by producers as "mezcal wine" or "mezcal brandy"—a beverage that brought together Old and New World traditions. (The word mezcal comes from the Nahuatl word mezcalli meaning oven-cooked agave.)
By the late 1800s, "mezcal brandy" was exported into the United States and Europe. When "vino de mezcal de Tequila" won an award at the 1893 Chicago World's Fair, tequila makers and the Mexican government dropped the word "mezcal" from the name and the two most beloved Mexican spirits became known as simply mezcal (from Oaxaca) or tequila (from Tequila, Jalisco).
Tamayo's portrayals of local traditions and fruits in his work illustrate an aspect of Mexico's rich cultural legacy; this drink—inspired by his art—delves into Mexico's culinary traditions as well.
Recipe for Mango-Pineapple Mezcal Margarita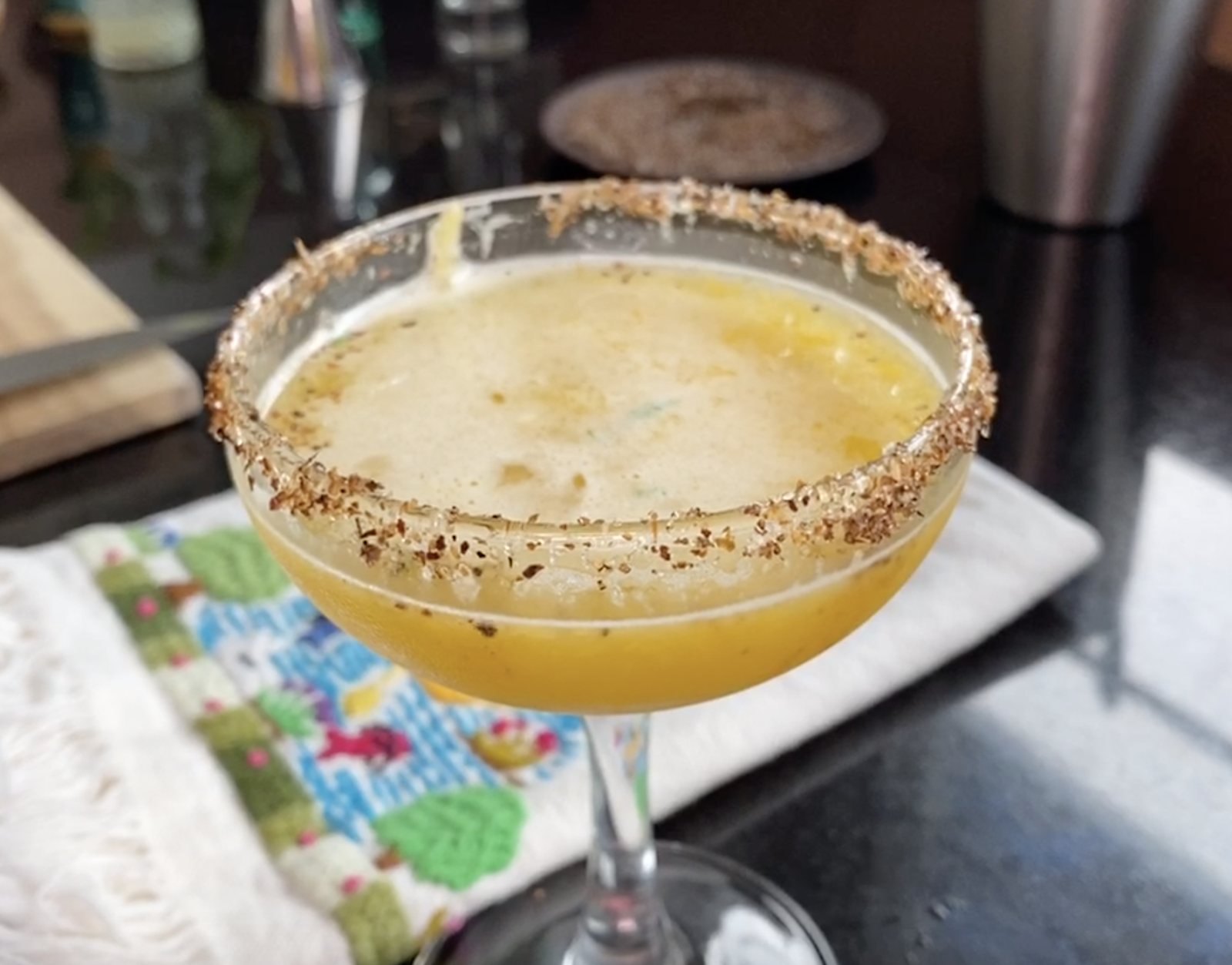 Makes one cocktail.
Ingredients:
1/4 cup Tajín
1 lime wedge
2 tablespoons fresh mango
2 tablespoons fresh pineapple
3 leaves fresh mint
1 to 2 sugar cubes *
1 ounce lime juice
1/2 ounce orange liqueur
1 1/2 ounces mezcal
* You can substitute 1/4 ounce agave nectar or simple syrup for sugar cubes. Use more or less sugar depending on how ripe your fruit is.
Instructions:
Spread Tajín on a small plate and set aside.
Fill a low-ball or coupe glass with ice and let chill while you prepare the cocktail.
In the bottom of a cocktail shaker, muddle the mango, pineapple, fresh mint, and sugar cubes. Add the lime juice, orange liqueur, and mezcal. Fill the shaker halfway with ice and shake for about 30 seconds.
Remove the ice from the prepared glass, rub lime wedge around its rim then dip in the Tajín to lightly coat. Strain the cocktail into the prepared glass and serve.
Salud!