This Saturday, December 21, Rufino Tamayo: Innovation and Experimentation opens to the public at LACMA's satellite gallery at Charles White Elementary School. The exhibition highlights works in LACMA's collection by the Mexican master Rufino Tamayo (1899–1991), focusing on the artist's robust body of works on paper. Born in Oaxaca, Tamayo moved to Mexico City at a young age, and also spent periods living in New York and Paris. Los Angeles, however, also featured prominently in his life and career.
As early as March 1935 the Stanley Rose Gallery on Hollywood Boulevard presented an individual exhibition of Tamayo's recent gouaches. In the following years, dealers Earl Stendahl, George Gastine, and Dalzell Hatfield included Tamayo's works in group exhibitions at their galleries. With the opening of the Frank Perls Gallery in Beverly Hills in 1950, Tamayo began to have a more consistent presence in the Los Angeles gallery scene. When he attended the opening of a Perls exhibition of his paintings in May 1954, the Los Angeles Times boasted of the thousand art lovers who came to meet him.
Rufino Tamayo: Innovation and Experimentation focuses on Tamayo's engagement with printmaking as an avenue for formal and technical innovation. His ongoing investigations of the material and expressive potential of different print processes led him to collaborate with print workshops around the world. In this spirit, Tamayo arrived back in Los Angeles in October 1964 for a residency at the Tamarind Lithography Workshop. A decade later, he continued his explorations of printmaking with the Taller de Gráfica Mexicana in Mexico City. The workshop's director, Luis Remba, developed a technique known as Mixografía® that enabled Tamayo to add volume and texture to his printed works.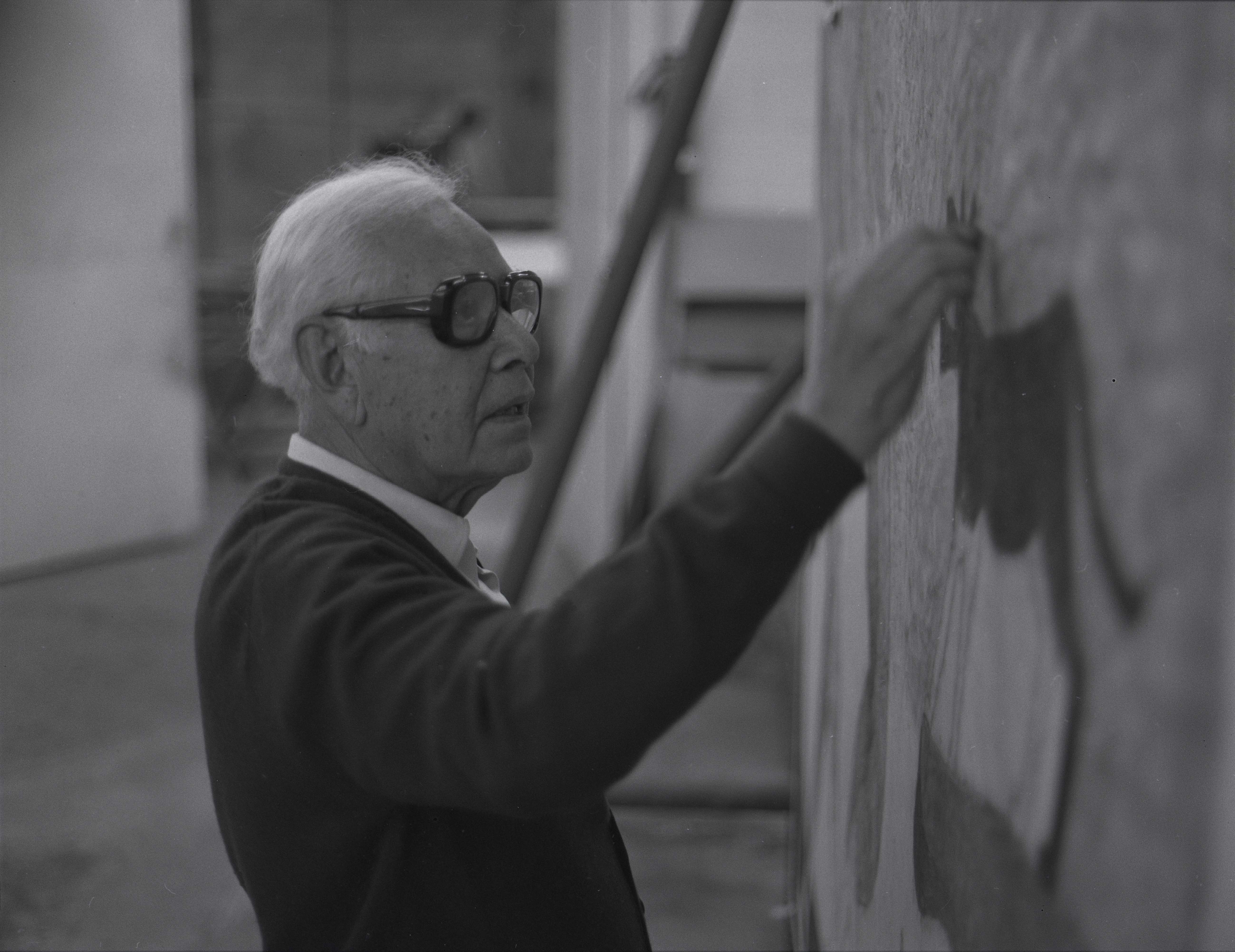 In May 1982, the Remba family launched a new gallery in Los Angeles, the Mixografía Workshop Gallery, which opened with the exhibition Homage to Rufino Tamayo. The artist returned to Los Angeles for its inauguration, at which time Mayor Tom Bradley recognized Tamayo's contribution to the arts by presenting him with a key to the city.
Please join us at Rufino Tamayo: Innovation and Experimentation, to once again celebrate Tamayo's work in Los Angeles.
Rufino Tamayo: Innovation and Experimentation is open Saturdays, 1–4 pm, from December 21, 2019 through July 11, 2020. Charles White Elementary School is located at 2401 Wilshire Boulevard, Los Angeles, CA 90057. Enter the gallery at the corner of Park View and Wilshire Boulevard. Complimentary parking is available in the lot at 611 South Carondelet Street, between Wilshire and 6th Street. Please bring your parking ticket to the gallery for validation. Street parking is also available in the neighborhood.
Portions of this essay are excerpted from Rufino Tamayo: The Essential Figure, available at collator.lacma.org.