Quilts are often family heirlooms passed down through generations. What makes them so special is that they can be handmade with scrap fabric from clothing worn by family members. Each fabric piece sewn into the quilt has its own story. Perhaps a blue square was from a shirt worn by great-grandpa as a child, or that red triangle was from a dress grandma brought to the United States when she immigrated.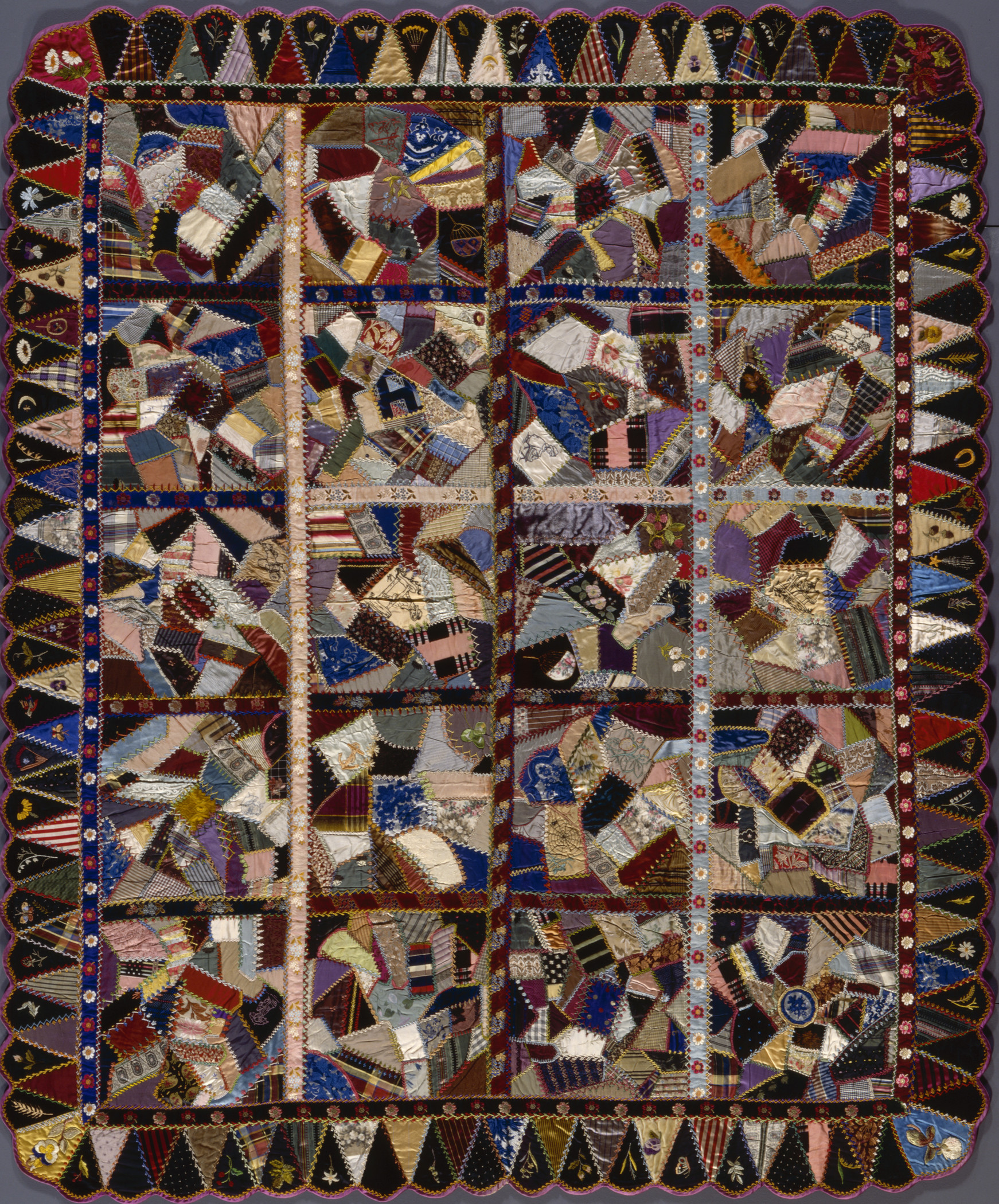 Take a look at this quilt from LACMA's collection. What shapes and colors do you see? Look closely to see the same fabric repeated over and over. Fancy fabrics like silk and velvet were used to make this quilt. What family stories do you imagine this quilt could tell? Maybe memories from weddings? Special holidays?
Let's Play a Fashion Memory Game!
The object of this game is to share entertaining stories with your family or friends. Each person picks an item of clothing and tells a story that shares a memory about that piece of clothing. The story can be funny, epic, or sweet. It can share something learned, observed, or experienced. You can play in person or on Zoom. There are no winners or losers in this storytelling game—just have fun!
Storytelling Tips:
Start with a first line that grabs your audience's attention.
Say it loud and proud.
Be yourself.
Know the ending before you start telling the story.
For Listeners:
Listen respectfully.
Don't interrupt the storyteller.
Be encouraging.
Step 1: Pick Your Clothing Item!
Give everyone who is going to play five minutes to rummage through their clothes and pick one item. It can be a shirt, a scarf, a scout uniform, or a hat. It can be something that no longer fits, something that supports your favorite team, or something that you just love.
Come back to the storytelling room or Zoom.
Step 2: Decide Which Story to Tell!
Set a timer for 10 minutes for all storytellers to develop their stories. If it helps, jot down notes.
What memory has been sparked by this clothing?
What happened?
Who was there?
Where did it take place?
How does the story end?
Why did this moment matter to me?
How did the moment change me?
What did I learn?
Try to remember all the details, especially if they are unexpected or funny.
Step 3: Hook Your Audience!
Come up with an exciting first sentence that will grab the attention of the listeners.
Examples:
"I was seven years old when my dad took me to work and I got to see inside the engine of an airplane." (My true story!)
"What are you supposed to do when a global pandemic cancels your senior prom, but you already bought a dress?" (My friend, a NexGenLA member.)
Step 4: Agree on Game Rules!
Decide who goes first. (Ideas: youngest goes first, tallest goes first, flip a coin, draw names from a jar!)
Storyteller has 5 minutes to tell their story.
Listeners listen (!) and don't interrupt.
Everyone claps and cheers at the end of each story.
Step 5: Let the Stories Begin!
Set a five-minute timer.
Storyteller: tell your story!
Repeat step five until everyone has had a chance.
Step 6: Document This New Memory!
Take a group photo or screenshot of everyone holding their clothing items.