Over the nearly seven years I have been at LACMA, now as Sr. Assistant Collections Manager, moving LACMA's collection out of four multi-level buildings—in preparation for construction of the museum's new building for the permanent collection—was a monumental challenge in itself. But when you include the numerous large-scale outdoor sculptures all over campus that needed to be relocated as well, then you've got a real challenge on your hands!
Alexander Liberman's Phoenix was one of the more interesting and complicated outdoor sculptures with which I have had the privilege to work. It strikes a playful balance between the large cylinder steel sections which seem to defy gravity. Phoenix appears as if the sculpture could fall over at any moment, depending on the angle from which it is viewed. The sculpture was originally installed in 1974, overseen by Liberman himself. It was assembled onsite and has never been moved from where it was constructed. So how does one go about taking down a precariously balanced sculpture that was welded together in place and weighs over 15,000 pounds? The short answer: not easily! Almost a year of planning and preparation went into the two days it took to deconstruct the sculpture.
Phoenix was constructed from 10 four-foot diameter steel pipe sections that were welded to a steel armature base which was encased in concrete to create a solid foundation for the sculpture. In order to get a sense of the best way to take the sculpture apart and ensure its safe transport, we consulted with three different structural engineering firms to complete a full structural evaluation of the work. The collective reports assessed the structural stability of the sculpture from the ground up. They provided detailed information about the sculpture's material and its connection properties. Specifically, the reports were able to determine the strength of each weld that connected the individual cylindrical sections together.
With the knowledge from the structural evaluation, Registrar of Permanent Collections and Loans, Linda Leckart, and I worked closely with Wolf Magritte LLC, a professional contractor specializing in complex art rigging, to formulate a plan to take the sculpture apart. After several site visits and close communication between our team and Wolf Magritte, we determined the best plan would be to separate the sculpture into three pieces. The primary obstacle that led us to this decision was that Phoenix was entirely too large to move to storage in one piece without obtaining permits to remove traffic lights and raise power lines along the transport route. Our plan required identifying the best way to divide the sculpture into three sections, rigging each section one at a time, and cutting any connecting welds so the section was freed from the larger sculpture. But before we could separate the sections, we first needed to reinforce several of the existing welds. We also had to weld additional temporary steel supports, which were strategically added to maintain the shape and structural integrity of the three sections for transport and storage.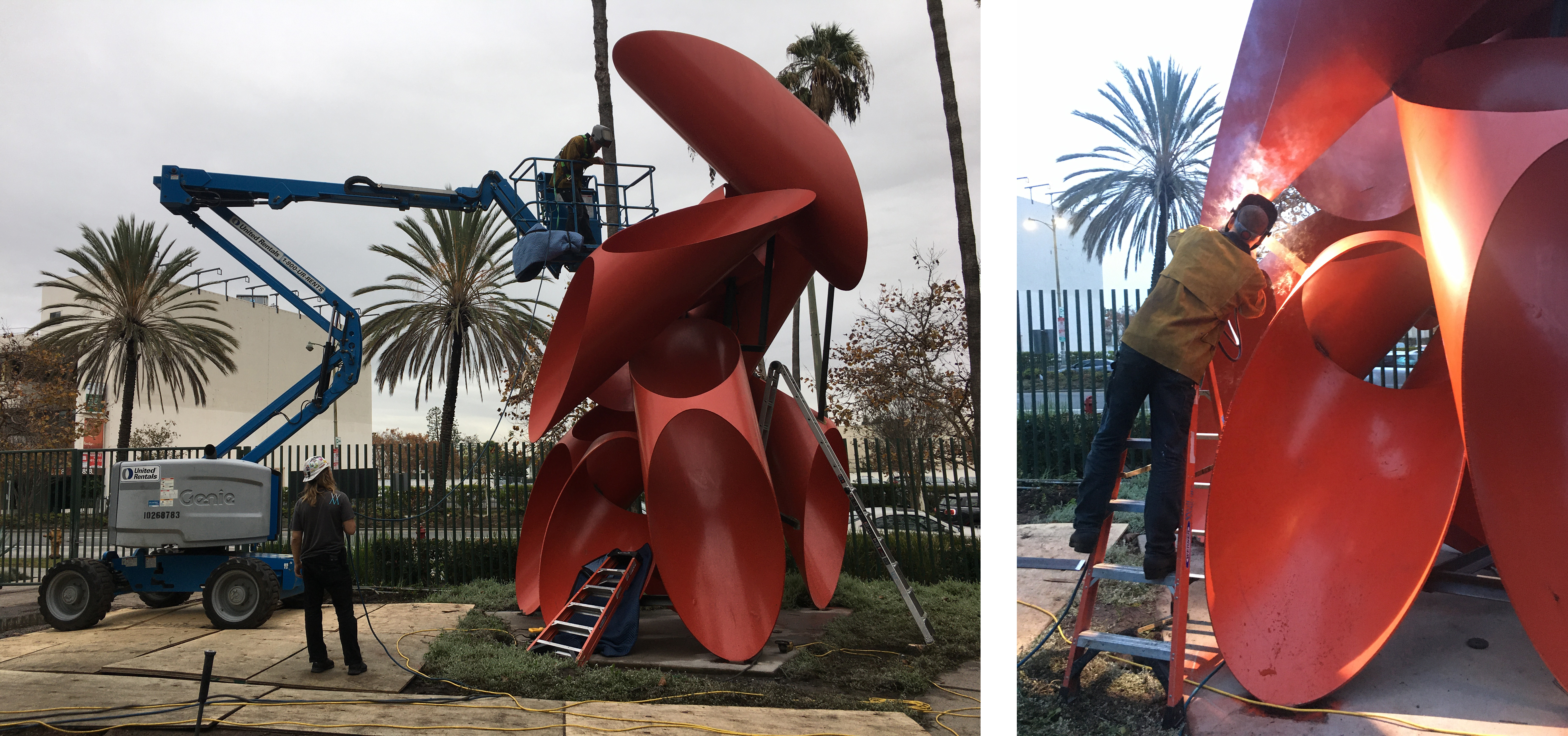 After reinforcement was finished, and with the aid of a very large crane, it was time to perform the aerial dance to deinstall the sculptural segments. Specialized clamps were attached to each segment in specific locations so that rigging straps and chain hoists could be used to control the load of the segment being cut free with the crane. The most tense moment for me was watching the cut that freed the first section. This was followed by an instant settling in my stomach seeing it peacefully suspended above the rest of the sculpture. With adjustable rigging holding the freed segment, we were able to rotate it in the air so that it could be placed directly onto the flatbed trailer in the proper transportation orientation. We repeated this process two more times before Phoenix was completely deinstalled. Having safely secured the three separate pieces to the trailer for transport, we all packed up and quickly regrouped at the storage location, set up the crane, and unloaded Phoenix at its new temporary resting location. Job well done, right?! Not so fast.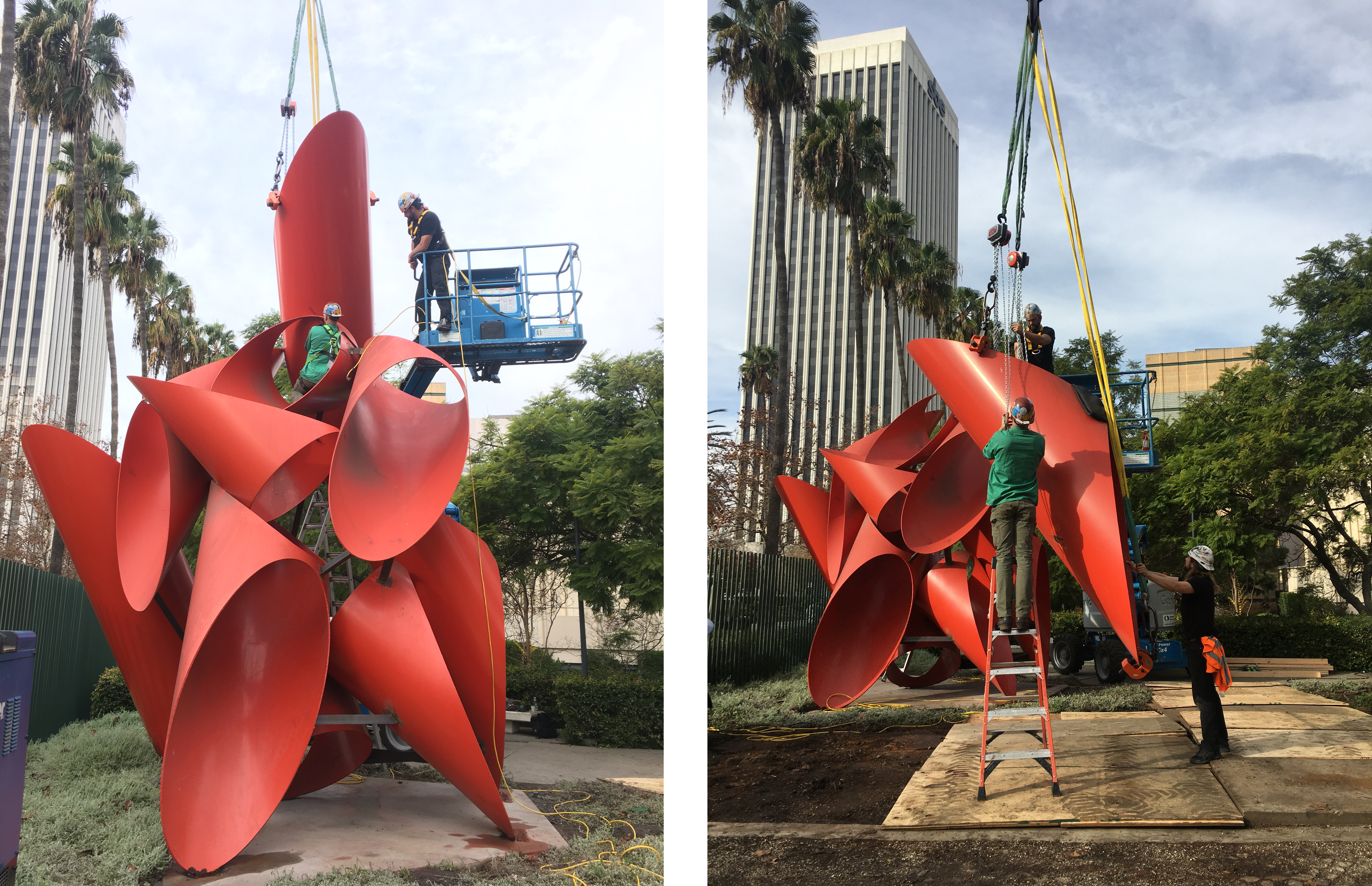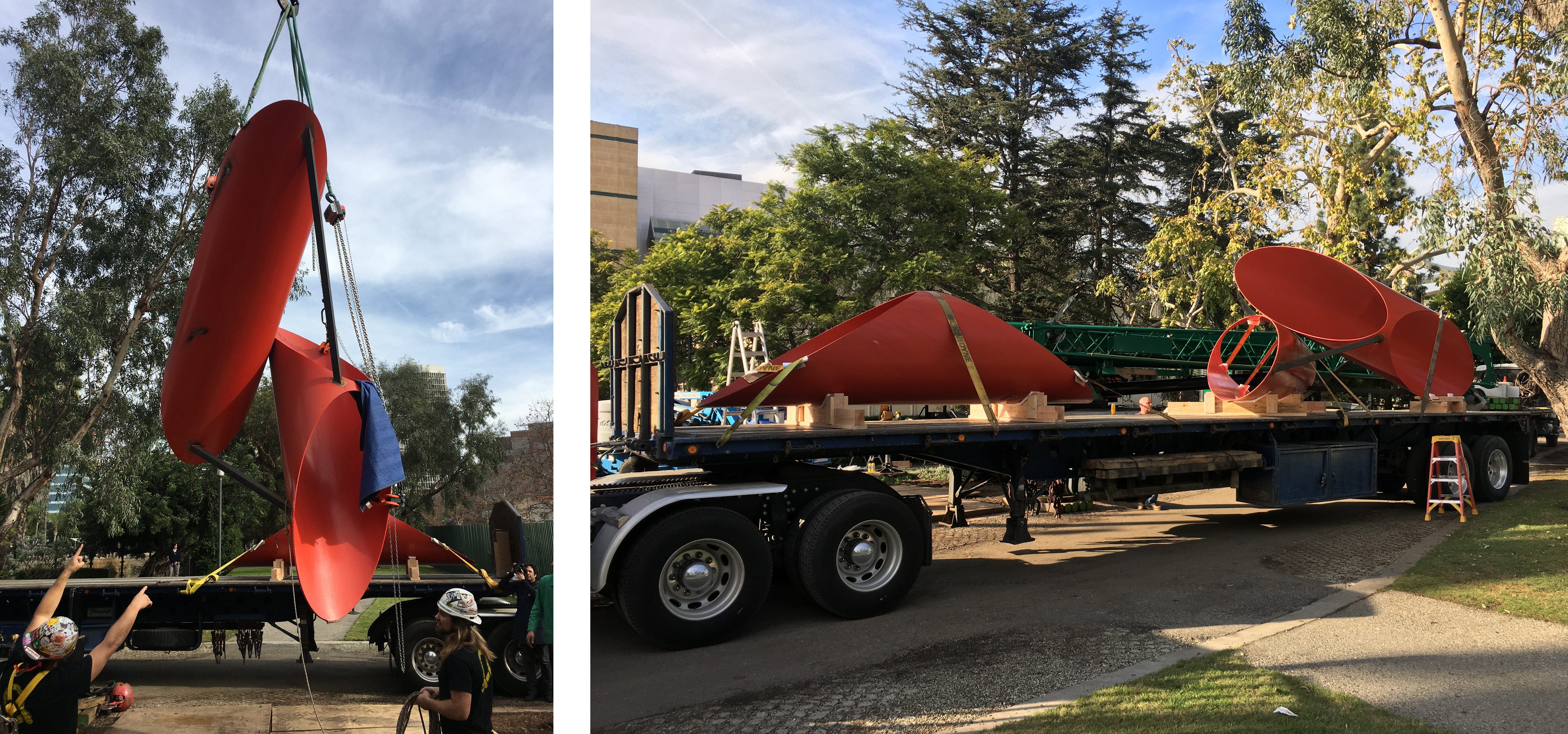 Wolf Magritte did a fantastic job deinstalling and unloading Phoenix and we wouldn't have been able to do it without their expert help. However, we still weren't at the finish line. With the construction teams on campus working tirelessly to build LACMA's new permanent collection galleries, Phoenix may be resting in storage for several years until it can be installed again. We still had much work to do in order to prepare Phoenix for long-term storage.
Unfortunately, as the COVID-19 pandemic began to spread across California, the Safer at Home order implemented in early March paused all museum operations. In June, once the museum was able to resume operations in a limited capacity, planning resumed to complete the project. Our next step was to carefully wash the three sculpture pieces from top to bottom to get rid of all the built up dirt and grime. Working closely with LACMA's Senior Objects Conservator, John Hirx, we used hand rags and car washing mops with a light mixture of soap and water to wash the whole sculpture down.

Once the sculpture was thoroughly cleaned, we wanted to make sure the pieces stayed that way in storage. To better protect the sculpture, each piece was shrink wrapped and sealed. Shrink wrapping is a great long-term solution that prevents dust accumulation, UV exposure, and rusting. Finally, with all that work complete for long-term storage, a fence was installed around the perimeter of the three pieces to ensure their safety and well-being.

In ancient mythology across many different cultures, the phoenix is a majestic and radiant bird. It lives for hundreds of years only to die by bursting into flames. From the ashes it rises anew to begin another long-lasting life. This symbolism was not lost on me throughout this project and I hope to one day witness Liberman's Phoenix rise from storage to be installed again.