"Don't forget to look up," Michael C. McMillen says to me. We're standing in front of the entrance to Central Meridian (The Garage), the artist's immersive mixed-media installation in the new Modern Art Galleries on BCAM, Level 3. High above the entrance door, there is a small window set in the gallery wall. Inside is a miniature room, complete with a miniature fan spinning placidly, its occupant nowhere to be found. It's a new piece, Vestibule, that McMillen created to accompany Central Meridian 40 years after it was first installed at LACMA.
"There's this beautiful facade here, and I wanted to somehow activate it, to play with scale and distance," McMillen says. "So I made this tantalizing space where you really can't see too much, but there's enough there to be interesting."
Vestibule is more than "enough" to be interesting, but it also functions as a compressed version of the Central Meridian experience. The curiosity sparked by the limited view into Vestibule's window expands into a life-sized mystery inside the full installation, which the artist graciously walked me through recently.
McMillen created Central Meridian in 1981 for the LACMA exhibition The Museum as Site at the invitation of Stephanie Barron, now senior curator and department head of Modern Art. The current installation is its third iteration, following a second in what was then the Anderson Building in the mid-1990s. Each installation has differed in layout, but not in fundamental nature.
"One of my goals originally was to build a time machine that would take the viewer out of the museum and into another space instantly," McMillen says. "We go from light to dark, day to night, and another time."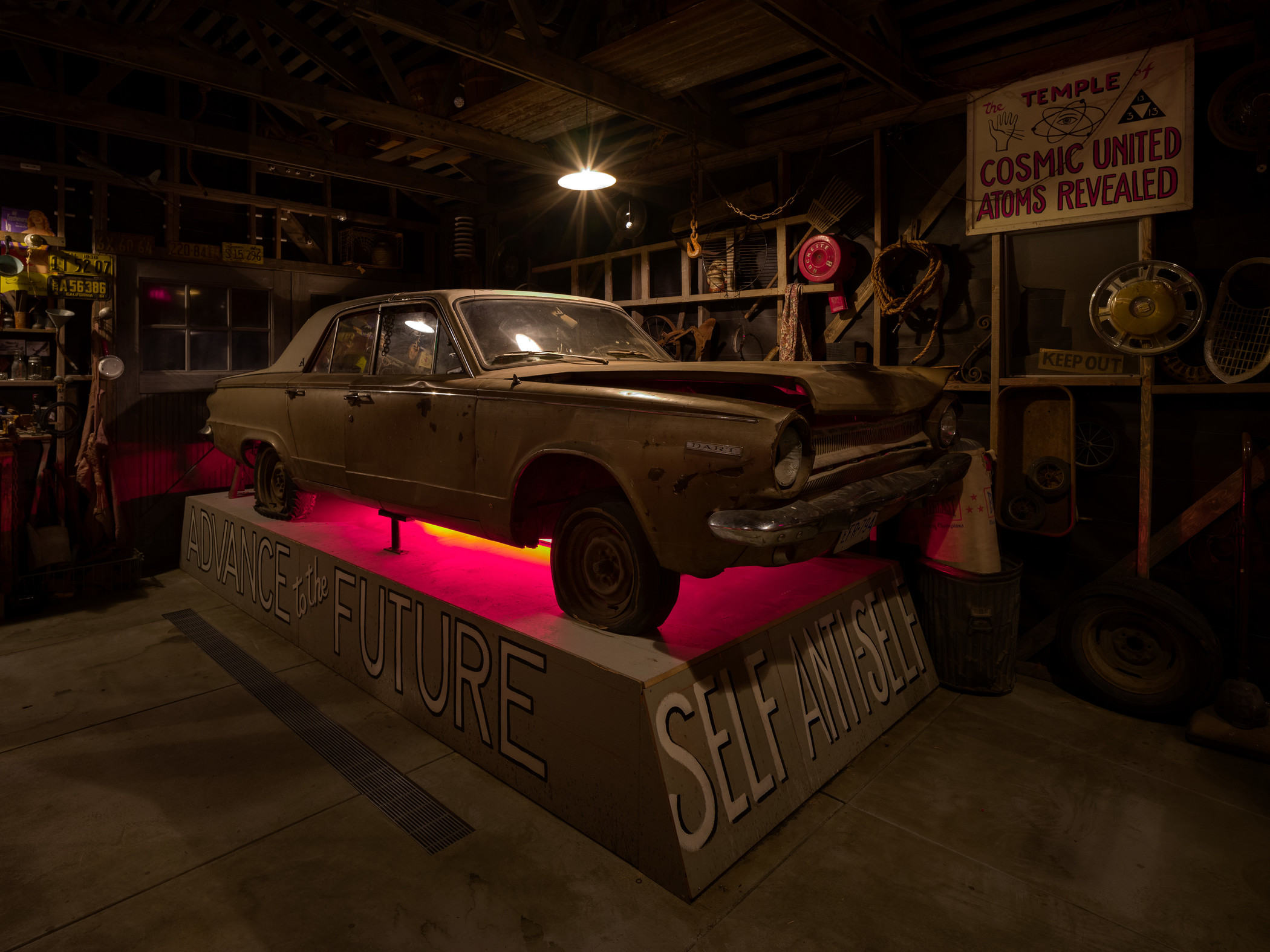 Through the vintage doors that he painted and decorated with found objects and symbols we enter a dim hallway that looks like the inside of an abandoned stucco building, complete with dusty tar paper and exposed studs. The hallway and three other rooms that comprise the piece are filled with thousands of artifacts from the early to mid-twentieth century, most accumulated over a lifetime of scouring Los Angeles alleys and other sites: 1950s television sets, Tesla coils salvaged from a neighbor's garage, a cluster of bodiless doll arms that he found discarded behind a plastic factory. The largest room is dominated by a 1964 Dodge Dart, which McMillen halved with a Sawzall in order to fit it in the Ahmanson elevators for the original installation. He groups all of this material under the term "societal castoffs."
"Most of these objects came from the streets of Los Angeles, before there were so many metal recyclers," he explains. 
In a smaller room he fondly calls the "lab," a hoard of analog scientific instruments occupy a workbench, like a project abandoned midway. Above the bench, a small enclosed shelf houses technical manuals and adventure novels from the early twentieth century. On the opposite wall hangs the front panel of a gasoline pump, its interior facing outward, exposing a jungle of wiring and rotary switches. It's easy to be convinced that everything here is a found object, but that's hardly the case. An incredibly skilled fabricator, McMillen complemented the found objects with others that he made himself. 
"If I couldn't find specific things," he says, "I'd fabricate them. And I made them look like they were age-appropriate—they don't look brand new, they've got a history."
Likewise, he reconfigured the entire enveloping structure, which was built new for this installation in close collaboration with LACMA staff, and "textured," as he puts it, to simulate age. McMillen went so far as designing vintage-looking housings for the required exit signs; one is wired deliberately to flicker, to make it seem "a little sketchy," he says.
The remarkable level of detail extends to the soundscape heard throughout the space: nocturnal bird calls and insect chirps, old music fluctuating in and out of tune like a warped LP, distant industrial bells and whistles. He describes the audio as a "night tableau," one that has morphed over the years as it was transferred from tapes to CDs to SD cards. He's even considered accentuating the entropic smell inside the space: "I was going to add some used motor oil to the ambiance, but we'll see. I know this shares A/C with the whole building…"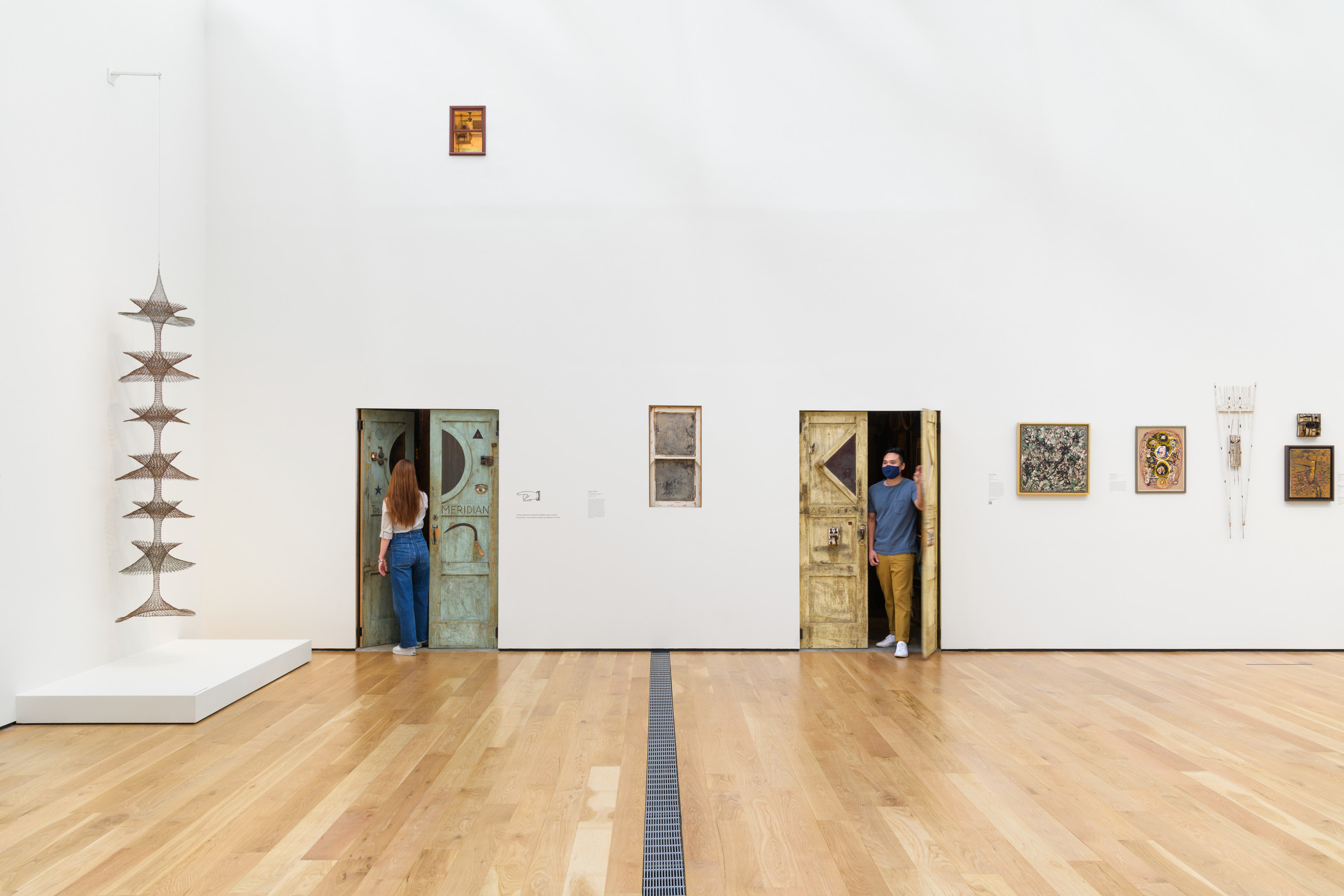 While Central Meridian was created later than many of the artworks in the new Modern Art presentation, it can be seen as part of a lineage going back to the work of Ed Kienholz in the 1960s and other assemblage artists from Southern California—one of the collection's particular strengths.
"I definitely acknowledge an affinity to assemblage work, the idea of recombinant visual language and experimenting with how we humans see through our personal filters," McMillen says. 
As a young art student, he saw Kienholz's work in a LACMA exhibition in 1966, finding it "stunning, visceral, and provocative," and "inspiring in its power and physical presence."
By chance, McMillen met Kienholz at LACMA in 1981 when the elder artist was viewing The Museum as Site, and had just visited Central Meridian.
"Ed paid me a great compliment when he shook my hand and said, 'I wish I'd thought of that!'"
The young McMillen was influenced by other assemblage artists as well: "I remember seeing films in the sixties of Jean Tinguely and Niki de Saint Phalle, and being fascinated by their approaches to making art using the material world as palette and source of inspiration. 
"The first assemblage artist I actually met was Gordon Wagner. I was in high school and a neighbor took me to see his work installed in a neighborhood community center. The seeds were planted. Meeting George Herms was also inspiring, as his poetic transformations of rusty detritus and discards linked back to Kurt Schwitters. I remember, years later, seeing Schwitters' beautiful Construction for Noble Ladies (1919) adorning a wall in Stephanie [Barron]'s office. I loved seeing that work and realizing the connective threads that have spun out from it over the decades since it was created."
Timelapse of installation of Michael C. McMillen's Central Meridian in LACMA's new Modern Art presentation, video by Giorgio Carlevaro, audio by Michael C. McMillen
In a film by Jay Teitzell documenting the 1981 installation of Central Meridian, McMillen calls the work a "cultural tomb." Asked to expand on that idea, he says, "Basically, this is my portrait of Los Angeles, of a certain pre-digital, analog world that's gone now. So the garage becomes a tomb, and all the artifacts are the things for the afterlife. The objects they found important."
It's clear that he's referring to no one in particular by "they," least of all himself. McMillen has added certain objects of personal significance to the installation: a flyer for a 1950s production in which his father, once an aspiring actor, starred as Dracula; a miniature car he created as a model maker for the first Blade Runner film. Yet whether one is aware of those details or not, the overarching experience—as with Vestibule—coalesces into a handful of burning questions: Whose place is this? What exactly is it they do here? It is, after all, a portrait of someone we never see.
"It's a persona that every viewer constructs in their own mind based on the artifacts," McMillen says. "I think [the viewers] are really as much a part of the work as the artist. They really complete it."
I tell him the space gives me a sense that I'm eavesdropping, and he agrees. "I think there's a voyeur in everyone," he says. He wants it to feel "like you're maybe 11 or 12 years old, and have walked into some neighbor's garage, and he's not there so it's a chance to look around at all his stuff—and wonder about it."
As we leave through the exit door, with an uncanny squeak from the hinges, I wonder if the installation might continue to evolve in future iterations, with newly found treasures adding layers to the mystery. I ask McMillen if he's still collecting.
"No," he says. His voice registers a mix of resignation and relief. "I don't want to collect what I used to collect. I'm on the wagon."
---
Central Meridian is limited to four visitors at a time. All visitors, including LACMA members, must purchase or reserve timed-entry tickets in advance. The new Modern Art Galleries feature supplementary audio that is accessed with a smartphone. To get the most out of your visit, please bring headphones for your personal device.