This summer, the LACMA Conservation department had the pleasure of hosting a Getty Marrow Intern, Los Angeles County native Izik Vu, for 10 weeks. While Izik was based in the Textiles and Objects Conservation labs, they also worked with the Paper Conservation team to get a well-rounded introduction to the field and how we as conservators at LACMA function within the museum. I had the pleasure of working with Izik for a "crash course" in paper conservation after they expressed an interest in the specialty—something I was excited to hear! 
The field of art conservation requires many years of academic and hands-on practical training, including the critical time spent in both paid and unpaid internships and other learning opportunities before completing a graduate degree program we call "pre-program experience." As the field grows, professionals are calling for more paid training opportunities, which are increasing every year. Volunteering, networking, and working in allied careers are all important parts of developing a conservation portfolio and practical skills as a pre-program student, but the paid Getty Marrow Internship in Conservation is a top-notch way for students with no previous experience to get a comprehensive jump start.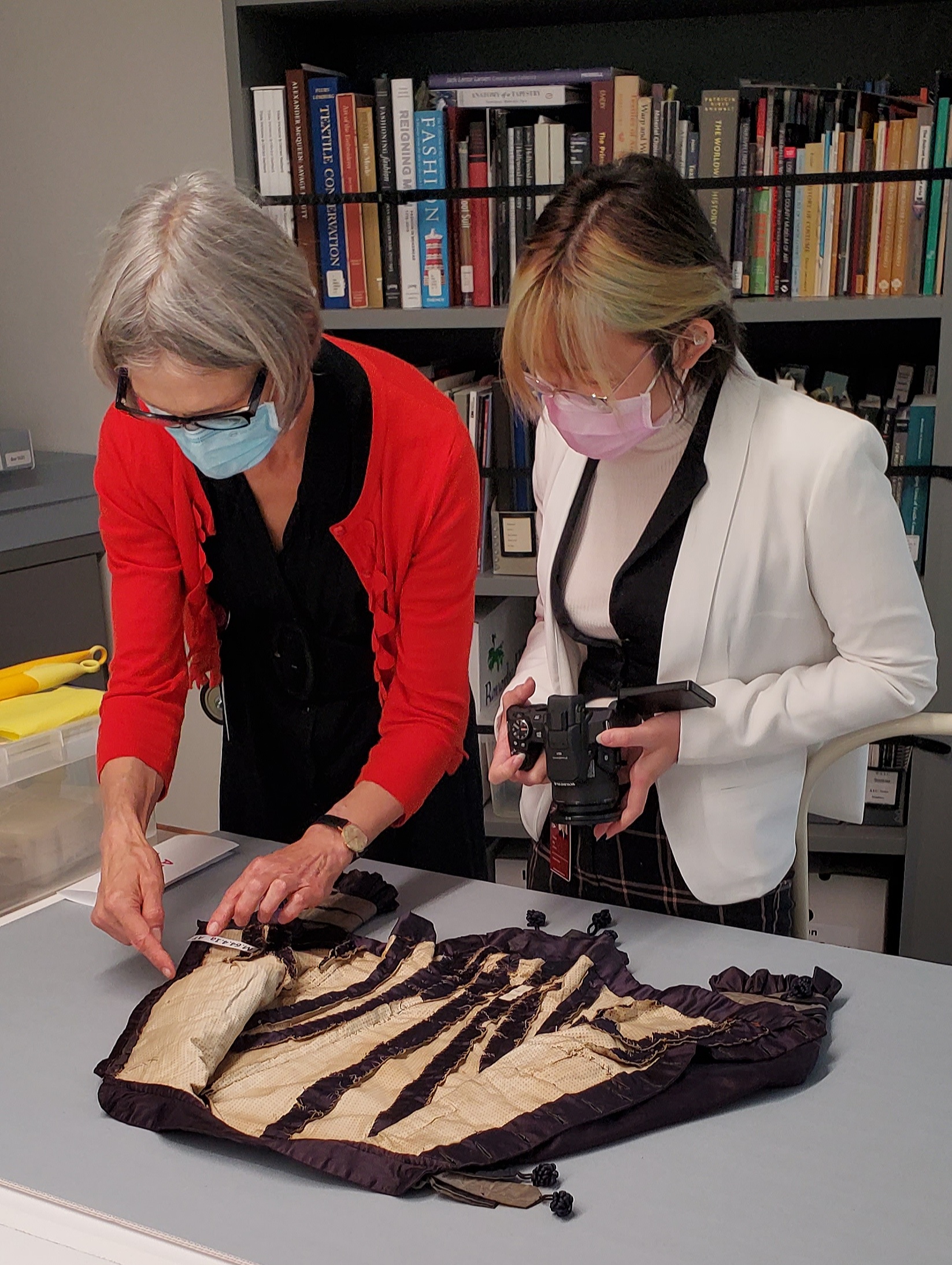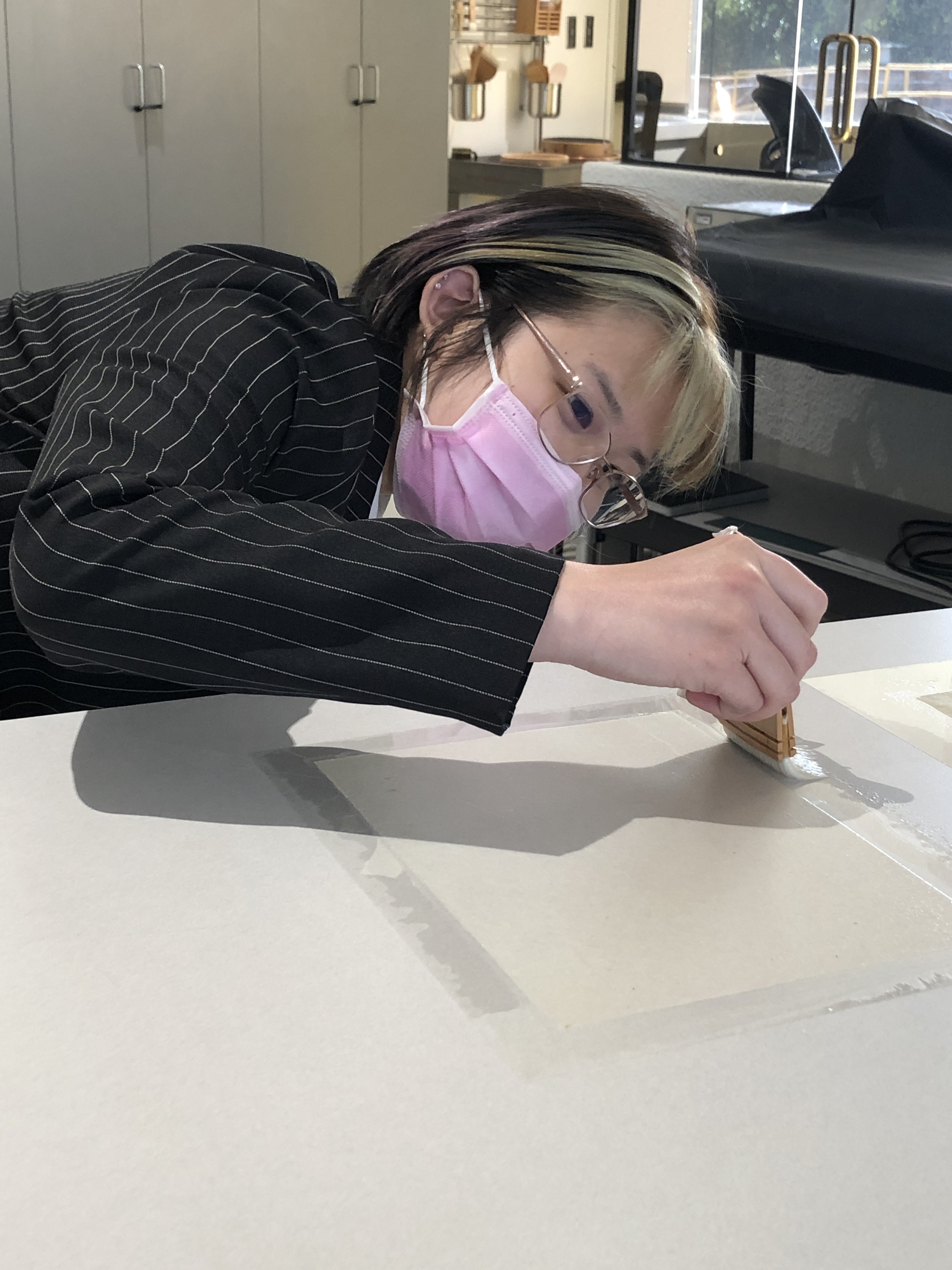 This summer, there were more than 130 Getty Marrow Interns placed in different institutions across the greater Los Angeles area. Izik was one of three Getty Marrow Interns at LACMA. (The other two were in the Registration and Public Programs departments.) In their words, "I wanted to come to LACMA because it is my childhood museum. I have fond memories of coming here as a child and looking at the art for hours on end. It is also a large museum with an amazing collection, so I was sure that I would have been able to learn a lot from the staff here and studying around it." 
Izik certainly used the diverse collection and knowledgeable staff to their advantage, gaining hands-on experience in creating ceramic fills on plant pot saucer with Associate Objects Conservator Abby Duckor, and pinning and steaming the pleated hem of a Victorian wedding dress' skirt and fabricating a pressure mount of Chinese textile fragments with textile conservators Catherine McLean and Susan Schmalz. LACMA has a robust exhibition schedule, and during their time here, Izik worked with Objects Conservation during the deinstallation of NOT I: Throwing Voices (1500 BCE–2020 CE) and with Textiles Conservation on the installation of Acting Out: Cabinet Cards and the Making of Modern Photography, 1870–1900.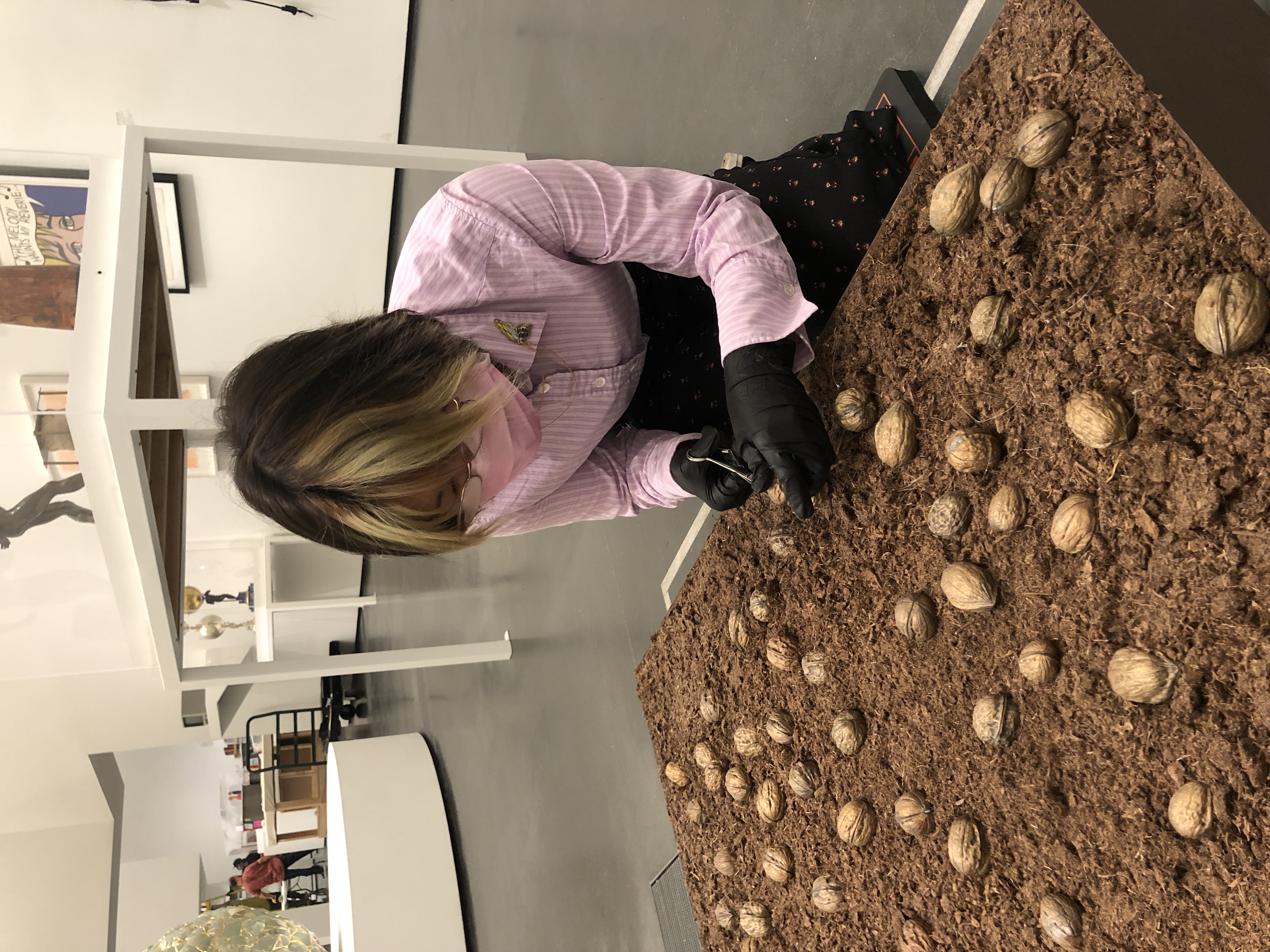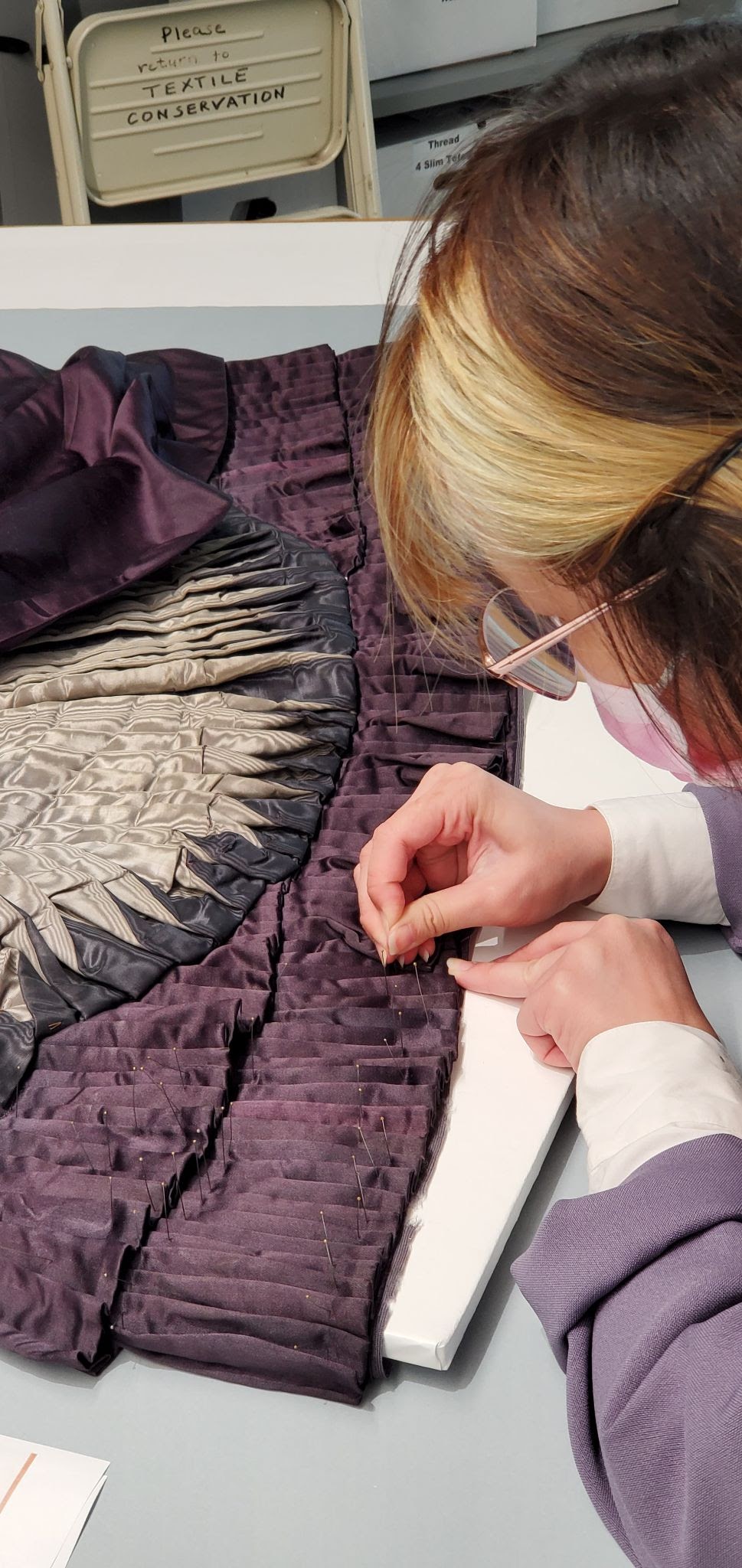 Izik is an artist in their own right, having recently graduated with a degree in Studio Arts and a passion for creating works on paper. "I found out about conservation during the winter break before I graduated from college while looking at museum jobs," they explained. "As I was to graduate soon, the need for a job really made itself known. I knew that I still wanted to interact with art day to day even though I wanted something stable, so I started looking into museum jobs and that's how I found out about conservation. In addition to art, I have always enjoyed science, with chemistry being my favorite." 
With this background, the natural fit seemed to be paper conservation, the specialty at LACMA that cares for works on paper like drawings, prints, graphic arts materials, photographs, books, and East Asian materials like screens and scrolls. This internship came at a particularly fortunate time, as I recently started in a newly created position within the conservation department dedicated to education and outreach—Izik would be my first in-person intern! I was very excited to work with them, and together we covered core competencies of paper conservation including surface cleaning, tear repair, inpainting, lining, and bathing. In just a short time, Izik completed the entire conservation treatment of a 19th-century reproduced etching from beginning to end.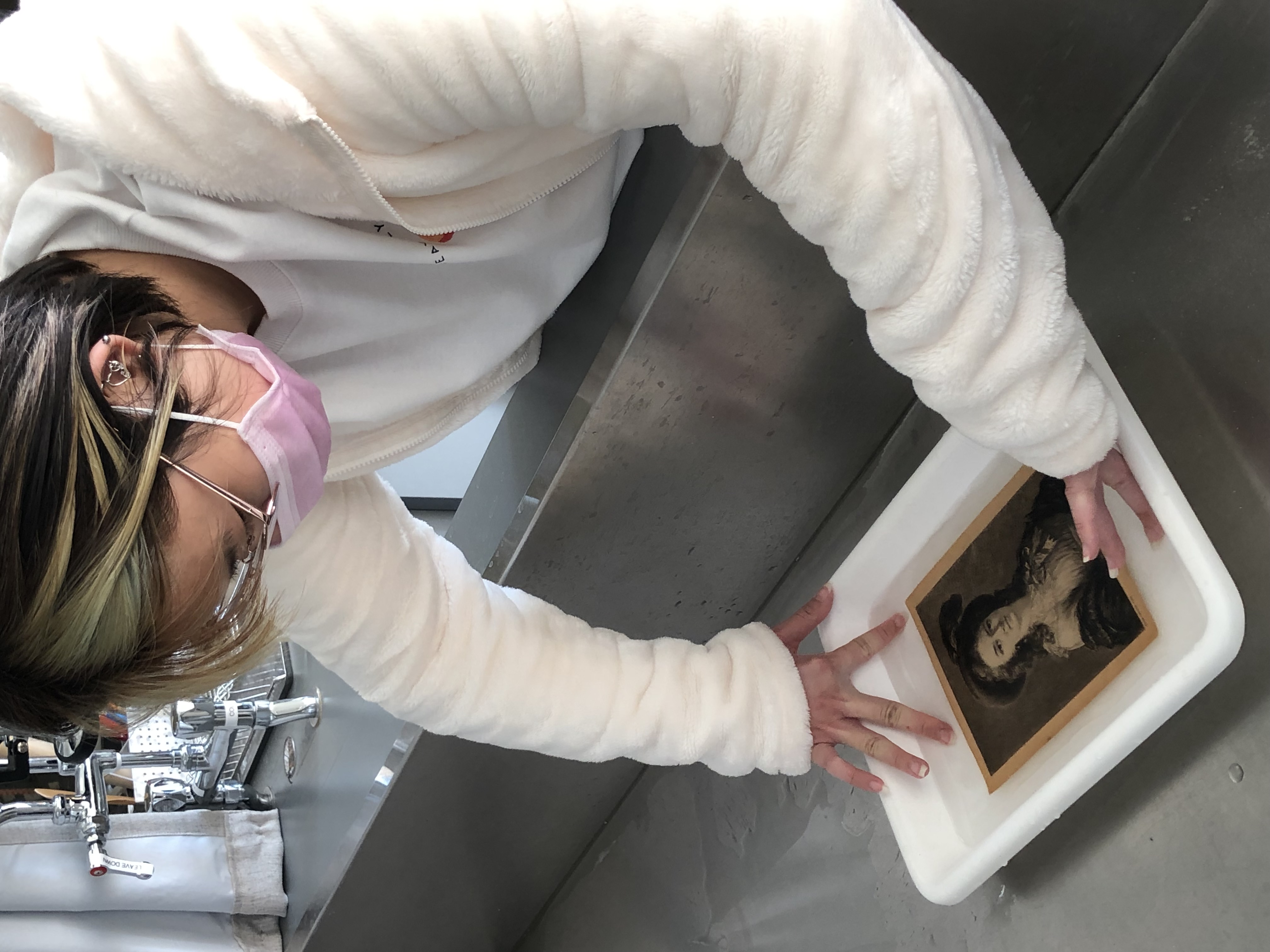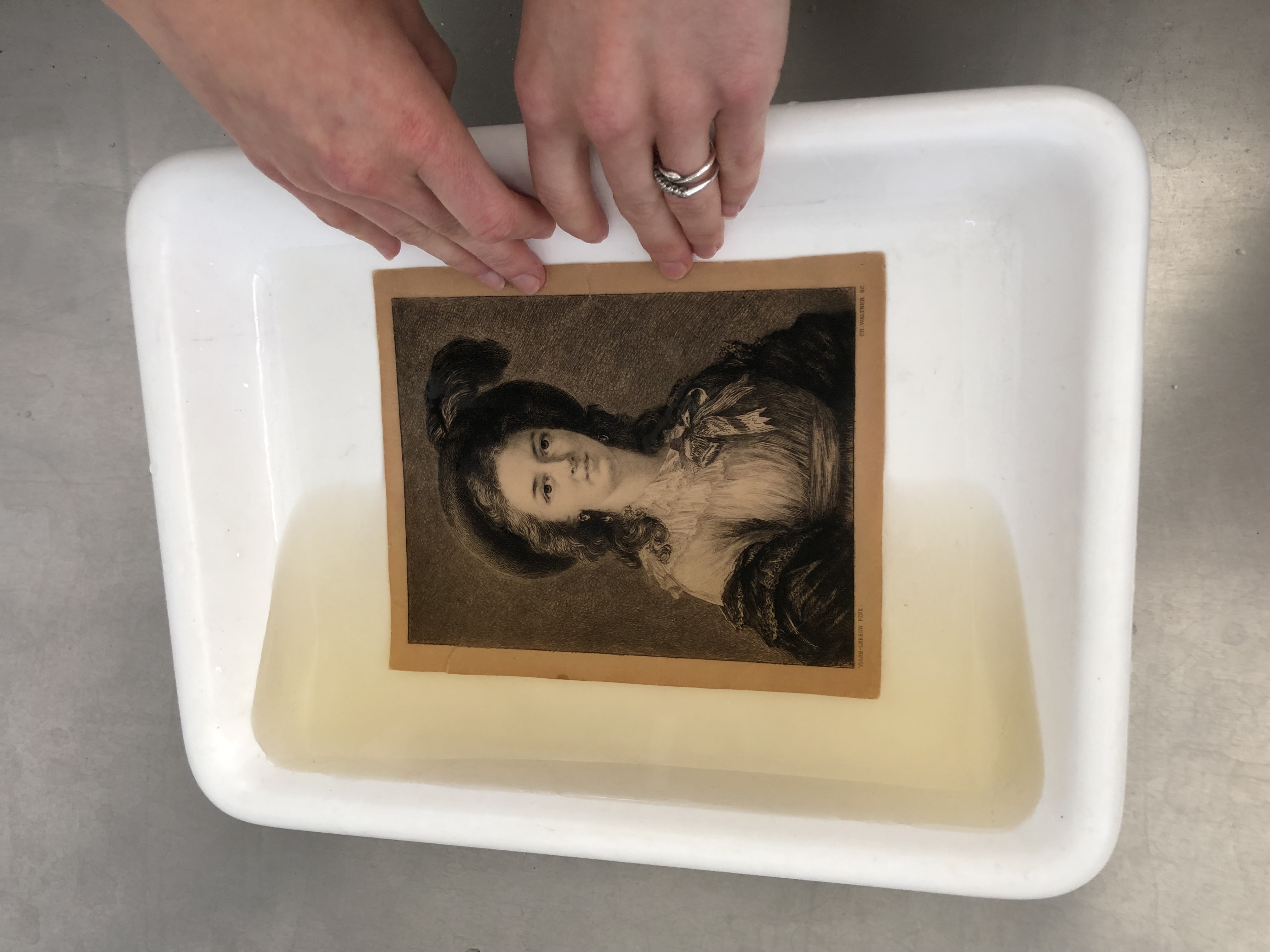 To help provide a well-rounded view of our specialty, Paper Conservator Soko Furuhata gave a session on proper handling of East Asian scrolls and screens, an area of particular interest for Izik and a collection strength at LACMA. Paper Conservation Technician Adriana Breisch also taught Izik all about preservation housing, including paste making, hinging and framing, creating sealed microclimates called a passe-partouts, and box making.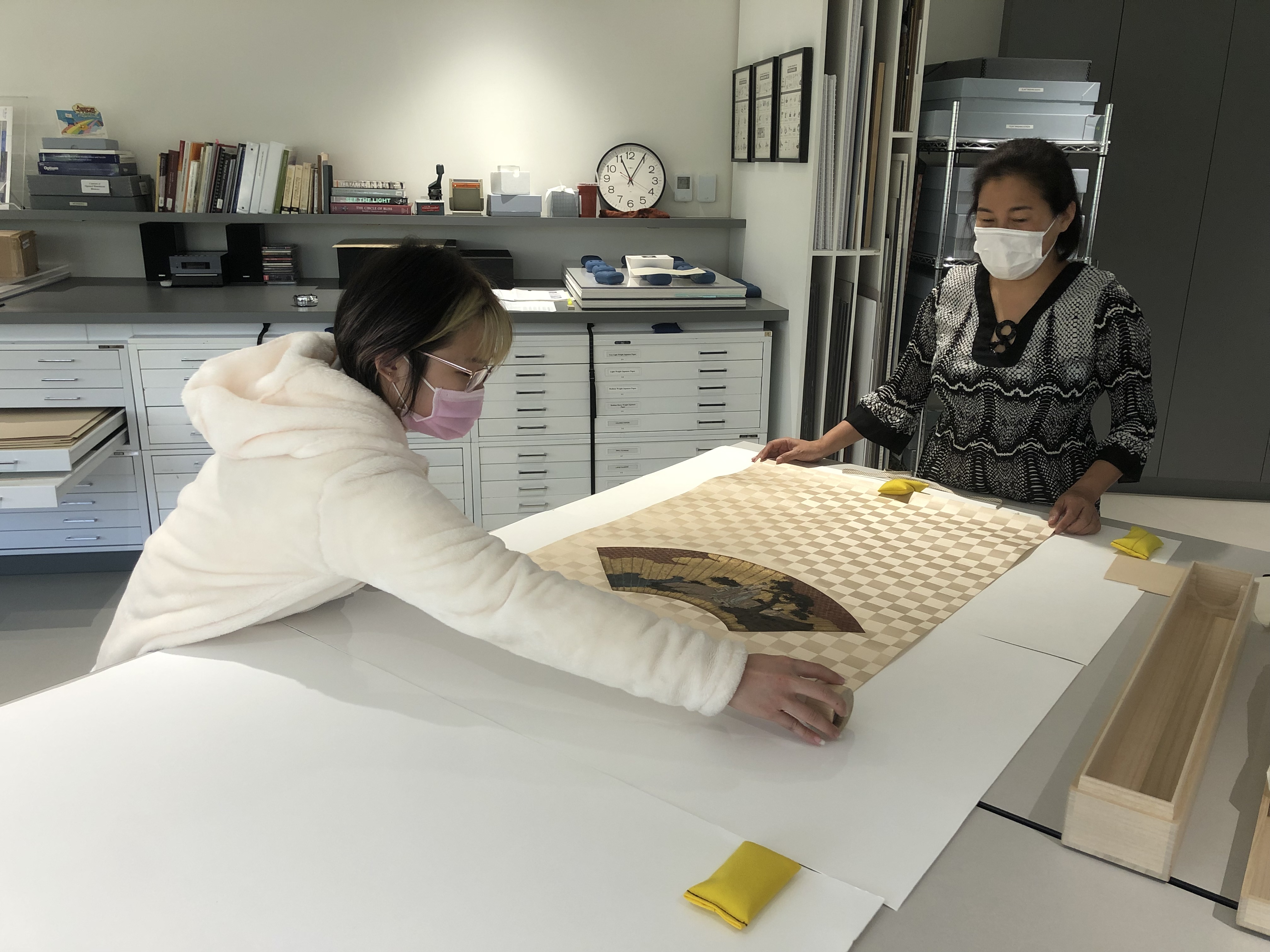 The Los Angeles area is full of unique cultural institutions that present an intern with wonderful opportunities for networking and exploration in the conservation and museum fields. Izik visited other local museums like the Huntington and the Autry, met with private conservators in the area and toured their labs, and interviewed museum professionals across LACMA and the region including registrars, collections managers, and curators. And in our new age of virtual learning, Izik also "attended" symposia during the summer, including one specifically focused on East Asian materials presented by the Freer Gallery of Art and Arthur M. Sackler Gallery in Washington, D.C.
We could not have planned a more perfect lineup of events for this jam-packed and informative summer. Izik recalls that after finding out about the field of art conservation, "I was hopeful that this job would be a good fit for me. After a summer at the Conservation Center here at LACMA, I can confidently say that it is." We will miss Izik in the Conservation department, but we are thrilled to see them off well prepared for their bright future in conservation!